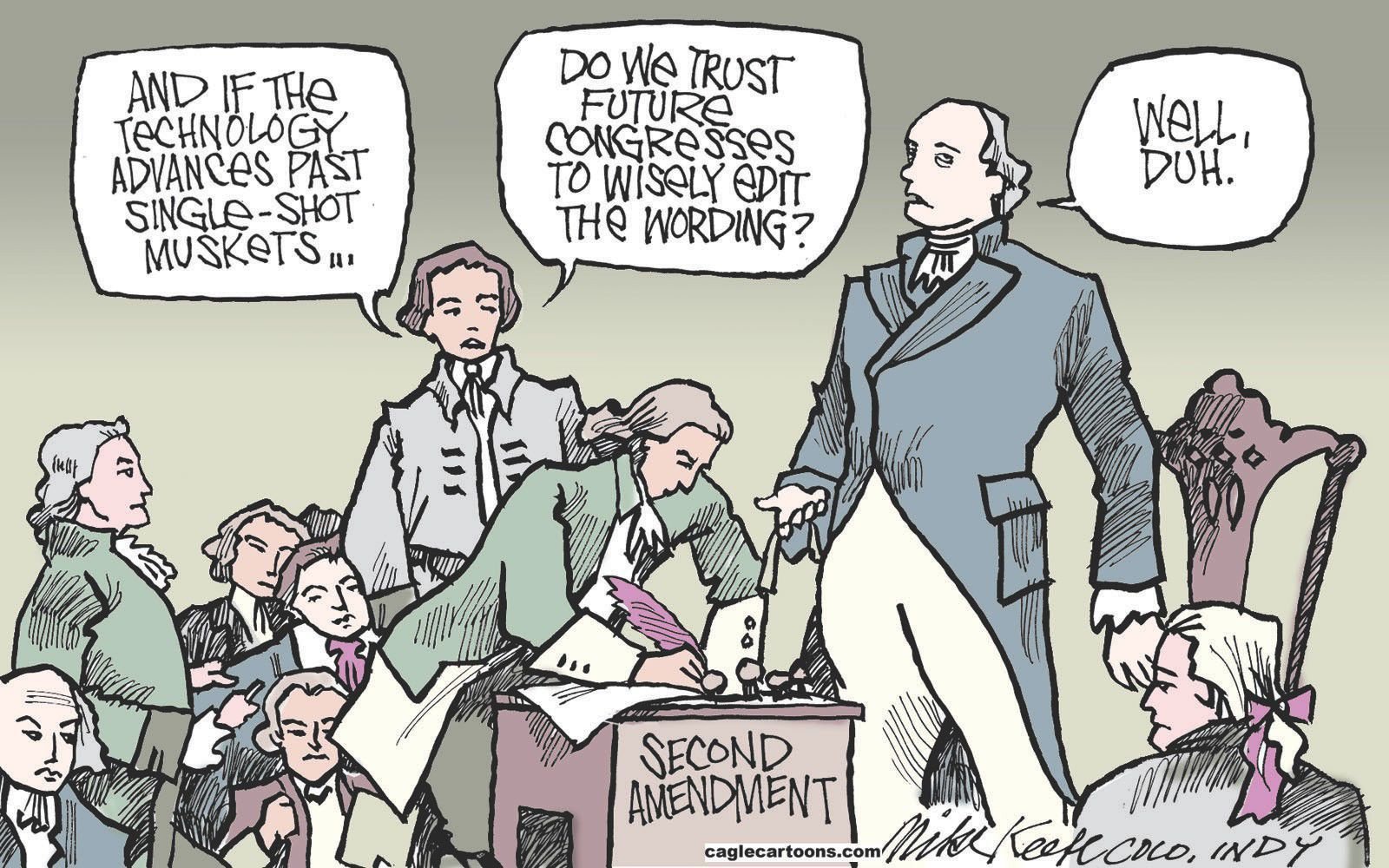 We argue so vociferously about the meaning of the Second Amendment because it doesn't really mean anything any more. We should replace it with a new amendment protecting freedoms that matter to us today.
---
Whenever you pick up an article about gun control — pro or con — you can be virtually certain of one thing: The author believes that the Second Amendment has a unique and definite meaning, which he or she knows with certainty.
So the Amendment either clearly supports an individual right to own and use guns, or it was intended purely to prevent the federal government from disarming state militias (i.e., the National Guard). If it does indeed protect an individual right, the "arms" we are allowed to bear include only the guns appropriate for defending our homes — which leaves out military weapons — or else the Founders wanted us to have the means to overthrow the federal government should it prove tyrannical, making military-grade weapons not only permitted, but absolutely necessary. And so on.
I want to turn that conversation upside-down: Our arguments about the Second Amendment are so dogmatic because we are arguing about shadows in the dark. Each of us projects our own desired meaning onto the Amendment, because the Second Amendment no longer has any meaning of its own. With regard to the role of guns in society, so much has changed in the last 200 years that whatever the Founders intended when they wrote the Amendment is entirely inapplicable to us.
We argue so intensely because there is no answer. We're like middle-aged siblings arguing about what Dad wants, when Dad has advanced Alzheimer's and doesn't know where he is or who we are. Rather than looking at the world as it is and deciding what we want to do with it, we sit around a Ouija board trying to contact the ghosts of the Founders — and then we complain that somebody else is pushing the planchette rather than letting the spectral vibrations work their will.
How meaning gets lost. Any text is vulnerable to having the world change out from under it, and the Founders gave us the power of amendment precisely because they never intended their words to stand as eternal truths. Is, say, the First Amendment's protection of "freedom of speech" intended to protect your right to set up bots to spread disinformation on social media? What, exactly, was James Madison's opinion on that issue? What would George Washington say about using facial recognition software to identify individuals as they move through a world whose public spaces are covered by networked surveillance cameras?
Judges make decisions about such issues because they have to; cases come to their courts and something must be done with them. And so old laws become encrusted with layers and layers of debatable interpretations. If judges do their jobs well, the public may retain confidence that some "spirit" of the law lives on, even as it applies to novel and unforeseen situations.
But at some point, we need to accept that the original meaning has been entirely lost, and so it's time to shake off the encrustations and reconsider the relevant issues from scratch. That's where we find ourselves with respect to the Second Amendment. Anyone who says he knows what the Second Amendment really means today is either fantasizing or lying, because it doesn't mean anything any more.
Consider how different the world was when the First Congress wrote the Bill of Rights.
Today, we have entangling alliances, fight more-or-less constant wars, and live in the midst of the large standing army that the militias were supposed to make unnecessary. Even small towns have professional police forces, and state and county police forces cover rural areas. The vast majority of citizens do not at any point in their lives belong to a well-regulated militia. (And no, self-appointed bands of armed yahoos running around in the woods bear no resemblance to the Founders' vision.)
In short, the original reasons citizens needed to be armed no longer apply, the weapons themselves have changed beyond recognition, and the notion that no one can restrict weaponry is entirely new. Given all that, how can anyone interpret the Second Amendment with confidence?
Why mess with it? Currently, both sides deal with the Second Amendment's fundamental emptiness in the same way: Decide what you want the Amendment to mean, and then try to win elections so that you can appoint judges who will pretend it says what you want it to say.
Two things are wrong with this approach. First, it's dishonest and undermines respect for the law. The right way to change laws is to pass new laws, and the right way to change the Constitution is to amend it. Each side may claim that it is restoring the "true" meaning of the Second Amendment. But, as I have argued above, there is no longer any true meaning to recover. The society that gave the Second Amendment its meaning is gone forever.
Second, both sides in this argument need a credible goal, even if that goal is politically impractical at the present moment. The current approach of gun-control advocates (of whom I am one) is, "Can you just give us this much?" So we ask for background checks or assault-weapon bans or limits on bump stocks or large magazines. All those proposals are very reasonable, but even in combination they are not a solution to America's gun problem. So even if those restrictions become law, sooner or later we'll be back to ask for more.
This smallball strategy plays into the NRA's slippery-slope argument, which claims that the ultimate unspoken goal is complete confiscation. I know of very few people who advocate complete confiscation, even in private. But as long as the gun-control movement has no stated goal, the NRA has complete freedom to assign us whatever goal most frightens its members. The response "No, I just want background checks" isn't credible, so gun owners who want to protect any gun rights at all will want to hold the line.
Conversely, the NRA's strategy of disrupting any potentially political conversation about guns — it opposes even studying the public-health implications of widespread gun ownership, as well as developing technology to make guns safer — is similarly untenable and provokes similar paranoia on the left: They won't be satisfied until we're all dodging bullets every day.
On each side, rewriting the Second Amendment is a worthy goal. It will force gun control advocates to grapple with the question of confiscation, and challenge gun-rights advocates to justify exactly which rights are worth protecting and why. The conversation about what the Second Amendment means can never reach consensus, because there is no meaning to converge on. But a conversation about what it should say has more potential.
The rest of this article describes and justifies my own attempt to rewrite the Second Amendment.
What rights don't need constitutional protection? To be perfectly blunt, a lot of the reasons people want to own guns are frivolous. Those reasons might be perfectly fine in their own ways, but they don't rise to the level of a right that needs constitutional protection.
Guns, I admit, are very clever mechanisms; they even can be said to have a certain kind of beauty. So I understand why someone might want to own a collection of them, just as someone else might collect the pocket watches of various eras. But the Constitution doesn't protect any other collections; it shouldn't protect this one either..
Similarly, target shooting is a worthy sport. It demands skill and concentration. Some people are particularly gifted at it, just as some are gifted at pole-vaulting or throwing footballs. But if a community decides that public safety demands restricting this sport, so be it. Ditto for the sport of hunting. It may be traditional and so forth, but it's a sport. Baseball is also traditional, and raises similar sentiments about passing down interests from father to son. But my right to play baseball should not be enshrined in the Constitution, and neither should hunting.
What about overthrowing a tyrannical government? Then we come to the most contentious issue: resisting or overthrowing the government, should it turn tyrannical. A disarmed populace, according to this argument, is the precondition for tyranny, and gun control is often a precursor to taking away other rights.
The are a few things to note about this point: First, if you believe that an unarmed populace is an invitation to tyranny, I have two suggestions: Reconsider the history you think you know, and go visit the Netherlands. The Dutch have only 2.6 weapons for every 100 people (compared to our 120), and very strict gun-control laws. They also have a higher democracy index than we do: 8.89 to our 7.96.
Second, if retaining the ability to fight the government is the justification for the right to bear arms, then it's hard to argue for any restrictions on armaments at all. Red State founder Erick Erickson made this explicit:
You may think a 30 round magazine is too big. Under the real purpose of the second amendment, a 30 round magazine might be too small.
Indeed, if my purpose in owning guns is to preserve my option to join a Red Dawn resistance and fight the U.S. Army, then I need a lot more than just an AR-15. I need grenade launchers and anti-tank weapons and shoulder-fired Stinger missiles that can take down helicopters (or airliners as they take off or land).
Do you really want to go there? I don't. As much as I fear the current administration, I'd rather take my chances with the American government than get on a plane knowing that Stingers are available at Walmart.
And that leads to what I see as the biggest problem with this vision:  In the NRA fantasy, the American people are unified in their resistance to a vicious cabal at the top, and must fight to restore democracy. Second Amendment proponents like to think about the Minutemen or the French Resistance in World War II. But those aren't the most likely scenarios.
You know what's much more likely? A violent minority tries to impose its will on the rest of us through terrorism. That, in fact, is what we're seeing now from armed white supremacists like the El Paso and Pittsburgh shooters. Their problem is that they don't represent the American people and so they can't achieve their white-homeland vision through the democratic process. That's why they need guns.
The US has seen this pattern in the past as well. The Atlantic's Mark Nuckols offers two examples:
Bleeding Kansas of the 1850s, where pro- and anti-slavery marauders tried to drive each other's supporters out of the territory.
The post-Civil-War South, where the KKK and other white-supremacist groups terrorized blacks out of voting. The resulting white-supremacist governments eventually disenfranchised blacks legally and instituted Jim Crow.
In short, the situation we have now, in which a decreasing minority of people owns an increasing numbers of guns, doesn't secure our democracy, it endangers our democracy. [4]
The right to self defense should be protected from federal interference. So far it sounds like I'm making a confiscation argument, because I haven't identified any type of gun-ownership that deserves constitutional protection. But I believe self-defense qualifies on a number of grounds:
Self-defense is a fundamental human right. If someone attacks you, you shouldn't have to just stand there and die. Depending on the severity of the attack, you may be justified in using lethal force. Few things are more horrifying than the thought that someone is coming for you or your loved ones, but there's nothing you can do about it.
Americans broadly believe in a right to self-defense, whether or not they personally own weapons or get self-defense training.
Despite the risks that come with gun ownership, many people have in fact driven off or captured or killed attackers by using their own guns. The risk/reward balance of owning a gun varies from place to place and individual to individual, so judgments about it should not be made on the federal level.
Some of these considerations also apply on the city and state level, so the federal government shouldn't prevent a lower-level government from equipping a force to defend the public safety or enforce the laws.
That said, there are some legitimate roles for the federal government to play. Self-defense is not an open door for any kind of weaponry at all. No one needs a tank or a nuclear bomb to defend their home or person, or to drive coyotes away from their sheep. Likewise, no one needs an assault rifle with a 100-round magazine or an armory with dozens of weapons. A closer analysis of what means of self-defense might be necessary in one place or another is better done at the state level, but the federal government should be able to make some broad restrictions.
Additionally, states that want to control guns more tightly need protection against their laws being undermined by neighboring states with looser laws. So in addition to its general power to regulate interstate commerce, the federal government's power to regulate, police, or completely ban the interstate transportation or sale of firearms should be spelled out.
A few final considerations. The Constitution sets up a federal government whose powers are limited to those expressly granted. [5] But history has shown that the government can leverage the powers the Constitution grants to wield other powers that it doesn't grant. A relatively harmless example was the 55-MPH speed limit set in 1974 as an energy-conservation measure. The Constitution doesn't grant any speed-limit-setting powers to Congress, so it passed a law that denied federal highway funds to states that didn't enact a 55-mph limit. Before the Supreme Court struck it down, the Affordable Care Act's Medicaid expansion was another attempt at using federal funds to force state action.
So any amendment that limits federal power to regulate guns, but allows state and local powers more extensive powers, should also guard against federal coercion of the states.
Conversely, the federal government needs the power to regulate anything that otherwise would work around restrictions it can legally make. So, for example, if Congress can ban automatic weapons, it should also be able to ban kits for converting semi-automatic weapons to fully automatic ones.
What should it say? Here's my proposal:
1. The Second Amendment to this Constitution is hereby repealed.

2. Congress shall make no law preventing individuals from securing adequate means to defend their homes and persons, or preventing state or local governments from equipping police forces adequate to enforce their laws and ensure public safety.

3. Congress shall have the power to regulate the interstate transportation and sale of weapons, ammunition, and other weapon-related items.

4. States shall have the power to regulate the use, manufacture, ownership, and transfer of weapons within their borders, or to delegate such powers to local governments.

5. No federal expenditure or regulation shall be contingent on a state or local government using its power to regulate weapons in a manner specified by federal law.
What does it mean? Several things:
In order to pass a gun restriction, Congress would need to establish that individuals still have the means to defend their homes and persons. So Congress could ban assault weapons, but not handguns. It could limit the size of your arsenal, but not disarm you completely.
More detailed gun laws would have to be passed at the state level, so states could implement wildly divergent visions. If Texas believes that guns-everywhere makes the public safer, it can try that. But if Illinois wants to let Chicago ban guns completely, it can try that too. People who feel unsafe in one state or the other don't have to go there. (Texans who come to Chicago would have to check their guns, just as they would have when entering Tombstone.) Colorado might decide to allow a wide range of guns, but regulate guns and their users in a similar way to cars and drivers. This state-by-state diversity would be healthy; we would see clearly what does and doesn't work.
State and local governments would keep the ability to enforce their own laws, and would not have to depend on a federal force. This was one of the main tyranny-restraining pieces of the Founders' vision, and one of the few implications of the Second Amendment that still makes sense today.
Or write your own. The main advantage my amendment would have over the current Second Amendment is that it would mean something, independent of everyone's hopes and fears. As a result, both sides could have more confidence about its interpretation. We could lessen the paranoia that now attends every presidential election or Supreme Court nomination.
The choices I have made are far from the only ones possible. I have left a lot of decisions to the states; you may wish to have a more uniform policy across the country. I have allowed outright bans on the local level; you may not want that. I have left room for interpretation by using the word "adequate" rather than spelling out exactly how I expect future generations to defend themselves. And so on.
But if you write your own version and we each promote our favorite, look how the discussion has changed: We are no longer arguing about something unknowable, such as what was in the minds of people centuries ago, or what they would want if they could see us now. Instead, we are arguing about the world we live in and what we want for our future. Anyone can participate in that discussion by drawing on their own experiences; you don't have to be (or pretend to be) a historian or legal scholar.
That is a conversation that has potential for growth and change and compromise.
Conversely, no one who considers the recent history of Second-Amendment interpretation should have any confidence that they know what it will "mean" a generation from now. The Supreme Court's current interpretation was considered a fringe position a generation ago. [6] Unless we replace the Amendment with one that has clear meaning to people of our era, no one can say what ideas on the fringe today might be constitutional doctrine tomorrow.
---
[1] After the Treaty of Paris ended the Revolutionary War, the Continental Army was reduced to a single regiment of about 700 men stationed on the western frontier.
[2] President Washington said in his Farewell Address:
Europe has a set of primary interests which to us have none; or a very remote relation. Hence she must be engaged in frequent controversies, the causes of which are essentially foreign to our concerns. Hence, therefore, it must be unwise in us to implicate ourselves by artificial ties in the ordinary vicissitudes of her politics, or the ordinary combinations and collisions of her friendships or enmities.
[3] In general, constitutional restrictions didn't apply to the states until the 13th, 14th, and 15th amendments were passed after the Civil War. The 14th Amendment says:
No state shall make or enforce any law which shall abridge the privileges or immunities of citizens of the United States; nor shall any state deprive any person of life, liberty, or property, without due process of law; nor deny to any person within its jurisdiction the equal protection of the laws.
Over time, the Supreme Court came to interpret "liberty" to include the rights described in the Bill of Rights. This doctrine is known as the "incorporation of the Bill of Rights". The incorporation of the Second Amendment wasn't fully recognized until 2010.
[4] People who are honestly worried about the future of American democracy should focus instead on making it work: End gerrymandering and voter suppression. Limit the influence of big-money donors, corporate lobbyists, and hostile foreign governments.
As long as the American people retain the ability to vote out governments that don't serve their interests, the resort to guns won't be necessary.
[5] For this reason, in Federalist 84, Alexander Hamilton argued against including a Bill of Rights in the Constitution because he believed it would be unnecessary.
For why declare that things shall not be done which there is no power to do? Why, for instance, should it be said, that the liberty of the press shall not be restrained, when no power is given by which restrictions may be imposed?
[6] As Jeffrey Toobin writes in the current New Yorker: "The Court changed the Second Amendment, and the Court can change it back again." But unfettered by a text with any actual meaning, it could also go somewhere else entirely.
---
---
UPDATE
I was kind of overwhelmed by the quantity and negativity of the comments, so I decided not to answer them one by one. Instead, I wrote a sequel that summarizes a lot of the points commenters made and answers the ones that seem to need or deserve answering.