After two years of claiming Joe Biden is senile (and deceptively editing videos to prove it), falsely claiming that his presidency is illegitimate, and pretending that "Let's Go Brandon" and "FJB" are clever things to display on t-shirts, flags, trucks etc.; after declaring that liberals in general are groomers, pro-pedophile, communists, libtards, and baby-killers — MAGA Republicans are now deeply offended that the President has begun hitting back.
How dare he!
Biden's counter-attack started on August 25, when he described "extreme MAGA philosophy" as "semi-fascist". It continued in a prime-time speech Thursday night from Independence Hall in Philadelphia:
MAGA forces are determined to take this country backwards, backwards to an America where there is no right to choose, no right to privacy, no right to contraception, no right to marry who you love. They promote authoritarian leaders, and they fanned the flames of political violence that are a threat to our personal rights, to the pursuit of justice, to the rule of law, to the very soul of this country.

They look at the mob that stormed the United States Capitol on Jan. 6, brutally attacking law enforcement, not as insurrectionists who placed a dagger at the throat of our democracy, but they look at them as patriots. And they see their MAGA failure to stop a peaceful transfer of power after the 2020 election as preparation for the 2022 and 2024 elections.

They tried everything last time to nullify the votes of 81 million people. This time, they're determined to succeed in thwarting the will of the people.
If you doubted a single word of that, Trump proved Biden's point Thursday by promising — if he should ever become president again — to "look very, very favorably about full pardons", with a "full apology", no less, for his Brownshirts, the rioters he drew to Washington and incited to attack the Capitol on January 6.
Apparently, Trump supporters should be free to beat up police and intimidate Congress. The law should not apply to political violence, if that violence works to Trump's advantage.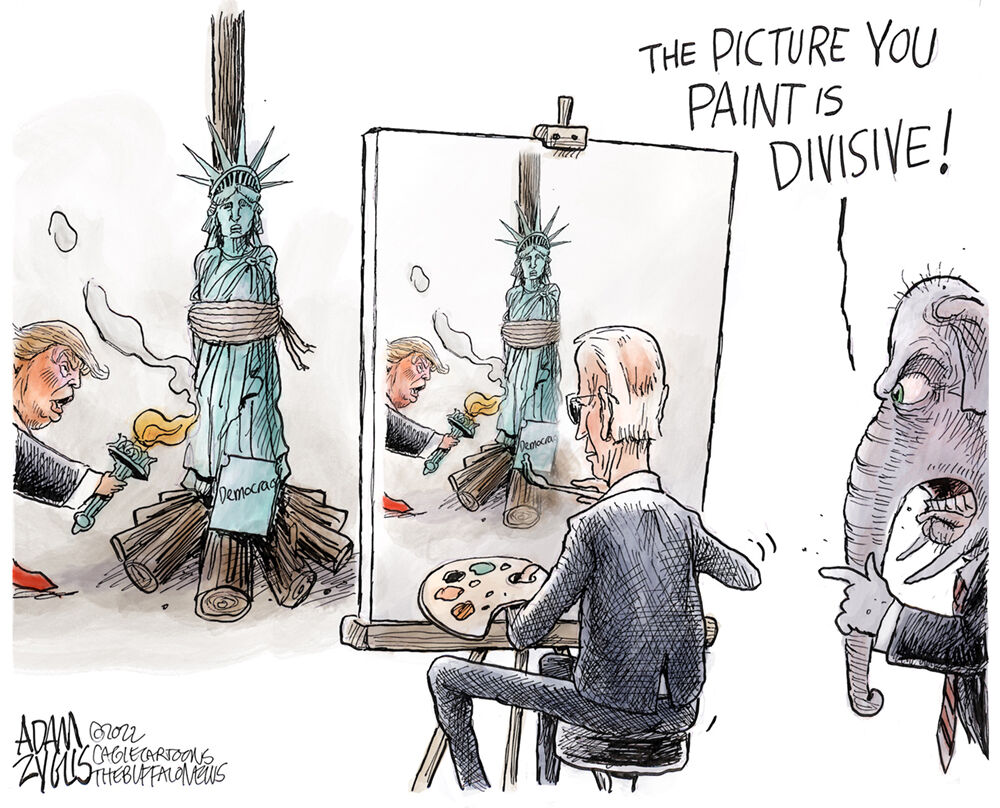 But in spite of the obvious truth in Biden's remarks, the pro-fascist voices shrieked in horror: Biden had "insulted" "half the people living in this country", i.e. everyone who voted for Trump. (Who aren't "half the country", by the way. That's why he lost.)
But two points: (1) Not all of those 74 million Trump votes came from "MAGA Republicans" or even Trump supporters; they just liked him better than Biden. And probably most of those voters did not expect Trump to try to hang onto power by inciting violence after he lost; they might not have voted for him if they had.
Immediately after January 6, lots of Republicans felt that way — not just Liz Cheney and Adam Kinzinger, but also Kevin McCarthy, Mitch McConnell, Lindsey Graham and many others. But then elected officials saw which way the wind was blowing within the GOP, and most of them weathervaned back into the MAGA fold. They aren't Trumpists, they're just opportunists and cowards.
So Biden carefully targeted his criticism:
Now, I want to be very clear, very clear up front. Not every Republican, not even the majority of Republicans, are MAGA Republicans. Not every Republican embraces their extreme ideology. I know, because I've been able to work with these mainstream Republicans.
But the MAGA folks ignored that part of the speech and continued to insist that Trump voters ARE Trump; you can't attack him without attacking them. Which also proves Biden's point: Telling the masses to identify with the Leader, to see his pains as their pains and his enemies as their enemies, is one of the traits of fascism.
Which brings up the second point: (2) Biden (and me and a lot of other liberals) are not using "fascism" as an insult. It is descriptive term that means something — and that meaning clearly applies to Trump and his personality cult.
In 2015, I felt obligated to write an article describing what I meant by "fascism" before I started using the word. I boiled it down to these key characteristics:
[Fascism is] a dysfunctional attempt of people who feel humiliated and powerless to restore their pride by:

styling themselves as the only true and faithful heirs of their nation's glorious (and possibly mythical) past,

identifying with a charismatic leader whose success will become their success,

helping that leader achieve power by whatever means necessary, including violence,

under his leadership, purifying the nation by restoring its traditional and characteristic virtues (again, through violence if necessary),

reawakening and reclaiming the nation's past glory (by war, if necessary),

all of which leads to the main point: humiliating the internal and external enemies they blame for their own humiliation.
Again, I haven't changed that definition (not even the italics) since 2015. Trump and his movement have spent the last 7 years proving me right about them, from the demonization of Muslims to the intentional cruelty of his border policy to the mob violence of January 6.
And what unites Trump's mob? Identification with one of the groups that might feel aggrieved by the slipping of its former dominance. If the core of your identity is to be White, male, Christian, rural, or heterosexual, and you feel wronged by a society that no longer honors you as you feel you deserve (or sufficiently punishes people who are different from you), then you are a "real American" who needs to bask in the gold-plated glow of Trump's reflected greatness, and needs his strength to strike back at those who have looked down on you.
As I said in 2015, fascism appears mercurial because it's not "political" in any ordinary sense; it has no characteristic ideology or economic program, just friends and enemies. Fascism is a phenomenon of social psychology. It's about dominance and grievance and humiliation and projecting images of strength, not potential solutions to the problems of Americans' real lives.
The GOP's decision not to write a platform in 2020 was textbook fascism: Our policy is Trump. Today, the way a candidate gets Trump's endorsement and the backing of his cult is not to champion a set of ideals or policies, it's to champion Trump himself, and his made-up grievances about the 2020 election and the FBI's "invasion" of Mar-a-Lago.
Imagine a candidate who pledged to advance all of the Trump administration policies, but said that Biden had been legitimately elected and the January 6 riot was wrong. Could that candidate get Trump's endorsement? I think not.
Trump doesn't have policies, he has grievances. If you also feel aggrieved, he wants you to identify your grievances with his, and to vicariously experience satisfaction when he is victorious again and achieves a humiliating revenge against his enemies.
That's what fascism is all about.