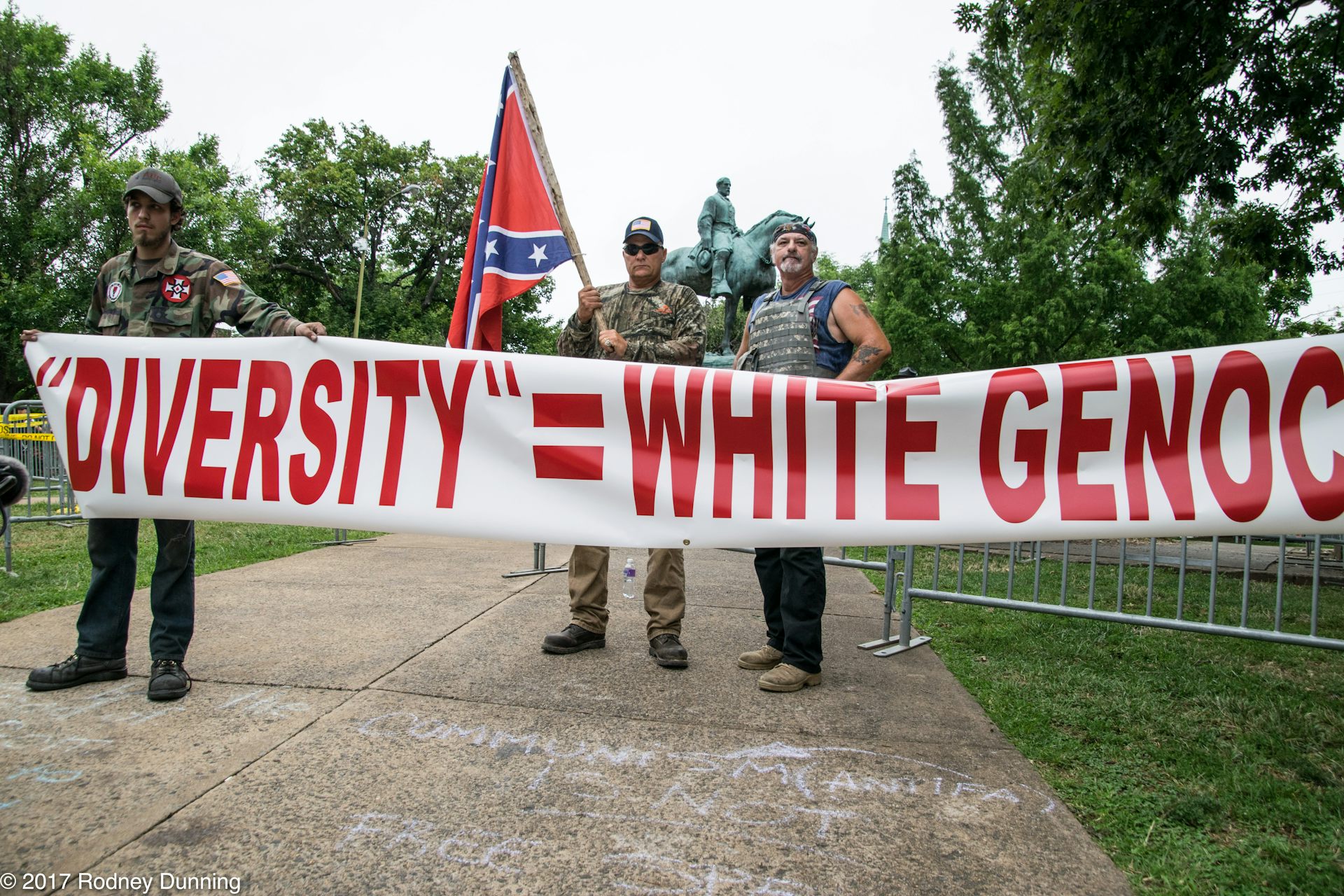 Republicans used to unite around the interests of the rich. Now they unite around a conspiracy theory that has repeatedly inspired mass shootings.
---
This weekend, we learned all over again that ideas have consequences. When people believe terrible ideas, they do terrible things.
The idea this time is White Replacement Theory: A conspiracy of Jews and liberals is trying to "replace" Whites as the dominant race in America and Europe by bringing in as many non-white immigrants as possible, by encouraging Black people to breed quickly, by diluting the white race through interbreeding, and by depressing white birth rates. The ultimate goal is the extinction of the white race, an outcome also known as white genocide. [1]
If someone really believed such a theory, what might they do? We found out Saturday:
18-year-old Payton Gendron parked his car in front of the entrance to a Tops Supermarket in a Black neighborhood in Buffalo, New York. Exiting the car wearing metal armor and holding an assault rifle, he shot and killed a female employee in front of the store, and a man packing groceries into the trunk of his car. After entering the store, he murdered the store's guard, and by the end of his killing spree, he had shot 13 people, killing 10 of them.

Eleven of the people he shot were Black, and two were white. As the manifesto he left behind makes clear, this was fully intentional. The first listed goal in his manifesto was to "kill as many blacks as possible".
Gendron lives in rural New York state, but (according to the manifesto he posted online) drove three hours to find a zip code with a large black population. So he wasn't seeking revenge against particular Black people that he blamed for his real or imagined problems. He was striking a blow for the white race.
Surely now people will see … Sunday, Pete Buttigieg tweeted:
It should not be hard, especially today, for every elected official and media personality in America—left, right, and center—to unequivocally condemn white nationalism, "replacement theory," and all that comes with it.
That might seem like a small thing to ask. After all, the Buffalo shooting feels like the kind of horrifying crime that should scare everybody straight. Sure, a news-channel entertainer like Tucker Carlson might pimp WRT to juice his ratings, a politician like Donald Trump might motivate his base by hyperbolically describing immigration as an "invasion", and countless ignorant folks on social media might pass on these ideas to justify the racism they've carried all their lives. But Payton Gendron has shown us that this isn't a game. When crazy ideas are thrown around loosely, crazy people latch onto them and do terrible things. Surely everyone will realize that now, and everything will change.
That feeling should last for at least another day or two. Enjoy it.
Because we've been here before, and nothing changed. We were here when Dylann Roof, 21, killed nine Black Christians during a Bible study class at the Mother Emmanuel Church in Charleston (a city he also picked because of the large number of Black people living there). And when Patrick Crusius, also 21, drove from his Dallas suburb to a WalMart in El Paso, where he tried to shoot as many Mexicans as possible; he ended up murdering 23 people of various races and nationalities and injuring 23 more. John Earnest,19, hoped to kill as many Jews as possible in Poway, California, but he wasn't very good at it; he only murdered one and wounded three others before his gun jammed. Robert Bowers, in his 40s, also went after Jews, killing 11 worshipers at the Tree of Life synagogue in Pittsburgh.
Those were all White Replacement Theory massacres. We know because the killers were only too happy to explain their actions. Posting a manifesto has become a standard part of a WRT massacre.
There have been WRT massacres in other countries as well. In New Zealand Brenton Tarrant attacked two mosques, killing 51 people. In Norway Anders Breivik's murder spree was at the youth camp of Norway's Labor Party; he killed 77 people in all, most of them White teens who were growing up liberal.
If conservative promoters of WRT were going to be scared straight, it would have happened by now. It might have happened after Charlottesville, when only Heather Heyer died, but the nation saw the spectacle of violent white supremacists marching down the streets chanting "Jews will not replace us."
Remember? Then-president Trump responded by telling us that there were very fine people on both sides.
Nudges and dog whistles. Elected Republicans and Fox News hosts never explicitly tell anyone to go kill Blacks or Hispanics or Jews. But they do regularly say things that, if taken seriously, would logically result in race massacres. Why, for example, did Patrick Crusius take military weaponry to the biggest city on the US/Mexican border? Because he believed his country was being "invaded" by Mexicans, just as President Trump was saying.
When an army of foreigners invades your country, what can a heroic young man do other than go to the border and kill them? That's what Ukrainians are doing now, and we all praise them for it.
The nudges these young men get from high-profile Republicans rarely mention race explicitly, but the meaning is not hard to decode.
In just the past year, Republican luminaries like Newt Gingrich, the former House speaker and Georgia congressman, and Elise Stefanik, the center-right New York congresswoman turned Trump acolyte (and third-ranking House Republican), have echoed replacement theory. Appearing on Fox, Mr. Gingrich declared that leftists were attempting to "drown" out "classic Americans."
Would it surprise you to discover that some interpret "classic Americans" as "White people"?
Similarly, Tucker Carlson seldom talks about white and black in antagonistic terms. Instead, he looks into the camera and says "you" and "them", leaving those terms open for his almost-entirely-white audience to interpret as they see fit. [2] But occasionally he almost comes right out with it.
He was more explicit in a video posted on Fox News's YouTube account in September. Carlson said President Biden was encouraging immigration "to change the racial mix of the country, … to reduce the political power of people whose ancestors lived here, and dramatically increase the proportion of Americans newly arrived from the Third World."
His Fox News colleague Laura Ingraham
told viewers in 2018 that Democrats "want to replace you, the American voters, with newly amnestied citizens and an ever-increasing number of chain migrants." During a monologue on her program last year, she called immigration an "insurrection [that] seeks to overthrow everything we love about America by defaming it, silencing it, and even prosecuting it.
In her ads, Rep. Stefanik repeats the "insurrection" theme.
Radical Democrats are planning their most aggressive move yet: a PERMANENT ELECTION INSURRECTION. Their plan to grant amnesty to 11 MILLION illegal immigrants will overthrow our current electorate and create a permanent liberal majority in Washington.
She is no doubt aware that false conspiracy theories on the internet claim millions of illegal immigrants are already voting. By describing a path to citizenship (which doesn't yet exist and would take years to walk) as an "INSURRECTION", she justifies violence, like the violent attempt to keep President Trump in power after the voters rejected him in 2020.
Again, what would a heroic young White man logically do if he bought what Stefanik is selling? Someone is plotting an "insurrection" to "overthrow" his people. Is registering to vote or sending in $20 really an adequate response to that challenge?
The underground root system. Coincidentally, I was already planning to write something about WRT before Saturday, because this week it had shown up in an odd place: the Senate debate over codifying abortion rights through legislation. Republican Senator Steve Daines from Montana made a somewhat curious argument against that bill:
Why do we have laws in place that protect the eggs of a sea turtle or the eggs of eagles? Because when you destroy an egg, you're killing a pre-born baby sea turtle or a pre-born baby eagle. Yet when it comes to a pre-born human baby rather than a sea turtle, that baby will be stripped of all protections in all 50 states under the Democrats' bill we will be voting on tomorrow.
Most of the commenters on my social media feeds were mystified: What do sea turtles and eagles have to do with anything? Daines seemed to be talking in wild non sequiturs — unless you could fill in his unstated connection.
White replacement is the Rosetta Stone here: If laws protect sea turtle eggs and eagle eggs (I haven't checked whether Daines was making that up), it's because those species are endangered. You know what else is endangered? The white race, because White women are failing to reproduce at replacement rate. That is, in fact, why American women's rights need to be taken away: because they're not doing their primary job. They're aborting their fetuses rather than producing the healthy White babies the race needs to avoid extinction.
Abortion isn't the only issue with a hidden connection to WRT, as Gendron spelled out in his manifesto.
Gendron also argues that Jews are behind the movement for transgender inclusivity, supposedly sponsoring transgender summer camps for "Scandinavian style whites".
Likewise, accepting same-sex relationships lowers the birth rate of Gingrich's "classic Americans". And then there's the demoralizing effect of critical race theory.
The section ends by blaming Jews for creating "infighting" between people and races. The example Gendron's manifesto provides is that "Jews are spreading ideas such as Critical Race Theory and white shame/guilt to brainwash Whites into hating themselves and their people".
From the outside, the issues that motivate the MAGA wing of the GOP seem like an incoherent mess. But white replacement is an underground root system that connects them all.
What's more, WRT explains the intensity of the MAGA movement, which otherwise is also a mystery. How can a bland figure like Joe Biden incite the kind of hatred and panic we've seen? Why would the prospect of a Biden administration be so scary that people styling themselves as "patriots" would invade the Capitol and threaten to hang the vice president rather than permit an orderly transfer of power?
And no matter how many revelations come out about the crimes of the Trump administration and the threat to democracy it posed, why are only a handful of Republicans ready to make a clean break with him?
Because the perceived alternative is racial extinction. Otherwise it makes no sense.
Historically, American political parties have gone into the wilderness for a period of time after a disastrous administration. That's where the GOP should be post-Trump, but it is being held together by white anxiety about the demographic trends. WRT channels that anxiety into positions on issues and energy for campaigns. And that's why Republicans can't walk away from it, even though it regularly and predictably leads to race massacres.
---
---
[1] I refuse to go down the rabbit hole of arguing that this is false. I'll leave that to Farhad Manjoo and Chris Hayes. I will point out one thing: No matter how lily-white you may appear to be today, chances are your people met exactly the same kind of suspicion and hostility when they came to America. My people, the Germans, started arriving in large numbers in the 1700s, and Ben Franklin worried that we were so different we would never assimilate into the Pennsylvania colony. Hence the origin of the Pennsylvania Dutch (i.e., "Deutsch").
[2] More than a year ago, Charles Blow pointed out something Carlson skips over:
[R]evealingly, he is admitting that Republicans do not and will not appeal to new citizens who are immigrants.
There's no racial essence that predestines groups of people to vote a certain way. Black voters, for example, were loyal Republicans until FDR started to win them over in the 1930s. In 1956, Dwight Eisenhower still got nearly 40% of the Black vote, compared to the 8% Trump got in 2016.
If Republicans would abandon race-baiting and try to win over immigrants of all races and ethnicities, they might succeed. Demography is not destiny.