At a time when American families, communities, and businesses are still suffering from the effects of the ongoing global pandemic, it would be particularly irresponsible to put the full faith and credit of the United States at risk.
– Treasury Secretary Janet Yellen,
urging Congress to raise the debt ceiling before October
This week's featured post is "Seven Days in January".
This week everybody was talking about General Milley
He's the subject of the featured post.
and the California recall election
It was not close. With 84% of the expected vote counted (a lot is still in the mail, I imagine), only 37% voted to recall Governor Gavin Newsom, and 63% voted not to recall him. That's similar to the margin Joe Biden had over Donald Trump in California in 2020 (63%-34%), and Newsom's original margin in 2018 (62%-38%).
The original theory of the recall was that anti-Newsom Republicans would be motivated to vote, while Newsom-supporting Democrats would be apathetic. Republicans also hoped for a popular rejection of Newsom's aggressive approach to fighting Covid (vaccine mandates for state employees and health-care workers). Neither of these ideas panned out. In particular, exit polls showed 47% saying Newsom's coronavirus policies were "about right", with another 18% saying "not strict enough".
Bizarrely, both Trump and leading GOP replacement candidate Larry Elder claimed that the results were fraudulent before there were any results. The day before the election, Elder's web site said
statistical analyses used to detect fraud in elections held in 3rd-world nations (such as Russia, Venezuela, and Iran) have detected fraud in California resulting in Governor Gavin Newsom being reinstated as governor.
as if the recall's failure — and its vote-patterns — had already been known before any votes were counted. Former state GOP chair Ron Nehring called the statement "grossly irresponsible" and speculated that Elder's claim may have discouraged Republicans from voting. (Why vote if the election has already been decided by fraud?)
---
The election threw a spotlight on California's strange recall process, which can allow a replacement candidate to squeak into office with a tiny slice of the vote. For example, if we count all the No votes on recall as votes for Newsom, then Newsom has 6.8 million votes counted, while top replacement vote-getter Elder has only 2.8 million. It is not hard to construct a scenario in which a sitting governor has the support of 49% of the electorate, but gets replaced by someone with 25% support or less.
BTW, Elder's total is being reported as 47%, but that's only 47% of the people who voted for a replacement candidate. His 2.8 million votes is only 26% of the 10.6 million ballots cast.
The recall is an extreme example of the GOP's nationwide election strategy: Rather than look for a 2022 candidate moderate enough to compete for a majority of votes in a California governor's race, Republicans opted to manipulate a process that could allow an extreme conservative to gain power without a majority.
---
CNN correspondent Josh Campbell:
It was interesting how many California voters I spoke with at the polls said the Texas abortion ban motivated them to come out and vote against the recall of their governor.
Democrats are also counting on the abortion issue to work in their favor in Virginia, which has a gubernatorial election in November.
and the pandemic
Nationwide, the surge seems to be turning around, but the more specific story is that it's shifting. The current wave started in the Ozark region of Missouri/Arkansas, moved south to the Gulf coast, and now has shifted northeast into the Appalachian region. The most dangerous part of the country right now is Kentucky/Tennessee/West Virginia, where new cases per 100K people are in the vicinity of 100, compared to 45 nationwide.
As a Northeasterner, I worry that the surge is still coming my way: The next likely destination for the wave is central Pennsylvania, where vaccination rates are still below 30% in some counties.
New-infection numbers are also high in rural counties in the mountain West and in Alaska, though their populations are too small to have much influence on the national totals.
Death totals, which tend to lag behind infections, continue to rise nationwide. That average is now over 2000 deaths per day. The peak death totals were around 3300 per day in mid-January, when hardly anyone was vaccinated yet. When you consider how many people are vaccinated now (54% of the total population, including 83% of the most vulnerable over-65 age group), and how effectively the vaccines have prevented death (New Hampshire reported this week that only 24 of its 413 deaths since January 20 have been fully vaccinated people.), it is scary to imagine how many deaths we'd be having if the Delta variant had hit before we had vaccines.
---
Previously, the Biden administration had been proposing that all recipients of the Pfizer Covid vaccine (like me) get a third booster shot at some point. Friday, a CDC advisory panel endorsed that idea only for people over 65 (me in another month) and those at special risk.
"It's likely beneficial, in my opinion, for the elderly, and may eventually be indicated for the general population. I just don't think we're there yet in terms of the data," said Dr. Ofer Levy, a vaccine and infectious disease specialist at Boston Children's Hospital.
Boosters for the other vaccines are under consideration, but the data hasn't been analyzed yet.
---
A poll by Fox News (of all people) shows the public getting behind anti-Covid measures like vaccine and mask mandates in ever-increasing numbers.
and a dress
Sometimes I agree with Rep. Alexandria Ocasio-Cortez and sometimes I don't, but I am consistently in awe of her political talent. If you're looking for traditional skills, she can give a speech or grill a witness with the best of them. But she can also tweet and troll and manipulate public attention in all the 21st-century ways.
The dress she wore to the Met Gala (an annual high-priced fund-raiser for the New York's Metropolitan Museum of Art) was one of the great political stunts. Ordinarily, the Met Gala is a contest in which celebrities dress up to compete for a fairly small amount of attention. (I don't remember what anybody wore to previous Met Galas. Do you?) AOC didn't just win that contest this year, she blew past the usual bounds of the event, so that people who ordinarily pay no attention to the Gala are talking about her. And she connected that attention to a popular political slogan: Tax the Rich.
You might be thinking: OMG, she walked into conservative criticism for hypocrisy. (I mean, what's a socialist doing at a $35,000-a-ticket event anyway?) If so, you don't understand the current political culture: In order to really command attention, you need to bait your enemies into attacking you in over-the-top ways that force your allies to defend you. That back-and-forth seizes center stage in a way that an unimpeachable statement never could. Trump pioneered the technique in 2016, and so reduced Jeb Bush and Marco Rubio to playing minor roles in his drama. Marjorie Taylor Greene has learned from the master, catapulting herself from obscurity to national prominence.
Among Democrats, only AOC seems to understand how this works. The Tucker Carlsons and Laura Ingrahams can't get her out of their heads, so she can never be out of the spotlight for long.
BTW, she has good answers to the various questions that have been raised: Like other New York political leaders, she was invited to the gala and did not pay $35K to get in. The dress was borrowed from the designer, a woman of color, who also got significant positive attention from AOC's stunt.
Finally, given all the attention paid to what women in politics wear, I appreciated seeing AOC turn that attention to her advantage. All those people who were going to stare at her butt anyway could stare at "Tax the Rich".
---
An aside: Remember back in 2008 how Republicans went on and on about how hot Sarah Palin was?
and here's a concept more people should know about
Disney Princess theology. This comes from Erna Kim Hackett's essay "Why I Stopped Talking About Racial Reconciliation and Started Talking About White Supremacy".
White Christianity suffers from a bad case of Disney Princess theology. As each individual reads Scripture, they see themselves as the princess in every story. They are Esther, never Xerxes or Haman. They are Peter, but never Judas. They are the woman anointing Jesus, never the Pharisees. They are the Jews escaping slavery, never Egypt.

For citizens of the most powerful country in the world, who enslaved both Native and Black people, to see itself as Israel and not Egypt when studying Scripture is a perfect example of Disney princess theology. And it means that as people in power, they have no lens for locating themselves rightly in Scripture or society — and it has made them blind and utterly ill-equipped to engage issues of power and injustice. It is some very weak Bible work.
I am reminded of something a religious educator at my church once told me: Lots of articles tell you what you should do if your kid is being bullied at school. But hardly any articles address the possibility that your kid is the bully.
You can see a lot of Disney Princess thinking in the way some Christian churches have responded to Covid: Everything is a plot to oppress them, because they are the center of the Universe. Shutting churches wasn't a byproduct of a reasonable effort to limit crowds, shutting churches was the point! If the government can send people door-to-door to promote vaccines, it can send them door-to-door to confiscate Bibles!
Why should American Christians imagine that anybody wants to confiscate their Bibles? (I have literally never heard anybody propose confiscating Bibles. Even the atheist equivalent of "locker room talk" doesn't go there.) Because telling the story that way makes them the damsels in distress, when actually they are the villains preventing America from beating this virus.
The Christian anti-vaxxers aren't the faithful Israelites, they're the Israelites who complained about manna.
and the Durham investigation finally produced an indictment
Thursday Special Counsel John Durham indicted Michael Sussman, a cybersecurity attorney for the Perkins Coie law firm. The indictment revolves around internet traffic that appeared to imply some back-channel between the 2016 Trump campaign and Putin-connected Alfa Bank. Sussman told the FBI about the traffic and its possible implications, which never panned out. (The Mueller Report, for example, doesn't mention Alfa Bank.)
During his meeting with the FBI, the indictment says, Sussman claimed not to be representing a client, but simply providing the information as a good citizen concerned about national security. But Perkins Coie represented the Clinton campaign, and Sussman had billed time spent investigating Trump's Russia connection. The indictment says Sussman lied to the FBI, and was in fact representing Clinton at the time, in an attempt to get the FBI investigating Trump. Sussman has pleaded not guilty; he denies that he said he was not working for a client, and claims he was actually representing a different client at the FBI meeting.
Major editorial pages split on how significant this indictment is. The Wall Street Journal says Durham has "cracked the Russia case" and "delivered on RussiaGate". The Washington Post disagrees:
This, to put it mildly, is not the confirmation of some broad 2016 deep-state conspiracy against Mr. Trump that the former president apparently desired.
After all, Trump often said Durham's counter-investigation of the Trump/Russia investigation would uncover "the greatest political crimes in the history of our country" and lead to indictments of Obama and Biden, not to mention high-level co-conspirators like James Comey. There's no sign of any of that in this indictment.
Reading the indictment itself, I can't decide whether Durham's case is weak or he is just a bad writer. The indictment paints a picture of Sussman working with a tech-company executive and various others to research cyber-connections between Trump and Russia. It is clear that the people involved were doing opposition research against Trump. Some worked for the Clinton campaign, while others were acting out of partisan sentiment, without any professional interest. What's missing is anything sinister: The researchers do not appear to have invented the Alfa Bank data, for example. The larger importance of what they did is also iffy: They gave the FBI a lead that didn't go anywhere.
From Trump's point of view, the ultimate goal of the Durham investigation was to show that the Trump/Russia investigation was a hoax from the beginning. This indictment does not do that.
What's more, nothing Durham turns up could possibly do that, because Trump did in fact collude with Russia. His campaign manager (Paul Manafort) was passing confidential campaign information to a Russian agent. Manafort himself was a longtime contractor for Putin-connected oligarchs, to the tune of many millions of dollars. Roger Stone was involved somehow in WikiLeaks' release of the Russian-hacked Clinton campaign emails. Don Jr. met with Russians to solicit Russian "dirt" on Clinton.
And the reason we don't know more about these Trump/Russian channels is that Trump obstructed Mueller's investigation of them, not the least by signalling to Manafort and Stone that they could count on pardons, which they ultimately received.
and you also might be interested in …
The demonstration in support of the January 6 insurrectionists fizzled Saturday. CNN's Ana Navarro-Cárdenas quipped: "More people showed up to my last garage sale."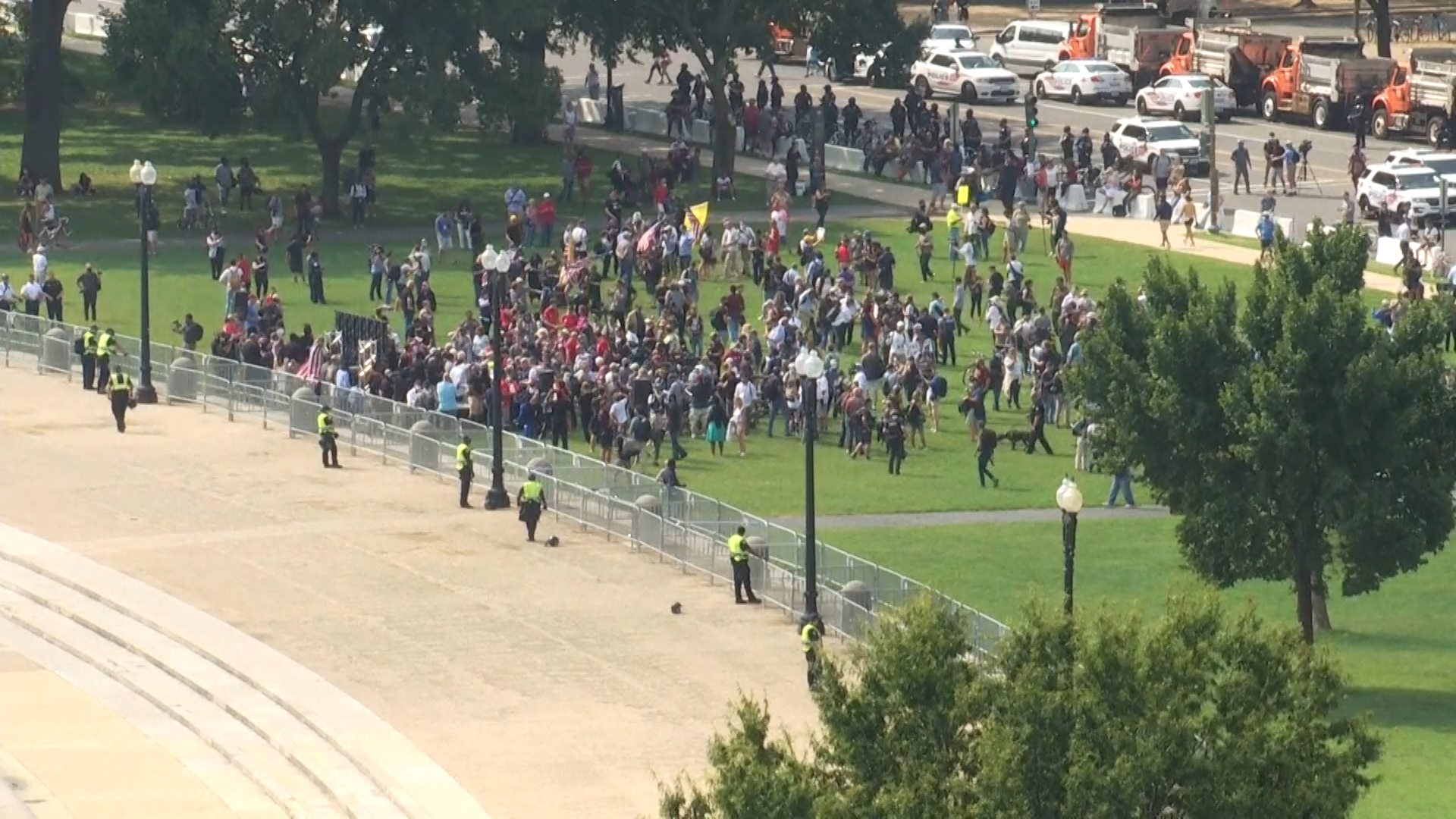 ---
Russia had parliamentary elections Friday to Sunday, and Putin's United Russia Party appears to have won. The opposition to Putin operated under severe constraints, with many opposition leaders in jail, the media effectively under control of the government, and numerous fake candidates running to split the anti-Putin vote.
The opposition compiled a list of the most viable challengers in every district, but of course the government did its best to prevent distribution. The saddest and most reprehensible part of this story is that Apple and Google gave in to Putin and removed an opposition app from their app stores.
---
The Emmys were announced last night.
---
We might be headed towards another debt ceiling crisis. Democrats don't want to push a debt-ceiling increase through on their own, and Mitch McConnell is refusing to cooperate. Something has to happen before the end of October.
As I've said many times, having a debt ceiling separate from the ordinary appropriation process is ridiculous. If Congress approves a budget with a deficit, the Treasury should automatically be authorized to borrow the money to cover it. Allowing Congress the option to vote for a deficit but refuse to authorize borrowing, is like installing a big self-destruct button on the government.
---
America's top gymnasts testified to the Senate about the FBI's handling of their sexual abuse complaints against USA Gymnastics doctor Larry Nassar. Nassar was eventually removed and went to prison, but only after a long delay, during which he continued sexually abusing female gymnasts.
---
General Kenneth McKenzie of the US Central Command admitted that a drone strike strike in Kabul on August 29 was a mistake, and that the ten people killed were not terrorists. It is a sadly appropriate ending to the US intervention in Afghanistan, given how many such mistakes we have made in the last 20 years.
A difficult but worthwhile read is "The Other Afghan Women" by The New Yorker's Anand Gopal.
[T]he U.S. did not attempt to settle … divides and build durable, inclusive institutions; instead, it intervened in a civil war, supporting one side against the other. As a result, like the Soviets, the Americans effectively created two Afghanistans: one mired in endless conflict, the other prosperous and hopeful. It is the hopeful Afghanistan that's now under threat.
Gopal introduces us to the Afghanistan of the countryside, rather than the cities.
---
Ohio Congressman Anthony Gonzalez, one of the ten Republican congresspeople to vote for Trump's second impeachment, will not run for re-election.
His district, OH-16, is a convoluted construction southwest of Cleveland. It is reliably Republican, having been represented by a Democrat only two years out of the last 70. Trump got 56% of the vote there in both 2016 and 2020. Gonzalez himself got 63% of the vote in 2020.
I wish one of these Trump-resisting Republicans would stand and fight for his or her vision of the Party. Every time a Jeff Flake or a Bob Corker surrenders without resistance, Trump's aura of invincibility within the Republican Party gets stronger. Every time somebody refuses to fight, it feeds the narrative that you can't fight.
Words I never thought I'd write: Hang in there, Liz Cheney.
---
Every few days brings a new story of some anti-vax activist dying of Covid. I don't think it's healthy to focus on them or take too much satisfaction from them. But it's useful to keep one in your back pocket in case you find yourself in a social-media argument with someone who thinks all the statistics are fake.
The web site sorryantivaxxer.com is a long series of such stories. I find it very creepy, and I would not advise hanging out there for long.
---
This week's stereotype validation: Three Texas women attacked the hostess at a New York City restaurant when she asked to see proof of vaccination before letting them enter, as the current NYC rules require. They've been charged with misdemeanor assault.
---
In honor of the late comedian Norm MacDonald, who died Tuesday, here's the moth joke, and the story behind it.
and let's close with something adventurous
The Instagram page "On Adventure With Dad" chronicles the activities of a Photoshop wizard and his two small children. If you're not on Instagram, the portfolio is here.