There is a substantial national consensus and someone needs to speak for it.
Unfortunately, our current President can't.

---
The bullhorn speech. The highest presidential approval Gallup ever reported was published on September 24, 2001. Just ten months before, George W. Bush had lost the popular vote to Al Gore, resulting in a bitter dispute over Florida, and a widespread belief among Democrats that his presidency was illegitimate. In the poll published on September 10, Bush's approval rating had been a lackluster 51%, barely higher than the 48% who had voted for him in November. But now, suddenly, 90% of Americans approved of his job performance.
Bush was the same man he had been two weeks before, but something historic had happened in the meantime: On September 11, the United States suffered a humiliating and horrifying attack. In New York, the twin towers of the World Trade Center fell, killing almost 3,000. In Washington, the Pentagon had been damaged. A fourth hijacked airliner, rumored to have been targeted at the Capitol, had been brought down by a self-sacrificing passenger uprising.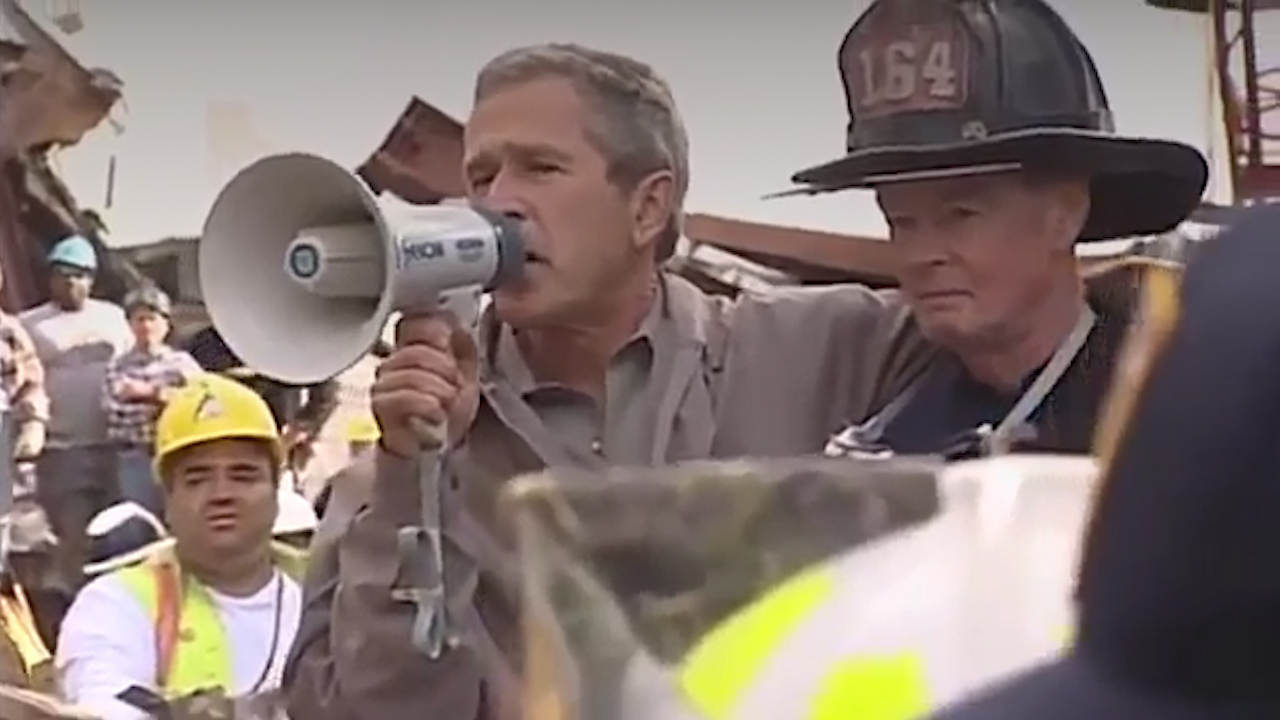 Three days later, Bush stood in the WTC rubble.
The president, who had been in office less than eight months, grabbed a bullhorn and started thanking the fire fighters and other first responders at the scene, telling them that they were in the country's prayers. Someone in the crowd shouted that he couldn't hear the president, and Bush replied with the words that made history.

"I can hear you!" he declared. "The rest of the world hears you! And the people – and the people who knocked these buildings down will hear all of us soon." The crowd reacted with loud, prolonged chants of "USA! USA!"

In this electric moment, Bush captured the mood of the country, delivering just what the American people wanted a combination of gratitude for the rescue workers' bravery and diligence, defiance toward the terrorists, and resolve to bring the evil doers to justice.
Rally round the flag. Other peaks of presidential approval reflect similar moments of national unity. In 1991 and 1945, the common emotion was pride and relief at the successful conclusion of a war. The first President Bush garnered 89% approval after the surprisingly one-sided victory over Saddam Hussein in the First Gulf War. President Truman reached 87% approval after the surrender of Nazi Germany. Perhaps the moment that most resembled 9/11 was Pearl Harbor, when a similar sense of national determination pushed FDR's approval up to 84%.
Crisis has a way of uniting Americans around their president. Past mistakes and doubts are put aside. Had W ignored the terrorist threat before 9/11? Had his father's uncertain policy led Saddam to believe he could get away with invading Kuwait? December 7, 1941 was not just a "date that will live in infamy", it was also a shocking defeat for the Navy that Roosevelt commanded, and was soon followed by the defeat of American ground forces in the Philippines.
So if you had wanted to disapprove of any of those presidents, you could justify it. But somehow none of that mattered. The nation yearned to be united, and there was only one president to unite around. Lingering disagreements and disappointments would have to be transcended until the current challenge had been met and overcome.
Over time, this pattern has baked itself into the American psyche so deeply that it has a name: the rally-round-the-flag effect.
What about now? Right now, we're in another national crisis of historic proportions. More than 50,000 Americans have died of Covid-19, almost all of them in the last month. Hundreds of thousands are sick, and nearly every American has felt the impact of stay-at-home orders intended to "flatten the curve" and blunt the upward trajectory of death.
We're mourning, we're hurting, we're frightened, and we're angry. So why isn't the rally-round-the-flag effect working for President Trump?
One theory is that the country's partisan divide has gotten so wide that it's impossible to cross over and support a leader of the opposite party. But that doesn't explain why the effect is still working at the state level, for governors of both parties: Democrat Andrew Cuomo of New York, whose televised briefings have made him a national figure, scored an 87% approval rating in late March. And Larry Hogan of Maryland and Ohio's Mike DeWine are Republican governors with similarly stratospheric ratings: 84% and 83%, respectively.
All those states (especially New York) have been hard-hit by the virus, and you could easily imagine people deciding to blame the governor rather than support him. But that's not what's happening. Past disputes are being forgotten. Past oversights are being forgiven. New Yorkers, Marylanders, and Ohioans want to be united, and they only have one governor to unite around. So that's what they're doing.
Trump's problem isn't us, it's him. We're still capable of uniting; he's just not capable of leading us.
The country tried to unite around Trump. In early April, when he had finally stopped trying to happy-talk the virus into vanishing "like a miracle", and proclaimed himself a "wartime president", his disapproval fell below 50% for the first time since early 2017, and his approval rose near 46%, an all-time high.
Democrats were beginning to get seriously depressed about the fall election. In a true rally-round-the-flag moment, it wouldn't matter that he had been consistently wrong about the seriousness of the virus, or that he had failed to prepare either the government or the public for the battle we are now in. It wouldn't matter that the economy, which Trump had counted on to be his ticket to a second term, had collapsed. We'd all be in this struggle together, and he'd be leading us.
But that trend fell apart pretty quickly. By this week, Trump's 538 polling average was back in familiar territory: 52.4% disapproval, 43.4% approval — with the trend line decidedly negative.
Why?
How it works. Sometimes we talk about the RRtF effect as if it were a knee-jerk reflex: There's a crisis, so I'll support the president. But it's actually a more complex process than that.
The first thing to notice is that ordinary politics is divisive, while crisis politics is unifying. Ordinarily, our national political conversation is about issues we disagree on: Should abortions be easier or harder to get? Should government do more to help people, or just get out of their way? Do refugees and immigrants continually revitalize our nation, or do they steal opportunities from the native born? Do whites and men have unfair privileges they need to relinquish, or have they yielded too much already?
We're a two-party system, so we tend to divide into relatively equal sides.
But when a crisis hits, most of us suddenly find ourselves on the same side. When the planes hit the World Trade Center, everybody became a New Yorker. When Nazi Germany surrendered, parties broke out all over America.
Being on the same side, a lot of us find ourselves thinking the same things. After 9/11, a huge majority of Americans were all thinking: "We can't just let something like this happen to us. We have to find who did it and stop them. We have to make sure nothing like this happens again."
But at the same time, a crisis makes us feel small in our individuality. It was paralyzing to imagine being in the WTC when the planes hit. What could you have done? And if people on the other side of the world were plotting similar attacks right now, what could you do about it?
That combination of factors creates an opportunity for a leader: When Bush picked up that bullhorn, he spoke for us, and spoke with the strength that we had together rather than the weakness we felt as individuals. (There's a long conversation to be had about how he misused that strength, but that's a different topic.) He didn't say, "Listen to me!" He said "I hear you!" and he promised to channel our unified will into powerful action.
That's what 90% of America approved of.
The consensus today. If you listen to cable news shows or watch the President's coronavirus briefings, you might imagine that the virus is an ordinary-politics divisive topic. But it really isn't. Pretty much everybody is thinking and feeling and wanting the same things.
We're afraid of getting sick and dying, or of passing the virus on to our more vulnerable loved ones and watching them die.
We wish we could do something.
We're bored and frustrated with staying at home, but we're willing to keep doing it if it actually helps.
We sympathize with people who have lost relatives or friends without being able to visit them in the hospital or hold their hands.
We're worried about our financial future.
We're rooting for our doctors and scientists to figure out how to beat this thing.
We concerned about the long-term effects on our communities. (Will our local shops and bars and restaurants and theaters and stadiums ever reopen? Will they be recognizable when they do?)
We miss the lives we used to have.
We worry that people will do stupid things to make it all worse.
We admire the people who are risking their lives to take care of others, and we feel responsible for the people (grocery workers, meat-plant processors, delivery people) whose jobs require them to take risks on our behalf.
I could go on, but you can probably extend that list yourself.
The arguments we're having on social media (or that other people are having for us on TV) are mostly artificial. When we talk about reopening businesses, my worry that stupid people will make it all worse may conflict with your desire to get out of the house and your worry that we've been wrecking our financial future, but we share all those concerns. Literally everybody wants to restore normal life safely, but none of us know exactly how to do that. We all wish we did.
That consensus creates the opportunity that many governors are using to raise their popularity: They hear us. They're speaking for us. And they speak with the power we have together rather than the weakness and fragility we feel as individuals.
Why not Trump? The singular virtue that made Trump's political career is that he has the best-defined personal brand of anyone who has ever run for president. People sometimes say, "You know what he thinks" or "You know where he stands", but neither of those is actually true. (In reality, he likes nothing better than to get on both sides of an issue and then claim victory no matter how it comes out. Last week I pointed out how he was doing that in regard to reopening the economy, but you can see the same pattern many places. Like China, for example: He's an anti-China trade warrior, but he also brags about his great relationship with President Xi.)
The real underlying truth is "You know who he is, and he never changes."
"Who he is" is a divider, not a uniter. The heart of his 2016 campaign was to channel the resentment and anger of rural whites who feel like America has slipped away from them. His whole public persona (and I suspect his personality) is based on resentment. Wherever he goes, he has to define enemies: the Deep State, the fake-news media, Crooked Hillary, Shifty Schiff … it never ends. He recognizes no loyal opposition; those who are against him (or just not for him ardently enough, like Jeff Sessions) are "horrible people". He couldn't forgive John McCain, even in death.
Unifying politicians have a way of co-opting their enemies — the way W co-opted the so-called liberal media in the run-up to the Iraq War — but Trump must defeat his. They must visibly surrender and pay tribute to his victory. President Obama found diplomatic roles for George W. Bush to play, as Bush in turn had made use of Bill Clinton. But it's impossible to imagine Trump asking Obama's help — despite (or perhaps because of) all the countries where Obama continues to be popular. Obama would have to bend the knee and beg first, and even then Trump would probably refuse (as during the transition, he accepted Mitt Romney's submission, but refused to offer him a post).
So even trying to speak for the country's consensus would break Trump's brand. Who would the enemy be? How could he hold a press conference without demonizing the reporters? How could he be smarter than everyone if he agreed with everyone?
On a deeper level, it would also run counter to his psychology. Look again at Bush's bullhorn speech. "I hear you," requires a fluidity of ego that Trump does not have. He is himself, and he is right, and he is better than everybody else. Speaking for the consensus requires putting yourself to the side. Trump will never, ever be able to do that.
Instead, we have the spectacle of his daily briefings, where the reporters are enemies and the doctors are rivals whose loyalty he must constantly assess. The dead are not individuals to mourn and the bereaved are not objects of sympathy or empathy. They are possible sources of blame, and so they must be removed from the spotlight as quickly as possible. There is only one spotlight, and only one person it should illuminate. The opinions that are validated must be his opinions, which he came to first, before anyone else. They can't be yours or mine or anybody's but his.