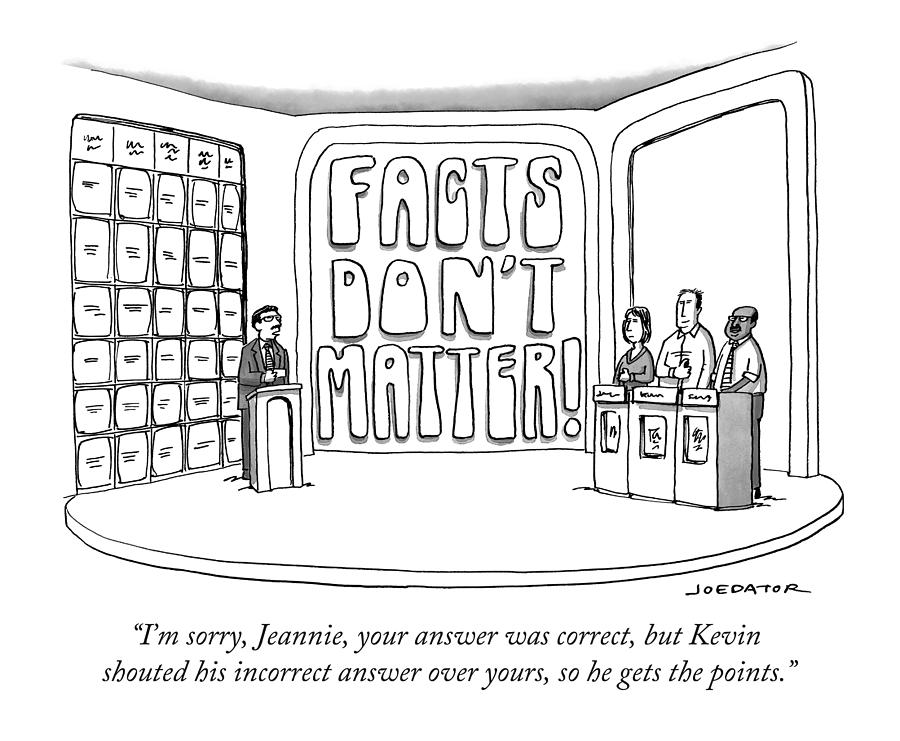 Last Monday, Special Counsel Robert Mueller's report had only been finished for a few days, and Attorney General Bill Barr's first letter to Congress had only come out the day before. All through this process, I've been urging patience over speculation, so my initial impulse was to give Barr the benefit of the doubt, at least for a little while. After all, he was promising to do the right thing:
[M]y goal and intent is to release as much of the Special Counsel's report as I can consistent with applicable law, regulations, and Departmental policies.
His second letter, written Friday, fleshed that out a little.
I anticipate we will be in a position to release the report by mid-April, if not sooner.
In between, though, Trump and his supporters have gone on a scorched-earth victory lap. First he claimed a vindication that so far is not supported by the available facts,
No Collusion, No Obstruction, Complete and Total EXONERATION. KEEP AMERICA GREAT!
He went on to demand revenge against the enemies who supported investigating the President's dubious relationship with Russia in the first place.
Congressman Adam Schiff, who spent two years knowingly and unlawfully lying and leaking, should be forced to resign from Congress!
Trumpists in Congress — who said nothing when Schiff's predecessor Devin Nunes ran the House Intelligence Committee in a thoroughly partisan manner — joined in:
Republicans in Congress and the White House are calling for Rep. Adam Schiff to resign his position as the Chair of the House Intelligence Committee. The president and his supporters say Schiff perpetuated a false narrative about Trump and his potential illegal activities.
At a rally in Grand Rapids Trump listed his enemies — Schiff, Jerry Nadler, the media — and led a chant of "Lock them up!". Lindsay Graham, who chairs the Senate Judiciary Committee wants to investigate the people who investigated Trump:
We need a special counsel to look at the potential crimes by the Department of Justice — the FBI — regarding the Clinton e-mail investigation and the Russian investigation against Trump early on.
Trump also wants revenge against the media.
So funny that The New York Times & The Washington Post got a Pulitzer Prize for their coverage (100% NEGATIVE and FAKE!) of Collusion with Russia – And there was No Collusion! So, they were either duped or corrupt? In any event, their prizes should be taken away by the Committee!
(MSNBC's David Guru examined how the NYT and WaPo reporting holds up: pretty well, it turns out.)
The Trump campaign sent out a memo asking networks to blacklist critics of the administration:
"Moving forward, we ask that you employ basic journalistic standards when booking such guests to appear anywhere in your universe of productions," the memo read. "You should begin by asking the basic question: 'Does this guest warrant further appearances in our programming, given the outrageous and unsupported claims made in the past?'"

The memo, written by communications director Tim Murtaugh, lists Sen. Richard Blumenthal (D-Conn.), Rep. Adam Schiff (D-Calif.), Rep. Jerrold Nadler (D-N.Y.), Rep. Eric Swalwell (D-Calif.), Democratic National Committee Chairman Tom Perez and former CIA Director John Brennan.
And all this is based on what exactly? A four-page letter written by an attorney general that Trump hand-picked for this purpose. And that letter itself may not say as much as it seems to.
Barr's summary. In general, as facts trickled out of the Special Counsel's office during the last two years, I have tried to avoid tea-leaf reading. I figured that there would eventually be an actual report that said things clearly. I stuck to that policy last week, and did not do a word-by-word analysis of Barr's letter. But if Trump and his supporters are going to get this far ahead of the facts, and to try to bully various players in our political system into actions based on their extreme interpretation of Barr's letter, then I think it would be irresponsible to let those interpretations own the field until Barr sees fit to release some version of Mueller's actual report.
So what exactly did Barr say?
The Special Counsel's investigation did not find that the Trump campaign or anyone associated with it conspired or coordinated with Russia in its efforts to influence the 2016 presidential election. As the report states: "[T]he investigation did not establish that members of the Trump campaign conspired or coordinated with the Russian government in its election interference activities."
I think it's rational to assume that Barr is being a good servant to his master here: Assuming that what this passage says is true at all (always a major concession when dealing with the most dishonest administration in my lifetime), it reads Mueller's report in the way most favorable to Trump's interests. And it does not say "no collusion". It says that Mueller could not prove that the Trump campaign and the Russian government were directly conspiring. But was Roger Stone part of the Trump campaign? Was Russian oligarch (and Paul Manafort's former employer) Oleg Deripaska part of the Russian government? What if WikiLeaks was a middleman, conspiring on the one hand with Russia and on the other with the Trump campaign?
In other words, the quote could mean what Trump wants it to mean: that Mueller found the accusations of collusion entirely baseless. Or it could mean that Mueller found a lot of suggestive and suspicious evidence, perhaps better than 50/50 evidence, but no smoking gun — at least not one that would stand up in a criminal trial — that could be tied all the way back to Trump in one direction and Putin in the other. We won't know which is closer to the truth until we can read the full report.
The second part of Trump's claim — "no obstruction" — has nothing to do with Mueller. Barr writes:
The Special Counsel did not draw a conclusion — one way or the other — as to whether the examined conduct [of the President] constituted obstruction. … The Special Counsel states that "while this report does not conclude that the President committed a crime, it also does not exonerate him." … Deputy Attorney General Rod Rosenstein and I have concluded that the evidence developed during the Special Counsel's investigation is not sufficient to establish that the President committed an obstruction-of-justice offense.
Again, not a clean bill of health, just a statement that the evidence is insufficient to prove a crime in court, at least in Barr's mind, though not necessarily in Mueller's. (If Rod Rosenstein really does agree with Barr's conclusion, I'd like to hear him say so himself, rather than let Barr put words in his mouth.) And if that's the most favorable-to-Trump interpretation possible, then I have to agree with George Conway (Kellyanne's husband):
Americans should expect far more from a president than merely that he not be provably a criminal.
To conclude this section: Nothing in the information currently available would justify making Schiff resign, rescinding the Pulitzers of the Times and Post, investigating the investigators, letting the Trump campaign write a media blacklist, or locking up any Trump critic. If Trump thinks the full Mueller report contains such information, well, release it and then we'll all see.
Why the delay? Which brings up the question of why no one can see the report yet. (Alex Cole pointed out how typical this is: "Donald Trump is: 1) 'a billionaire' but you can't see his taxes 2) 'a genius' but you can't see his grades 3) 'exonerated' but you can't see the report.)
In his first letter, Barr listed two things he needed to redact before making the report public. His second letter expanded it to four things:
proceedings of a grand jury
whatever might compromise intelligence sources and methods
material that could affect "other ongoing matters", which I take to mean open investigations
"information that would unduly infringe on the personal privacy and reputational interests of peripheral third parties".
House Judiciary Chair Jerry Nadler has pointed out that these may be considerations that limit what can be released to the public, but they shouldn't (and usually don't) apply to Congress.
[R]ather than expend valuable time and resources trying to keep certain portions of this report from Congress, [Attorney General Barr] should work with us to request a court order to release any and all grand jury information to the House Judiciary Committee — as has occurred in every similar investigation in the past.
Similarly, the House Intelligence Committee routinely deals with intelligence sources and methods; there's no reason to keep any part of the report secret from them on that account. Having seen how Mueller writes his indictments, I would be greatly surprised if information that could affect "other ongoing matters" hasn't already been identified and segregated.
And then we come to the "reputational interests of peripheral third parties". This looks like a black hole that could suck down anything Barr doesn't want the public to know. Because who exactly are peripheral third parties? Trump family members? Anybody not specifically indicted? And I'm not aware of any widely accepted definition of "reputational interests".
Since there really is no good reason that the report has been held so closely, I have to assume that the motive is political: to intimidate Trump's critics, and so create a period during which Trump's defenders would own the field. If during this period they succeed in bullying Democrats into silence, then perhaps they won't have to release the report at all.
Don't think nobody has thought of that. A recent poll showed that 40% of Republicans think that Barr's letter is enough; nobody needs to see the rest of Mueller's report. If Democrats got sufficiently intimidated, not releasing the report could be spun as a magnanimous gesture: There's no need to embarrass Democrats further; let's just move on.
And what about Barr's promises? Well, these things have a way of evaporating if nobody insists on them. Remember when Trump was going to have a news conference to present the evidence that Melania came to America legally? Never happened. And who can count the number of times Trump said he was going to release his taxes?
The gaslighting hasn't worked. For a few days, Barr's first letter and Trump's response to it threw Democrats for a loop: What if Mueller's report really does totally vindicate Trump? What if it all does turn out to be a big nothingburger and we have to eat all the words we've said in the last two years? Do we really want to say more words, knowing that they might come back to us along with all the others?
But by mid-week I think a lot of people independently came to the same conclusion: If this report really did exonerate Trump, it would already be public. And the rush to judgment among Trump supporters has been a little too extreme. You don't do that when you know that the slowly grinding mills are going to get you what you want.
Thursday, Republicans on the House Intelligence Committee read a letter asking Chairman Adam Schiff to resign, and Schiff was ready for them. He listed all shady stuff we know about Trump and Russia in a litany of "You may think it's OK if …". It went viral.
Since then, I think a lot of us have been in a mood to call Trump's bluff: You think you've got the goods? Let's see them.
It will all come out eventually. I suspect we will at some point see nearly all of the Mueller Report. It will come out, because the benefit of keeping it secret is fading: If it exonerates you, let's see it. If we can't see it, it probably doesn't exonerate you.
Some parts of the public report may be redacted, and a few names of more-or-less innocent people may be replaced by the kind of placeholders that labelled Trump as "Individual 1" in the Michael Cohen indictment. But we will see it, and Congress will see it in its original form.
This is a testing period, where Trump's people have been gaslighting us with their interpretation of the report we can't see, and are floating the idea of keeping the report secret just to see if they can get away with it. In the end, I suspect, the public and the Democrats in Congress will stand firm, and Barr will magnanimously fulfill his promise. "See," we'll be told, "you've been getting all upset about nothing again. We said we'd release it, and here it is."
However, the test is real. If they could get away with burying the report, they would. The first version Barr releases will probably be inadequate in one way or another, and the deadline for releasing it might slip further, just to see if anyone cares. But people care.
And when it does come out, the Adam Schiff approach is exactly right. "Does this evidence establish a crime beyond a reasonable doubt?" shouldn't be the only question. We also need to ask: "Is this kind of behavior OK? Are we willing to accept that American democracy will look like this from now on?"
Inside the Trump bubble it will make no difference. Fox News has trumpeted that the Mueller Report clears Trump, and that conclusion will be allowed to stand after the report comes out, whether it is accurate or not. Anyone who dares to raise the issue will be treated as a traitor and drummed out of the community.
But for the rest of the country, I think the answer will be No. We don't want our presidents getting elected this way. And once they're in office, we don't want them to behave in a way that makes us wonder if they're loyal to a foreign adversary. That may or may not be a crime. But it's not OK.