For weeks on this blog, I'd been fretting about the Virginia governor's race. If we were really in the midst of a Democratic surge that might turn 2018 into a wave election, Virginia shouldn't have been this tense. Hillary had won there last year (by 5%, aided by a Virginian VP) and Democrats already held the governorship (thanks to Terry McAuliffe's 2.6% win in 2013). Maybe that didn't point to a landslide, but surely we couldn't lose.
Or maybe we could, or at least it looked that way for a while. Polls were averaging out to a 3% Northam advantage, with some showing Gillespie ahead. And Gillespie had been closing with a disturbingly Trumpish message: Northam was going to let Hispanic criminal gangs run wild in Virginia, while Gillespie would protect the monuments celebrating all those heroic Confederate defenders of slavery. And kneeling athletes were relevant somehow.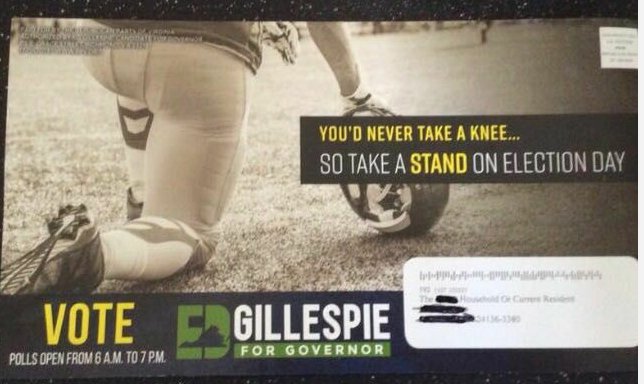 If he pulled off the upset, Gillespie's campaign seemed likely to become a model for Republican candidates to keep on Trumping in 2018: Count on fear and race-baiting to bring the base out to vote, and hope Democrats stay home.
It didn't work out that way. Northam won by 9%. That's a big enough win to keep the 2018-wave narrative intact: Northam didn't just repeat Hillary's showing, he nearly doubled her margin, and more than tripled McAuliffe's.
But beyond the horse-race aspect, what did we learn?
White identity politics isn't enough. The clearest lesson is for Republicans: In 2016, Trumpism had two pieces, not just one. Yes, white Christian identity politics was a big chunk of it, but economic populism was another big chunk.
It wasn't all just building a wall and banning Muslims and winking at the alt-Right. Trump was also going to bring factory and mining jobs back to America's small towns. He had a healthcare plan that was going to "take care of everybody … the government's going to pay for it". He was going to protect Social Security, Medicare, and Medicaid. He would get tough with China and Mexico — not because the Chinese and Mexicans aren't white, but because they had perpetrated "the greatest jobs theft in the history of the world".
Trump voters who were attracted to his white Christian identity politics should still be happy with him. He put Gorsuch on the Supreme Court, he's got ICE out terrorizing Hispanic immigrants, and he never misses a chance to stand up to ungrateful blacks, defend the Confederacy, or blame Muslims or immigrants (or best of all, Muslim immigrants) for America's problems.
But the economic-populist side of Trumpism hasn't been seen since the election.
Health care bills he endorsed would cut billions in Medicaid funding over the years, his tax plan is a bonanza for the wealthy, the budget the GOP passed to facilitate that tax plan cuts Medicare by billions, and Trump's own budget proposal included billions in Social Security cuts.
"Buy American, hire American" has proven to be an empty slogan, and the executive order that supposedly implements it has no real substance. (Not even Trump's own companies live by it.) Tough on China? Not so much. In April he broke his promise to label China a currency manipulator, and when he went there this week.
Mr. Trump projected an air of deference to China that was almost unheard-of for a visiting American president. Far from attacking Mr. Xi on trade, Mr. Trump saluted him for leading a country that he said had left the United States "so far behind." He said he could not blame the Chinese for taking advantage of weak American trade policy.
This is, in part, a consequence of his saber-rattling against North Korea: He needs China's cooperation there, so he'll have to give in to them on trade.
And Mexico? Let's just say that they're not paying for the Wall. Renegotiating NAFTA is proving to be a lot more difficult than just "getting tough" and making bigger demands. If the agreement winds up getting scrapped, the big loser will be American farmers and precisely those rural communities that were counting on Trump for help.
Given that Trump himself has abandoned economic populism, the only "Trumpism" left for Gillespie to adopt was the white Christian identity part. And while that stuff is really powerful for some Americans, those people aren't a majority. Not in Virginia and not in America as a whole.
I'm not sure how Republicans running in 2018 can deal with this problem. What the Republican majority in Congress has been all about (with Trump's blessing, for the most part) is traditional Republican trickle-down economics. 2016 Trumpism was unified by an I'm-going-to-protect-you theme, protecting his voters on the one hand from a future where white Christians are a minority, and on the other from a convergence of foreign competition, corporations who have no loyalty to their workers, and economic trends moving against them. A 2018 of message of "I protected you from Mexicans and Muslims and transgender people in your bathroom, but I tried to take away your health insurance and gave your boss a big tax cut" doesn't hang together nearly as well.
Unity, calmness, confidence. On the Democratic side, the lesson is fuzzier, but I think there's still something to learn.
The progressive/centrist split in the national party tried to project itself onto the primary, but it never really took. Superficially, the Bernie-backed progressive (Tom Perrillo) lost to the establishment candidate (Northam), but the divide between them was never that large, and Perrillo supported Northam in the general election seemingly without reservations. Northam, in turn, endorsed a number of progressive causes: $15 minimum wage, free community college, restoring voting rights to felons who have served their time, and Medicaid expansion.
Northam took advantage of his comforting image as a pediatrician, and talked calmly about jobs, healthcare, and education. He appealed to traditional Virginia gentility, saying of Trump "We're not letting him bring his hate into Virginia.", and (on just about every issue) talking about all Virginians working together to find solutions. That, of course, is a traditional political bromide, but it contrasts nicely with scare-mongering about immigrants.
In part, Northam did that because he had to — it's hard to picture him shouting and rabble-rousing. But I wonder if that isn't the right approach: progressive positions on issues, expressed calmly in terms of traditional American values like justice and fairness, rather than in a way that makes them sound radical. Northam's manner projected confidence that our problems are solvable if we work together — and not solvable if we let people take advantage of our worst instincts and turn us against each other.
Whatever approach Democratic candidates take in 2018, it needs to take advantage of the hole in the Republican message: The vague economic populism of 2016 was a mirage. Republicans have been telling white Christians who to blame for their problems, but not offering viable solutions.
Where it shows up, and where it doesn't. The exit polls can be sliced and diced all sorts of ways, but here's what jumped out at me: Gillespie slightly exceeded Trump's totals among low-income households (under $50K annually) and high-income households (over $100K), but Northam clobbered him among middle-income households. In the $50-$100K bracket, Trump edged Clinton 49%-47% in 2016, but Northam beat Gillespie 57%-41% Tuesday. That's what turned an overall 5% Clinton margin into a 9% Northam margin.
So I went back and looked at the 2013 exit polls: The Republican candidate won the $50K-$99K households 51%-43%, almost the exact mirror image of the 2017 result. So maybe this is a trend.
I could imagine a lot of reasons: Maybe the middle-income people who changed their minds have health insurance, but aren't sure they can keep it. They value education, but have to depend on the public schools. They plan to send their kids to college, but aren't sure they'll be able afford it. They're not angry and looking for someone to blame, but they are worried and looking for a reason to hope.
I don't have a good explanation for why the low-income households haven't shifted. Clinton carried them 53%-41%, and Northam's margin was about the same: 56%-43%. Maybe a more dramatic message would have helped Northam here; I don't know.
RCP's Ross Baird found another interesting way to look at the results: He examined Virginia's five "pivot counties", counties that went Obama-Obama-Trump in the last three presidential elections: They were dead heats Tuesday. What most pivot counties have in common, he says, is that "more businesses have died there than have been born … despite a net increase in entrepreneurial activity across the country since the end of the Great Recession."
That suggests that Democrats still haven't completed the sale. Trump may have lost his shine, but there are still Obama voters Democrats aren't reaching.