Perversely, sometimes "We the People" are anti-democratic

---
The word populism sounds like it ought to mean something close to democracy. Both are based on ancient words for "the People" (demos and populi), so you might expect them to be just different ways of saying the same thing: rule by the People.
The Trump campaign has been widely (and I think accurately) described as populist. He has constantly talked about "giving government back to the People". The Tea Party rhetoric he built on was all about "We the People". I don't think that rhetoric was cynical: Tea Partiers really believe that they represent the People.
And yet Trump has also been widely described (again accurately, I think) as authoritarian and anti-democratic. Populist and anti-democratic: How is that even possible?
Like this: Populism differs from democracy in a few important ways:
In populism, "the People" isn't everybody.
While democracy is "government of the People, by the People, and for the People", populism can get so focused on the for that it stops caring about the of and by.
Because democracy is of and by the People, democratic government is defined by process. But populist movements want results.
Let's go through that in more detail.
Who are the People? By its nature, populism is oppositional. In addition to the People, there is also an Elite they need to struggle against. As John Judis puts it in The Populist Explosion:
Leftwing populists champion … a vertical politics of the bottom and the middle arrayed against the top. Rightwing populists champion the people against an elite that they accuse of coddling a third group, which can consist, for instance, of immigrants, Islamists, or African American militants.
But in fact the problem in rightwing populism lies even deeper. In my Conservative-to-English Lexicon, I make fun of the Tea Party practice of describing some Americans as more "real" than others.
Real America. Rural areas and small towns, where the majority of voters are real Americans. Usage: "the best of America is in these small towns that we get to visit, and in these wonderful little pockets of what I call the real America."
Real American. 1. A white conservative Christian born in the United States at least 30 years ago. 2. A typical resident of real America. Usage: "Real Americans do not recognize [Obama] as a president."
But this isn't just a quirk of language, it points to a genuine difference in worldview. For comparison, consider what people mean when they describe someone as "a real man". Being biologically male isn't the half of it. To be real, a man has to match a cultural ideal of how men are supposed to look, think, and act. So gays are out, as are men who have effeminate voices or gestures, are too fat or too skinny, or  aren't interested in sports.
Similarly, in populism "the People" are the real people — the real Americans, real British, real Poles, real Austrians. There is an implied ideal of the kind of people the nation is "for". Some people match that ideal model and some don't.
For Trump/Tea Party populists, the real Americans are as I described: mature white conservative Christians. They're also English-speaking (with a native-born accent), straight, and pro-capitalist. They are comfortable with the gender they were assigned at birth, and if they happen to be unemployed, divorced, or without children, it's not their fault; they identify as hard-working family people, whether they really are or not.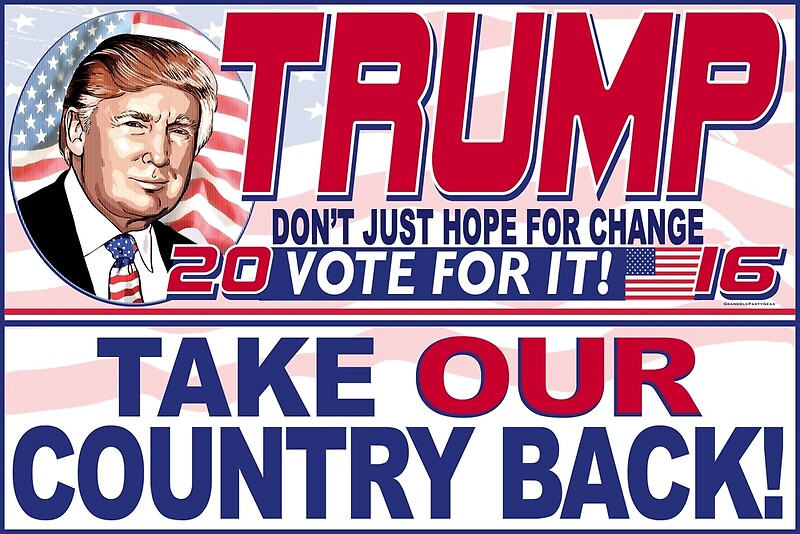 If you define the People that way, then I suspect Trump did win the "massive landslide victory" he claimed. The "millions of people who voted illegally" he tweeted about might be a pants-on-fire lie, but the notion in his supporters' minds that millions — even tens of millions — of votes were cast by someone other than the People is absolutely true. Black lesbian Spanish-speaking atheist socialists voted, and those votes counted just as much as their own. It doesn't seem right to them, because America is for real Americans, not just the people who satisfy the legal requirements to become citizens and vote.
This is why they aren't bothered by what Democrats describe as "voter suppression". If blacks or immigrants or people who don't speak English have to jump through some extra hoops before they vote, and if some large number of them get frustrated and give up before they manage to cast their votes, that's all good. The franchise wasn't really meant for them anyway.
A lot of liberals interpret this attitude as hatred of the left-out groups, but it doesn't feel that way from the inside. More accurately, it is a sense of ownership and entitlement: It's my country, not your country, but I'm content to let you live here in peace as long as you recognize that. The hatred only shows up when that ownership feels challenged.
For, not of or by. As the Trump administration took shape after the election, most of the key positions went either to billionaires, generals, or people connected to Goldman Sachs. The top-level departments (State, Defense, Treasury, Justice, Homeland Security, Intelligence) are all to be headed by white men. Of the top White House staffers, all are white men but Kellyanne Conway, who holds the vague title of "counselor".
It's been a long time since an administration looked so little like America.
The white male dominance comes from what we just talked about — who "the People" are, and what it means to be "real". (Real women don't want to rule the world. Even Conway had to explain how she could work in the White House but still put her family first. Nobody raises this question about Trump's male appointees, and Trump himself has no similar worries about his responsibilities to his 10-year-old son Barron, who at least for now will remain in New York with Melania.) But it's hard to understand how the stereotypic white-working-class Trump voter can see himself in the 3G (Goldman, generals, and gazillionaires) axis.
And the answer is: He doesn't expect to see himself, any more than he sees any resemblance between his own life and Trump's ostentatious lifestyle of celebrity and wealth. Trump is supposed to be his champion, not his buddy. Likewise, he expects the Trump administration to be for him, but not to listen to him or be filled with people like him.
Results, not process. If you look at the Constitution, you'll see that it says practically nothing about results. The Preamble is a mission statement expressing broad hopes about what the new government might accomplish with the powers the Constitution defines. But beyond that, the document is all process: This is how you pass a law. This is how you elect Congress and the President. This is how judges get appointed, treaties get approved, and so on.
It doesn't tell you much of anything about the results that will come out of that process: who will serve in the government and what laws or treaties they might approve. It doesn't specify a maximum tax rate, a balanced budget, the size of the army, an official language, or much of anything else.
The reason for that focus on process is that government of and by the People doesn't happen by itself. A constitution for an absolute monarchy could just be one line: "Do what the King says." But any large group of people is a cacophony. The larger the group and the more democratic it wants to be, the more processing it needs. (Occupy Wall Street encampments were famous for their General Assemblies, whose meetings could go on for hours each day.)
But populists typically don't care that much about simply being heard or having representation. They are fighting a battle against the Elite (whatever that term means in their particular situation) and they want to win it.
To his critics, one of the most mystifying aspects of Trump's nomination and election has been why the voters didn't hold him responsible for his repeated violations of democratic norms. Every major-party candidate since Nixon has released his tax returns, but Trump never did and apparently never will. Presidents since Lyndon Johnson have used blind trusts or generic investments like government bonds or index funds to avoid financial conflicts of interest, but not Trump.
His supporters don't seem to care. If foreign governments want to put money in Trump's pocket by holding events in his hotels or by giving regulatory favors to his construction projects, they're free to do so. It may seem incestuous for Trump to have regulatory authority over banks he owes money to, but so what? Who cares whether he holds press conferences, whether there's any way to make him answer a question, or whether his answers bear any resemblance to reality (or even to what he said last week)?
Those are process issues. His supporters want stop illegal immigration, and perhaps legal immigration as well. They want manufacturing jobs to come back from China, and coal miners to be able to make the kinds of wages their fathers did. They want to stop gays from getting married and women from getting abortions. They want terrorist attacks to stop, ISIS to fall, and America's enemies to be sorry they messed with us.
They're sick of good process, and of politicians who check the right boxes and say the right things, but don't get the results they want.
How democracies die. Democracy does have a way of getting tangled in its own processes, and American democracy has gotten more and more tangled as polarization has increased. Back in October, I listed a series of situations where the country is stuck in a status quo that nobody wants: millions of undocumented immigrants living off the books, a budget process that yields perpetual deficits and lurches from one threatened government shutdown to the next, unfilled judicial vacancies, and a Medicare system that creeps ever closer to bankruptcy.
At some point, people stop caring about good process, they just want it all fixed. If a Julius Caesar can come in and make things happen, that sounds like an improvement. (I've been discussing this prospect for a while in my "Countdown to Augustus" posts.)
But all those processes are there for a reason, as countries that discard them usually find out fairly quickly.
How populism turns very, very bad. If a populist movement's definition of the People matches the voting rolls closely enough, or if it includes a lot of people who can't vote but wish they could, then that movement will be pro-democracy, as Occupy Wall Street or the Bernie Sanders campaign were.
But that's not the only way things can go. If a populist movement feels blocked by the checks-and-balances of democracy, or by the votes of people it thinks shouldn't have a vote at all, then democracy itself can become the enemy. If it is forced to choose between democracy and the results it wants, it may choose the results.
That's why authoritarian populism is not a contradiction. The pattern of a popular dictator enacting laws to defend the common people against an entrenched aristocracy goes back not just to Caesar, but before that to the Greek tyrants. (The word tyrant didn't pick up its cruel, negative connotation until Plato — an aristocrat — wrote about tyranny generations later.)
The ultimate example of populism gone bad is Nazism. We don't usually tell the story that way: In pop-culture references, Hitler's regime is usually presented as a totalitarian pyramid of fear, which nearly everyone would have liked to topple if they hadn't been so intimidated. [1] And many certainly were cowed into submission, but most were not. The sad truth of Nazism is that for most of its reign, the Hitler regime was popular.
This comes through in a book I mentioned last week, They Thought They Were Free by Milton Mayer. After the war, Mayer went to Germany and befriended ten low-level Nazis in a small town. Almost unanimously, they faulted Hitler only for making tactical errors, like attacking Russia. But until the war, or even until the war started going badly, they felt that Hitler had come through for them: He pulled Germany out of the Depression. Good jobs were plentiful. Roads got built. Social services (for the People) improved. Law and order was restored. Germany was great again.
Unless you were Jewish, of course, or belonged to some other disapproved or disloyal group. But if you were a member in good standing of the German Volk, you were probably doing OK. A few thugs were expected to do horrible things in the name of the regime, but most people only had to avert their eyes from time to time, and not wonder too much about those who had been sent away.
Having a restrictive definition of the People, letting a leadership cadre govern for you without much oversight, ignoring process issues to focus on results … it doesn't necessarily have to go to a bad place, but it certainly can.
The present moment. It's usually a mistake to invoke the Nazis in a political discussion. [2] In our pop culture they've become cartoon villains [3], so associating them with your opponents often becomes a cheap shot.
So I should explicitly state that I don't think Trump is Hitler, and I have no specific reason to think he wants to be. A few of his supporters are openly Nazis, but the vast majority are not. I invoke the Hitler regime as a cautionary tale, not a prediction.
If we want to make sure that the Third Reich continues to be nothing more than a cautionary tale, though, we need to learn its lessons.
It's dangerous to exclude anyone from the People. Any time some infringement of rights has an implicit justification of "It's only Muslims" or "It's only inner-city blacks", that implication needs to be called out. It's hard to explicitly defend the contention that certain people don't count, but it's easy to slip such an assumption into the background.
The inability of democratic government to make progress on widely recognized problems is itself an argument for authoritarianism. So Democrats need to be very careful about how they use obstruction. "Turnabout is fair play" is a dangerous principle. We should block things because they're bad, not just because we want to be as big a nuisance to Trump as Republicans were to Obama.
While continuing to call Trump to account for ignoring good process, we can't make our stand entirely on process issues. We always need to be looking for the connection between bad process and bad results. It's not enough to point out that there's a hole in the fence; we need to catch the sheep getting out or the wolves getting in. For example, it's not going to bother most Trump supporters if he profits from being president, but it will bother them if he sold them out.
We always need to keep in mind: Trump a the symptom, not the disease. Healthy democracies don't get taken down by demagogues. Trump's version of "the People" may not be everybody, but it is a lot of folks. The way to save democracy is to make it work for everybody, them included.
---
[1] That's the reason so many believe the Hitler-confiscated-the-guns myth that so often comes up in gun control debates. He certainly didn't want Jews to have weapons, but Jews were not part of "the People" as he defined it. Racially pure Germans (as Hitler defined them) remained armed, because there was no reason for them not to be. By and large, they supported the regime.
[2] I could also have used the Reconstruction South as an example. Here the People means Southern whites, and the KKK is their champion against the Yankees above and the blacks below. A semblance of democracy is maintained, but only after blacks are disenfranchised. This is justified by the assumption that America isn't really for blacks.
[3] An occasionally disturbing exception is the current Amazon TV series The Man in the High Castle, which often brings out the ordinariness of the American Nazi regime, and at times even shows how human generosity can still express itself. In an early episode of the second season, Juliana, who has been approved as racially pure, is being resettled in the Reich by the wife of an SS officer. The officer has ulterior motives, but the wife doesn't know that. "I don't know what to say," Juliana tells the wife.
"You don't have to say anything," she responds. "You've come a place where good people take care of each other." If good means "racially pure", she's not entirely wrong.