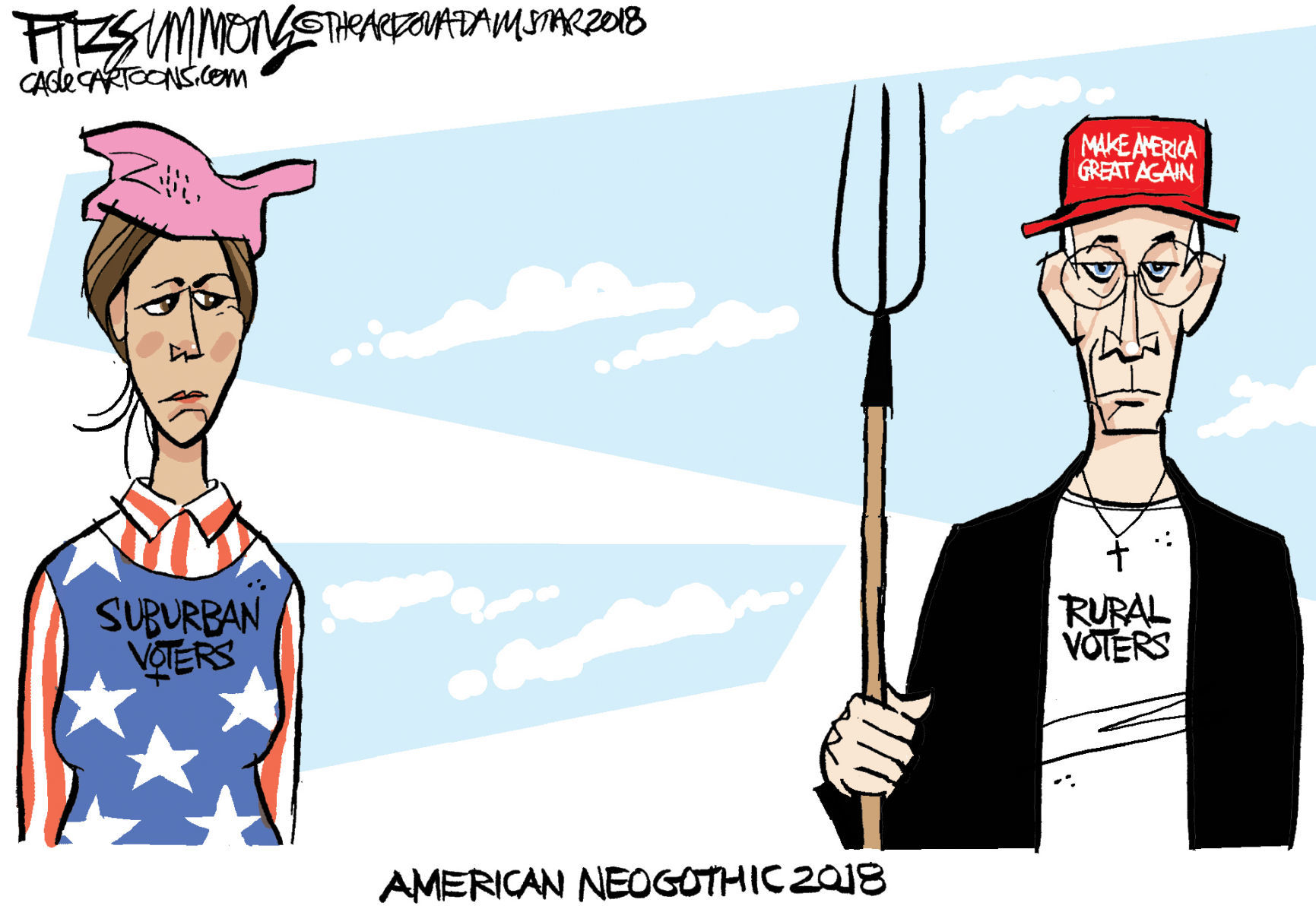 Rural voters increasingly resent Democrats,
but Republican policies aren't helping them.
---
Not so long ago, Democrats got big majorities in the cities, which Republicans balanced by carrying the suburbs, small towns, and rural areas by narrower margins. More recently, Democrats have continued dominating the cities, but MAGA policies and incivility have made the suburbs more competitive (especially by alienating educated women). Now Republicans make up the gap with big majorities in rural areas and small towns.
Two recent NYT articles have focused on how they do that, and whether Democrats can do anything about it. Thomas Edsall's "The Resentment Fueling the Republican Party is Not Coming from the Suburbs" lays out the problem:
The anger and resentment felt by rural voters toward the Democratic Party are driving a regional realignment similar to the upheaval in the white South after Democrats, led by President Lyndon Johnson, won approval of the Civil Rights Act of 1964.
Edsall presents Wisconsin as a prime example. Senator Ron Johnson is pro-insurrection, believes climate change is "bullshit", and wants to make cutting Social Security and Medicare easier by shifting those programs from "mandatory" to "discretionary" spending. If you're an urban or suburban voter, you might think those positions would make him an easy target. But in fact he narrowly won reelection in 2022 by running up huge margins in rural counties. Clearly, people think differently there.
Edsall cites the book The Politics of Resentment by University of Wisconsin Professor Katherine Cramer, who attributes the rural conservative surge to three factors.
(1) a belief that rural areas are ignored by decision makers, including policymakers, (2) a perception that rural areas do not get their fair share of resources and (3) a sense that rural folks have fundamentally distinct values and lifestyles, which are misunderstood and disrespected by city folks.
So a straightforward approach to winning rural areas back would be for Democrats to stop doing those things. But Paul Krugman points out a serious problem with that strategy: Strictly speaking, none of those three beliefs are true. There are many government policies (farm subsidies, special programs to support rural housing, rural utilities, etc.) that focus on rural areas; the federal government spends far more on rural areas than it gets back in taxes; and the respect gap runs mostly in the other direction: Democratic politicians hardly ever denigrate small towns or denounce rural values the way that Republicans target New York City or San Francisco.
It's a problem that Democrats face across the board: How do you convince people that you've stopped doing things you've never actually done? How do you respond to parents upset about public schools teaching critical race theory or grooming children to be gay or trans, when public schools don't actually do those things? How do you stop discrimination against Christians when in fact there is no discrimination against Christians? (Examples to the contrary are nearly always cases where Christians are not getting the special rights they feel entitled to.)
Given that level of misperception, it's hard to even approach the problem without thinking in a paternalistic way that any Democratic constituency would resent: Consider about how justifiably upset the Black or Hispanic communities get when White "experts" ignore their policy preferences and instead tell them what they "should" want.
I come from the kind of community Edsall and Krugman are talking about: Illinois' Adams County voted for Trump nearly 3-to-1 in both 2016 and 2020. It's in the IL-15 congressional district, where a MAGA congressional candidate tallied 71% last fall.
And in some sense I represent the root problem: I grew up there, got an education, saw no attractive opportunities, and moved away to have a successful career in the suburbs of Boston. At my high-school reunions, the primary divide is between those who left and those who stayed. (It's no wonder being "left behind" plays such a large role the Evangelical mythology popular in rural areas. The fantasy of being raptured to Heaven while unbelievers suffer the tribulations must be a very satisfying turnabout.)
The problems of rural America are very real and deserve national attention, so it's completely understandable that rural Americans would channel their discontent into a political party. Sadly, though, they've united around a party that wants to feed them myths and flatter them rather than do anything that might help.
Cutting safety-net programs like Medicaid will do significant damage in places like Adams County, while Biden's infrastructure package includes quite a bit of investment in rural areas. Conservative anti-vaccine conspiracy theories have contributed to higher Covid death rates in Trump-supporting counties, and that's just the latest chapter in a longer-term story of anti-public-health policy choices in red states.
I know I overuse Weimar analogies (which come easily to mind as I've been binging Babylon Berlin and reading Philip Kerr novels) but it's hard to ignore the parallels: Germany really had lost a war, its economy suffered badly in the dislocations of the 1920s, and what opportunities still existed were centered in the cosmopolitan cities rather than the nativist countryside. But the defeat-excusing stab-in-the-back myth was not true, Jews and libertine urban culture weren't the real problems, and fascism was not the answer.
Likewise today, fascism won't provide an answer to the real challenges rural and small-town America faces. But I'm not sure how to help rural and small-town voters figure that out.