It seems weird to say that one mass shooting is more disturbing than another. Whatever the details, people are dead for reasons that have little to do with the lives they thought they were leading. They didn't do anything wrong or take foolish risks. They just happened to be in the way when someone started shooting.
Instinctively, we want to draw lessons from other people's misfortunes, hoping to find some rule to protect us from similar harm. But mass shootings defy that impulse, because (on a personal level) there's little to learn from them short of "Stay home and barricade the door."
The six victims who died in the Chesapeake shooting Tuesday were just people who showed up for work. The three University of Virginia football players killed two weeks ago were on a class bus trip coming back from a play, and one of them was asleep. The five killed in Colorado Springs nine days ago were out at a club. There's no cautionary tale to tell about them. Their deaths just remind us that we could die too, suddenly, without any prior awareness that we were walking into that kind of story.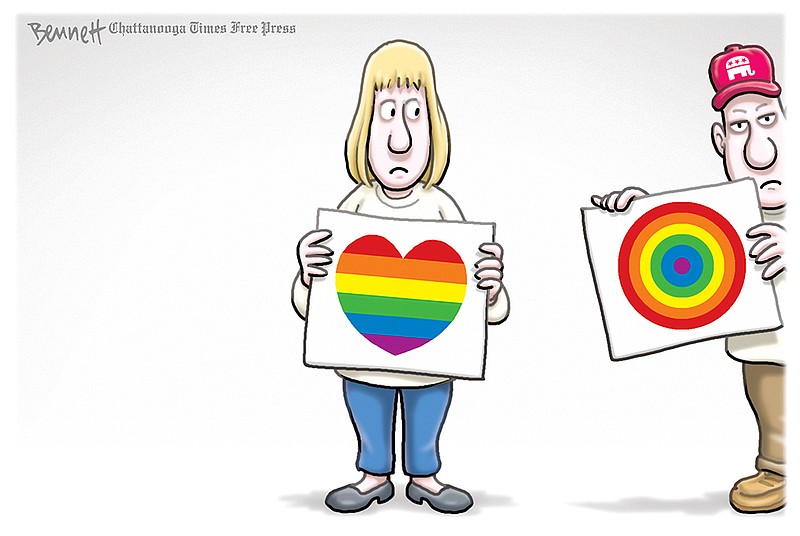 So how could one such event be any more disturbing than another (in any way other than quantitatively — more dead, more wounded)? When I mentioned Club Q last week, one commenter wasn't interested in whether or not it was a hate crime, because that distinction could hardly make it worse. Mass shootings are "wrong on so many levels, finding out why the perpetrator thought they needed to do this heinous thing is at the absolute bottom of my list of questions."
I get that. And yet, I find myself ruminating over the Club Q shooting more than the others. This shooting seems different to me, because it looks so repeatable.
But even that observation doesn't quite capture it, because in a sense every mass shootings is a repeat of all the previous ones. The stories have different details, but only a handful of plots: Someone feels insignificant, and believes that killing others will make him consequential. Or feels insulted or threatened or picked on, and wants to act out revenge on the largest possible scale. Or becomes convinced that some grievous wrong is happening in the world, one that they must fix themselves through violence. Or something similar.
Our country is awash in weapons of war. Our culture glorifies violence. We are constantly exposed to conspiracy theories that claim to expose great wrongs and the villains who perpetrate them. So we seldom go more than a week or two without a mass shooting, and sometimes they cluster, so that a new one happens before the news cycle of the previous one has played out.
We know the pattern is going to repeat. Next week, two weeks from now, there will be another shooting, another shooter, another list of dead people, another town that is probably not your town, but probably not so different.
But the Club Q shooting is repeatable in a much more specific way. Conspiracy theories about LGBTQ people, especially trans people, are circulating widely and are no longer just on the fringe: They're being pushed by leaders in conservative media and politics. Among the theories regularly touted on the right, you will find:
Violence is often suggested as a proper response to these "assaults" on children. In April, Tucker Carlson said:
I don't understand where the men are. Like where are the dads? You know, some teacher's pushing sex values on your third grader. Why don't you go in and thrash the teacher?
The Proud Boys, a group known for violence, several of whom are on trial for their role in the January 6 riot, have been disrupting drag story hours at libraries around the country. Boston Children's Hospital received bomb threats after right-wing media accused it of "child abuse" for its gender-affirming care.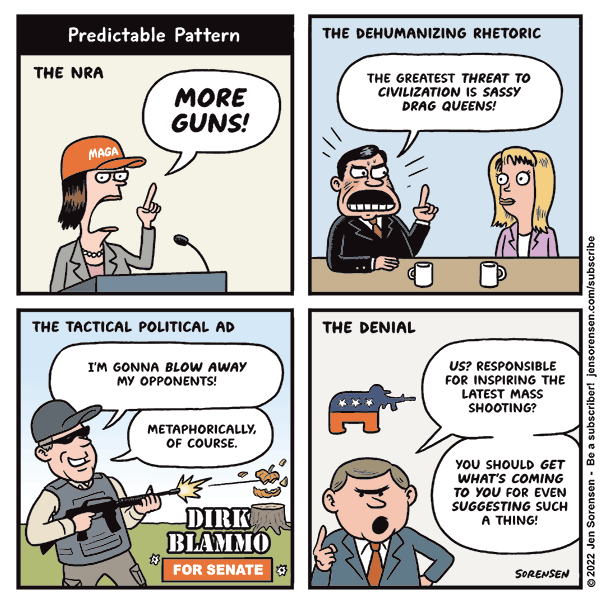 And then there's Club Q: Someone kills five and wounds 19 others at an LGBTQ club in Colorado Springs on the eve of the Transgender Day of Remembrance, when an all-ages drag show was scheduled.
No doubt the shooter has some unique story, but this was not in any sense a lone-wolf attack. An entire political movement has been plowing the ground and planting the seeds for something like this to happen. And they're not stopping. On only his second show after the Club Q shooting, Tucker Carlson repeated the tropes I listed above, and interviewed anti-trans activist Jaimee Michell, who said:
Saying that "groomer" is an anti-LGBTQ slur, that is doing irreparable damage to us as a whole, and it's putting a really large target on our backs. And unfortunately, you know, the tragedy that happened in Colorado Springs the other night, it was expected and predictable. Sadly I don't think it's going to stop until we end this evil agenda that is attacking children.
I don't know how to interpret that in any other way than "They had it coming."
Usually, opinion leaders who campaign against a group are at least momentarily silenced when that group is violently attacked. They may not take any responsibility or make any long-term change in their rhetoric, but they do at least go silent for a while. When the El Paso shooter targeted Hispanics in a WalMart, for example, President Trump did not immediately double down on the "invasion" frame that the shooter had taken literally. He came back to it later, but not right away.
But this time is different. People like Carlson and Michell did double down. They may not have explicitly called for more violence, but they repeated the distorted chain of logic that led to that violence.
The way to start a pogrom against a group of people has been understood for centuries: You tell such a vicious lie about them that, to those who believe your lie, anything done in response seems fair. Anti-Jewish pogroms were started by the blood libel: Jews needed the blood of a Christian child to consecrate their matzohs for Passover. So any child who went missing at the wrong time of year might have been murdered by Jews. "When will these outrages stop?" Christians asked each other, and before long a mob would be in the Jewish quarter bashing heads and burning homes.
That looks to be what's going on here. In actual fact,
Trans people and drag queens pose no threats to your children.
No men-claiming-to-be-women are waiting in public bathrooms to attack your daughters.
No teachers, counselors, therapists, or doctors are plotting to convince your children to change their genders.
Seeing a same-sex couple, either in person or on TV, is no more "sexual" than seeing an opposite-sex couple.
Diversity curricula in schools are not grooming your children for pedophiles.
Those are all blood libels. Their purpose is to start a pogrom. And it might be working.