I look forward – always forward – to the unfolding story of our nation: a story of light and love, of patriotism and progress, of many becoming one, and, always, an unfinished mission to make the dreams of today the reality of tomorrow.
This week's featured post is "When can I stop writing about Trump?".
This week everybody was talking about the new Congress
We finally have a result in the House: the Republicans will have a narrow majority, with somewhere between 3 and 11 more seats than the Democrats. (For comparison, Democrats came out of the 2020 elections with 9 more seats than the Republicans.) Kevin McCarthy was reelected leader of the GOP House caucus, but whether that means he has the votes to become speaker is still undetermined.
Successful Republican candidates ran on the issues of inflation and crime, so McCarthy immediately unveiled a legislative program to address those problems. NO, I'M KIDDING. Republicans immediately starting talking about investigating Hunter Biden.
At a press conference on Thursday, when a reporter began to pose a question about the plans of the coming Republican majority that was not linked to the Biden family, [incoming Chair of the House Oversight Committee James] Comer, from Kentucky, sprang forward to say, "If we could keep it about Hunter Biden, that would be great."
This investigation is supposed to own the libs somehow, but I don't know any Democrats who actually care about Hunter (other than, I assume, his Dad). Hunter is a private citizen who (unlike, say, Ivanka and Jared) has held no position in his father's administration. In four years, the Trump Justice Department somehow failed to prosecute Hunter for anything, and there's already a DoJ investigation and a grand jury hearing testimony about him in Delaware. But if McCarthy thinks the House can do better, he should have at it. (BTW: Marcy Wheeler's opinion is that the "Hunter Biden laptop" is a forensic mess.)
If Hunter does wind up in jail someday, though, I don't see that outcome having any effect on the country or even the government, other than making the President sad.
McCarthy promises investigations plural, but again, little in the way of legislation that will offer Republican solutions that the Democratic Senate will have to respond to. Other investigations might include harassing the Department of Justice for investigating Trump's crimes (because the Durham investigation worked out so well), promoting conspiracy theories about the origin of Covid-19, examining Biden's withdrawal from Afghanistan, and the state of our border with Mexico (which could be interesting if Republicans look at it honestly, which I suspect they won't).
Marjorie Taylor Greene claims that she has gotten a promise from McCarthy to "investigate Speaker Nancy Pelosi and the Justice Department for their treatment of defendants jailed in connection with the Jan. 6 attack on the Capitol." Because, you know, they're all political prisoners who didn't really do anything wrong, no matter what the juries say.
---
Will the GOP learn anything from its disappointing 2022 results? Looking at the lame-duck agenda of the Pennsylvania House, which will flip to the Democrats in January, Amanda Marcotte thinks not.
[Philadelphia District Attorney Larry] Krasner's impeachment is just a symptom of this larger problem. We shouldn't expect any Republicans, anywhere, to respond to these midterm losses by actively trying to deradicalize their party. If only. They'll just double down on conspiracy theories and lies, in a last-ditch attempt to delegitimize the voters who keep rejecting them.
---
Josh Hawley's WaPo op-ed is a somewhat mixed bag, but mostly proves Marcotte's point. The GOP's problem, Hawley thinks, is that it hasn't been radical enough.
For the past two years, the Republican establishment in Washington has capitulated on issue after issue, caving to Democrats on the Second Amendment and on the left's radical climate agenda ("infrastructure").
"Caving to Democrats on the Second Amendment" is a reference to the very modest (and very popular) reform bill passed in June, which increased background checks for gun buyers under 21 and made it harder for domestic abusers to own guns. (Hawley is welcome to propose a "give guns back to domestic abusers" bill if he wants.) And I wonder what his alternative to "the left's radical climate agenda" is. Let it burn?
The positive side of Hawley's article is that he wants Republicans to stop threatening Social Security and Medicare, and siding with Big Pharma on insulin prices. But then there's this:
Republicans will only secure the generational victories they crave when they come to terms with this reality: They must persuade a critical mass of working class voters that the GOP truly represents their interests and protects their culture. [my italics]
When he wrote the phrase "working class", Hawley left out the modifying phrase "older White Christian", which is clearly implied. A government that "protects the culture" against change is the essence of Orbanism, which appears to be the new model for Republican authoritarian government. That agenda is not just anti-immigrant, but also pro-fossil-fuel, pro-Don't-Say-Gay, anti-trans, anti-voting-rights, and against any attempt to tell school children about America's history of racism. I don't think younger voters support that agenda, even in the White Christian working class.
---
What happened to the Impeachment 10, the ten Republicans in the House who voted for Trump's second impeachment? Only one, Dan Newhouse of Washington, got re-elected. Dan Valadao of California got renominated and leads, though his race still hasn't been called.
Four retired: Adam Kinzinger of Illinois, Anthony Gonzalez of Ohio, Fred Upton of Michigan, and John Katko of New York. Gonzalez' district got eliminated when Ohio lost a seat after the 2020 census. Republicans held Kinzinger's and Katko's seats, but lost Upton's.
Four lost primaries: Liz Cheney of Wyoming, Tom Rice of South Carolina, Jaime Herrera Beutler of Washington, and Peter Meijer of Michigan. Republicans held Cheney's and Rice's seats, but lost Beutler's and Meijer's.
So: One re-elected. One re-election still undecided. One seat eliminated. Four seats held by new Republicans. Three seats lost to Democrats. So Trump mostly got the scalps he was after, but at a cost to his party.
and Nancy Pelosi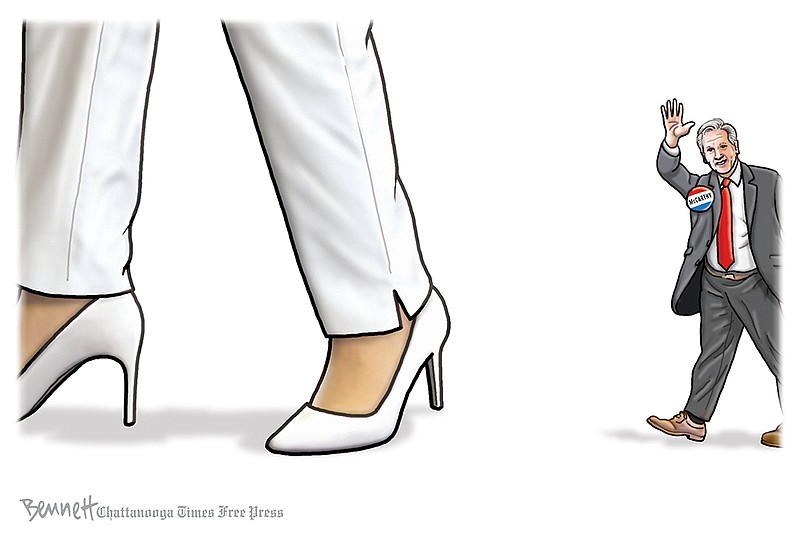 She was going to have to give up the speakership anyway, now that the Republicans have won the majority and will take over the House in January. But she also announced that she won't run to lead the House Democratic caucus, a position she has held since 2003. She has been speaker twice, 2007-2011 and 2019-2023.
Progressives like to bash Pelosi for favoring moderate positions, but I can't think of an example during her speakership of a progressive bill that passed the Senate but got stuck in the House. If some part of the Obama or Biden agenda had a legitimate chance to become law, Speaker Pelosi passed it. She is widely given credit for the legislative maneuver that pushed ObamaCare over the finish line after the Democrats unexpectedly lost their filibuster-proof Senate majority.
I think Kevin McCarthy is about to show us just how difficult it is to be speaker when you have a narrow majority. (John Boehner and Paul Ryan had trouble governing with much larger majorities, or even predicting what their caucus was going to do.) Like Ginger Rogers matching Fred Astaire's moves backwards and in heels, Pelosi has made speakership look easy these last few years, but it's not.
---
It's not just Pelosi stepping aside, but also her second and third in command, Steny Hoyer and James Clyburn. That clears a path for a new generation of Democratic leaders. The new minority leader is likely to be Hakeem Jefferies, a 52-year-old from New York. 58-year-old Katherine Clark of Massachusetts and 43-year-old Pete Aguilar of California are likely to join him in the Democratic leadership.
---
Pelosi's resignation speech on the floor of the House included a classic Pelosi insult-by-omission.
It has been my privilege to play a part in forging extraordinary progress for the American people.  I have enjoyed working with three Presidents, achieving historic investments in clean energy with President George Bush, transformative health care reform with President Barack Obama, and forging the future – from infrastructure to health care to climate action – with President Joe Biden.
Wait. Wasn't some fourth guy president during part of her speakership? Give me a minute. His name is right on the tip of my tongue.
and Trump
The featured post looks at the convergence of several Trump stories this week: the announcement of his candidacy, the surprisingly cool reaction that announcement got, Merrick Garland naming a special prosecutor to investigate Trump, and Elon Musk reactivating Trump's Twitter account, which it's not clear that he's going to start using again.
and Twitter
This week Twitter continued to hemorrhage users, engineers, advertisers, and cash. MarketWatch reports on the engineers:
Elon Musk's managerial bomb-throwing at Twitter has so thinned the ranks of software engineers who keep the world's de-facto public square up and running that industry insiders and programmers who were fired or resigned this week agree: Twitter may soon fray so badly it could actually crash.

Musk ended a very public argument with nearly two dozen coders critical to the microblogging platform's stability by ordering them fired this week. Hundreds of engineers and other workers then quit after he demanded they pledge to "extremely hardcore" work by Thursday evening or resign with severance pay.

The newest departures mean the platform is losing workers just at it is gears up for the 2022 FIFA World Cup, which opens Sunday. It's one of Twitter's busiest events, when tweet surges heavily stress its systems.
The Wall Street Journal describes the money situation:
Nearly 90% of its revenue last year came from advertising, and it traditionally has been the company's main source of revenue. … The exodus of advertisers poses a threat for a company so reliant on that revenue stream. "As an online ad company, you're flirting with disaster," said Aswath Damodaran, a finance professor at New York University's Stern School of Business. … Market-research firm Insider Intelligence Inc. recently cut its annual ad-revenue revenue outlook for Twitter by nearly 40% through 2024.
Meanwhile, Twitter has interest payments to meet. Musk financed $13 billion of his $42 billion purchase by loading the company with debt. That debt is at higher interest rates because the credit rating has dropped.
As for users, I am regularly seeing messages from my Facebook friends telling me their new Mastodon address. I rarely use Twitter for anything other than posting links to Weekly Sift articles, but I will probably try out Mastodon soon.
I'm thinking that this might turn into a big enough disaster to change the culture. Going forward, it's going to be really hard to make the case that billionaires are rich because they're so much smarter than the rest of us.
and you also might be interested in …
There was a lot of fear in the air Tuesday when a missile crossed the Ukrainian border and hit inside Poland. What if this was a deliberate Russian attack, a warning shot telling NATO to stop supporting Ukraine? Would NATO have to respond somehow? If it did, would we be be on some kind of tit-for-tat escalation path towards World War III?
Apparently not. The currently accepted theory is that Russia's missile attacks on Ukraine led the Ukrainians to fire air defense missiles. One of those went astray and landed inside Poland, killing two people.
During the coverage of this incident I learned that Russian misfires (which this strike now appears not to be) are more and more likely as the war goes on. Russia has used up nearly all of its most accurate missiles and is now shooting off whatever it has left. For example, they've started using anti-aircraft and anti-ship missiles against land targets.
Strikes from a Russian S-300 air defense system "don't have the 'oomph' to really hit hardened military targets and they don't have the accuracy in a land attack role to even strike the building you want to hit," [Ian] Williams [of the Center for Strategic and International Studies] said. "This really is just firing them into the ether and seeing where they land."
---
It's still too soon to say anything conclusive about the shooting at a Colorado Springs LGBTQ club Saturday night, but it has all the marks of a hate crime.
While no motive in the shooting has been disclosed by authorities, the violence comes amid heightened tensions for the LGBTQ community. Several drag events around the country have drawn protests and threats, with some protesters carrying firearms, and more than 240 anti-LGBTQ bills were filed in the first three months of this year, most of them targeting trans people.
---
The COP-27 climate conference in Egypt was a mixed bag. The decision to create a loss-and-damage fund is big, but the commitment to phase out fossil fuels didn't happen.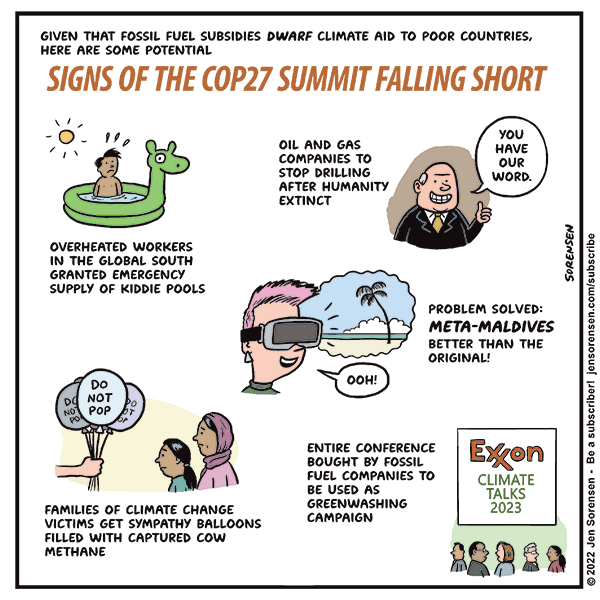 and let's close with something epic
A strangely acquired taste is the Epic Rap Battles of History on YouTube. My favorite so far is Eastern vs. Western philosophers.