Everything illegal must be destroyed. Everything stolen must be returned.
–Mykhailo Podolyak, advisor to Ukrainian President Volodymyr Zelenskyy
after the attack on the Kerch Strait Bridge
This week's featured post is "Does anything matter?"
This week everybody was talking about Herschel Walker
That's covered in the featured post.
and Ukraine
The Kerch Strait bridge linking Crimea (which Russia annexed from Ukraine in 2014) to the Russian mainland has high symbolic value. It is Europe's longest bridge, and Putin himself drove the first vehicle across in 2018. Saturday Ukraine (apparently, they haven't officially claimed responsibility) blew up a chunk of it.
Limited auto and train traffic has resumed, but it's not clear how much weight of either type the damaged bridge can carry. The bridge is a major supply line for Russian troops in southern Ukraine.
Russia called the attack "vandalism" and "terrorism", in spite of the bridge's obvious military significance. It struck back on Sunday with air and missile attacks on Kyiv and several other Ukrainian cities. The Economist reports:
Many missiles fell nowhere near any plausible military target, suggesting that the projectiles were either inaccurate or the barrage was intended to be indiscriminate. Russia is thought to have used up a large proportion of its precision-guided missiles—as much as 70% of those in stock, according to a Western military source—and even those weapons have frequently missed their intended targets throughout the war. A large, smouldering crater stood metres away from a children's playground in Shevchenko Park, one of the city's busiest parks and usually packed with families.
and the fall elections
Both the House and Senate majorities are up for grabs, with each party currently favored to control one House. Nate Silver estimates a 68% chance Democrats retain control of the Senate, and a 70% chance Republicans retake the House.
Some of the Senate races once thought to be toss-ups now have clear favorites. Democrats Maggie Hassan in New Hampshire (84% chance), Mark Kelly in Arizona (82%), and John Fetterman in Pennsylvania (73%) are favored, as are Republicans Ted Budd in North Carolina (68%) and Ron Johnson (67%) in Wisconsin. If all those races come out as he projects, each party has 49 seats.
Silver still considers two races toss-ups Warnock/Walker in Georgia (Warnock 59%) and Masto/Laxalt in Nevada (Masto 51%).
For reasons I don't understand, Real Clear Politics thinks Fetterman and Kelly will lose (even though they each lead in the RCP polling average), and projects a 52-48 Republican Senate.
and OPEC
The cartel of oil-exporting countries agreed to cut production, essentially siding with Russia against the West. Western sanctions against Russia create an opportunity for other OPEC nations to take their market share. Instead, they opt for higher prices rather than sales volume, and make it harder for Europe to do without Russian energy as winter approaches. The move is likely to start US gas prices rising again, which will work against Democrats in the fall elections.
The WaPo editorial board's assessment:
It looks for all the world like an attempt by [Saudi leader] MBS to influence internal U.S. politics, to the advantage of the party of former president Donald Trump, who dealt warmly with him.
When he was in office, Trump did his best to protect Crown Prince Mohammed bin Salman from suffering any consequences for his murder of Washington Post journalist Jamal Khashoggi.
and Biden's marijuana pardons
Thursday President Biden signed a pardon for "all current United States citizens and lawful permanent residents who committed the offense of simple possession of marijuana in violation of the Controlled Substances Act". People currently in prison will get out, and those who have served their time will have their records cleared, making it much easier for them to get jobs, loans, etc.
He also is taking other actions to get marijuana out of the justice system: He's urging governors to follow his lead.
Just as no one should be in federal prison solely due to the possession of marijuana, no one should be in a local jail or a state prison for that reason either.
Also
the President is asking the Secretary of HHS and the Attorney General to review expeditiously how marijuana is scheduled under federal law. Federal law currently classifies marijuana in Schedule I of the Controlled Substances Act as the same schedule as for heroin and LSD, and it's even higher than the classification for fentanyl and methamphetamine — the drugs that are driving our overdose epidemic. … [But] even as federal and state marijuana law changes, important limitations on trafficking, marketing, and underage sales should stay in place.
Vox goes into more detail, repeating a NYT analysis that about 6500 people will benefit from the pardons.
and Trump
The House committee investigating the January 6 coup attempt will hold its next (and possibly last) hearing on Thursday.
---
The NYT lays out the backstory of Trump's conflict with the National Archives over the presidential documents he kept after leaving office. It suggests the first plausible motive I've seen.
It was around that same time [October-November, 2021] that Mr. Trump floated the idea of offering the deal to return the boxes in exchange for documents he believed would expose the Russia investigation as a "hoax" cooked up by the F.B.I. Mr. Trump did not appear to know specifically what he thought the archives had — only that there were items he wanted.

Mr. Trump's aides — recognizing that such a swap would be a non-starter since the government had a clear right to the material Mr. Trump had taken from the White House and the Russia-related documents held by the archives remained marked as classified — never acted on the idea.
The WaPo also has a timeline of the Trump/Archives conflict.
The "deal" idea matches my impression of Trump perfectly: He views obeying the law as a concession, and wants the government to concede something in return.
---
Republican judges in Texas state courts are refusing to recognize the validity of subpoenas from the Georgia special grand jury investigating Trump.
---
The second, and apparently last, case brought to trial by the John Durham investigation starts tomorrow. The first trial (of Michael Sussman) ended in a quick acquittal. Like the Sussman charges, the indictment against Igor Danchenko is far narrower than the massive Deep State conspiracy Durham supposedly was going to uncover.
and you also might be interested in …
So Elon Musk is back to buying Twitter. Maybe.
---
Kentucky is now the third state where Jewish women are suing to block an abortion ban.
In a lawsuit filed Thursday in Jefferson County Circuit Court, the three plaintiffs and their attorneys argue those laws are vague, unintelligible and give preference to Christian beliefs in a way that diminishes the rights and religious freedoms of Jews. "In Judaism, reproductive health of a mother is between the mother, her rabbi and her doctor — not the attorney general," Louisville attorney Aaron Kemper said.
The women are described as facing "reproductive challenges", and are afraid to try to overcome those challenges due to the abortion ban.
"At this point, I'm scared to try and have another child," she told the Herald-Leader in an interview Tuesday. "If I miscarry, I could bleed out before the doctors and the lawyers could decide whether or not they could treat me or if I needed to be prosecuted, and that's not a risk I'm willing to take for myself or my child or my husband."
---
Two new studies compared death certificates to voting registrations, and concluded that
average excess death rates in Florida and Ohio were 76% higher among Republicans than Democrats from March 2020 to December 2021
The gap started to open up about the time vaccines became available, but the researchers don't think vaccine reluctance (which has been pushed by Fox News) is the whole reason. Refusal to take the virus seriously in other ways, like wearing masks and staying out of crowds, also plays a role.
---
Another mystery of political statistics: Red states have a higher percentage of chain restaurants.
---
According to leaks from the FBI, agents investigating Hunter Biden think he should be charged. But the fact that he hasn't been charged yet doesn't mean the fix is in. Donald Trump hasn't been charged yet either.
Democrats are not a personality cult, so the ones I know are much less concerned with Hunter's future than Republicans are with the Trump family. If there's a good case that he broke laws, charge him. Let a jury decide. No Democrat is going to riot in the streets if a Hunter Biden indictment comes out.
---
Republican candidate for governor Doug Mastriano on his admiration for Ron DeSantis: "My goal is to make Pennsylvania the Florida of the North."
---
If you have a perfect life and are completely stuck for something to get upset about, think about purple M&Ms. According to a host on One America News, the purple M&M (which appears to be female) might be transgender.
and let's close with something fashionable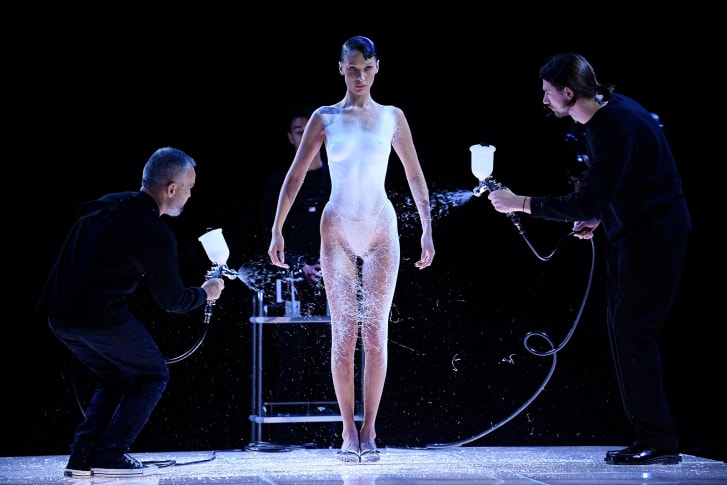 In a recent Paris fashion show, model Bella Hadid walked onto the stage in her underwear. Technicians then sprayed a Coperni-designed dress onto her, using Fabrican, a liquid that quickly transforms into wearable material. In ten minutes, she had a dress shaped to her body.
"You can wear this dress, keep it as a dress and put it on a hanger. But if you don't want it anymore, you can put back the dress into the liquid and you can immediately spray it again," Coperni's creative director and co-founder, Sébastien Meyer, told CNN at the brand's Paris atelier ahead of the show.