Will Elon Musk buy Twitter? Should he? What if he does?
---
Wednesday, when Elon Musk announced a $38 billion offer to buy the 90.8% of Twitter stock he didn't already own, the news feeds I follow erupted in two very different directions:
Political commentators began assessing the implications of the world's richest man gaining sole control of one of the world's most influential social-media platforms.
Financial writers skeptically asked, "Is this really going to happen?"
The financial question seems logically prior to the political question, so let's start there. Better yet, let's start with some general background.
Who is Elon Musk? Musk is a high-tech entrepreneur whose start-ups have struck gold several times, with the proceeds getting rolled into ever-bigger efforts. As a result, he is now believed to be the richest person in the world, with a net worth recently estimated at $273 billion (a figure that fluctuates with the stock market). He is most famous (and richest) from his investment in the electric automobile company Tesla. But he also founded and owns a large chunk of the satellite-launching company SpaceX. He has founded and sold off businesses that became part of Compaq and PayPal.
Born in South Africa, he moved to Canada as a teen-ager to avoid serving in the South African army, which was then fighting to defend the apartheid system. From Canada he moved to the United States and became a US citizen in 2002. (If you hope or fear that he might become president someday, naturalized citizens aren't eligible.)
His political views are a mixture of right and left: He takes climate change seriously, and Tesla plays an important role in the electrify-everything strategy to reduce carbon emissions. He also has a strong libertarian streak, opposing most government regulation and boosting cryptocurrencies. But libertarianism hasn't stopped him from taking advantage of government programs when he can. He opposes raising taxes on rich people like himself. He moved to Texas to avoid California taxes.
He has used his 81-million-follower Twitter account to spread Covid misinformation, and he resisted shutting down Tesla's California factory during the lockdown. He is anti-woke. and anti-cancel-culture. His stated motive for buying Twitter is to protect free speech, but he does not seem worried about Twitter's disinformation problem.
His public image is larger than life. If you like him, he fits the billionaires-will-save-us model of Bruce Wayne and Tony Stark, or perhaps Hank Rearden. If you don't, he's a James Bond villain waiting to make his move — BitCoinFinger, maybe.
Why Twitter? If you want to acquire influence on America's (and the world's) politics and culture, Twitter gives you more bang for your buck than any comparable platform. Buying other social media giants like Meta (owner of Facebook and Instagram) or Alphabet (owner of Google and YouTube) would cost more than even an Elon Musk can hope to come up with. Meta has a $570 billion market capitalization, and Alphabet's is $1.7 trillion.
The reason Twitter is comparatively cheap (i.e., tens of billions rather than hundreds of billions) is that it hasn't exploited surveillance capitalism as effectively as the other major social-media platforms. Not that it hasn't been trying, but it hasn't had the same level of success.
In the surveillance-capitalism model, the purpose of offering free internet services is to accumulate data about the people who use them. That data, in turn, can be used to exploit or manipulate the people who inadvertently provided it. Targeted advertising is the most obvious (and one of the most benign) uses of this data. Facebook, for example, has figured out that I'm learning to cook, so it shows me ads for air fryers and carbon-steel skillets. This beats the less-well-targeted old days, when spam email tried to sell me viagra and pictures of underage girls.
But the data can also be used to make the platform itself more addictive, and to design disinformation that individual users will be most likely to believe and act on. Unfortunately for democracy and civil society, the most addicted users are the ones who have gone down some conspiracy-theory rabbit hole. So that's where the algorithms lead.
Twitter's comparatively poor financial performance relative to Facebook and Google is one reason why Musk skeptics are alarmed by his ambition to "unlock" Twitter's "enormous potential".
Will Musk really buy Twittter? Musk announced on March 14 that he had bought 9.2% of Twitter. At first there was speculation that he wanted a seat on the board, or for the company to agree to some list of changes. But Wednesday he announced an offer to buy the whole company for a price that puts Twitter's value at $43 billion. That would make Twitter a private company, and Musk could do whatever he wanted with it.
Financial types were immediately skeptical. Sure, Musk says he wants to spend another $38 billion buying Twitter stock. But Musk says a lot of things.
[J]ust because Elon Musk says something doesn't mean it's so — even when he's talking about his own money. Musk is, at a minimum, maddeningly inconsistent. In 2018, for instance, he announced — on Twitter — that he wanted to turn Tesla into a private company and that he had "funding secured." Which turned out not to be true.
The next question was whether Musk even has $38 billion. He's certainly worth much more than $38 billion, but (as any rich-on-paper homeowner knows) that doesn't mean he has cash. He could raise cash by selling or borrowing against his Tesla and SpaceX holdings, but does he really want to do that? Such a move might risk him losing control of the rest of his empire at some point down the road.
And then there's the possibility that Twitter may fight to stay out of Musk's control. Friday the Twitter board adopted a proposal that would make it more expensive to acquire.
Twitter said on Friday it adopted a poison pill that would dilute anyone amassing a stake in the company of more than 15% by selling more shares to other shareholders at a discount. Known formally as a shareholder rights plan, the poison pill will be in place for 364 days.
Just how much more money Musk would have to commit depends on how the existing shareholders respond to the plan, and how much capital they could come up with. There's also the possibility of a rival bid emerging.
It's also possible that Musk never intended to buy Twitter, but instead anticipates burnishing his crusading reputation after the company fends off his bid. In other words: He tried to save us, but the corrupt system defended itself.
Finally, Musk may be engaging in an elaborate market manipulation. Sometimes would-be takeover targets offer greenmail to make predator capitalists go away. Or if Musk's offer elicits an rival offer for a higher price, he could walk off with a considerable profit on the shares he already owns.
But what if he succeeds? Whether you think Musk is the answer to Twitter's problems depends on what you think those problems are. Voices from both the Left and Right worry about social media platforms forming a bottleneck that limits political discussion, but they frame that problem very differently.
If the problem is Big-Tech political bias, then Musk could be the answer. Conservatives see any institution they don't control as biased against them, so they cast Twitter and Facebook as powerful allies of "cancel culture" and "woke-ism". (Whether Big Tech actually is biased against conservative beliefs is questionable. But any anti-disinformation effort is going to affect conservatives more than liberals, because conservatives spread more disinformation.)
So Tucker Carlson, a powerful disinformation-spreader himself, is rooting for Musk to take over Twitter. MAGA types anticipate Trump getting his Twitter account back. (He lost it after using Twitter to promote the January 6 coup attempt.) And given how badly Trump's copycat Truth Social platform is going, getting back on Twitter must look good to him, in spite of his claims to the contrary.
But if the problem is the bottleneck itself, Musk just makes it worse. A small number of corporations have an inordinate influence on what can be discussed and how widely a given point of view spreads. As public companies, those entities are accountable at least to their stockholders, and (to a lesser extent) to the public. A Musk-owned Twitter, by contrast, would be accountable to him alone. Trusting the world's richest man to look after the public interest seems incredibly naive. (I am reminded of sci-fi humorist Terry Pratchett's description of the system of government in Ankh-Morpork: "Ankh-Morpork had dallied with many forms of government and had ended up with that form of democracy known as One Man, One Vote. The Patrician was the Man; he had the Vote.")
Another piece of the nightmare is what Musk (or any unfettered individual) could do with the kind of data Twitter collects (or could decide to collect in the future). This is not just tweets, but perhaps also the location data from smartphones running the Twitter app. If you always knew who was with who when, how much blackmail material would you have?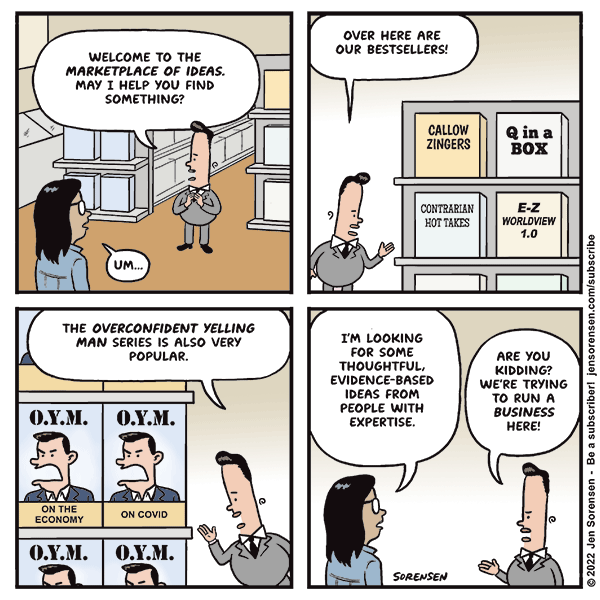 Could competition emerge? Conservative attempts to respond to their perception of Twitter's bias by creating their own platforms, like Parler and Truth Social, have so far not taken off. (I have to wonder whether conservatives really want their own platform. Isn't the whole point to troll liberals?) Whether liberals would be any more successful is anybody's guess.
Attempts by one Big Tech corporation to invade another's territory have also done badly. Google launched Facebook alternative Google+ with much fanfare in 2011, but shut it down in 2019.
The basic problem is a network effect: Any social network where people already gather for a specific purpose has a huge advantage over a new network attempting to fill the same niche. The problem is especially difficult when the existing service is free, preventing competition on price.
However, imagine if Musk's "free speech" alterations make Twitter all but unusable. Tweets you actually want to see might get buried under disinformation and hate speech. Posting anything at all might open you up to abusive attacks and cyber-stalking. (In other words: Like now, but moreso.) A better curated platform might become attractive enough that a deep-pocketed competitor might emerge. (What if, for example, Amazon started a paid-subscription model, but the cost was folded into Amazon Prime membership?)
What's the real problem? My own feeling is that trying to fix America's "free speech problem" (as Musk claims to want to do), is misguided, because the root problem is actually much bigger. Free speech, bad faith, incivility, disinformation, and a simultaneous lack of public trust and public trustworthiness are all part of the same picture. We're not going to solve one of those problems without thinking about all of them.