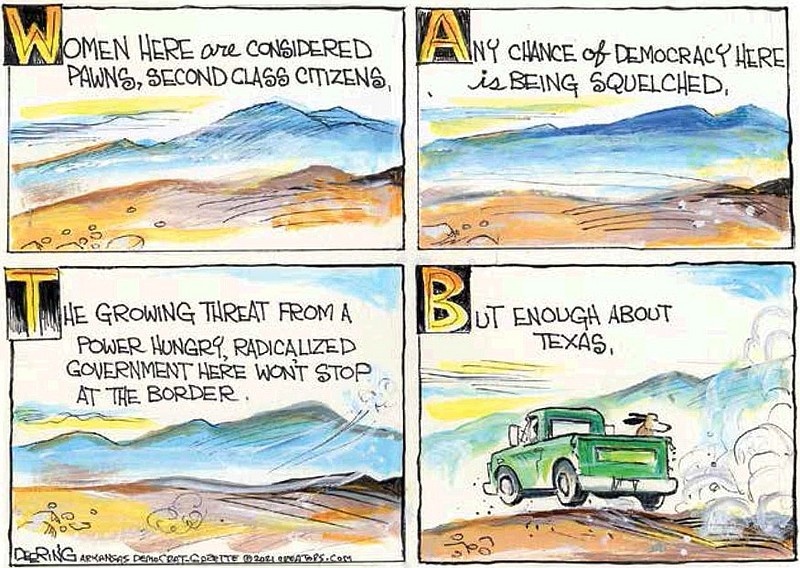 As you undoubtedly already know, the Supreme Court refused to interfere with the new Texas abortion ban, which took effect Wednesday. In brief, the law bans abortion after a "heartbeat" is detectable in the embryo, which happens (not really, but sort of, more below) at around six weeks. That's usually before a woman knows she's pregnant, so most pregnant Texas women will not, at any point in the process, have legal options other than carrying their fetus to term.
What makes this law different from dozens of other anti-abortion laws (that routinely get voided by the federal courts) is its method of enforcement: Abortion is illegal, but not criminal. No one is arrested or sent to jail. But private citizens can sue people (other than the pregnant woman herself) who perform or "abet" a post-heartbeat abortion. If they win, they get attorneys fees plus $10,000.
That enforcement method makes it tricky for a federal court to block the law. Ordinarily, a court would enjoin state officials not to enforce a law that violates established constitutional standards, but here Texas can say: "We don't enforce it. Private citizens and the state courts enforce it." Five conservative judges (three of them appointed by Trump) decided to take advantage of that loophole. So the law stands and abortion is effectively banned in Texas.
Much has been written about this situation in the last week, so rather than add another article to the stack, I want to organize what's already out there. That's why this post is a list of short observations rather than a single essay. In each case, I'll point you to other sources that do the elaboration.
Let's start with some basic references.
The law itself (Senate Bill 8) is here. It's written for lawyers, and I don't recommend reading it unless you're really getting down into the weeds.
The Supreme Court's rejection of the request to intervene is only 12 pages, and is much more readable. The majority's statement is barely more than a page. Chief Justice Roberts wrote a three-page dissent. Justices Breyer, Sotomayor, and Kagan also wrote dissents, each of which was co-signed by the other two. So the Court published roughly ten times as much material explaining why it shouldn't have done this than justifying why it did.
Slate has a good FAQ about what the law covers and how it might be interpreted. Some of the issues will depend on what judges do, and even if the law is technically on your side, you still will have to respond if someone sues you.
The bill is named the Texas Heartbeat Act, but a six-week embryo doesn't have a heart.
Rather, at six weeks of pregnancy, an ultrasound can detect "a little flutter in the area that will become the future heart of the baby," said Dr. Saima Aftab, medical director of the Fetal Care Center at Nicklaus Children's Hospital in Miami. This flutter happens because the group of cells that will become the future "pacemaker" of the heart gain the capacity to fire electrical signals, she said.
NPR goes into more detail:
"When I use a stethoscope to listen to an [adult] patient's heart, the sound that I'm hearing is caused by the opening and closing of the cardiac valves," says Dr. Nisha Verma, an OB-GYN who specializes in abortion care and works at the American College of Obstetricians and Gynecologists.

The sound generated by an ultrasound in very early pregnancy is quite different, she says.

"At six weeks of gestation, those valves don't exist," she explains. "The flickering that we're seeing on the ultrasound that early in the development of the pregnancy is actually electrical activity, and the sound that you 'hear' is actually manufactured by the ultrasound machine."
Healthline.com says that at six weeks, an embryo is "about the size of a grain of rice".
You might be wondering why anti-abortion activists lie so blatantly about this rather obscure point of biology (or perhaps how they can call themselves Christians while they do). Similarly, they make bogus claims about a fetus' ability to feel pain at 20 weeks. Neither of these thresholds have any legal significance. (After all, farm animals have heartbeats and feel pain, but they are killed by the millions without any political backlash.)
What activists are trying to suggest with heartbeats and suffering is the presence of a human soul, which many of them say enters the embryo at conception. (In National Catholic Reporter, Michael Sean Winters writes: "That heartbeat should strike the consciences of anyone with an open mind about the morality of the issue." Sorry, but that shot just goes right past me; I am neither engaged nor shamed by it.)
They may describe this theological speculation as "Biblical", but in fact it is not, as I've explained before. In Catholic circles, this teaching was virtually unknown before the 1600s, and it didn't become orthodox among conservative Protestants until after Roe. For Evangelicals, the politics motivated the theology, not the other way around.
In any case, one American's theology does not bind other Americans, because the Founders very explicitly did not set up a theocracy.
Complete bans on abortion are not popular now, and never have been.
Gallup has been asking about abortion for nearly half a century, and the numbers have been remarkably stable. Less than 1-in-5 Americans believe abortion should be "illegal in all circumstances", and that's been true consistently since 1975. The split between those who want abortion legal in "any circumstances" or "certain circumstances" bounces around a bit more. Even that may not represent an actual change of opinion, but could correspond to a change in the circumstances that came to mind when the question was raised.
On the specific question of overturning Roe v Wade, public opinion has long supported leaving Roe alone. In 1989 the public was against overturning Roe 58%-31%, and the most recent survey was 58%-32%.
I sum up my reading of public opinion with a quip. Most Americans, whether we are conservative or liberal, have exactly the same opinion about both abortion and guns: "I am appalled by the sheer number of them in this country, and wish there were fewer. But if my family gets into some extraordinary situation and decides that we need one, I don't want the government to stand in our way."
The court majority is acting in bad faith.
The majority purports to be stymied by the complexity of the situation: No one knows exactly who will decide to enforce the Texas law, so how can they craft an injunction?
it is unclear whether the named defendants in this lawsuit can or will seek to enforce the Texas law against the applicants in a manner that might permit our intervention.
Will Wilkinson points out the obvious:
you know that the conservative majority would not affirm this principle in general. There is zero chance that Alito, Gorsuch, Kavanaugh, Barrett and Thomas would offer the same deferential treatment to a formally identical California law designed to frustrate citizens' 2nd Amendment rights by incentivizing civil lawsuits against anyone who gives away or sells or in any way aids or abets the possession or ownership of a firearm.
Justice Sotomayor's dissent is blunt and direct:
It cannot be the case that a State can evade federal judicial scrutiny by outsourcing the enforcement of unconstitutional laws to its citizenry.
But of course, it's not the case in general. This is a one-time-only principle that applies solely to abortion.
A decision this consequential shouldn't happen through the shadow docket.
Essentially, the Court has reversed Roe v Wade: Texas has made nearly all abortions illegal; the Court has refused to protect a woman's previously recognized constitutional right; and now other red states are scrambling to pass their own bounty-hunter law.
It is certainly within the Court's power to reverse previous precedents and thereby reinterpret the Constitution. But the typical way for a reversal to happen is through the regular docket (known to lawyers as the "merits" docket): A case challenging the precedent works its way up through the federal courts. Through that process, the lower courts develop a body of publicly available evidence and reasoning. Then the Supreme Court hears lawyers for both sides argue the case, and interested third parties submit briefs supporting one side or the other. The justices withdraw for weeks or months to consider it all, and then a decision is announced, supported by a written majority opinion (which may be critiqued by dissents from judges outside the majority). When Brown v Board of Education reversed Plessey v Ferguson in 1954, that was the lengthy process it went through. (The original lawsuit was filed in 1951.)
A case challenging Roe is already on the Court's calendar for this term. We should get a decision by June at the latest. If a majority wants to reverse Roe — and apparently it does — that is the proper way to do so.
One key virtue of the regular process is transparency: The Court's power may be mostly unchecked, but when it does something, we at least know what it did and why. Five justices can't just say "Do this" and go home; they have to spell out the new interpretation in enough detail that lower courts and the various levels of state and federal government know what the law is now. The Court's reasoning is available for legal scholars to examine and criticize, and Congress knows exactly what it must do if it wants to achieve a different outcome.
But the Court also has what is called the "shadow docket". Wikipedia explains:
Shadow docket decisions are made when the Court believes an applicant will suffer "irreparable harm" if the request is not immediately granted. These decisions are generally terse (often only a few sentences), unsigned, and are preceded by little to no oral arguments. Historically, the shadow docket was used only rarely for rulings of serious legal or political significance, but since 2017 it has been increasingly utilized for consequential rulings, especially for requests by the Department of Justice for emergency stays of lower-court rulings.
So, for example, you might ask the Court to intervene if a law was about to go into effect that would remove one of your previously recognized constitutional rights. If, say, you had to give birth to your rapist's baby because all the abortion providers in your state had to turn you away, you might reasonably claim to face irreparable harm. The no-longer-viable clinics might also reasonably claim irreparable harm.
By not acting, the Court is basically announcing: "Not so fast about thinking you have a constitutional right." It has made women's rights evaporate without any kind of transparent process. Or maybe that's not the Court's intention at all. Who can say, when the majority barely wrote a page of explanation?
Chief Justice Roberts, who is usually thought of as one of the conservative justices, complained about this lack of process:
I would grant preliminary relief to preserve the status quo ante—before the law went into effect—so that the courts may consider whether a state can avoid responsibility for its laws in such a manner. … We are at this point asked to resolve these novel questions—at least preliminarily—in the first instance, in the course of two days, without the benefit of consideration by the District Court or Court of Appeals. We are also asked to do so without ordinary merits briefing and without oral argument. … I would accordingly preclude enforcement of S. B. 8 by the respondents to afford the District Court and the Court of Appeals the opportunity to consider the propriety of judicial action and preliminary relief pending consideration of the plaintiffs' claims
Translating from the legalese: If we don't know what to do, we should freeze the situation as best we can until we have time to figure it out. But the other five conservative justices rejected that reasoning.
The Senate's hearings on recent Supreme Court nominees have been a charade. The nominees lied, and the senators who credited those lies were either naive or complicit.
Numerous examples are possible, but the most ridiculous one was the 45-minute speech Susan Collins gave defending her vote to confirm Brett Kavanaugh. For eight paragraphs she addressed "the concern that Judge Kavanaugh would seek to overturn Roe v. Wade", assuring the country that the constitutional right established in Roe "is important to me", and extolling Kavanaugh's reverence for long-established precedents.
Naive? Complicit? Hard to say.
The 6-3 conservative majority is the result of a system rigged to over-represent White rural voters. The Court's current conservatism does not and never has represented the will of the American people.
Supreme Court justices are nominated by the president and confirmed by the Senate. Both of these institutions are rigged in favor of White rural voters.
Three of the current justices (Gorsuch, Kavanaugh, and Barrett) were nominated by Donald Trump, who was chosen by the Electoral College in defiance of the American people. (Trump lost the popular vote to Hillary Clinton by 2.8 million votes, but won a 304-227 victory in the Electoral College.)
Sometimes Roberts and Alito are included on this list of minority justices, because George W. Bush also lost the popular vote in 2000. However, they were nominated in Bush's second term, after he won re-election democratically.
Recent Republican majorities in the Senate have also not represented the American people. The principle that each state has two senators means that blue (and racially diverse) California's 39 million residents have the same power as red (and almost entirely White) Wyoming's 581 thousand. Combined with the successful attempt to stack the Senate by admitting tiny Northwestern states in 1889-1890, Republicans have a consistent structural advantage: For the last quarter-century, Republican senators have neither represented a majority of voters nor received a majority of votes, and yet they have held the majority of Senate seats about half the time.
This includes the term when Mitch McConnell refused to consider President Obama's nomination of Merrick Garland, as well as the next term when McConnell and popular-vote-loser Donald Trump awarded that Court seat to Neil Gorsuch.
Senate Republicans use their artificially inflated numbers, together with the filibuster, to make sure the system stays rigged in their favor by denying statehood to (largely Black and urban) District of Columbia and (Hispanic) Puerto Rico.
Now that abortion rights have actually been lost, the Republican dog has caught the car.
Somewhere in Islands in the Stream, Ernest Hemingway describes a bridge that is much desired but (precisely for that reason) can never be completed: As long as the bridge is in the future, corrupt politicians can raise funds to build it. But if it is ever finished, the money will dry up.
For decades, anti-abortion politics has been a similar scam, as David Frum explains:
Pre-Texas, opposition to abortion offered Republican politicians a lucrative, no-risk political option. They could use pro-life rhetoric to win support from socially conservative voters who disliked Republican economic policy, and pay little price for it with less socially conservative voters who counted on the courts to protect abortion rights for them.
That dynamic played out most clearly in 2016, when Trump dominated the anti-abortion vote, while pro-choice people assured each other that they could stay home or vote for Jill Stein.
But now, after years and years of warnings and an ever-increasing set of hoops women have had to jump through, abortion rights really are vanishing, even for women who are privileged in every way other than gender. If you live in a professional-class suburb of Dallas, and if your U of T freshman daughter gets roofied at a frat party and comes home pregnant, she either carries the baby to term or your family has to break the law — and maybe get sued.
If this possible impact on their lives means that the complacent majority will get riled now, the jig is up. That's why national Republicans haven't been spiking the football to celebrate an achievement they've been promising for decades.
Congress could fix this, if Democrats thought women's rights were more important than the filibuster.
The Texas abortion law would be undone if Congress passed the Women's Health Protection Act, which reinstates the protections of Roe v Wade nationally. Speaker Pelosi believes she can get the bill through the House. It's unclear whether all 50 Democrats in the Senate would vote for it. But a handful of Republicans also claim to be pro-choice — here's a chance to redeem yourself, Senator Collins — so the bill should get a majority, if it comes to a vote.
But it won't come to a vote, because of the filibuster. A woman's right to choose is yet another price the country must pay for Senator Manchin's and Senator Sinema's attachment to this time-dishonored Senate tradition, because the WHPA clearly can't muster a 60-vote supermajority.
The Department of Justice could also do something.
Law professor Lawrence Tribe explains: It turns out the country has previously faced the problem of states turning a blind eye to (or even encouraging) vigilantes trying to intimidate Americans out of exercising their constitutional rights. In that previous era, Congress responded by passing the Ku Klux Klan Act of 1871, which is still on the books.
Section 242 of the federal criminal code makes it a crime for those who, "under color of law," willfully deprive individuals "of any rights, privileges, or immunities secured or protected by the Constitution or laws of the United States." … In addition, Section 241 of the federal criminal code makes it an even more serious crime for "two or more persons" to agree to "oppress, threaten, or intimidate" anyone "in the free exercise or enjoyment of any right or privilege secured to him by the Constitution or laws of the United States, or because of his having so exercised the same." This crime may be committed even by individuals not found to be acting "under color of law" but as purely private vigilantes, as long as they're acting in concert with others.
Tribe believes that using the KKK Act to protect abortion rights in Texas would be "in tune not just with the letter but the spirit the law". He asserts that we have now reached the point where "the need to disarm those who cynically undermine constitutional rights while ducking all normal avenues for challenging their assault on the rule of law becomes paramount."
Ordinary people can monkey-wrench the enforcement process.
A campaign to spam websites asking for tips on Texas abortions is taking off. We'll see if this is just a snap reaction or if it has staying power.
If any pro-life folks think women's-rights defenders are playing dirty, let me point out that so far no one is using the kinds of tactics the pro-life movement has long used against abortion clinics. No one is bombing their offices or threatening their workers with violence, because (unlike the pro-life movement) the pro-choice movement doesn't have a terrorist wing.
As satisfying as monkey-wrenching might be, though, it probably won't make much difference. Even if monkey-wrenchers make vigilante lawsuits harder to assemble, abortion clinics and other support services are already being shut down by the threat of such lawsuits, even if suits have not yet been filed.
Texas has made rape a viable reproduction strategy.
If you are a man who is unable or unwilling to convince any woman to bear your children voluntarily, you can still win the evolutionary battle to pass on your genes by committing enough rapes. Eventually you may wind up in jail, but your descendants will thank you. They will also thank the Evangelical Christians who paved the way for you.