Given the data from 2020-21 showing very low COVID-19 transmission rates in a classroom setting and data demonstrating lower transmission rates among children than adults, school systems are not required to conduct COVID-19 contact tracing.
– Texas Education Agency (8-5-2021)
These numbers have sparked concerns that what had once seemed like the smallest of silver linings — that Covid-19 mostly spared children — might be changing. Some doctors on the front lines say they are seeing more critically ill children than they have at any previous point of the pandemic and that the highly contagious Delta variant is likely to blame.
– The New York Times (8-9-2021)
This week's featured post is "The Once and Future Coup".
This week everybody was talking about Trump's attempt to involve DOJ in overturning the election
That's the topic of the featured post.
---
In Friday's Washington Post, Lawrence Tribe, Barbara McQuade, and Joyce Vance explain why the Justice Department should be investigating Trump for his attempt to stay in power after losing the 2020 election.
The publicly known facts suffice to open an investigation, now. They include Trump's demand that Georgia Secretary of State Brad Raffensperger "find" 11,780 votes to declare he won that state's election; Trump's pressure on acting attorney general Jeffrey Rosen as well as Vice President Mike Pence to advance the "big lie" that the election was stolen; the recently revealed phone call in which Trump directed Rosen to "just say the election was corrupt, [and] leave the rest to me," and public statements by Trump and associates such as Rudolph W. Giuliani and Rep. Mo Brooks on Jan. 6 to incite the mob that stormed the Capitol.

None of these facts alone proves a crime beyond a reasonable doubt, but together they clearly merit opening a criminal investigation, which would allow prosecutors to obtain phone and text records, emails, memos and witness testimony to determine whether Trump should be charged.
The article specifies the criminal charges that such an investigation might lead to, depending on what facts are uncovered: conspiracy, obstructing an official proceeding, racketeering, voter fraud, coercing officials to violate the Hatch Act, inciting insurrection, and seditious conspiracy.
---
Lawfare's Dana Zolle gives a clear explanation why Trump shouldn't be able to claim immunity from lawsuits concerning damages resulting from his actions on January 6.
Briefly: There are two controlling Supreme Court decisions. In Nixon v Fitzgerald, the Court ruled that a president can't be sued for damages resulting from his official acts. Basically, presidents should be able to carry out their duties without worrying about judges second-guessing them. In Clinton v Jones, the Court laid out the opposite boundary: Presidential immunity doesn't extend to actions that are totally outside a president's official duties.
Zolle argues (correctly, IMO) that inciting a mob to disrupt Congress is not part of a president's official duties.
and Andrew Cuomo
Tuesday, the New York Attorney General released a report concluding that Governor Cuomo had sexually harassed multiple women. The accusations are of unwanted touching and suggestive comments. The report describes the governor's office as a toxic work environment that normalized Cuomo's inappropriate behavior.
Many people had already called for Cuomo's resignation as soon as it became clear that there would be more than just one or two accusations, while others wanted the investigation to play out first. Now that the report is official, calls for Cuomo's resignation or impeachment are nearly universal, including national Democratic figures like President Biden, Majority Leader (and New York Senator) Chuck Schumer, and Speaker Nancy Pelosi, as well as large numbers of Democrats in the New York legislature.
Cuomo continues to insist that he did nothing wrong, but other than the governor himself, Cuomo defenders are hard to find.
The accusations against Cuomo are actually less serious and smaller in number than those against former President Trump, but Democrats refuse to circle the wagons around Cuomo the way Republicans have around Trump. This is one of the major differences between the two parties.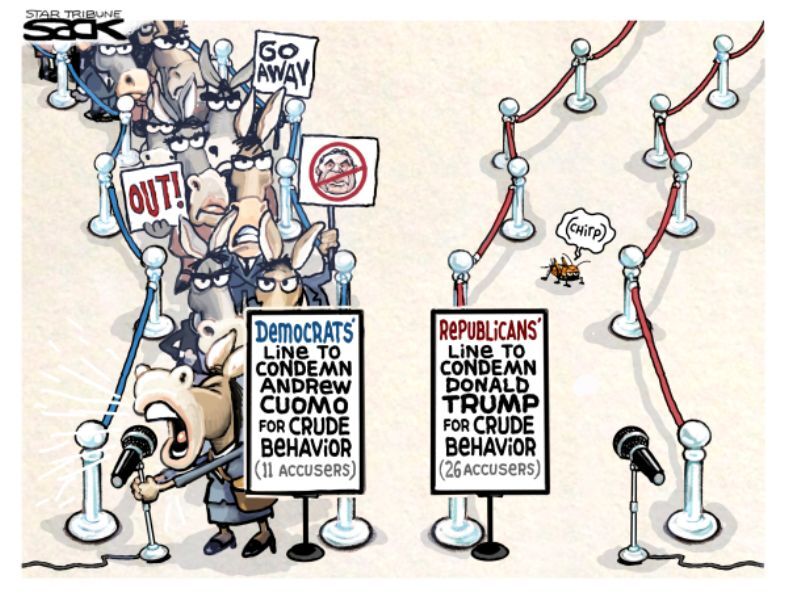 and the pandemic
The average daily numbers of new Covid cases in the US continues to rise sharply, and is now up to 110K, up from under 80K last week and 50K the week before. Average daily deaths are now over 500. Just under 62K Americans are hospitalized with Covid, not quite double the number two weeks ago.
Louisiana (99 new cases per day per 100K residents) and Florida (90) are the current hot spots, but numbers are rising everywhere. In my home county of Middlesex in Massachusetts, our 11 new cases per day per 100K is up from less than 1 a month ago. Vermont, the most vaccinated state in the country (68% of all residents), has 10 new cases per day per 100K.
The differences between states in deaths is much starker. Maine has .01 Covid deaths per day per 100K residents, while Arkansas has .68.
---
Schools are set to open soon, and debate about how to open them is heated. Almost everyone, from the Biden administration on down, wants in-person classes available to any student who wants them. The CDC says
Students benefit from in-person learning, and safely returning to in-person instruction in the fall 2021 is a priority.
The question is what safeguards are needed to open schools safely. The CDC is recommending children get vaccinated if they are over 12, and wear masks in class. But in Florida, Governor DeSantis is threatening to take state funding away from school districts that mandate masks. Many red states have such mandate bans, and a number of hard-hit school districts are planning to defy them.
In Arizona, a state law forbidding mask mandates in schools goes into effect in late September, though it was written to apply retroactively. Even so, several school systems, including districts in Phoenix and Tucson, have decided to require masks on campus when the school year begins.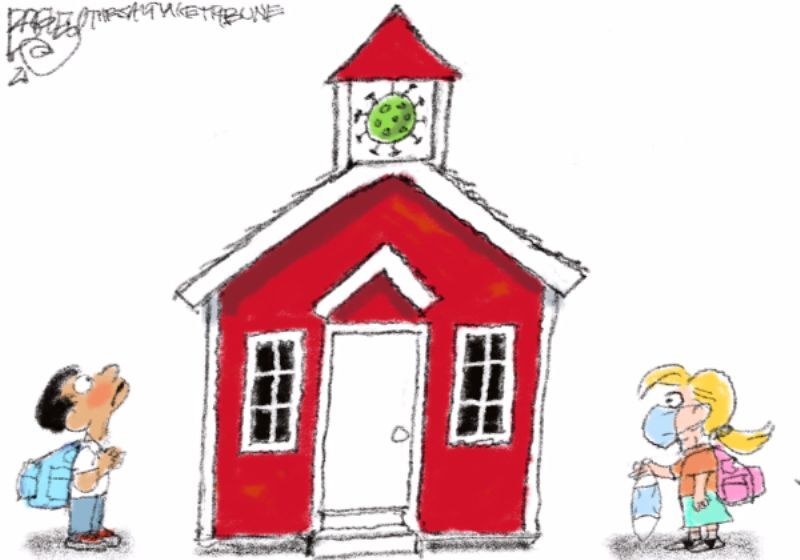 At the center of this debate is the changing nature of the virus as the Delta variant spreads. Nationally, the number of cases is about 1/3 of its January peak, but the number of children hospitalized with Covid is nearly the same.
That number has been climbing since early July; from July 31 to Aug. 6, 216 children with Covid were being hospitalized every day, on average, nearly matching the 217 daily admissions during the pandemic's peak in early January.

Hospitals in coronavirus hot spots have been particularly hard hit. On a single day last week, Arkansas Children's Hospital, in Little Rock, had 19 hospitalized children with Covid; Johns Hopkins All Children's Hospital, in St. Petersburg, Fla., had 15; and Children's Mercy Kansas City, in Missouri, had 12. All had multiple children in the intensive care unit.
The rules in Texas are particularly lax.
Texas school districts will not be required to conduct contact tracing this year if a student contracts COVID-19, according to new guidelines issued by the Texas Education Agency this week.

The agency said a district should notify parents if it learns of a student who has been a close contact to someone with the virus. But with the relaxation of contact tracing, broad notifications will not be mandatory.
So if there's a Covid outbreak in your child's school, you might not hear about it.
---
At the college level, the question is whether schools can mandate that their students get vaccinated. CNN reports that about 400 colleges and universities have some form of vaccine mandate. But some states won't allow them. In Texas, an executive order from Governor Abbott won't let state universities mandate either vaccines or masks.
and Congress
The bipartisan infrastructure bill is crawling towards the finish line in the Senate. Meanwhile, the much larger infrastructure package Democrats hope to pass through reconciliation is waiting in the wings.
In addition, Democrats are trying to craft a voting-rights bill far less ambitious than the For the People Act which failed in the Senate.
It's hard to raise excitement about processes that move so slowly, but this is the success or failure of the Biden administration right here. Democrats need to go to the voters in 2022 with proof that government can accomplish things. If government can't improve people's lives, then why not vote for the Republicans, who are far more entertaining?
The nightmare scenario is that divisions among Democrats will result in nothing getting passed. Moderate Democrats are skeptical of the price tag of the reconciliation bill, while progressives regard the bipartisan bill by itself as a sell-out. If neither passes, Democrats will certainly lose the House in 2022, and then nothing worthwhile will get through Congress for the rest of Biden's term.
and you also might be interested in …
I was going to write a much longer note, or maybe even a separate post, about Tucker Carlson broadcasting his show from Budapest this week and doing a propaganda interview with its authoritarian leader Viktor Orbán. But I decided I was just letting him troll me, so instead I will say a few simple things and provide links.
When authors write about how democracies die, Hungary is usually a prime example. In 2018, Vox published a long-but-worth-it article explaining how Hungary's "soft fascism" works: All the trappings of democracy and free society are allowed to exist, but the rules are rigged to prevent any opposition from getting traction. You can have your individual anti-government opinions, but you are blocked at every turn from raising money or getting media attention or organizing any kind of effective resistance.
Carlson's Budapest trip is an example of American conservatives becoming increasingly open about their anti-democratic agenda. If they have to ditch democracy to win the culture wars, they think that sounds like a good deal.
So they love Orbán's anti-immigrant, anti-gay, anti-cosmopolitan policies, and it sets them dreaming about getting an autocrat of their own. Here's Rod Dreher of American Conservative being interviewed in Hungarian Conservative, an English-language journal that gets substantial funding from the Hungarian government:
I have often said that if Donald Trump had had even half the intelligence and the focus of Viktor Orbán, America would be a very different place. Maybe in 2024, for the conservative movement, we will be able to put forward a politician, a presidential candidate, who is more like Orbán than Trump.
---
Matt Yglesias responds to conservative envy of Hungary by pointing out that much of America's economic vibrancy comes from immigration, and that parts of the US (rural West Virginia, say) are already "non-diverse, non-cosmopolitan, highly traditionalist". They're also comparatively poor. Strangely, people don't want to move there.
a lot of contemporary conservatives just look at small, poor, backward, insular Hungary and think to themselves "this is great, this is better than living in Austin and having food from all over the world and a vibrant music scene and a world-class university and all these tech companies." You get this paranoia that the arrival of foreign-born people is an existential threat to the native stock, so anything would be better than letting that continue.

And I really do think we should all stop and ponder how un-American and wrong that is. The nice lady from Mexico who sold me some breakfast tacos in downtown Kerrville this morning did not replace anyone, nor did the second-generation Vietnamese guy who was born in Houston and moved here to open a Chinese restaurant. Donald Harris taught at Stanford and his daughter became vice president. That's a great American story. And the people who think it would be better to live in a country where that kind of thing never happens — a country like Hungary — are nuts.
---
The July jobs report says the US economy added just under a million jobs, and unemployment dropped to 5.4%. But we're still 5.7 million jobs short of the pre-pandemic highs.
On both sides, a lot of the current debate about Biden's economic performance is just noise. As the pandemic receded, jobs were going to come back and inflation was going to take off, at least temporarily. Claiming the jobs as a Biden achievement or inflation as a Biden failure is just silly.
As has been true for more than a year, the economy is the tail and the pandemic is the dog. If we deal with the pandemic, the economy will recover; if we don't, it won't. So Biden deserves credit for his management of the vaccine distribution, and the corresponding effect on the pandemic. If Trump had been reelected and had somehow gotten the same vaccine numbers, he also would have seen an increase in jobs and inflation.
The question is what happens from here. The Delta-variant surge didn't really get going until mid-July, so these numbers don't tell us how much it will slow down the economic recovery.
---
Someone needs to explain Rudy Giuliani's resemblance to Underdog's nemesis Simon Bar Sinister.
---
I don't know if it's the research I do on right-wing extremism or an algorithm not grasping the sarcasm in my comments, but Facebook is convinced I want to see ads for Christian nationalist t-shirts worn by muscular White guys with tattoos. I'm guessing that they do the photo shoots in a prison yard.
and let's close with something unlikely
I try not to repeat closings, and I've used Two Cellos before, but that was a different song seven years ago. So here's "Welcome to the Jungle" on cellos.