George Packer's new book diagnoses our divisions.
Americans today don't need anyone to tell us that we're deeply divided. Less than half a year ago, we saw our Capitol invaded and the certification of our election disrupted — not by a foreign power, but by our own citizens. Those citizens thought of themselves, and have been hailed by many other Americans, as patriots — even as I, and many Americans like me, see them as traitors to everything America stands for or should stand for.
During the campaign leading up to last fall's election, it was common to hear from either side that if the other one won, America as we have known it would be seriously threatened. I said as much myself in this blog. In the popular press, it has not been unusual to hear comparisons to the period before the Civil War, or speculations about a new civil war.
Even if peace is maintained, democracy does not work well without a governing consensus. It's fine for elections to be close, or for power to shift back and forth between rival parties, as long as large majorities agree on basic principles, and share a broad vision of what the nation is and where it should be trying to go. Disputes about tax rates or how to organize our healthcare system are on a different level from disputes about who we are.
In 2000, we had an election so close that many Americans still doubt that George W. Bush really won. And yet, few argued that the Republic could not survive either a Bush or a Gore presidency. For many, the larger problem was that the two parties were too similar. Ralph Nader based his third-party candidacy on the argument that it would make no real difference whether Republicans or Democrats were in charge. Under either Bush or Gore, America would continue to be America.
Is there some way to recover that kind of consensus?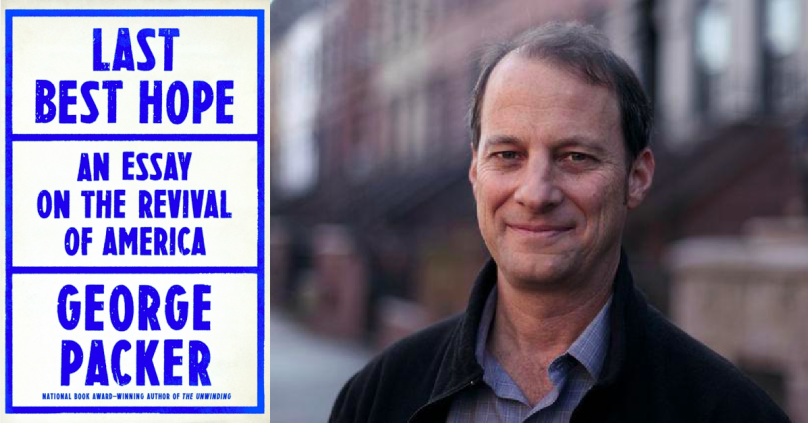 George Packer's new book Last Best Hope: America in Crisis and Renewal is an attempt to address that question. (The theme of that book is condensed into an article in The Atlantic, "How America Fractured into Four Parts".) I see two main points in his analysis.
We're divided by narratives. We're not divided into tribes, at least not yet.
The root division is not Red vs. Blue, because each of those sides has its own division. Four narratives, not two, are competing for dominance.
The significance of the first point is that narratives are fluid, while tribes are fixed. You currently tell one story about your life, but a few years from now you could be telling a different one. A Trumpist might have a transformative experience and become a social justice warrior, or vice versa. But a Serb will not so easily become a Croat, or a Palestinian an Israeli. Perhaps you have multiple stories that rise and fall depending on the situation. (Thomas Frank's What's the Matter With Kansas? is largely the story of how people with a political identity as union workers shifted to identify primarily as Evangelical Christians.) Over time, the stories might blend and merge, or new stories might develop.
Packer describes the main political narratives of the 1960s like this:
Through much of the 20th century, the two political parties had clear identities and told distinct stories. The Republicans spoke for those who wanted to get ahead, and the Democrats spoke for those who wanted a fair shake. Republicans emphasized individual enterprise, and Democrats emphasized social solidarity, eventually including Black people and abandoning the party's commitment to Jim Crow.
The two narratives were shifts in emphasis, rather than diametric opposites. You could, for example, focus on getting ahead yourself inside a system that offered everyone a fair shake, or look to government to guarantee you a fair shake while not resenting the people who get ahead. (Maybe it's fine if the Rockefellers are filthy rich, as long as I can have a secure job that pays a fair wage.)
But you will notice that neither narrative says much about our current culture wars. Abortion, sexuality, and religion play no role. The culture wars began their rise to prominence in the 70s, along with a White backlash to the advances Black people made during the civil rights era. In the decades since, the gap between rich and poor has grown, and new kinds of monopoly power have emerged. Packer names our current four narratives (with my elaboration):
Free America. America is the beacon of individual freedom. This narrative is the legacy of the Reagan era: low taxes, light regulation, low domestic spending. At the same time as it restricts government at home, America is a strong military power with a global agenda promoting capitalism and free trade. Championed by Republicans currently out of power within the party, like Paul Ryan and Liz Cheney.
Smart America. The narrative of the meritocracy. (Basically, Bill Clinton's neo-liberalism.) Wise but complex government policies, designed by experts, help everyone go as far as their talents can take them. This narrative is optimistic, pro-technology, and comfortable with increased global interconnection and interdependence.
Real America. The populism of Sarah Palin and Donald Trump. White, Christian, small-town people are the backbone of America, but they've been left behind by both capitalism and the meritocracy.
Just America. The narrative of anti-racism, Me Too, and defund-the-police: Multiple systems of oppression are deeply embedded in America, and rooting them out should be our central concern. This is the narrative of a generation that grew up post-911, in the shadow of the 2008 banking crisis, carrying a huge debt load, and anticipating a climate-change catastrophe. It is cynical and deeply suspicious of anyone in power.
Red America is the uneasy alliance of Free and Real America, while Blue America is an equally uneasy alliance of Smart and Just America.
Each of the narratives has problems that prevent it from becoming dominant. The Free America policies of the Reagan-Bush years destroyed the middle class and offer no way to restore it. Smart America's meritocracy never worked all that well, and has become increasingly corrupt as the educated classes develop new ways to pass their advantages on to their children. Real America can't offer full equality to non-Whites, non-Christians, or people with non-traditional sexuality or gender identity; at its worst, it leans towards blood-and-soil fascism. Its antipathy towards Smart America makes it suspicious of expertise in general. (See, for example, the conspiracy theories about Dr. Fauci.) Just America offers Americans little to be proud of and little to look forward too. If almost everyone is an oppressor of one sort or another, who can you trust?
In addition to these four well-conceived frames, the value of Packer's vision lies in his ability to look beyond the debates between the four Americas and ask: What do we need in a national narrative?
Nations, like individuals, tell stories in order to understand what they are, where they come from, and what they want to be.
And like individuals, nations require stories with some element of positivity and hope, balanced by a realistic humility. "I suck" is not a narrative that will get you far in life, and neither is "I am a helpless victim." But "I am perfect" requires too much denial of reality, and too much repression of the voices that will point out your failures.
The history of America has plenty of positive and negative material to work with. We both enslaved people and freed them. We went to the Moon. We achieved wealth and tolerated poverty. We ended Hitler's genocide, but committed one of our own. We out-lived Soviet Communism without giving in to the temptation of nuclear war. We enunciated high ideals that we have still not fully implemented.
If we are going to be a democratic self-governing people, we also need a story that allows us to trust each other, and to form institutions that wield legitimate power. Packer critiques Ronald Reagan's city-on-a-hill vision like this:
The shining city on a hill was supposed to replace remote big government with a community of energetic and compassionate citizens, all engaged in a project of national renewal. But nothing held the city together. It was hollow at the center, a collection of individuals all wanting more. It saw Americans as entrepreneurs, employees, investors, taxpayers, and consumers—everything but citizens.
We need to resist narratives that define us as competitors in a zero-sum game, as well as ones that stop us from owning up to injustices and fixing them. We need to reward individual achievement, but not abandon those who can't compete. We need to make use of all our talents. We need to both trust and be trustworthy. We need our story to tell us that we're all in this together.
Wanting such a national narrative is still a long way from having one. But it's hard to find something until you start looking for it.