Sure, it doesn't make sense, but no form of money does. The more serious problem is that it's an environmental disaster.
---
The value of the digital currency Bitcoin, which has skyrocketed since its introduction in 2009, fell 30% in one day on Wednesday. Should that worry anybody?
The mystery of money. I've barely said a word about Bitcoin and its rival cryptocurrencies on this blog, mostly because I know I don't completely understand them. In some sense, though, that's neither their fault nor mine. Money in general is mysterious: Dollars only have value because we all think they do. If everyone else in the world decided your dollars were worthless, you'd have a tough time convincing them otherwise.
The reasons dollars should continue to have value are a bit circular: All over the world, people owe dollars, so they're going to have to obtain them to pay their debts. Also, the US government wants you to pay your taxes in dollars, so you're going to need a few at some point. (Though, if you lived entirely by barter or by trading some untraceable currency like Bitcoin, what would the government tax?)
The Federal Reserve can create dollars at will just by entering a credit on its balance sheet, and that's hard to square with the idea of intrinsic value. After all, farmers can't increase the grain supply by manipulating their accounting. If GM wants to produce more cars, it has to buy components, pay workers, and build them in physical reality; it can't just change some numbers on a spreadsheet and announce a million new Chevy Malibus. Stuff of actual, usable value can't be magicked into existence, but money can.
That mystery has been highlighted during the pandemic, when the government kept the economy going by giving people dollars, which it mostly borrowed from the Federal Reserve, which conjured those dollars out of nothing. But the food and whatnot people bought with that money couldn't be conjured out of nothing, so common sense tells us there's a piper to be paid somewhere. In response, the smartest economists in the world say, "Well, yeah. Maybe eventually." (If they sound more like priests of the Money goddess than practitioners of a hard science, that makes historical sense: The word money derives from an aspect of the queen of the Roman gods. Roman money could only be coined in the Temple of Juno Moneta.)
Libertarians are quick to tell you that such government-conjured "fiat money" is all a bubble that will pop someday: Real money is gold, and any paper money not redeemable for gold is a sham. But gold is mysterious in its own way. We dig gold out of the ground, smelt it into purified ingots, and then bury those ingots again in bank vaults. Somehow this strange digging-up-and-reburying process is supposed to be the basis of the world economy.
I mean, gold actually does have a few uses in jewelry-making and dentistry and electronics. But every year the world produces about twice as much gold as it uses for any practical purpose, so there's little prospect that we'll need our vast accumulated hoards of gold anytime soon.
Alchemists used to dream of transmuting more common metals into gold, which, if you think about it, would be exactly like the Fed conjuring dollars. The quantity of usable goods in the world would not change at all, so how would this new gold represent new wealth? A similar precious-metal illusion is sometimes mentioned as a cause of the fall of the Spanish Empire. Spain's economy came to revolve around extracting gold and silver from the New World, while England was leading the Industrial Revolution. So Spain acquired the appearance of wealth, while England built a modern economy.
Anyway, the purpose of this long preamble is to make sure you have the right context for thinking about Bitcoin. If you only know two things about Bitcoin, this is what you should know:
There is absolutely no reason why a bitcoin should be worth anything.
It shares that characteristic with all other forms of money.
The history of Bitcoin emphasizes both the potential and the insubstantiality of its value. Wired says that the first recorded Bitcoin transaction happened in 2009, when someone traded 10,000 bitcoins for two Papa John's pizzas. Bitcoins peaked at over $64,000 each in April, and crashed down below $40,000 on Wednesday. But in spite of the crash, whoever sold the pizzas is still doing pretty well.
What a cryptocurrency does. Understanding what a bitcoin is involves you in all kinds of complicated cryptological mathematics, and is mostly unnecessary. (It's like computers: You don't have to know how they work to use one confidently.) As Paul Krugman put it Friday, "Money is a role, not a thing." So we should start by thinking about what Bitcoin does rather than what it is.
In general, a currency is a means of exchange, and its purpose is to facilitate trade, so that you aren't constantly negotiating how many chickens to give the dentist for Jennifer's braces. Traditionally, currencies have involved some kind of physical token, like a coin or a bill. You spend the currency by giving someone the token, which allows them to spend it somewhere else. (That description itself represents a change that has happened in my lifetime. Decades ago, people would have said that the coin or bill is money. Now we realize that it's a token representing money, which is inherently intangible.)
These days, most transactions are done digitally, through credit cards or interbank transfers. This allows you to order stuff from Taiwan without shipping coins or bills around the world. So I might buy an app from a game designer in Bangalore or a song from a K-pop band in Seoul without any tangible objects moving in either direction. That makes the transaction faster, cheaper, and more reliable.
This system works because there are parties we all trust who can vouch for us. The game designer has no reason to trust me, but he trusts Visa, which trusts me. Ultimately, stuff like Visa and PayPal and Venmo work because banks trust other banks, all the way up to the central repository of trust, the Federal Reserve.
The point of a cryptocurrency is to get the advantages of digital transactions, but to avoid trusting the Fed, some equivalent government entity like the Bank of Japan, or a giant corporation like Citibank or Apple. Corporations shouldn't be trusted because they don't even pretend to have a purpose higher than profit, and a government might have all kinds of reasons to debase its currency — arguably, the US has been doing that with these recent trillion-dollar deficits — so why not create a system that isn't subject to such temptations?
Also, the Fed (or whoever) can keep track of transactions that go through its systems, which you might not like because you're a drug dealer or a tax evader or just somebody who puts a high value on privacy. (Right now, Matt Gaetz is probably wishing he hadn't used Venmo.) Central-bank-based digital transactions may be fast, cheap, and reliable, but you have to give up the anonymity of cash.
So that's the hole a cryptocurrency is trying to fill: fast, cheap, and reliable transactions that are as anonymous as cash, and denominated in a medium not vulnerable to political debasement.
Disintegrating the Fed. Essentially, the banking system that centers on the Fed is a big ledger that keeps track of how much money each person has; dollars are just the units it uses. When I pay my electric bill (whether by check or electronically), I send a message to deduct dollars from my account and add them to the electric company's. If we use the same bank, that bank changes the numbers on its ledger. If not, ultimately the Fed changes its ledger to deduct dollars from my bank and add them to the electric company's bank; the two banks then figure it out from there.
Again, this involves trust. We all just assume that the ledger will be kept accurately. If the ledger couldn't be trusted, we'd soon be back to exchanging physical tokens, or maybe even swapping chickens.
Similarly, Bitcoin has to function like a big ledger that keeps track of how many bitcoins people have. If I'm going to buy something with Bitcoin, the system has to verify
that I own the bitcoins I'm trying to spend
that after the transaction, I have fewer bitcoins and the seller I bought from has more.
Further, I need to have confidence that if I don't spend my bitcoins, I will continue to own them. Also, that the system won't suddenly create massive numbers of new bitcoins in other people's accounts, which could flood the market and lower the value of my bitcoins.
Now, if that ledger were just a file somewhere, like a spreadsheet, it wouldn't offer either of the advantages a cryptocurrency is supposed to provide: We'd still have to trust somebody to maintain and update the spreadsheet, and investigators could subpoena it to see what we've been buying and selling. So why not just let the Fed keep doing that?
Instead, the list of Bitcoin transactions is encrypted and public. You could download the data yourself, but you couldn't make sense out of it. The list of transactions is constantly being updated and verified by thousands of independent "miners", who earn bitcoins for their effort. Any one of them could try to insert a fake transaction, but the others would catch the discrepancy. So we're not trusting them as individuals, we're trusting the collective entity they form.
Advanced mathematics gets into the picture to guarantee anonymity. The algorithms that define the Bitcoin system are constructed in such a way that even the miners who verify the list of transactions don't know what they mean. (A more complete — but still not really complete — explanation is at Investopedia.) The important thing is
With your key — like a password — you can prove that you own a bitcoin you want to spend.
Without your key, no one can generate a "balance" that says how many bitcoins you own.
The situation is summed up by a rhyme Neal Stephenson put into his futuristic fairy tale The Diamond Age in 1995.
Castles, gardens, gold, and jewels
contentment signify for fools
like Princess Nell. But those
who cultivate their wit,
like King Coyote and his crows,
compile their power bit by bit,
and hide it places no one knows.
What's a bitcoin worth really? The reason the value of Bitcoin can fluctuate so much is precisely the fact that it's untethered from physical reality. Other kinds of money are too, but there's a difference: None of them were ever really new.
Think about it. Trading in precious metals evolved "naturally". There was never a moment when some chieftain or pharaoh announced for the first time "OK, from now on, gold is going to be our means of exchange".
Coins derived their value from the metals they were made of. Originally, a coin was just a standard unit of metal whose purity and weight was validated by the government that minted it. So when King Croessus minted his gold coins 2600 years ago, he didn't have to tell people what they were worth; they were worth whatever that amount of gold was worth. If you didn't believe that, you could melt it down.
Paper money piggybacked onto the coin system. A bank note signified that some bank had precious-metal coins in its vault, and they'd give them to you if you turned the note in. So (as long as everybody believed that promise) nobody had to answer the question "What's a ten-pound note worth?"
By the time paper money stopped being redeemable for gold or silver — 90 years ago for the British pound — its value had a long tradition behind it. So while the currency of a stable government might inflate or deflate a few percent each year, it won't swing up and down week by week the way Bitcoin does. (When I was growing up, before the inflation of the 1970s, the way to say that a person was financially sensible was that he or she "knows the value of a dollar." Today, somebody who truly knew the value of a bitcoin would be a savant.)
Digital dollars, euros, and yen are still convertible to paper currency. That's what ATMs do.
So the units in the Fed's database (i.e., dollars) may be just as theoretically meaningless as Bitcoin, but they have continuity of value that stretches back into prehistory.
Bitcoin doesn't. That's why 10,000 bitcoins might buy two pizzas, or a 600-foot luxury yacht, depending on what people happen to think that day.
What caused this week's crash? Anything that booms is likely to bust at some point, so the search for a "cause" never has a clear answer. But one precipitating event was that Tesla announced it will no longer trade cars for bitcoins. This disrupted the story behind Bitcoin in two ways:
According to its boosters, Bitcoin is supposed to become more and more accepted with time, until it becomes the premier means of exchange.
The reason Elon Musk gave for Tesla's decision: Bitcoin mining soaks up a lot of electric power, much of which comes from fossil fuels, including coal. If Tesla is promoting Bitcoin, it's undoing the positive environmental effect of its cars.
Krugman comments on the first point:
And nowadays we use Bitcoin to buy houses and cars, pay our bills, make business investments, and more.

Oh, wait. We don't do any of those things. Twelve years on, cryptocurrencies play almost no role in normal economic activity. Almost the only time we hear about them being used as a means of payment — as opposed to speculative trading — is in association with illegal activity, like money laundering or the Bitcoin ransom Colonial Pipeline paid to hackers who shut it down.
He goes on to point out that 12 years is a long time in tech: Bitcoin is the same age as Venmo, and older than the iPad or Zoom. The fact that it hasn't caught on yet is a really bad sign.
One reason for that failure to catch on is habit, and the fact that most people are not nearly so desperate to get out of "fiat currencies" as Libertarians think they should be. (That might change if the current burst of inflation turns into more than the temporary blip economists like Krugman are predicting.) But a second good reason is the fluctuation in the dollar-value of Bitcoin itself.
Imagine, for example, that you're a contractor negotiating a deal to spend the next two years building a bridge. You'd be crazy to take your payment in Bitcoin, because no one has any idea what Bitcoin will be worth in two years. Similarly, imagine if you'd taken out a mortgage in Bitcoin at the beginning of 2020, when a bitcoin was worth about $10,000. By this April, you'd have owed six times as much (in dollar terms). If your salary were denominated in Bitcoin, you'd have taken a 30% pay cut Wednesday.
The only way this makes sense is if you are living in a complete Bitcoin system, where you can pay your workers (or your rent) in the same currency that you're earning, so that your income and expenses rise and fall together. Otherwise you're gambling, not participating in a productive economy.
Now, it's not unusual for new technology to face this kind of chicken-and-egg problem. (It made little sense to be an early adopter of the telephone, for example, because there were so few people you could call.) Tech that succeeds is compelling enough to overcome that problem.
But Bitcoin doesn't seem to be that compelling. Maybe you weren't planning to buy a Tesla with your bitcoins anyway. The fact that you can't, though, is symbolic.
Bitcoin and global warming. The deeper problem is that Bitcoin mining eats up an enormous amount of computer power, which in turns eats up an enormous amount of electrical power. The Guardian reports:
Cambridge's Centre for Alternative Finances estimates that bitcoin's annualised electricity consumption hovers just above 115 terawatt-hours (TWh) while Digiconomist's closely tracked index puts it closer to 80 TWh.

A single transaction of bitcoin has the same carbon footprint as 680,000 Visa transactions or 51,210 hours of watching YouTube, according to the site.
The same Centre for Alternative Finances claims that Bitcoin uses more energy than many countries.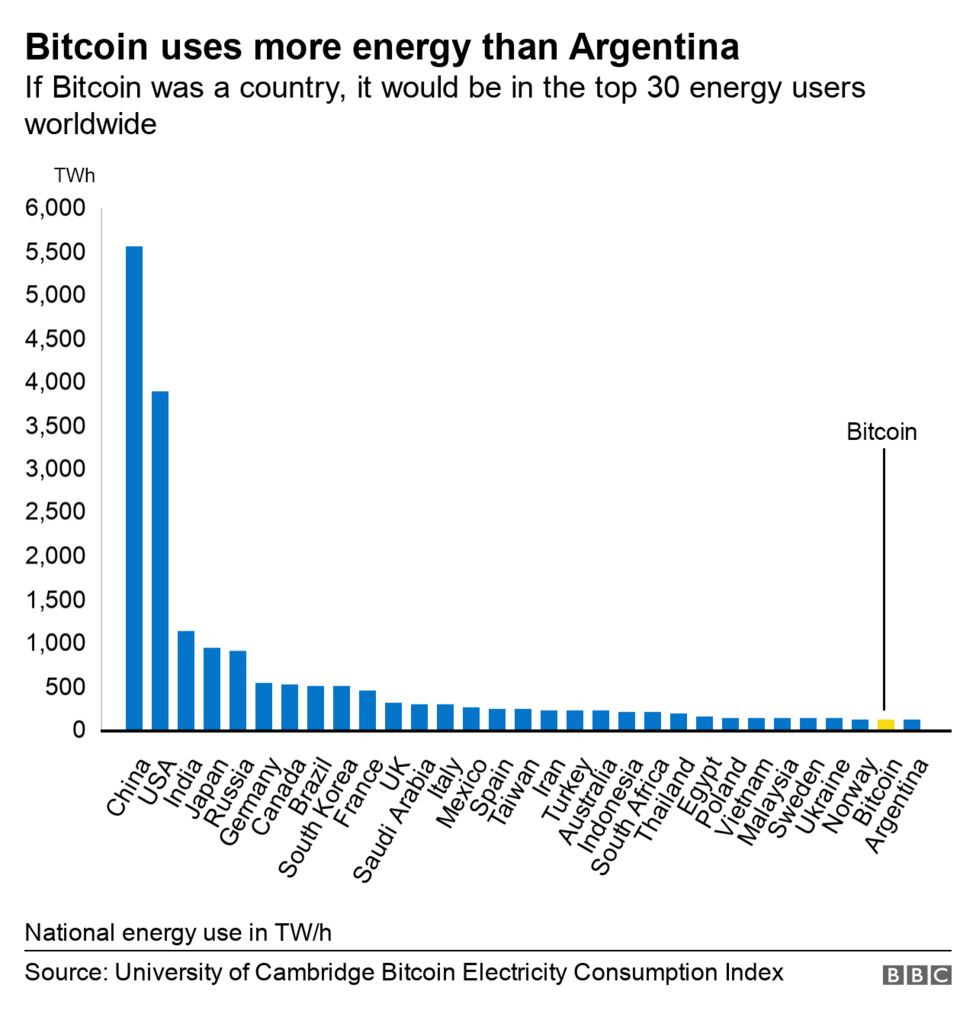 That problem is likely to get worse, because the system is designed to require more computer power with time.
As more people learn about bitcoin and mining—and as the price of bitcoin increases—more are using their computers to mine bitcoins. As more people join the network and try to solve these math puzzles, you might expect each puzzle to be solved sooner, but bitcoin is not designed that way.

The software that mines bitcoin is designed so that it always will take 10 minutes for everyone on the network to solve the puzzle. It does that by scaling the difficulty of the puzzle, depending on how many people are trying to solve it.
Of course, the carbon footprint depends on how the electricity is being generated. And that brings up a different problem: No one knows exactly where the mining computers are, or how their electricity is generated. And because there is no central authority controlling Bitcoin — that's part of the point, after all — no one can enforce environmental standards on the miners.
It seems likely, though, that miners are setting up in places where electricity is cheap. And at the moment, that is likely to be where it's easy to burn coal.
Now, you could imagine setting up Bitcoin-mining supercomputers on the vast plains of Oklahoma, and powering them with fields of windmills. But even that plan is environmentally questionable. The growth in sustainable energy is supposed to replace fossil-fuel energy, not power some new need that didn't exist 12 years ago.
Fatal wounds? For what it's worth — notice that I'm putting it out for free — I think the environmental problem is a fatal wound for Bitcoin. Maybe in a not-too-distant future, computation requires much less electricity, which is generated by solar arrays in orbit, so nobody cares about the computational burden of their digital currencies. But maybe not.
In the meantime, we're not there.
Right now, for Bitcoin to catch on and rival the dollar, the yen, and the euro, it needs the kind of early-adopter enthusiasm that comes from people believing that they're doing something cool. Twelve years ago, those two Bitcoin-purchased Papa Johns were the coolest pizzas in the world.
Now they're not, and even Elon Musk realizes it. Maybe at some point, your friends would have been awed if you'd said, "Like my new Tesla? I bought it with Bitcoin."
But with every day that goes by, you're less and less likely to get that reaction, and more and more likely to convince people that you're willing to destroy the planet for your own vanity. "Oh, you're that kind of asshole." (At the moment, the world's most famous Bitcoin miner is Joel Greenberg. That kind of asshole.)
That's fatal. Maybe not today or tomorrow, but soon.
This all says nothing about the underlying argument for some kind of cryptocurrency. Maybe trillion-dollar deficits really are evidence that the world's governments and central banks can't be trusted to maintain our money. Maybe there is room in the world for — or even a need for — a crowd-sourced money based on cryptographic algorithms.
But that currency is going to need a high level of coolness to beat the chicken-and-egg problem and catch on. And eating up a nation-sized chunk of the world's energy output is not cool.