What the new president's flurry of executive orders do and don't do.
As I've discussed elsewhere, all the issues facing the Biden administration have a background theme: proving democracy still works. Beating Trump at the ballot box and thwarting his attempted coup didn't end the threat of authoritarianism in America. (That's clear from the way Republicans are circling the wagons around Trump now, even after he launched an insurrection to try to hold on to power.) Most likely, Biden is going to wind up resembling one of two political leaders from the 1930s: Franklin Roosevelt, who held the line against a global wave of authoritarianism by leading the US through a major transformation without abandoning democracy; or Fritz Von Papen, the German chancellor whose floundering induced President Hindenburg to bring Adolf Hitler into the government (in spite of Hitler having previously led an insurrection).
The best way to prove democracy still works is to get major legislation through Congress. We'll see how that goes, but even if it works, it will take time. To his credit, though, Biden has grasped the need to demonstrate quickly that his election matters. The people voted, so things will change.
What he can do quickly is issue executive orders — 22 in his first week, as opposed to Trump's four and Obama's five. ABC News has listed 33.
This is a tricky business, because a government that runs by executive order is not a democracy, even if the executive was elected. So it's important that Biden's orders have three qualities: They need to be popular, so that he is seen to be speaking for the American people rather than dictating to them. (Maybe a few could be unpopular, but the broad sweep of his orders needs to garner public support.) They also need to effective, because orders that sound like something but turn out to be nothing will just erode trust in democracy even more.
But most of all they need to be legal, so that he's not furthering the authoritarian drift of the last four years. That legality needs to be bulletproof, because the judicial branch is now full of Trump appointees who would be happy to find a reason to block Biden's efforts. So he can't appropriate money (as Trump did for his wall), or change laws.
He is even limited in the ways he can alter or revoke regulations, once an agency has officially announced them in the Federal Register. Congress has specified a procedure for promulgating new regulations, which may require official studies, reports, or public hearings — all of which take time. (Most of the Trump executive orders that got hung up in court suffered from failures of process.) That's why many of Biden's orders instruct some department or agency to begin a process, rather than implement some change immediately.
But that doesn't mean the new president is powerless, as we've seen. Let's take the Biden EOs by subject.
Covid and public health
Executive orders can't appropriate money; that's what Biden's Covid-relief plan in Congress is for. But the Trump administration often worked at cross purposes with itself: one department saying one thing, a different department something else, and the White House pushing some other point of view entirely, which might change from one day to the next. As a result, the country was denied something only the federal government is in a position to provide: a coherent plan for moving forward, based on the kind of data only the federal government is in a position to collect.
The US is rejoining the World Health Organization. Quitting it was one of Trump's dumber ideas, which this letter undoes.
Mask-wearing and social distancing have been mandated in federal buildings.
to protect the Federal workforce and individuals interacting with the Federal workforce, and to ensure the continuity of Government services and activities, on-duty or on-site Federal employees, on-site Federal contractors, and other individuals in Federal buildings and on Federal lands should all wear masks, maintain physical distance, and adhere to other public health measures, as provided in CDC guidelines.
A separate order mandates masks in airports, airplanes, trains, intercity buses, ferries, and all other forms of public transportation. This takes the onus off private companies like the airlines, who can now tell recalcitrant customers: "We may not like it either, but it's not our call. Those are the rules."
School reopening. The legislation Biden has proposed would appropriate money to pay the expenses associated with schools reopening safely, something he can't do by himself. But he has ordered his administration to produce a single coherent set of guidelines and practices for safe in-person schooling.
Creating a White House Covid-19 Response Coordinator. This sounds a lot like what Mike Pence was supposed to be doing in the Trump administration. We can hope that Biden's team — a Coordinator (Jeff Zients) who knows how government works and a Deputy Coordinator (Vivek Murthy) who knows public health — will be allowed to do their jobs without so much political interference.
OSHA will make guidelines for Covid-safe workplaces.
A Pandemic Testing Board will produce and coordinate a national strategy for Covid testing.
The government will also take responsibility for organizing the supply chain of material needed to fight the pandemic, invoking the Defense Production Act as necessary. There will be a plan for helping local hospitals, including using the National Guard where appropriate.
Climate and the Environment
The US rejoins the Paris Climate Agreement. By itself, this announcement doesn't change US greenhouse gas emissions. But it is a powerful symbolic step.
The permit to construct the Keystone XL Pipeline is revoked. This is part of a long order with many parts. It also put a halt on oil leases in the Alaskan National Wildlife Refuge. Trump had announced a leasing program last August; a lease sale was held on January 6; and the first leases were announced publicly on Trump's last day in office.
It's not clear how much of that Biden can undo. He can certainly prevent any new leases. Whether he can undo the ones already granted probably depends on how serious the "legal deficiencies" in Trump's program are.
In light of the alleged legal deficiencies underlying the program, including the inadequacy of the environmental review required by the National Environmental Policy Act, the Secretary of the Interior shall, as appropriate and consistent with applicable law, place a temporary moratorium on all activities of the Federal Government relating to the implementation of the Coastal Plain Oil and Gas Leasing Program, as established by the Record of Decision signed August 17, 2020, in the Arctic National Wildlife Refuge. The Secretary shall review the program and, as appropriate and consistent with applicable law, conduct a new, comprehensive analysis of the potential environmental impacts of the oil and gas program.
Yale School of the Environment website E360 outlines the difficulties Biden faces. Basically, it's the same problem anybody might run into: Once the government signs a contract, it's hard to back out.
The same order instructs departments to examine all Trump-era environmental regulations and see what can be rolled back. It mentions specifically Trump's shrinking of several national monuments, including Bears Ears; allowing gas-drilling and gas-transporting companies to leak more methane; rolling back automobile fuel-economy standards; and rolling back energy standards on new appliances. (Looking at all those actions in one list makes me realize just what a force for evil the Trump administration was.)
Electric vehicles. In the comments he made Monday on his "Buy American" executive order, Biden announced his intention to phase fossil-fuel-burning vehicles out of the federal fleet. That provision didn't actually appear until "Executive Order on Tackling the Climate Crisis at Home and Abroad" came out on Wednesday.
The plan shall aim to use, as appropriate and consistent with applicable law, all available procurement authorities to achieve or facilitate … clean and zero-emission vehicles for Federal, State, local, and Tribal government fleets, including vehicles of the United States Postal Service.
This is both a great idea and a big deal.
It's a great idea because much of what the federal fleet does is a perfect job for electric vehicles. Think postal trucks, for example (225,000 of them): They don't take long trips that would expose EVs' range problems, and they return to the same depots every night, so they're not going to get stranded somewhere in Montana, far from any charging station.
It's a big deal because the federal fleet is huge: 645,000 vehicles, of which only 3,215 were electric as of last July. Knowing that those purchases are coming would put a floor under the US electric vehicle industry, creating economies of scale that would make EVs more affordable for the general public.
This order is also a sweeping policy statement whose full implications are hard to predict. In general, the US pledges to use its international influence to fight climate change rather than sabotage that fight, as the Trump administration had been doing.
It's hard to know whether to post this under climate or public health, but Biden also has elevated the role of science in this administration by establishing a President's Council of Advisors on Science and Technology, similar to the existing Council of Economic Advisors.
Immigration
The easiest and most obviously legal changes Biden can make is to undo Trump's executive orders, many of which were legally shaky to begin with.
Ending the Muslim ban. Probably the most egregiously bad of Trump's immigration executive orders was his Muslim ban, which required several iterations even to become legal. Biden's rescinding order calls the ban "a stain on our national conscience", "inconsistent with our long history of welcoming people of all faiths and no faith at all", and "a moral blight that has dulled the power of our example the world over".
He promises "a rigorous, individualized vetting system" for people applying to come to the US, and orders US embassies "resume visa processing in a manner consistent with the revocation of the Executive Order and Proclamations specified in section 1 of this proclamation".
The countries that had been subject to the ban were: Iran, Libya, Somalia, Syria, Yemen, Venezuela, Nigeria, Myanmar, Eritrea, Kyrgyzstan, Sudan, and Tanzania.
DACA deportations halted (maybe). By itself, Biden's executive order on DACA doesn't appear to do much; it simply instructs DHS to "take all actions [deemed legal and appropriate] to preserve and fortify DACA". Trump frequently used such language to appear to be doing something when he really wasn't.
But Biden's order led to a memo from the acting secretary of DHS ordering "a 100-day pause on certain removals". The Texas attorney general filed suit to invalidate the 100-day pause, which led to a temporary restraining order from a Trump-appointed judge. It's not clear how this will play out.
The phony border emergency is over. When Congress refused to fund Trump's border wall, even after he forced a government shutdown, he declared a state of emergency and moved funds from the Defense budget into wall construction. Congress passed a resolution canceling the emergency, but Trump vetoed it and Congress was unable to muster the 2/3 vote to override his veto. In effect, this meant that the President plus 1/3 of one house of Congress can appropriate money.
Biden has terminated the emergency and paused border-wall construction while his administration looks into legal options for canceling the existing construction contracts.
[B]uilding a massive wall that spans the entire southern border is not a serious policy solution. It is a waste of money that diverts attention from genuine threats to our homeland security. … It shall be the policy of my Administration that no more American taxpayer dollars be diverted to construct a border wall.
Trump's Executive Order 13768 is rescinded. The EO-13768 tried to do a variety of things. It restricted "sanctuary cities" from getting certain kinds of federal grants; increased the number of immigrants defined as "priorities for removal"; attempted to raise public ire against undocumented immigrants by publishing a weekly list of crimes they had committed; and tried to deputize local law enforcement to enforce federal immigration law. A lot of that had already been blocked by the courts, but Biden's order ends it.
Liberian refugees can stay a while longer. In 1991, President Bush the First granted temporary protected status to refugees form the Liberian civil war. (In this context, it's worth noting the historical connection between the US and Liberia, a country established by freed American slaves.) Their legal situation has been complicated ever since, and then Trump targeted them for repatriation in 2018. Various obstacles have prevented their expulsion, which Biden has now blocked.
The census will count undocumented immigrants. Trump tried to change the census so that the population figures used to apportion representation in the House of Representatives (and consequently, electoral votes of the states) would only count US citizens and documented immigrants, rather than all inhabitants. This was counter to the 14th Amendment:
Representatives shall be apportioned among the several States according to their respective numbers, counting the whole number of persons in each State, excluding Indians not taxed.
At no point since our Nation's Founding has a person's immigration status alone served as a basis for excluding that person from the total population count used in apportionment. … [T]he Secretary [of Commerce] shall report the tabulation of total population by State that reflects the whole number of persons whose usual residence was in each State as of the designated census date in section 141(a) of title 13, United States Code, without regard to immigration status.
Discrimination and Racial Equity
Phasing out federal contracts with private prisons. The order is self-explanatory:
The Attorney General shall not renew Department of Justice contracts with privately operated criminal detention facilities, as consistent with applicable law.
This is not an explicitly racial issue, but is deeply intertwined with mass incarceration of people of color. NPR interviews the ACLU's David Fathi:
[T]he order to the Justice Department to end its contracts with private prisons is a very important step. It will not by itself end mass incarceration, but it will curb an industry that has a financial interest in perpetuating mass incarceration.
Letting these contracts run to the end of their term will take years, and the order doesn't apply to the private prisons holding detained immigrants. Reportedly, Biden is considering such an order, but some sources don't expect it to happen. I'll take a wild guess about the obstacle: So many immigrants are detained that no existing federal facilities can hold them, and Biden still doesn't know exactly how many such immigrants he wants to continue detaining. Releasing just one guy who turns out to be dangerous — think Mike Dukakis and Willie Horton — could be a political disaster.
The "gag rule" is on its way out. Current law doesn't allow federal money to pay for abortions or to be used in family-planning clinics that also perform abortions. Biden can't change that by himself. But HHS regulations go further, and stipulate that a federally-funded family planning clinic can't even tell a woman how to get an abortion or refer her to a clinic that does them. Similarly, regulations deny federal funding abroad to organizations that have anything to do with abortion, even if they use non-US-federal money to do those things.
To the extent those policies are enshrined in regulations, Biden can just ask the regulating agencies to review their policies and start a regulation-altering process. To the extent he can order more than that directly, he is.
Trump's order banning diversity training is revoked. In September, Trump issued an executive order that labeled diversity training — basically, any program that mentions "white privilege" or "male privilege" — as "race or sex stereotyping or scapegoating", and banned federal agencies and contractors from spending money on it. Biden's order rescinds Trump's order.
The same order revokes Trump's order establishing his 1776 Commission, which produced a very shoddy report telling a whitewashed story of American history in which racism barely figures, and "progressivism" is covered in the same chapter as fascism and communism. Trump had hoped that report would form the center of an American history curriculum counteracting the NYT's 1619 Project. No federal money will now go towards that purpose, though of course the report exists and can still be adopted by local school districts that want to propagandize their children.
The order includes more abstract things that could turn out to be important, like this policy statement.
Affirmatively advancing equity, civil rights, racial justice, and equal opportunity is the responsibility of the whole of our Government. Because advancing equity requires a systematic approach to embedding fairness in decision-making processes, executive departments and agencies (agencies) must recognize and work to redress inequities in their policies and programs that serve as barriers to equal opportunity.
So we can hope that we've seen the last of roomfuls of white men discussing women's health or racial discrimination.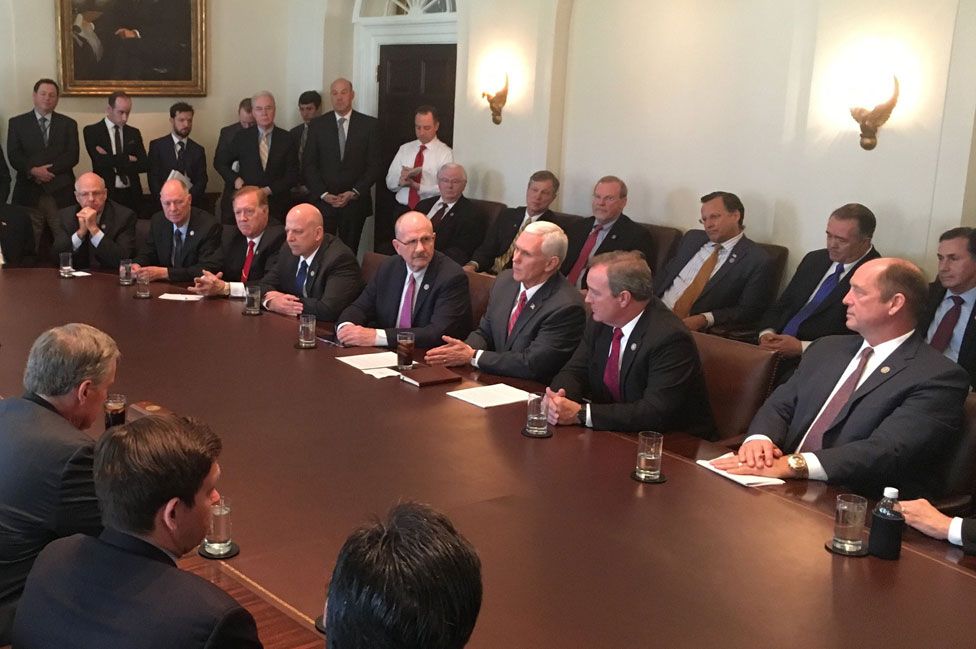 Transgender troops can serve in the military again.
Therefore, it shall be the policy of the United States to ensure that all transgender individuals who wish to serve in the United States military and can meet the appropriate standards shall be able to do so openly and free from discrimination.
The order instructs the Secretaries of Defense and Homeland Security (which covers the Coast Guard) to "immediately prohibit involuntary separations, discharges, and denials of reenlistment or continuation of service on the basis of gender identity or under circumstances relating to their gender identity". People already drummed out of service will have their service records "corrected", presumably to eliminate any less-than-honorable discharge associated with their gender identity.
Where appropriate, the department concerned shall offer such individuals an opportunity to rejoin the military should they wish to do so and meet the current entry standards.
A different order denounces discrimination on the basis of gender identification or sexual orientation and instructs all agencies to review their regulations with that in mind, but it's not clear what the practical effects will be.
Respecting tribal sovereignty. This is more of a policy-and-process announcement than an immediate change. It should give Native American tribes more weight when they protest against actions (like the Keystone XL pipeline) that threaten the environment on tribal lands.
It is a priority of my Administration to make respect for Tribal sovereignty and self-governance, commitment to fulfilling Federal trust and treaty responsibilities to Tribal Nations, and regular, meaningful, and robust consultation with Tribal Nations cornerstones of Federal Indian policy. The United States has made solemn promises to Tribal Nations for more than two centuries. Honoring those commitments is particularly vital now, as our Nation faces crises related to health, the economy, racial justice, and climate change — all of which disproportionately harm Native Americans.
Other
Another order freezes changes to federal regulations that had not been finalized by the end of the Trump administration, and advises departments to delay implementation of changes that got in under the wire for 60 days, so that they can be reviewed.
Biden extended a Trump order to stop collecting on federal student loans and temporarily stop charging interest on the outstanding balance.