The big thing to note is that the Electoral College is voting today, and that none of the 306 electoral votes Biden won in the election has been taken away by Trump's 50+ lawsuits.
During impeachment, Republicans argued that Congress would overstep if it removed Trump so close to an election, because that was for the voters to decide. But of course, now that the voters have decided by a wide margin to remove Trump themselves, Republicans hold that decision to be invalid too.
Remember how this started: Biden's victory became clear the Saturday after the election. When Trump didn't concede right away, as all other losing candidates in living memory have, Republicans said we should give him time to adjust to his loss. Then they argued that he had a right to pursue all his legal options until the states certified their votes. Then they pushed back the date until the electoral votes were cast.
But of course this isn't the end of it either. Now they're talking about challenging the electoral votes when Congress meets to count them on January 6. That challenge will fail too, and then we'll see what else they come up with, and how long they can keep this going.
In the meantime, it's turning into a good scam for our conman-president. He has collected nearly a quarter billion dollars from his sheep to "fund" this challenge process, which costs only a fraction of that total. The longer he can tell supporters that he has a chance to win, the longer the cash keeps rolling in.
---
The downside, of course, is that people believe him. They believe Biden is stealing the election, but that Trump will still prevail. And as they catch on to the fact that Trump isn't going to prevail, they're going to become increasingly violent.
We saw that beginning to happen this weekend, with the Proud Boys and other Trump supporters rioting in D.C. and various other cities.
Police in Olympia, Wash., arrested an armed right-wing protester and charged him with shooting a counterdemonstrator during protests on Saturday night.

In the nation's capital, at least four people were stabbed, including someone who is now in critical condition, and 33 more were arrested, after rallies supporting President Trump descended into chaos fueled by white nationalists. D.C. Police Chief Peter Newsham estimates that as many as 700 Proud Boys and their confederates roamed downtown streets looking to start fights, clashing with about 200 anti-Trump protesters.
In Michigan
Michigan's 16 electors will convene at 2 p.m. Eastern inside a heavily guarded state capitol in Lansing to cast their ballots for Joe Biden to become president and Kamala Harris to become vice president.

A spokeswoman for Senate Majority Leader Mike Shirkey (R) said in a statement overnight that the entire capitol complex will be closed to the public based on "recommendations from law enforcement" amid "credible threats of violence." Police will escort each of the electors from their cars amid what's expected to be a large "Stop the Steal" protest outside.
---
The week's most horrifying story was also one of its most absurd: The lawsuit Texas filed asking the Supreme Court to overturn the presidential election results in Georgia, Michigan, Pennsylvania, and Wisconsin. The suit itself was ridiculous, because how one state chooses its electors is not any other's state's business — which is what the Supreme Court said when it tossed the suit for lack of standing. The absurdity and insubstantiality of it didn't stop 17 other state attorneys general from joining the suit or 126 Republican members of Congress from signing an amicus brief supporting it.
Let's be clear about what would have happened if Texas had won: American democracy would be over. The voters could cast 81 million votes against a sitting president, defeat him by seven million votes, and even jump the hurdles of the archaic Electoral College — and he could hang onto power anyway. It is hard to imagine how future elections could proceed, once the Supreme Court had reduced them to an empty exercise. It's also hard to imagine the Union hanging together. Why should blue states stay in a Union where their votes don't count?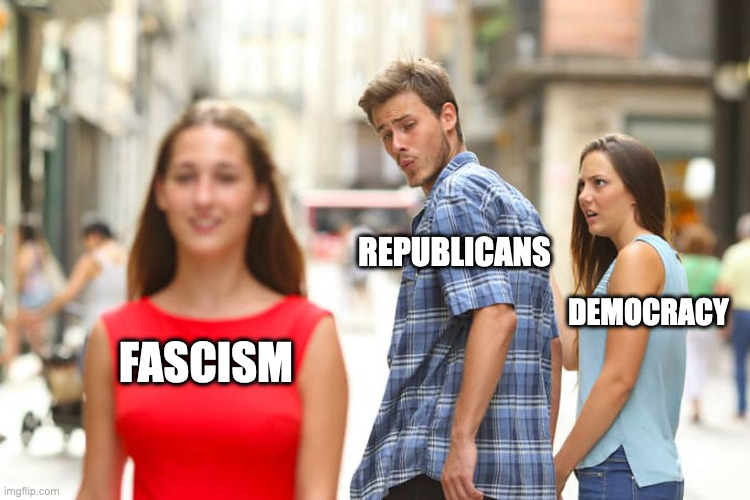 A barrage of other Trump suits got tossed in various state and federal courts, and I'm not going to go into them all. What it comes down to is that there is no court in any state that endorses Trump's claim that Biden's win is fraudulent. In most of the suits, Trump's lawyers didn't even really make that claim; the "evidence" they kept crowing about in public and social media wasn't anything a court would recognize.
I agree with Amanda Marcotte's interpretation: 2/3rds of Republicans don't "believe" Trump really won the election any more than they believed President Obama was born in Kenya. The election-fraud conspiracy theory simply justifies a position they don't want to state in so many words: To hell with democracy. Their side should be in power no matter what the majority of Americans want.
it's important to see those who support Trump's coup for who they are: People who have been radicalized, through racism, hateful propaganda, and a sense of perpetual grievance, against democracy. They aren't going to change their minds because of new facts, because the underlying belief — which is that they deserve to be in power, no matter what — is the problem here. It's a rising American authoritarianism, and we underestimate it at our peril.
---
This is a good time to revisit one of my favorite Jen Sorensen cartoons, which she drew in 2015.
---
Arguably the most disturbing thing about the Texas lawsuit was the 126 Republicans in Congress signed an amicus brief supporting the suit. New Jersey Rep. Bill Pascrell has proposed a hardball way to punish them:
Pascrell cites Article 1, Section 5 of the Constitution in the letter, which "gives each chamber of Congress the ultimate authority to decide their membership."

"Stated simply, men and women who would act to tear the United States government apart cannot serve as members of Congress," Pascrell writes, adding that they were attempting to make President Trump "an unelected dictator" by endorsing the lawsuit.
Most Democrats don't want to go that far, preferring to keep the moral high ground as the Party of Fair Play as opposed to the Party of Power At All Costs. And as a practical matter, the worst possible outcome would be for Speaker Pelosi to attempt something like this and fail for lack of a Democratic consensus.
However, I could get behind a halfway measure, which I would view as a shot across the Fascist bow: Make an example out of the 19 of those 126 Republicans who were elected from Wisconsin (1), Pennsylvania (7), Michigan (4), and Georgia (7). After all, they were on the same ballot as Biden and Trump, so the brief they signed alleges that the very election that qualifies them to sit in Congress was tainted by what the brief calls "unconstitutional ballots". It would make perfect sense for the House to investigate this allegation before seating them. Coincidentally, this investigation should last until the Inauguration, at which point Speaker Pelosi could report that allegations of fraud were unsupported by evidence.