This year, Election Night is a lot more complicated than just watching the returns come in.
---
Ordinarily, on the day before an election I write about poll-closing times and what the experts expect in various states. When does it makes sense to start watching returns? What are some early indications to look for? How late will you have to stay up to see the race decided? Stuff like that.
But as in everything else, 2020 is different. This year, we have to think not just about when the polls close, but how the votes are counted. When do election officials start processing early and mail-in ballots? How long will various states wait for mail-in ballots to arrive? Will courts intervene?
And then there are the possibilities that often occur in third-world countries, but we never used to have to think about in America: Will there be violence? Will the President let the ballots be counted? Will either foreign or domestic agents launch cyberattacks, or use disinformation to create chaos?
Let's look at the ordinary stuff first, then work our way out to the unusual.
What the national polls say. As of this morning, 538's model says Biden has a 90% chance of victory. That's far from a sure thing, but it means that unusual (but not impossible) things will have to happen for Trump to win.
Nationally, 538's polling average has Biden ahead 51.9% to Trump's 43.5%. Not only is that a much bigger lead than Hillary Clinton's 45.7%- 41.8% in 2016, but there are fewer undecided voters, and Biden's lead has been much steadier, staying in the 8%-10% range for the last month. (In late September, Clinton led by less than the 2% she ultimately won the popular vote by.)
The conventional wisdom has been telling us that the race would tighten down the stretch, as it did in 2016, but so far there is no sign of it. In addition, the large number of votes already cast leaves less room for last-minute shifts in the public mood.
Does that mean Trump can't win? Of course not. But it does tell us what kind of unlikely event would be required: A late-breaking shift of undecided voters wouldn't do it. "Shy" voters afraid to tell pollsters they're for Trump wouldn't do it. (It's hard to believe many of them would claim to be for Biden. Wouldn't they just say they're undecided?) One or two "unlucky" polls choosing an unrepresentative sample of voters wouldn't do it.
In order for Trump to win, there has to be a large structural failure in how polls are constructed across the entire industry.
BTW. On the shy-voter theory: If there were something uniquely embarrassing about supporting Trump, I would expect to see a gap between Trump's performance in the polls and Republican candidates lower down the ballot. Voters afraid to say they're for Trump would be telling pollsters they're for Thom Tillis in North Carolina or David Perdue in Georgia or Martha McSally in Arizona. But they're not.
State polls. Of course, we don't vote nationally, we use the archaic, Republican-biased Electoral College. That's what the 538 model is based on. (They give Biden a 97% chance of winning the national popular vote, but only a 90% chance of becoming president. No other advanced country would tolerate a system like this.)
Looking at each state individually produces 538's snake chart, the key section of which looks like this:
The easiest path for Biden to get to 270 electoral votes is to win all the states Clinton won in 2016 (the most difficult will be Minnesota and Nevada), and recapture Michigan, Wisconsin, and Pennsylvania.
The least likely state on this list for Biden is Pennsylvania, where 538's model shows him with an 86% chance of winning, and predicts a 5.1% margin. That makes Pennsylvania the tipping-point state: the one most likely to make the difference.
If Biden should lose Pennsylvania, though, he still might win, because he also has smaller leads in Arizona, Florida, North Carolina, and Georgia. Ohio is a toss-up and Biden trails narrowly in Texas (not pictured).
This again tells us what kind of unlikely event would re-elect Trump: Polls have to be off by around 5% across the board, in states as different as Pennsylvania, Florida, and Arizona.
Election night. Ordinarily then, I'd be telling you that polls close in Pennsylvania at 8 p.m. EST, so if Biden really has that 5.1% lead, we should expect to know that he's won by 9 or 10 o'clock. He couldn't pass 270 until California came in at 11, but we could go to bed early and still be pretty sure we'd wake up to a Biden victory.
Not this year. Nationally, more than half the expected number of ballots have already been cast. Naively, you might expect that to make the vote-count go faster, since states could already have half or more of the votes counted when the polls close. But you would be ignoring how Republicans intend to steal this election for Trump:
Behind in the polls, Republicans are becoming increasingly blunt about their plan to win the election: don't let everyone's votes be counted.

As Astead Herndon and Annie Karni reported for the New York Times Saturday evening: "Trump advisers said their best hope was if the president wins Ohio and Florida is too close to call early in the night, depriving Mr. Biden a swift victory and giving Mr. Trump the room to undermine the validity of uncounted mail-in ballots in the days after."
Matt Yglesias sums up:
Republicans — not Trump, dozens and dozens of individual state legislators across multiple states — have acted to deliberately ensure slow counting of mail-in ballots so they can later complain that the slow dribbling in of mail votes looks suspicious.
Wisconsin, Michigan, and Pennsylvania are all states where Republican majorities in the legislature have gerrymandered themselves into power. (A majority of voters in 2018 tried to give power to Democrats, but failed.) And they have prevented early vote-counting in each state. So Biden will not win Pennsylvania by 9 or 10, and probably not until Wednesday or Thursday — or later if the state is closer than polls predict.
Since Democrats have promoted early voting and voting-by-mail more than Republicans — in part because they take the pandemic seriously and Republicans do not — most likely the election-night totals will favor Trump, who will then try to declare victory and prevent further vote-counting.
I don't expect that strategy to work, because Biden's ultimate margin will be too big, and neither election officials nor judges are as corrupt as the GOP's plan requires. But it does mean that you won't learn much by watching Pennsylvania's returns come in tomorrow night.
Instead, the first state to watch tomorrow night is Florida. Polls close at 8 eastern, and the early votes should be reported almost immediately. So Biden should have an early lead there, which will shrink over the next hour or two as the election-day votes come in. It's possible there could be a result by 10.
Florida is a state where Biden has a small polling lead — 2.3% in 538's analysis. As you see in the snake chart above, Biden can win the election without Florida. But winning Florida would be an early knock-out blow. If Biden holds the Clinton states and adds Florida, that's 262 electoral votes. Trump would have to sweep all the other battleground states, including places like Michigan, where Biden has an 8.1% lead in the polls.
So Biden-wins-Florida is the go-to-bed-early scenario.
That said, Florida has been problematic for Democrats in recent elections. Clinton was favored there and lost. Ditto for Andrew Gillum in the 2018 governor's race. Maybe pollsters have figured out what they did wrong in those races, but maybe not.
Polling errors have been running the other way in the Southwest: Kyrsten Sinema was projected to win her Senate race in Arizona by .7% and actually won by 2.4%. Ted Cruz was supposed to beat Beto O'Rourke by 4.9% and actually only won by 2.6%.
Other possible early knock-outs for Biden are North Carolina, Georgia, and (a little bit later in the evening) Arizona. Also worth watching is New Hampshire, a Clinton state Trump has campaigned in. Trump doesn't need to win it and probably won't. But the returns in New Hampshire could be an early clue as to whether he is getting the white-working-class surge he will need in Pennsylvania and Wisconsin.
Ohio and Texas are stretches for Biden, but if they come in, the race is a landslide. Given the similar demographics, there is no way Biden loses Pennsylvania or Michigan after winning Ohio, or fails to take Arizona after winning Texas.
That said, Republican machinations have held open the most tense scenario: Trump takes Texas, Ohio, Florida, Georgia, North Carolina, and Arizona on Tuesday, forcing Biden to count on the Michigan-Wisconsin-Pennsylvania path, which Republicans have intentionally delayed, and will now argue are taking too long.
Congress. Democrats expect to expand their House majority and have a good chance to take control of the Senate.
The current Senate is 53-47 Republican. Democrats expect to lose Doug Jones' race in Alabama, so they need to pick up four seats elsewhere to get to 50-50. If Biden wins the presidency, Kamala Harris will hold the tie-breaking vote in the Senate.
Cook lists only one other Democratic seat in danger, Gary Peters' in Michigan. But even that race it rates as "lean Democrat".
Meanwhile, it rates two Republican seats — Martha McSally's in Arizona and Cory Gardner's in Colorado — as lean Democrat. Seven other Republican seats are toss-ups: Susan Collins in Maine, Joni Erst in Iowa, Thom Tillis in North Carolina, David Perdue and Kelly Loeffler in Georgia, Steve Danes in Montana, and Lindsey Graham in South Carolina.
538 gives the Democrats a 76% chance of gaining control of the Senate, with a 51.6 seat projection.
The same Election-Night considerations apply as in the presidential race. The early indicator is probably the North Carolina race.
Out of the ordinary. Over the weekend we started seeing our first hints of disruption or violence. "Trump Trains" of flag-flying pick-up trucks slowed or blocked traffic in a number of places like the Garden State Parkway in New Jersey, the Mario Cuomo Bridge in New York, and the Capitol Beltway in D. C.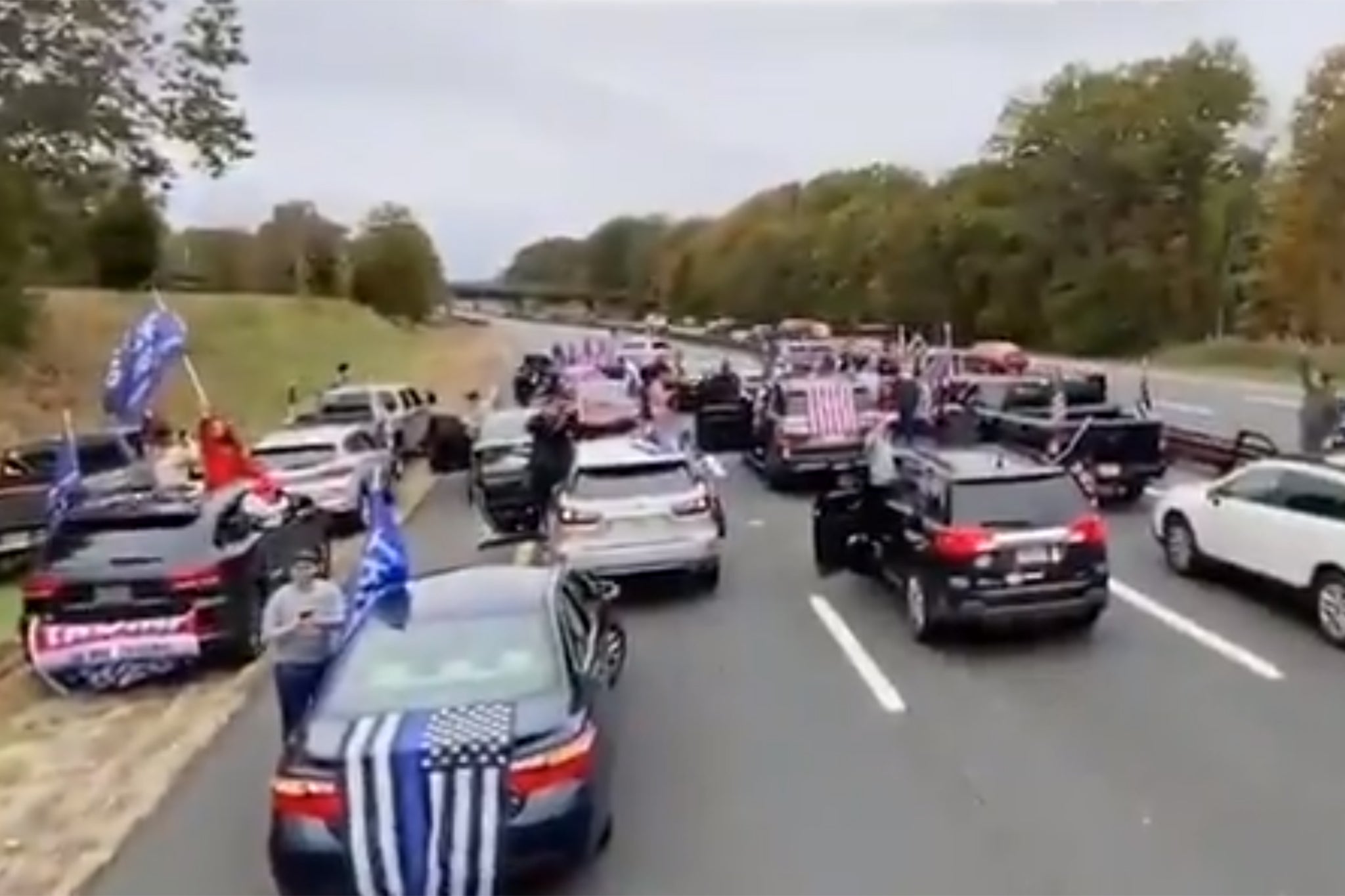 The most ominous such event was when a Trump Train surrounded and harassed a Biden campaign bus in Texas, resulting in one minor collision.
People in vehicles that were part of a "Trump Train" began yelling profanities and obscenities and then blockaded the entire Biden entourage, according to a source familiar with the incident. At one point they slowed the tour bus to roughly 20 mph on Interstate 35, the campaign official said. The vehicles slowed down to try to stop the bus in the middle of the highway. The source said there were nearly 100 vehicles around the campaign bus. Biden staffers were rattled by the event, the source said, though no one was hurt.
When Trump heard about this incident, he tweeted "I LOVE TEXAS!". And the Texas Republican Party was similarly unapologetic. Its statement dismissed the incident as "fake news and propaganda", and attempted to shift focus to "the real violence" on the left.
In all these incidents, the point seemed to be to cause trouble, not just to express enthusiasm. Will they escalate?
Ron Suskind explored that possibility in "The Day After Election Day". What if, he wonders, the Proud Boys or the army of Trump volunteers out looking for non-existent voter fraud block or violently disrupt polling places?
Disruption would most likely begin on Election Day morning somewhere on the East Coast, where polls open first. Miami and Philadelphia (already convulsed this week after another police shooting), in big swing states, would be likely locations. It could be anything, maybe violent, maybe not, started by anyone, or something planned and executed by any number of organizations, almost all of them on the right fringe, many adoring of Mr. Trump. … If something goes wrong, the media will pick this up in early morning reports and it will spread quickly, increasing tension at polling places across the country, where the setup is ripe for conflict.

Conservative media could then say the election was being stolen, summoning others to activate, maybe violently. This is the place where cybersecurity experts are on the lookout for foreign actors to amplify polling location incidents many times over, with bots and algorithms and stories written overseas that slip into the U.S. digital diet. News of even a few incidents could summon a violent segment of Mr. Trump's supporters into action, giving foreign actors even more to amplify and distribute, spreading what is, after all, news of mayhem to the wider concentric circles of Mr. Trump's loyalists. Groups from the left may engage as well, most likely as a counterpoint to those on the right. … Violence and conflict throughout that day at the polls would surely affect turnout, allowing Mr. Trump to claim that the in-person vote had been corrupted, if that suits his purposes.
That violence could be Trump's Reichstag Fire.
If the streets then fill with outraged people, he can easily summon, or prompt, or encourage troublemakers among his loyalists to turn a peaceful crowd into a sea of mayhem. They might improvise on their own in sparking violence, presuming it pleases their leader.

If the crowds are sufficiently large and volatile, he can claim to be justified in responding with federal powers to bring order.
The spark for all this might be, literally, nothing at all. In 2014, an organized disinformation campaign created a fake ISIS attack on a chemical plant in Louisiana. What if some foreign actor like Russia invents an Antifa election-day atrocity? Might the fake attack create real reprisals that then spiral out of control?
I don't even know how to evaluate scenarios like that. Are they likely? Crazy? Will we all laugh about this stuff by Friday? I have no idea.
This I do know: We've never had to think this way before, and the difference this time around is Trump. All previous presidents have done their best to reassure the public. He is the first to actively try to destabilize the national mood, and push us all towards panic. No matter how this comes out, I will not forgive him for that.
Finally, I want to repeat what an anonymous national security expert tells Ron Suskind: "Just understand that you're being manipulated." Respond accordingly. No matter what you think is happening, stay non-violent as long as you possibly can. Check your sources before you pass on rumors, so that you don't amplify disinformation.
And keep hoping that, like kids back from a horror movie, we all eventually have a good laugh about how scared we were.