By privately insulting veterans and servicemen killed in the line of duty, Trump has raised a suspicion many of his supporters try not to think about: What does he say about them behind their backs?
---
He says what he thinks. When his supporters try to explain what is so appealing about Donald Trump, one point that almost always comes up is: "He says what he thinks."
If you don't like Trump, that line has probably never made sense to you, because a lot of what he says seems so nonsensical that he can't possibly believe it. Surely he doesn't really think he's been treated "worse than Lincoln", when Lincoln was assassinated in office, or that he has "done more for Black Americans than anybody with the possible exception of Abraham Lincoln — nobody has even been close". He was already an adult when President Johnson passed the Voting Rights Act and the Civil Rights Act, laws that made it possible for millions of Black Americans to vote and to begin living something that at least resembled a normal American life. Surely he doesn't imagine that a few months of low Black unemployment compares to that, does he? Or that it balances his decades-long history of racism.
He doesn't say those things because he believes them. He says them because he wants us to believe them.
But "He says what he thinks" is actually code for something else: "He says what I think." People in Trump's base, particularly older conservative Christian white men, have lived for decades under constant social disapproval for the little things they habitually do and the words that come out of their mouths. Put yourself in their shoes: Maybe you grew up saying the N-word — you didn't mean anything by it, it's just what Black people were called in your neighborhood. (I missed out on the N-word: I grew up in a time and place where good little children weren't supposed to say it, and by the time I was an adult, no one was.) Maybe you said "fag" instead of "gay", or referred to women in the workplace as "girls".
Comments or pats on the butt that would once have been accepted as compliments suddenly because "harassment". Overnight, jokes that everyone used to laugh at became offensive — racist or sexist or some other ist-word you'd never heard before. Affirmations of good Christian values became "homophobia", and who knows what the heck "intersectionality" means? Every day there was a new set of toes you supposedly had been tromping on for years — so you'd better watch your step from now on. And it never stops: You can't even make fun of transsexuals these days. Who knows what it will be next? You'll never be free to just speak your mind.
And there was Trump, ignoring all those rules and not censoring himself. Mexican immigrants are rapists and criminals and drug smugglers. America accepts too many people from "shithole countries" like Haiti or those places in Africa that were better off when the British or French ran things. When you thought stuff like that, you didn't dare say so — but he did. That crippled reporter wrote bad things about him, so Trump just mocked him and his disability right out in front of everybody, with the TV cameras running. The Disability Police came after him with guns blazing, but did he apologize? No way. Women came out of the woodwork to say he harassed, abused, or even raped them. Did he let that intimidate him? Not on your life. He insulted them right back, said they were too ugly to be worth it. "Believe me, she would not be my first choice. That I can tell you."
What's more, you would also love to deny that you ever make mistakes, to blame everything that goes wrong on somebody else, and to claim that everything you do or say or own is the biggest and best and most wonderful thing ever. But you don't, because people would laugh at you. Well, Trump does that, and people do laugh at him, but he just doesn't care. How can you not love that?
The liberal media and all the people who have been pushing the new standards, they keep trying to bring him down. But they can't. They try to make him a villain, but he beats them.
And that's why he's a hero.
Mean girls. One stereotypic character of high school dramas is the Mean Girl: From her perch at the top of the social pyramid, she can say whatever she wants about anybody — and what she wants to say is nasty. The more cruel or unjust it is, the more it proves her power. She can say anything, and everybody else has to accept it, because if you object, she'll turn her fire on you. And if you want to be popular like she is, you can't just silently go along, you have to praise her cleverness and insight. If you want to stay in the Queen's court, you have to repeat her insults and push the party line. She tells you who's in and who's out, and then sends you off to work her will.
Being close to the Mean Girl can be exhilarating. All your life you've had to repress your own cruelty, and now it's an asset — as long as she approves. If you come up with a particularly biting nickname for some rival queen-wannabee or for some kid who thinks he or she can get along outside the social structure, maybe the Mean Girl will start using it too. You'll never get credit for it directly, but maybe you'll rise in her esteem, until you're almost a Mean Girl yourself.
But no matter how close you get to the throne, you never stop wondering: What does that cruel tongue say about you when you're not there to hear?
In their heart-of-hearts, even Trump's biggest fans must recognize how much Mean Girl he has in him. That champion-of-the-common-man mantle has always fit badly on someone who lives in a gilded penthouse. Do you think anyone who isn't rich or famous has ever set foot in his Trump Tower residence except as a servant, a workman, or for sex?
He didn't make that money by working his way up from the bottom; he inherited hundreds of millions from his father. He's always been rich, he's always been on top, and he's always been a bully. Those famous Twitter insults — Pocahontas, pencil-neck Adam Schiff, Crooked Hillary — that's not the language of presidents. It's the language of the Mean Girl.
So even if you're the most rabid MAGA-hatter in the world, deep down you have to wonder: When he's with his real buddies — the billionaires or reality TV stars or whoever he likes to hang with — what does he say about you? Does he make fun of how gullible you are, that you think he cares about you and you believe all the crap he tells you?
No matter how much you may try to deny that possibility, silently in your own mind you know he does.
Trump U. Before Donald Trump ever ran for president, he was the founder of Trump University. The target market for Trump U was all the people who admired the great businessman they saw on The Apprentice, people who bought The Art of the Deal and wanted to be like the guy it described. And they didn't just admire Trump, they trusted him. If he was ready to tell people how to get rich the way he did — which wasn't to inherit a real estate empire from your Dad — they were ready to pay money to hear it.
They weren't the Enemy. They weren't what's wrong with America. They were his biggest fans.
And he scammed them.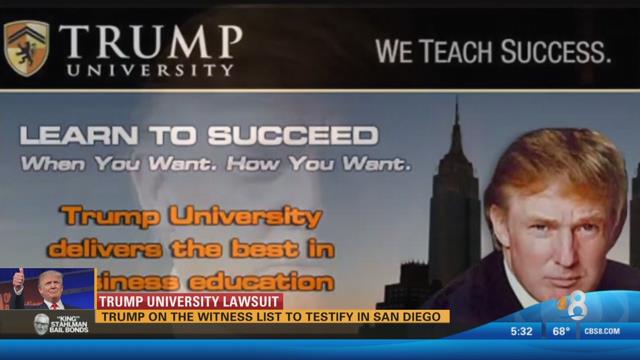 Trump U wasn't a good idea that got out of hand. It wasn't a generous impulse that turned bad after he handed it off to a corrupt subordinate. Trump U was a scam from Day 1.
One of the company's ads said of Trump, "He's the most celebrated entrepreneur on earth. . . . And now he's ready to share—with Americans like you—the Trump process for investing in today's once-in-a-lifetime real estate market." The ad said that Trump had "hand-picked" Trump University's instructors, and it ended with a quote from him: "I can turn anyone into a successful real estate investor, including you."

In fact, Trump hadn't handpicked the instructors, and he didn't attend the three-day seminars. Moreover, the complaint said, "no specific Donald Trump techniques or strategies were taught during the seminars, Donald Trump 'never' reviewed any of Trump University's curricula or programming materials, nor did he review any of the content for the free seminars or the three day seminars." So what were the attendees taught? According to the complaint, "the contents and material presented by Trump University were developed in large part by a third-party company that creates and develops materials for an array of motivational speakers and Seminar and timeshare rental companies." The closest that the attendees at the seminars got to Trump was when they were encouraged to have their picture taken with a life-size photo of him.
Trump U's business plan was to constantly up-sell its marks. Drawn in by a free presentation, they'd be given a glowing description of everything they'd learn if they ponied up $1,500 for the three-day seminar. At the three-day seminar, they'd hear about the even more expensive "mentorship" program where they'd learn Trump's real secrets.
There never were any Trump secrets in the program. He couldn't tell them how to be born rich, he wasn't going to tell them how to launder money for Russian oligarchs, and nobody wants to know how to go bankrupt running Atlantic City casinos — so there was really nothing to teach. Trump admirers paid upwards of $30,000 for that lesson, and Trump eventually had to give back $25 million to settle their fraud lawsuit.
Most of the victims of Trump U were people who couldn't afford to lose that amount of money. But there was a hole in their lives that they thought they could fill by becoming real estate moguls like their hero Donald Trump. In other words, they were losers. And Trump was able to take advantage of their loser-ness (and their admiration of him) to turn them into suckers.
And if you think he's only done that once, you're wrong.
The Atlantic article. Thursday, The Atlantic published an article by its editor-in-chief Jeffrey Goldberg: "Trump: Americans Who Died in War Are 'Losers' and 'Suckers'". The article made a number of startling accusations:
In 2018, while he was in France to mark the 100th anniversary of the end of World War I, he cancelled a planned visit to the Aisne-Marne American Cemetery near Paris, the grave site of 1,800 American Marines who died at Belleau Wood, because "It's filled with losers." He also described the Marines as "suckers" for getting killed.
When tortured Vietnam POW John McCain had died a few months earlier, he said, "We're not going to support that loser's funeral."
When he accompanied his Chief of Staff John Kelly on a visit to the grave of Kelly's son, a Marine who died in 2010 in Afghanistan, he said to Kelly "I don't get it. What was in it for them?" A retired four-star general who is a friend of Kelly later told Goldberg, "He can't fathom the idea of doing something for someone other than himself,. He just thinks that anyone who does anything when there's no direct personal gain to be had is a sucker. There's no money in serving the nation."
After hearing Joint Chiefs Chairman Joe Dunford give a briefing, Trump said, "That guy is smart. Why did he join the military?"
When planning a military parade, Trump told his aides not to include amputees. "Nobody wants to see that," he said.
Immediately, the White House tried its standard defense: Fake news, put out by a failing magazine. The story is "totally false", and the anonymous sources Goldberg quotes are made up.
That explanation broke down almost immediately when other news organizations — AP , The New York Times, Fox News, CNN, and The Washington Post — had little trouble finding their own sources, who may or may not have been the same ones Goldberg found. If someone is making these stories up, it's not Jeffrey Goldberg.
Worse, there was one obvious person who could have blown the whole thing up: John Kelly. If his son's memory is being used to smear his former boss, you'd think he might try to put a stop to it. He hasn't said a word. Trump knows what that means. So he attacked Kelly Friday at the White House:
I know John Kelly. He was with me, didn't do a good job, had no temperament, and ultimately he was petered out. He got — he was exhausted. This man was totally exhausted.

He wasn't even able to function in the last number of months. He was not able to function. He was sort of a tough guy. By the time he got eaten up in this world, it's a different world than he was used to, he was unable to function. And I told him, John, you're going to have to go. Please give me a letter of resignation. And we did that, and now he goes out and badmouths.
He has also lashed out at Fox News reporter Jennifer Griffin, who corroborated some of Goldberg's accounts via her own sources, and added this anecdote:
According to one former senior Trump administration official: "When the President spoke about the Vietnam War, he said, 'It was a stupid war. Anyone who went was a sucker'."
Griffin, Trump tweeted, "should be fired for this kind of reporting" and added "FoxNews is gone."
Other pundits and talking heads have pointed out the obvious: The quotes in the Atlantic article may be new and more extreme, but they sound like Trump quotes we already know. Early in his term, he called the military brass "a bunch of dopes and babies". One of Candidate Trump's first political flaps came when he bad-mouthed John McCain's service: "I like people who weren't captured." He publicly contradicted the widow of a soldier killed in Niger.  He attacked the Gold Star parents of slain Captain Humayun Khan. He dodged the Vietnam draft by claiming bone spurs, a diagnosis provided by a doctor who owed his father a favor. Michael Cohen quotes Trump saying, "You think I'm stupid? I wasn't going to Vietnam." The only person in Trump'a family who did any military service was his black-sheep brother Fred Jr., who was in the Air National Guard. As President, Trump won't even challenge Vladimir Putin for paying bounties to kill American soldiers. Putin counts; soldiers don't.
So yes, it fits perfectly: He said these things. Trump and his flunkies can deny as vehemently as they want, but they're not fooling anybody.
Why this story hit a nerve. Ever since he came down the escalator in 2015 talking about Mexican rapists, barely a week has gone by without some Trump-said-a-bad-thing story. They arise, people who never liked Trump anyway get upset about them, and they fade away in a day or two. Some political observers believe Trump uses or even engineers this process in order to distract the public from more damaging stories. For example, 1080 Americans died of coronavirus on the day the Atlantic article came out. What's more important: a few quotes from 2018 or the equivalent of three simultaneous jumbo-jet crashes?
And yet, this time the story doesn't seem to be going away. I think I know why.
Trump's usual escape from he-said-a-bad-thing stories is to invoke tribalism. Both the people he insulted and the media that reported the insult are from the Other Side. Who are you going to believe: Trump or the New York Times? Whose side are you one: Trump's or the Squad? Trump or some Muslim?
But the people he has insulted this time are in his own tribe, and even Fox News is reporting it. John Kelly was a good guy not that long ago, and he went away without making a fuss.
A key part of the Trump base are veterans, especially white veterans from the South or rural areas whose families have a tradition of military service. The kind of guy who goes to the cemetery on Memorial Day to put flowers on the grave of a father who died on D-Day or a grandfather who barely escaped from Belleau Wood — lots and lots of them are Trump voters. And he thinks they're losers and suckers, just like the people he scammed at Trump U. Then he got his marks' money, now he gets their votes. But does he respect them? Not at all.
And even if you're not a veteran, or a veteran's spouse or son or daughter, you have to know that your position in the Trump base is no more secure than theirs. If he talks that way about them, you know he's talking that way about you too.
He's not the hero you want to believe he is. He's the Mean Girl who finds you useful as long as you do what she wants. He bears you no affection or loyalty, and the more you do for him, the more you convince him that you're a sucker too.