Creationism defender Duane Gish became famous for a debating technique now known as the Gish Gallop: tossing out so many lies, exaggerations, mischaracterizations, and other deceptions so quickly that your opponent simply can't respond to them all. Debaters who try will just exhaust their own time (and the audience's patience) on factual details without ever getting around to addressing the galloper's main points, much less making their own case.
The trap of fact-checking. This week's Republican Convention was essentially a four-day Gish gallop. Speaker after speaker gave fact-checkers a workout. CNN's Daniel Dale listed 20 "false or misleading claims" in Trump's speech from the White House lawn. FactCheck.org "didn't find anything to fact-check from Sen. Kamala Harris' speech accepting the Democratic nomination for vice president", but made six corrections to Mike Pence's speech. For example, he blamed Joe Biden for not denouncing "the riots in Oakland" that killed a federal officer.
But he didn't explain that the death was unrelated to demonstrators protesting in the wake of George Floyd's death. Federal prosecutors have charged a right-wing extremist with the killing.
Both Pence and Trump claimed Biden wants to "defund the police", a position Biden has explicitly denied. The Washington Post's Phillip Bump assessed that "Nearly every claim Trump made about Biden's positions was false".
The non-headline speakers were just as dishonest. Rudy Giuliani blamed the violence that coincided with some George Floyd protests on Antifa, a claim unsupported by evidence.
According to multiple reports, including a Washington Post fact check, there were no signs that that antifa was behind violence at these protests. As of earlier this month, federal prosecutors had not been able to link dozens of people arrested in protests in Portland, Ore., to antifa.
Nikki Haley falsely said that Biden wanted to "ban fracking", while Eric Trump falsely claimed that "Biden has pledged to … take away your cherished Second Amendment." In addition to dishonesty, speakers displayed appalling ignorance and sloppiness. Lara Trump used a fake Lincoln quote. And Trump Jr.'s girl friend Kimberley Guilfoyle said:
As a first-generation American, I know how dangerous their Socialist agenda is. My mother, Mercedes, was a special education teacher from Aguadilla, Puerto Rico. My father, also an immigrant, came to this nation in pursuit of the American Dream.
Guilfoyle, who introduced herself as a "proud Latina", ought to know that Puerto Ricans are American citizens. So she's not "a first-generation American" and her mother was not "an immigrant".
So you can imagine how easy it would be to take the Gish-gallop bait: I could go on for screens and screens listing specific errors of fact and logic. And if you dislike the Republican Party anyway, you might read that list with a certain I-was-right-all-along satisfaction. [1]
The four big lies. However, that's not the case that needs to be made right now. The RNC wasn't like a Liar's Convention or a Festival of Tall Tales. The week's disinformation wasn't a random scattering of fanciful notions. The point of the lesser lies was to support bigger lies, which often stayed in the background. So even if an undecided voter who watched the convention also read all the fact-checks, and came to understand that Puerto Ricans are citizens and Biden isn't planning to defund the police, he or she might still come away believing one or more of these four falsehoods:
Trump had an extraordinary economic record before the coronavirus hit.
Trump is not responsible for consequences of the Covid-19 epidemic. The 200,000 excess deaths this year are not his fault, since he did everything that could have been done to control the epidemic. And since the epidemic is not his fault, he should get a mulligan for it. He should be judged by February's economy rather than today's, as if the last six months never happened.
The unrest in America's cities this summer is not a response to excessive police violence and a long history of racial injustice, but is due to a dark conspiracy of liberal anarchists. The way to control violence in our cities is with an overwhelming show of force, which Trump is willing to order and Biden is not.
If Covid-19 was ever a serious threat, it no longer is. America should get back to normal as fast as possible; any additional sickness or death this causes is a price worth paying.
None of this is true. The convention's little lies about who-did-what-when pale in comparison; they're only relevant to the extent that they prop up these four big lies.
Correcting the first big lie: Even pre-Covid, Trump's economic performance was nothing special. In 2016, Trump supporters argued that his amazing business acumen would translate from the private sector to government: Rather than creating wealth for himself, Trump as president would create wealth for all of us.
We now understand that the myth of Trump's financial genius was false from the beginning. Far from the self-made man he purported to be, Trump became wealthy through inheritance from his father and tax fraud (including allegedly defrauding some of his relatives). After losing the money his father left him, he became rich again via money laundering for Russians and other former Soviet nationals, as well as profiting from schemes that created losses for people who trusted him.
But one thing has carried over: The same myth-making genius that created the image of Trump the Great Businessman has created a new myth of the Great Trump Economy. At the Convention, Larry Kudlow told this tall tale:
Donald Trump's economic plan … was a roaring success. Inheriting a stagnant economy on the front end of recession, the program of tax cuts, historic rollback of onerous regulations that crippled small business, unleashing energy to become the world's number one producer, and free, fair and reciprocal trade deals to bolster manufacturing, agriculture, technology, and other sectors. The economy was rebuilt in three years.
This is its own little Gish gallop that could be debunked phrase by phrase — for example, the US became the world's top oil producer in 2013 under Obama — but it's more important to look at the big picture: A graph of US GDP growth by year shows that from 2010 to the beginning of the Covid pandemic, growth was slow but steady, bouncing in a range between 1.6% and 3.1%. (Compare to 1966 or 1955, when GDP grew 6.6% and 7.1%.)The peak growth rate of that period came in 2015 under Obama. There was never a Trump boom, just the same kind of economic growth we had under Obama.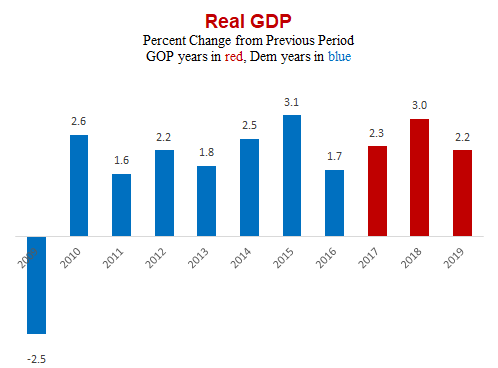 If the pre-Covid Trump economy felt different from Obama's, that was because periods near the end of economic expansions have strikingly low unemployment rates. So in the Trump years the unemployment rate got very low, reaching 3.6% by November of 2018 and staying at about that level for more than a year. In February, it was 3.5%. [2]
However, if you look at a graph of the unemployment rate, you'll see the same pattern as GDP: Trump inherited positive trends from Obama. The slow-but-steady growth that started in 2010 gradually knocked down the unemployment rate. That positive trend continued — without any acceleration at all after Trump became president — until the epidemic disrupted it. [3]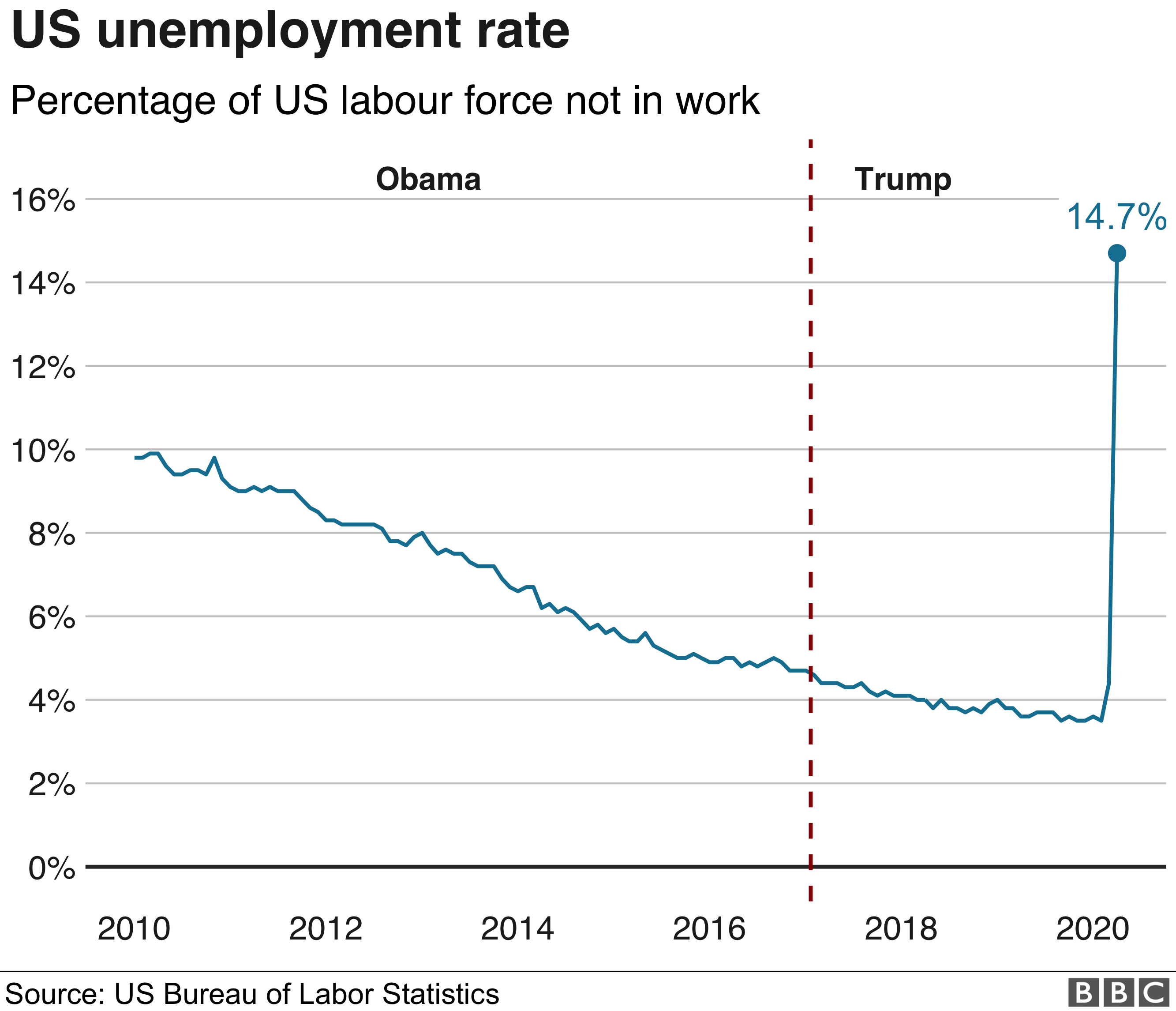 In some ways it's surprising that growth didn't improve under Trump, because Mitch McConnell loosened the purse strings once he had a Republican president. Even though it was late in the economic cycle — a time when conventional economic theory calls for government to run surpluses — Congress allowed Trump to stimulate the economy with deficits far larger than it had allowed Obama after his first term. [4]
So the gist of the pre-Covid Trump economic record is this: Until Covid, Trump managed to maintain the positive trends Obama had set in motion. And even this steady-as-she-goes result did not come about through an ingenious trade policy or business-friendly tax policy or cuts in regulation; he simply got to spend more money than Obama did.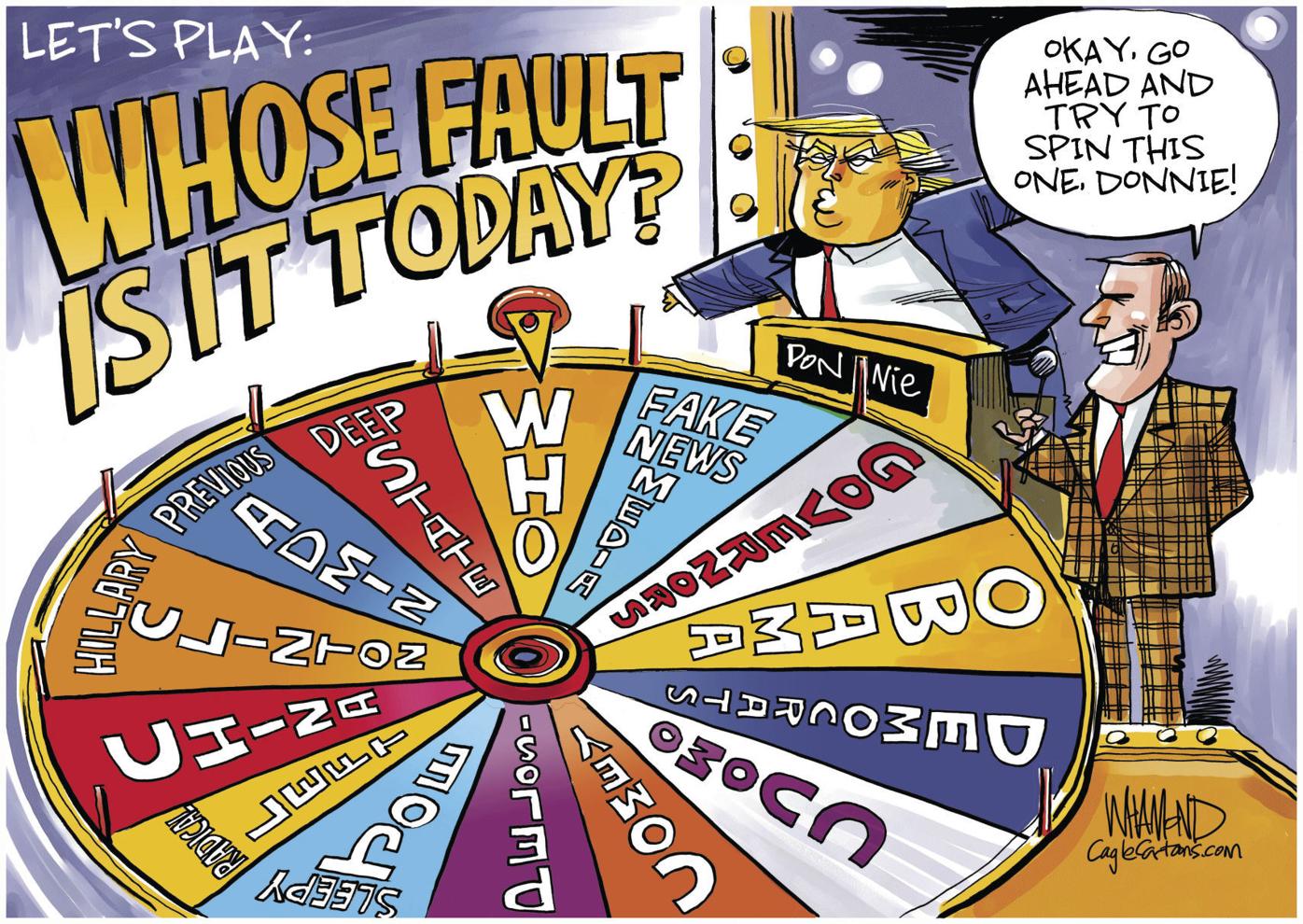 Correcting the second big lie: Trump didn't start the Covid-19 epidemic, but the length and depth of it is his fault. It is fairly typical for presidents to face unexpected and undeserved challenges during a four-year term. Obama didn't create the Great Recession, but it dominated his first term and got in the way of all his plans. George W. Bush didn't blow up the Twin Towers on 9-11. His father didn't force Saddam Hussein to invade Kuwait. Jimmy Carter didn't invite the Iranians to hold our embassy staff hostage. JFK didn't ship Russian nuclear missiles to Cuba. FDR didn't attack Pearl Harbor. And so on. Unexpected things happen in the course of four years, and presidents are judged by how they respond to those challenges. We don't give them mulligans for bad luck.
Covid-19 is the defining crisis of Trump's term, and by any measure he has handled it very badly. The most obvious evidence for that is in this chart of Covid-19 cases per million people. (Enlarged version here.)
Not only does the US curve outrun all the others by a wide margin, it also has a different shape: The initial outbreak here was only slightly worse than in the European Union and Canada, which were also hard-hit. But only the US goes on to have a second hump bigger than the first. There are two simple reasons for that:
The Trump administration wasted the time bought by the March-May shutdown. While other countries developed national test/quarantine/contact-trace strategies, the Trump administration still has no plan other than to wait for a "miracle" vaccine. [5]
Trump himself pushed the states to reopen too soon, and undercut governors who tried to implement a more cautious policy based on science and standards. That second hump in our graph is a direct result of that too-soon reopening, and the June/July outbreak was centered in states like Florida and Texas, where Trumpist governors ignored the medical experts and re-opened too soon.
It is probably unfair to have expected the United States' Covid-19 response to lead the world: Small island nations like New Zealand and Iceland are easier to protect and mobilize than a sprawling place like the US or the EU. So Trump should not get all the blame for the fact that our 565 (and counting) deaths per million is shamed by New Zealand's 4 or South Korea's 6 or even Japan's 10.
But we still had less than 100,000 deaths on June 1, when it was first becoming clear that our curve was not collapsing the way that other nation's curves were. It may be unreasonable to hold Trump responsible for all our Covid-19 deaths, which are now up to a world-leading 187,000. But certainly tens of thousands of those deaths are his fault, and I personally blame him for every death over 100,000.
Correcting the third big lie: The violence in our cities is happening because Trump has sharpened racial divisions and encouraged police brutality. It will only get worse if he is given a second term. After the racial violence that followed Michael Brown's death in Ferguson, Missouri in 2014, the Obama Justice Department issued two reports: One examined the details of the shooting and determined that police officer Darren Wilson should not have been charged with murder. To that extent, it affirmed that justice had been done.
The other report, however, painted a very dark picture of policing in Ferguson: The city budget depended on squeezing fines out of poor Blacks, and the police department was tasked with making that happen. Ferguson police did not "serve and protect" its Black citizens. Instead, police and the Black community had a predator/prey relationship in which police were constantly on the lookout for violations to cite in order to raise revenue. The report also revealed widespread and blatant racism among Ferguson officers, who routinely mistreated Blacks they came into contact with.
In short, the Fox News portrait of Ferguson was wrong: The problem wasn't the Black community's short-term emotional reaction to its misperception of Brown's death. Instead, the long-term racial injustice in Ferguson, and citizens' inability to address that injustice through the system, created a situation in which some kind of violent outbreak was inevitable. Michael Brown was the spark, not the cause.
In combination, the two reports provided a ray of hope and a path forward: Incidents like Michael Brown's death need not lead either to individual policemen being railroaded or to purely local investigations that sweep police violence under the rug. But at the same time, the long-term injustice at the heart of the problem can be addressed. The Justice Department soon worked out a consent decree with Ferguson and its police department to reform local practices. Similar decrees were negotiated in other sites of racial violence, such as Baltimore.
But when Jeff Sessions became Trump's first attorney general, he quickly got to work closing off that path forward. And one of his final acts before leaving was to undercut the whole process.
Sessions' memo will make it challenging to negotiate any effective police reform agreement going forward. It also makes it more difficult for the Justice Department's civil rights lawyers to enforce agreements already in place.
Today, Black people oppressed by abusive police departments know that the Justice Department is not their ally. No one is coming to help them.
Police, on the other hand, know that no matter how they misbehave, Trump has their backs. He has famously encouraged police officers not to be "too nice" when they apprehend suspects. He told border patrol officers to break the law, and promised their chief a pardon if he were prosecuted. When Buffalo police assaulted an elderly protester in Buffalo, Trump falsely attacked the protester as an "ANTIFA provocateur".
Meanwhile, Trump has been encouraging white supremacists. He defended the Nazi rally in Charlottesville. He stands up to support the Confederate flag and Confederate statues.
And now, Trump is openly encouraging right-wing violence. The Kenosha vigilante was in the front row of a Trump rally in January. Yesterday, Trump tweeted "GREAT PATRIOTS" about a caravan of trucks that pepper-sprayed demonstrators in Portland.
What in all of this is going to get better if Trump is re-elected? Has Trump ever been a peace-maker? Will he improve race relations? Will police stop murdering Black men and women, or stop shooting them in the back? Will Blacks trust that they can get justice through the system, without taking to the streets?
Obviously not. If Trump is re-elected, everything that has caused this summer's violence will only get worse.
Correcting the fourth big lie: The Covid epidemic is still raging and is still killing Americans in large numbers. But Trump has learned nothing from his blunders in May. If he gets the responses he wants, we'll see a third big hump in the case graph. During the Republican Convention, speakers often talked about the coronavirus in the past tense. "It was awful," Larry Kudlow recalled. "Health and economic impacts were tragic. Hardship and heartbreak were everywhere."
But in the real world, more Americans died of Covid-19 during the Convention's four days than died in the 9-11 attacks. We are nowhere near herd immunity, and a vaccine probably won't be widely available until spring — unless Trump once again follows Putin's lead and ignores the usual safety rules to release a vaccine that hasn't been properly tested.
Meanwhile, Trump is once again pushing states and cities to ignore medical guidelines and take big risks. In the same way that he applauded as states catastrophically opened bars and restaurants in May, he's pushing for schools to open now, and threatening communities that want to be more careful. He has repeatedly promoted the myth that kids don't get the virus or can't spread it.
But now we are seeing virus outbreaks on college campuses, causing some schools to reverse their plans (including my alma mater, Michigan State). More than 1,000 University of Alabama students tested positive in the first two weeks of classes.
Trump's speech Thursday night was not just an illegal use of the White House lawn, it was a public health hazard, as 1,500 or more people packed into a small area and mostly did not wear masks.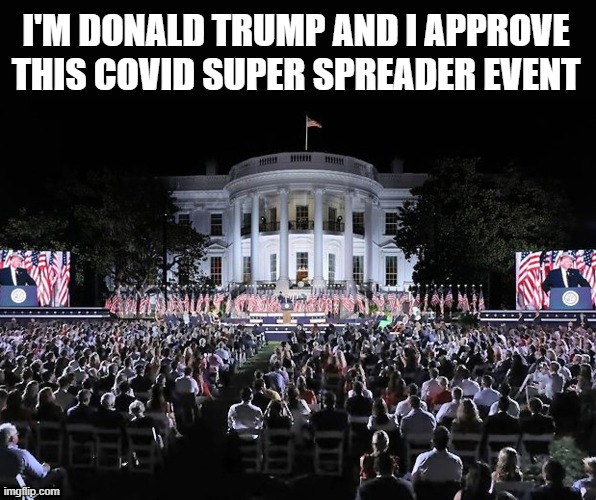 He encourages a return of large-crowd gatherings of all sorts: churches, movie theaters, and even football games, which he would like to see played in front of full stadiums. ("We want big big stadiums loaded with people. We don't want to have 15,000 people watching Alabama-LSU.") Inside the White House, masks are seldom worn, even when people work in close quarters.
We saw this movie in May, and we know how it ends: If the nation's children return to in-person classes (which Barron Trump is not doing), if college campuses reopen, and if crowds return to major sporting events, we'll have a third wave of Covid outbreaks — and more tens of thousands of deaths that will be Trump's fault.
---
[1] I might also list all the RNC activities that were illegal, unethical, or based on trickery. That too would be satisfying. And while such examples should not go by without notice or objection, what really deserves notice is that Republicans in Congress are unwilling to condemn blatant law-breaking.
At the beginning of his term, when Trump saw no Republican pushback for ignoring the norms of our democracy (like refusing to divest his business holdings or take any action to avoid the resulting conflicts of interest), many imagined that there was a line beyond which Trump would lose his party's support. We still haven't found it. So it's still an open question whether Susan Collins, Mitch McConnell, Joni Ernst, Thom Tillis, or any of the other Republican senators would lift a finger to stop a straight-out military coup to keep Trump in power.
[2] But even focusing only on unemployment, Trump did not oversee "the greatest economy in the history of our country", as he often claims. Unemployment was 2.5% in 1953.
[3] This unemployment graph is not current — I couldn't find one that was. There has been some recovery since. By the end of July, the 14.7% unemployment rate had come down to 10.2%, which is still alarmingly high.
[4] The 2020 deficit looks likely to top $3 trillion, and is already well past the $1.4 trillion record set by Bush and Obama in fiscal 2009.
[5] For a more complete play-by-play explanation of how Trump bungled even the initial reaction to the virus, see James Fallows' article "The 3 Weeks that Changed Everything". Just to give you a taste: Obama had an agreement with China that allowed us to have observers in Wuhan, where the virus first appeared. But Trump never bothered to appoint anybody to fill those roles.