Biden's lead in the polls has Democrats searching for what could possibly go wrong. But some worries should be taken less seriously than others.
---
Just about every Democrat I know wants to punish him/herself for being overconfident in 2016. Some of us have practical regrets, and wish we'd done more to put Hillary over the top, while others less rationally feel like we jinxed her by saying too loudly that she was going to win. But whatever we did or didn't do then, we're now determined to make ourselves suffer by refusing to accept any good news about Joe Biden's chances. No matter what the polls say, something is going to go horribly wrong.
For what it's worth, I think we're going to win this. Not that there's nothing to worry about, but some of our worries are less serious than others. Let's assess them one by one.
Worry #1. The polls are wrong.
Biden's average margin in national polls is somewhere in the 8-9% range, and has been there since mid-June. More importantly, he has solid leads in the swing states he needs to win: Pennsylvania, Michigan, and Wisconsin. If he fails in one of those states, polls also give him a good shot at flipping Florida, Arizona, or North Carolina. And even Republican strongholds like Texas and Georgia are not completely out of reach.
But Democrats remember how confident we felt in 2016, and look for reasons to doubt the polls. Republicans, on the other hand, live in constant denial of reality, and doubt the polls because they don't want them to be true. Poll-skeptics make two related arguments.
The polls were wrong in 2016, so why should we trust them now?
There is a "hidden" Trump voter that the polls either can't count or don't want to count.
Neither really holds water, as long as you remember that polls are snapshots of public opinion at a moment in time, and not predictions of what people will think or do months from now.
The first thing to understand is that the final polls in 2016 were not far off from the vote totals, and to the extent they were, the more likely explanation is that Comey's reopening of the Clinton email investigation gave Trump late momentum. The polls probably weren't wrong at the moment they were taken; but a small shift in public opinion at the last minute put Trump over the top.
Nationally, the final 2016 RCP polling average had Clinton up by 3.3%. Her actual margin in the national popular vote was 2.1%. In Pennsylvania and Michigan the polls were off by a bit more — but still not that much. And in both cases, Trump had been gaining in the final week. The only real surprise was Wisconsin, where Clinton led by 6.5% in the final polls and lost by 0.7%.
But in 2018, the reverse happened: The final general congressional ballot polls had the Democrats up by 7.3%, and their margin in the vote totals was larger: 8.4%.
So if there were "hidden Trump voters" in 2016, were their "hidden Democrats" in 2018? Or is there always a small shift in the final days and hours of a campaign?
For what my opinion is worth, I expect the 2020 last-minute shift to be in Biden's favor. Late in a campaign, a certain number of voters are just sick of all the noise. This year in particular, those voters will be sick of four years of noise; the thought that the loud, obnoxious Trump Era could be over will just be irresistible.
Assessment: Don't worry about this. Things could change before Election Day, but Biden really is ahead right now.
Worry #2. Trump will stage a remarkable comeback.
In the Trump Era, when every day brings a a few week's worth of news, three months is a very long time. A month ago, who was predicting that Portland would be invaded by DHS secret police? So all kinds of things can happen before Election Day, and you can expect Trump to push all the buttons and turn all the knobs as he tries to change the public's opinion of him.
However, nothing he's trying right now is working at all, or is likely to work if he just keeps at it and pushes harder. Unleashing his goons on Portland was supposed to produce a wave of support for the "law-and-order President" (who is strangely indifferent when people in his administration break the law). But in the latest Ipsos poll, 52% of Americans say the federal response to protests made things worse, with only 30% saying it made them better.
The not-all-that-veiled racism of his "Suburban Lifestyle Dream" tweet doesn't seem to be going over all that well either. Suburbs aren't what they were in the 1950s. Black people already live there (though still not in proportionate numbers), so they aren't as easy to demonize. And a suburb anywhere near high-tech industries (like Bedford, Massachusetts, where I live) is going to include lots of residents of East Asian or South Asian ancestry. If you're looking for the lily-white experience, you have to go to ex-urbs or rural small towns.
A second factor: His ability to change tactics is limited by his inability to admit mistakes or take responsibility for bad outcomes. So he has to keep doubling down on points that the public already knows are false. Like: the virus really is spreading, it's not just that we're testing more. That stopped fooling anyone other than Trump diehards weeks ago, but he can't stop saying it.
And it's not just him. The Trumpists who picture a comeback have to engage in such flights of fancy that reading their scenarios makes me more confident, not less. For example, Grady Means published an op-ed Wednesday in The Hill: "Buy the Dip: Bet on Trump". In Means' fantasy world, Trump has done a great job and had a great strategy going into this year, but after Covid-19 got rolling "the president has been a complete failure at playing his winning hand."
The mainstream media and social networks stepped up their withering and relentless Trump-attacks. Statistically meaningless (increased testing and obvious selection bias) COVID-19 "cases" data were weaponized into a strategy of continued lockdowns and sustained school closures.
That's Trump's problem — not that America on his watch has objectively screwed up its pandemic response worse than any other rich country, or that people are genuinely hurting economically with no relief in sight. No, it's that the media has made something out of nothing, and convinced the public to shut down businesses and schools when the virus isn't really out of control at all. As soon as Americans realize the virus is already beaten, learn to ignore the hundreds of thousands of bodies piling up in the corner, and recognize what a great job Trump has done on the pandemic and everything else, he'll surge again.
I just can't picture that plan succeeding.
If Trump is going to stage a comeback, it's going to have to be through an October surprise: either foreign help (like he got from Russia in 2016 and tried to extort from Ukraine this time around) or some headline-making indictments from the Barr/Durham investigation of the investigators. In either case, whatever anti-Biden "scandal" Trump manages to puff up will probably have little substance, and the public will have been well warned.
Assessment: Worry a little. In particular, worry enough to keep doing whatever you can to ensure a Biden victory. (If we overshoot and wind up with a landslide, that might teach Republicans to give up not just on Trump, but on Trumpist fascism in general — no Tucker Carlson or Tom Cotton in 2024.) But if anxiety about a Trump comeback is causing you to lose sleep or plunge into depression, feel free to put it out of your mind.
3. Trump might lose the election, but refuse to leave office.
It's important to keep two things in mind:
The power of the president functions almost entirely through other people.
The White House is a symbolic place, but has no legal or institutional significance.
So while it's very easy to imagine Trump barricading himself in the Oval Office on January 20 and tweeting endlessly about voter fraud and how he's still president, if the people who make up the government stop taking his orders, he's not president any more. Removing him from the White House would become a problem for the Secret Service, aided by mental health professionals.
The transition-of-power process defined by the Constitution and implemented in various state and federal laws goes like this:
On November 3, an election is held — or rather 51 separate elections are held in the states and the District of Columbia. This date could be changed, but only by Congress. The Constitution says: "The Congress may determine the Time of chusing the Electors". Votes are counted by local officials, until at some point a state official verifies the names of the electors who will represent that state in the Electoral College.
On December 14 (the first Monday after the second Wednesday in December), the electors cast their votes. Like Election Day, this date was set by Congress and can only be changed by Congress. (The same sentence in the Constitution continues: "The Congress may determine … the Day on which [the Electors] shall give their Votes; which Day shall be the same throughout the United States.") The electors meet in their own states, vote, and send the vote totals to Congress.
On January 6, a joint session of Congress meets and the electoral votes are officially counted. (This is the new Congress, with the new representatives and senators elected in November. The new terms start on January 3.) Whatever disputes there might be — rival slates of electors and so on — Congress has the authority to resolve them. The new president will be who the new Congress says it is.
On January 20, the new president is inaugurated, swearing an oath specified in the Constitution. There are lots of traditions around the inauguration — it happens just outside the Capitol, the Chief Justice administers the oath, the oath is sworn on a Bible or whatever book the new president holds sacred — but none of that is required.
Here's something I have great faith in: If the joint session of Congress on January 6 recognizes that Joe Biden has received the majority of electoral votes, he will become president at noon on January 20 and the government will obey his orders. Where Donald Trump is at the time, and whatever he is claiming or tweeting, will be of no consequence.
If Trump's tweets bring a bunch of right-wing militiamen into the streets with their AR-15s, they can cause a lot of bloodshed, but they can't keep Trump in office. They are no match for the Army, whose Commander-in-Chief will be Joe Biden.
So if Trump wants to stay on as president, he has to screw the process up sooner; by January 6, it's all in the bag, and probably it's all in the bag by December 14. Even stretching out the process with legal proceedings won't help him: The Constitution specifies that his term ends on January 20. If at that time there is no new president or vice president to take over, the job devolves to the Speaker of the House, who I believe will be Nancy Pelosi.
Assessment: Worry about the ways that Trump might screw with the electoral process (which we'll get to), but not that he will just refuse to leave the White House.
4. Republican state legislators will overrule the voters and give their state's electoral votes to Trump.
Awarding a state's electoral votes to the candidate who wins that state's popular vote is so traditional that most people think it must be in the Constitution, but it isn't. The sum total of the Constitution's instructions are:
Each State shall appoint, in such Manner as the Legislature thereof may direct, a Number of Electors, equal to the whole Number of Senators and Representatives to which the State may be entitled in the Congress
So, at least in theory, a legislature could ignore the popular vote and appoint anybody it wants to the Electoral College. However, states have codified their current processes in law, and a new law would have to be passed to circumvent that process. The swing states people are most worried about — Michigan, Pennsylvania, and Wisconsin — have been gerrymandered to lock in Republican majorities in the legislatures, but they have Democratic governors who would veto a law to hand Trump the state's electoral votes. Republicans don't have enough votes to override a veto.
Assuming Trump wins at least one of those states legitimately, though — or manages to suppress enough Democratic votes to get a majority — Biden could still win if he carries Florida, Arizona, or North Carolina. North Carolina, like Michigan, Pennsylvania, and Wisconsin, has a Democratic governor and enough Democrats in the legislature to sustain a veto. So Trump needs to win the popular vote there, too.
That leaves Florida and Arizona, where Republicans have unified control of state government. (You could also talk about Texas and Georgia, but if Biden wins the popular vote in either of those states, he'll have such a landslide that no amount of backroom finagling could undo it.) Would they dare reverse the decision of their state's voters? This would be a truly outrageous thing to do — even some people who vote for Trump aren't going to like the idea that their votes don't count — and the people who do it would risk being villainized for life. So I can only imagine it happening under two conditions:
They're sure it will work. This scheme only makes sense if it gives Trump a second term, where he can reward the people who put him in office. So they need to be sure their law will pass and their electoral votes will make Trump president again.
Something taints the vote-count that says Biden won. You could imagine a legislature legitimately awarding its electoral votes by special law, if it were clear that the popular vote was fraudulent in some way. (Imagine a surprise win by the previously unknown owner of the company that makes vote-counting machines. Wouldn't you want your legislature to stop that?) Republicans would need to be able to argue that they were following the real will of the voters, which had been undone by fraud.
That, I think, is the point of Trump's bogus assertions that voting-by-mail-is-unsafe and the polls are skewed. He's setting up the argument Republican legislators will need if they want to throw the election his way.
There are a bunch of scenarios where Biden is safe from this:
He wins the popular vote in enough states that no single state flipping to Trump would reverse the outcome.
He wins three of these four states: Michigan, Wisconsin, Pennsylvania, and North Carolina.
He wins Florida and/or Arizona by enough votes that the fraud-made-the-difference argument loses credibility.
There's also a wild card: If Democrats control both houses of the new Congress, they might decide to not to count the switched electoral votes. It would be an illegitimate, unconstitutional move, but hardball begets hardball. Trump might try to get the Supreme Court to rule against Congress, but it's not clear they have jurisdiction. And if Congress simply refuses to declare a winner, Pelosi becomes president. (All this would do horrible damage to our political system, but if Republicans don't care about that, why should Democrats?)
Assessment: Worry moderately. Probably we won't wind up in a scenario where this is a possibility, and even if we did, it would only take a handful of Republicans with consciences to save democracy. Who knows? There might actually be enough of them.
4. A majority of Americans try to vote Trump out, but between voter suppression and the Electoral College, we fail.

During the impeachment process, Republicans liked to orate on the awesome standards necessary to reverse the choice of the American voters. But of course, the voters did not choose Trump — the Electoral College did. Trump got only 46% of the vote: 66 million votes to Hillary Clinton's 69 million. His approval has never gone much above that 46% — largely because he has governed as if the other 54% doesn't count — and is now hovering somewhere around 41%. Quite possibly, there has never been a moment when a majority of the American people supported Trump.
It's easy to imagine the same thing happening again: Biden piling up millions more votes than Trump in California and New York, while losing by a few thousand in Florida and Wisconsin. With the usual Republican margin in Texas shrinking, the effect could be even more extreme in 2020 than it was in 2016: Biden might get as many as 5 million more votes than Trump, and still not become president.
What's more, Republican voter suppression efforts are in high gear, and have already shown some success: By a wide margin, the voters of Florida voted in 2018 to re-enfranchise felons who have served their time — nearly 1.4 million Floridians. But yielding to the will of the people is not what the Republican Party is about.
The GOP-controlled Legislature, however, sought to limit the effects of the amendment by passing a law that conditioned the right to vote on payment of all fees, fines and restitution that were part of the sentence in each felon's case. The state, however, had no central listing of this information, and the Legislature created no system to help felons ascertain how much, if anything, they owed. Even the state ultimately agreed that it would take six years to create such a system. … The estimated 85,000 who are already registered could be prosecuted if they vote and it turns out they have not paid the fees or fines owed.
The Supreme Court, which has consistently favored Republican voter-suppression efforts sincre John Roberts' evisceration of the Voting Rights Act in 2013, thought this was a fine law.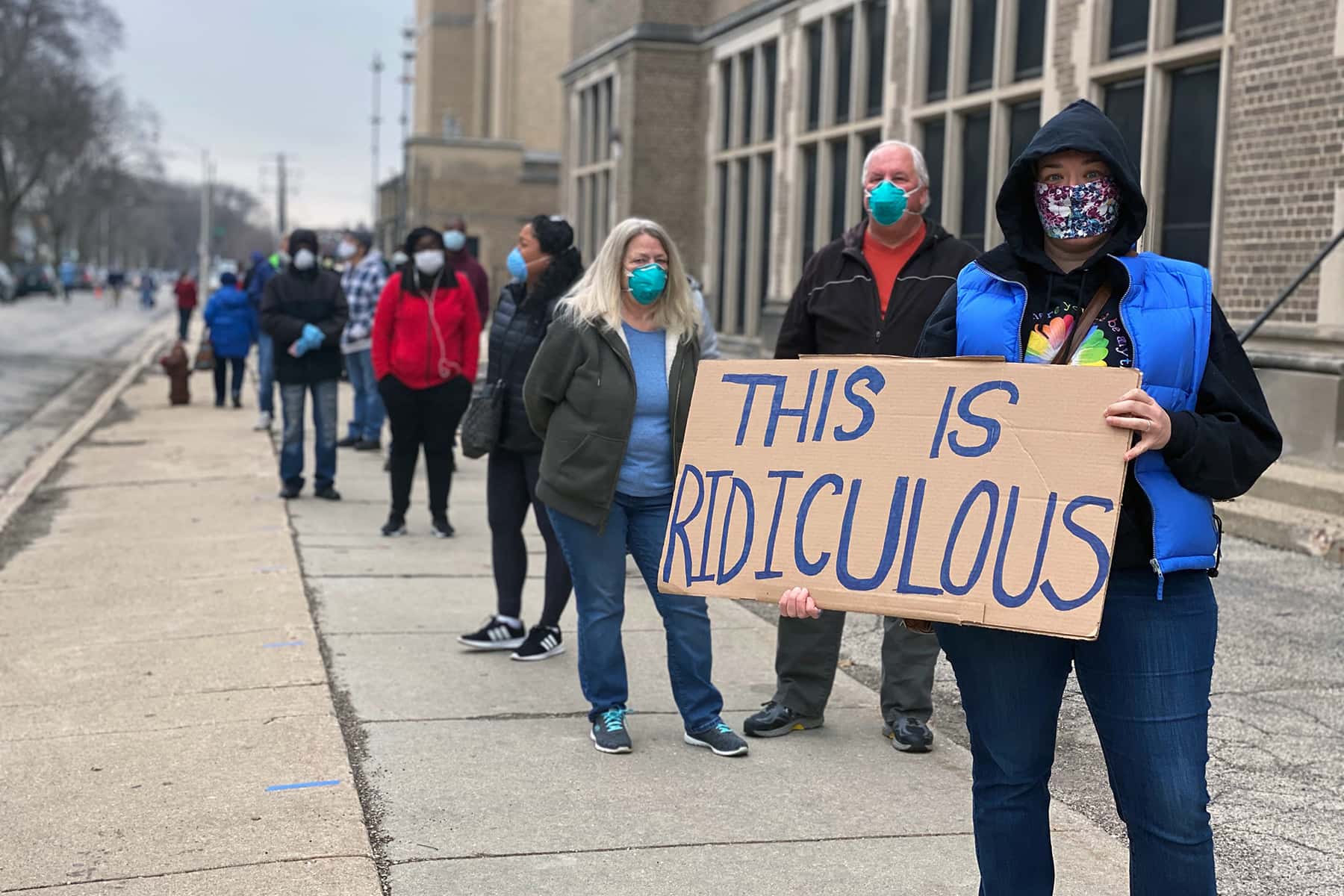 Covid-19 has created new opportunities for mischief, as we saw in Wisconsin in April. The Republican-through-gerrymandering legislature insisted on few polling places and long lines, and resisted the Democratic governor's attempt to institute vote-by-mail, or even to extend the deadline for submitting an absentee ballot to allow for the fact that many ballots were not mailed out on time. Research indicates that the brave Wisconsinites who came out to vote anyway could not fully avoid spreading the virus.
Nationally, Republicans are doubling down on this yield-or-die strategy for the fall. They are fighting vote-by-mail in states all over the country, trying to force people to brave the virus-spreading crowds if they want to vote. Worse, Trump is intentionally slowing down the mail, which could well result in a Wisconsin-like situation for the whole country: People can't receive their mail-in ballots and return them soon enough to count. Some of the more obvious suppression tactics include not counting Michigan ballots that arrive late, even if they were postmarked before Election Day ("inherent variations in mail delivery schedules could result in one person having the ballot counted and another not, even if they send them back on the same day"), and trying to stop Pennsylvania from providing drop-off boxes for people who are afraid their mail-in ballots won't arrive in time. These attempts come wrapped in rhetoric about "election security", but they're transparent attempts to keep legal voters from successfully submitting their votes.
I think there's reason to hope that these efforts will boomerang, and that the more Trump tries to keep Americans from voting, the more determined we will be. In Wisconsin, the people who did risk their lives to vote were pretty pissed off by the time they got to the booth. The Republican Supreme Court candidate this tactic was supposed to save got defeated anyway.
All over the country, people have to be asking themselves: "Why don't Republicans want me to vote?" Trump is giving Democrats an issue, and we need to run with it. He wants to paint liberals as people who hate America, but this part of Barack Obama's eulogy for John Lewis sounds pretty fundamental to what America is supposed to mean:
Once we pass the John Lewis Voting Rights Act, we should keep marching to make it even better by making sure every American is automatically registered to vote, including former inmates who've earned their second chance. By adding polling places and expanding early voting and making Election Day a national holiday, so if you are somebody who's working in a factory or you're a single mom, who's got to go to her job and doesn't get time off, you can still cast your ballot. By guaranteeing that every American citizen has equal representation in our government, including the American citizens who live in Washington, D.C., and in Puerto Rico. They're Americans. By ending some of the partisan gerrymandering, so that all voters have the power to choose their politicians, not the other way around. And if all this takes eliminating the filibuster, another Jim Crow relic, in order to secure the God-given rights of every American, then that's what we should do.
Who hates America now, Mr. Trump? Not LeBron James, who together with other NBA stars is donating $100K to pay the fees of Florida felons, so that they can vote. We all need to be looking for ways that we can help our fellow Americans vote, and for ways to call out the anti-American politicians who are trying to stop them.
The ultimate voter suppression would be for Trump to deploy his storm troopers Portland-style in swing-state Democratic strongholds like Philadelphia and Milwaukee, harassing people in front of polling places. We can hope that mayors and governors will not stand for that, and that the police will obey their local orders rather than side with the feds. It could get ugly, and again, could boomerang against Trump. Hopefully his advisors will convince him that it will.
Assessment: Trump can put his thumb on the scale, but only up to a point. It shouldn't have to be this hard to get rid of him, but it is. I think we're up to the challenge. So worry enough to take action, but not so much that you paralyze yourself.
5. Trump will lose and leave office, but he'll trash the country on his way out the door.
Of course he will. This isn't even something to worry about, just start getting ready for it. It's going to happen.
Look for a flurry of pardons for all his henchmen (and probably himself, leading to an interesting legal battle), abrupt closures of American bases in any country that hasn't treated him as well as he thinks he deserves, and at least one more big favor to pay off his debt to Vladimir Putin. (Putin would be crazy not to invade Estonia or something as soon as Trump loses.) And what's more important: Taiwan's independence, or a new Trump Tower in Shanghai?
Biden is going to have a historic mess to clean up when he takes office. But I believe he will take office.