The blessings in which you, this day, rejoice, are not enjoyed in common. The rich inheritance of justice, liberty, prosperity and independence, bequeathed by your fathers, is shared by you, not by me. The sunlight that brought life and healing to you, has brought stripes and death to me. This Fourth of July is yours, not mine. You may rejoice, I must mourn.
– Frederick Douglass "What, to the slave, is the 4th of July?"
This week's featured post is "In the Land of 'No We Can't'".
This week everybody was talking about the virus
The number of new Covid-19 infections surged to new heights this week, going over 57,000 on Friday. Deaths continued on a flat-to-downward path, running between 500-600 a day, but deaths lag infections, so it's hard to see how that continues.
---
Tens of thousands of Americans are dead because of Trump's denial and incompetence. I laid this out in some detail last week, but James Fallows has done it even better in The Atlantic. In addition to being a top-notch journalist and writer, Fallows is an amateur pilot. (The book Our Towns describes his and his wife Deborah's tour of the kinds of American cities that are hard to get to by commercial flights.)
As an amateur pilot, I can't help associating the words catastrophic failure with an accident report. The fact is, confronting a pandemic has surprising parallels with the careful coordination and organization that have saved large numbers of lives in air travel.
So he reviews the government's handling of Covid-19 the way that the National Transportation Safety Board would review an airliner crash: starting way back at the beginning, with how the system was designed, and then looking at how those plans were implemented and what went wrong.
Making a long article short: The Bush administration left a sound pandemic plan after the H5N1 flu of 2005, and the Obama administration updated it after the Ebola outbreak. The early-detection system they put in place worked, but nobody in the Trump administration could be bothered to notice.
By at least late December, signs were beginning to show something seriously amiss—despite foot-dragging, lies, and apparent cover-up on the Chinese side. A different kind of Chinese government might have done a different job, calling for help from the rest of the world and increasing the chances that the coronavirus remained a regional rather than global threat. But other U.S. leaders had dealt with foreign cover-ups, including by China in the early stages of the SARS outbreak in 2002. Washington knew enough, soon enough, in this case to act while there still was time.

… During the Obama administration, the U.S. had negotiated to have its observers stationed in many cities across China, through a program called Predict. But the Trump administration did not fill those positions, including in Wuhan. This meant that no one was on site to learn about, for instance, the unexplained closure on January 1 of the city's main downtown Huanan Seafood Wholesale Market, a so-called wet market where wild animals, live or already killed, were on sale along with fish and domesticated animals.
When the early warnings started, CDC tried to get observers in.
"CDC asked for access, and was denied it [by the Chinese government]," Ron Klain, who coordinated efforts against the Ebola pandemic during the Obama administration, told me. "In normal circumstances, that request would have gone up the chain, and you would have had senior-level people in the NSC pressing at senior levels. My guess is that it wasn't pressed in this case because the senior people were Mnuchin and Kudlow, and they had other priorities. … The question isn't what leverage we had. The point is that we gave up leverage with China to get the trade deal done. That meant that we didn't put leverage on China's government. We took their explanations at face value."
Obama had left a plan, but Trump ignored it.
The Obama playbook, like the Bush report, is chillingly prescient. Its emphasis is on the step-by-step "how to" of the government's response.
The worldwide pandemic response system was set up to rely on American logistics. But Trump never mobilized it.
When the new coronavirus threat suddenly materialized, American engagement was the signal all other participants were waiting for. But this time it did not come. It was as if air traffic controllers walked away from their stations and said, "The rest of you just work it out for yourselves."

… The system was primed to act, but the person at the top of the system had to say "Go." And that person was Donald Trump.

"Here is the way I would put it," a person who has been involved with the President's Daily Brief process told me, referring to Trump. "The person behind the desk is the same person you see on TV"—emotional, opinionated, fixed on his own few hobbyhorses and distorted views of reality, unwilling or unable to absorb new information. "In a normal administration, the president would have seen the warnings unfolding from January onward. But this president hadn't absorbed any of it." … In a resigned way, the people I spoke with summed up the situation this way: You have a head of government who doesn't know anything, and doesn't read anything, and is at the mercy of what he sees on TV.

… The United States still possesses the strongest economy in the world, its military is by far the most powerful, its culture is diverse, and, confronted with the vicissitudes of history, the country has proved resilient. But a veteran of the intelligence world emphasized that the coronavirus era has revealed a sobering reality. "Our system has a single point of failure: an irrational president." At least in an airplane cockpit, the first officer can grab the controls from a captain who is steering the aircraft toward doom.
So Fallows imagines the conclusion of the NTSB report like this:
There was a flight plan. There was accurate information about what lay ahead. The controllers were ready. The checklists were complete. The aircraft was sound. But the person at the controls was tweeting. Even if the person at the controls had been able to give effective orders, he had laid off people who would carry them out. This was a preventable catastrophe.
---
Because they were hit hard early in the pandemic, a few EU countries — Belgium, Spain, Italy, Sweden, and France — still have more Covid deaths per capita than the US. (We're gaining on them, though, and will probably pass France in another month or so.) But most of them — Germany and the other countries on the Baltic Sea stand out — have been doing far better from the beginning. The most valid comparison is the EU as a whole, so I decided to use the Worldometer numbers to do an EU spreadsheet of my own on Saturday morning. Totaling up across all 27 EU countries, they had almost exactly the same number of deaths we do: 133,651 to our 132,112. We'll probably pass them sometime today, with only about 3/4 of their population.
Not all EU countries report their number of active cases — infected people who have neither died nor recovered — but my guess from the available numbers is that the US has 7 or 8 times as many.
---
The EU added insult to injury on Wednesday: It started admitting non-essential travelers from many countries, but not Americans. Because we have let the virus get so out of control, Europeans consider Americans to be disease vectors, lumping us in with other virus-ridden countries like Russia and Brazil.
---
One reason I don't think Trump will stage a comeback in the polls is that every day it gets harder and harder to deny how totally he has botched the federal response to the pandemic. The well-governed countries are getting through this, while the poorly-governed ones are still floundering. Under Trump, the United States is poorly governed.
Imagine that things go as well as is reasonably possible for Trump between now and the election: The death rate doesn't shoot up to match the case rate, so we get to November with "only" 200,000 or so dead. Vaccine research goes well, so that we have a viable formula ready, though it won't go into mass production and wide distribution until spring. We avoided a second lockdown, so the unemployment rate is only 10% or so.
Even in that rosy scenario, it will be undeniable that the rest of the world's governments handled this much better. So even if by November you think the end of this crisis is in sight, is this really the guy you want in charge for the NEXT crisis?
---
Controls on the southern border are tightening up — on the Mexican side.
As cases have increased in Southern California, Arizona and Texas, Mexican border states have increasingly come to see the outbreak in the United States as their biggest threat in controlling the epidemic.

Citing no evidence, President Trump has said that the border wall would keep infections from entering the United States from Mexico. But given the soaring U.S. caseload, it is Mexico that has more reason to fear the virus coming across the border.
---
Conservatives would like to blame the George Floyd protests for the surge in infections, but the data seems not to support that. Reason: Even as the protesters may have been infecting each other, they were also discouraging other people from going out. The net result looks like a wash.
---
Whether and how to open schools in the fall is a huge topic this summer. Many parents won't return to work if they have nowhere to send their school-age children. (An NYT opinion piece argues that opening schools should have been the primary goal of every state's reopening plan. Leaving bars and restaurants closed longer would have been a small price to pay, if the payoff was beating the virus back to a level that allowed schools to open.)
College students and their families may not be willing to take on massive debts for the sake of online classes, and colleges without big endowments may go under for good if they close for a semester. So there's lots of motivation to open schools at all levels, even without a good plan for doing it safely.
One fly in the ointment: college professors. Many of them are in the endangered over-50 age group, so sending them into classrooms with undergraduates or expecting them to meet individual students in their small offices is a bad idea. They're smart enough to know that, and they have more power within the system than your average kindergarten teacher.
Expecting college students to follow strict protocols in their dorms, or to stay out of crowded local bars, is foolish. Young adults feel invulnerable anyway, and in this case many of them are.
This week, Iowa health authorities reported case spikes among young adults in its two largest college towns, Ames and Iowa City, after the governor allowed bars to reopen. And on campuses across the country, attempts to bring back football teams for preseason practice have resulted in outbreaks.

More than 130 coronavirus cases have been linked to athletic departments at 28 Division I universities. At Clemson, at least 23 football players and two coaches have been infected. At Arkansas State University, seven athletes across three teams tested positive. And at the University of Houston, the athletic department stopped off-season workouts after an outbreak was discovered.
I know I'm repeating a link from last week, but it really fits here: "A Message from Your University's Vice President for Magical Thinking".
---
And Randy Rainbow has another great video.
and the bounties
The official response to reports that the Russians paid bounties to Taliban fighters for killing Americans is somewhere between "I don't believe it" and "Nobody told me." In any case, Trump isn't going to do anything about it.
Neither explanation holds water. "Nobody told me" is particularly weak, given that Trump oversees the people who didn't tell him. His excuse for being incompetent as a commander-in-chief is that he's incompetent as a manager.
"I don't believe it" is another example of taking Putin's word for it. We saw this in Helsinki, and we're seeing it again.
and jobs
The June jobs report came out, and the top line number was good: 4.8 million new jobs, and the unemployment rate dropping to 11.1%. However,  I agree with Slate:
The most important thing to keep in mind about Thursday's monster jobs report is that it's a backward-looking window into the moment right before much of the country's reopening plans went completely to hell.
Probably this is the last piece of good news about the job market we'll see for some while.
and Trump's bizarre 4th of July
Because somebody has to keep an eye on them, I get the Trump campaign emails. Saturday this showed up:
We'll get right to the point – Democrats HATE America.

They're attacking President Trump for wanting to celebrate Independence Day at Mount Rushmore – an ICONIC monument that features George Washington, Thomas Jefferson, Teddy Roosevelt, and Abraham Lincoln – as a symbol of white supremacy.

Can you believe it? They truly hate EVERYTHING our great Nation stands for.
I think they misjudged this one, and it's typical of the way they're misjudging the electorate in general. The Democrats' tweet — and the Native American protesters the tweet supports — makes a good point.
What's more, I think a large majority of Americans would agree that Mount Rushmore isn't an appropriate spot for a partisan event, and that it's an abuse of power for the President to order the Navy's Blue Angels to be the warm-up act for his campaign speech. The mountain and the Navy belong to the nation, not to the President. An iconic national monument is not the place for aggressively divisive political rhetoric like this:
In our schools, our newsrooms, even our corporate boardrooms, there is a new far-left fascism that demands absolute allegiance. If you do not speak its language, perform its rituals, recite its mantras, and follow its commandments, then you will be censored, banished, blacklisted, persecuted, and punished. It's not going to happen to us. (Applause.)

Make no mistake: this left-wing cultural revolution is designed to overthrow the American Revolution. In so doing, they would destroy the very civilization that rescued billions from poverty, disease, violence, and hunger, and that lifted humanity to new heights of achievement, discovery, and progress.

To make this possible, they are determined to tear down every statue, symbol, and memory of our national heritage.
It's Trump's right to smear his enemies this way, if that's what he wants to do, but at least when Hillary gave her "deplorables" speech, her campaign paid for it. And Obama didn't order the Blue Angels to perform overhead.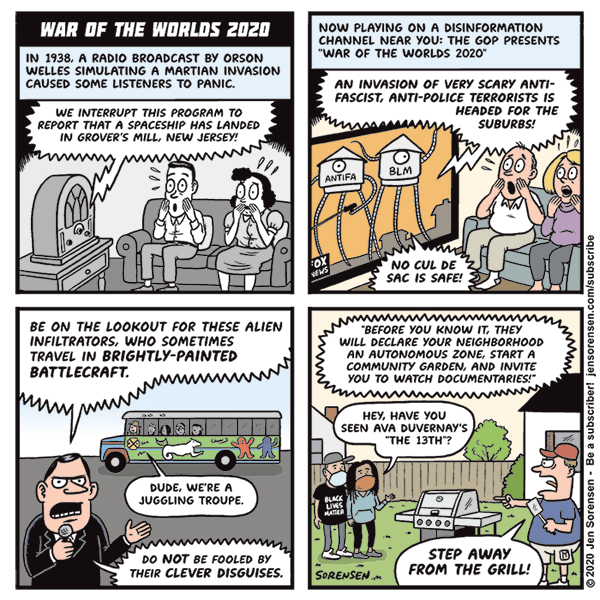 ---
It's weird that Trump complains about being "censored" — giving no examples, because there are none — when he has very recently tried to prevent John Bolton from publishing his book, and is still trying to stop Mary Trump's book.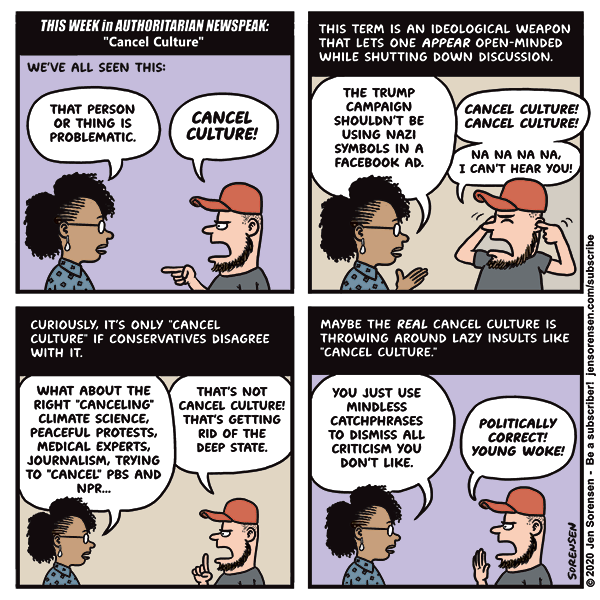 Catherine Rampell itemizes all the ways Trump has tried to censor, bully, and otherwise control people who criticize him.
and the Supreme Court
Last week the decision throwing out the Louisiana abortion law had just come out, and I had no time to look at it. I read it this weekend.
It's kind of a strange read all around: the plurality opinion of the four liberal justices, the concurrence by Chief Justice Roberts, and the various dissents by the other four conservatives. Everybody is dancing around the fact that everybody knows, but the Court doesn't want to state openly: Louisiana passed this law in bad faith. The stated reason (protecting women's health) was totally distinct from the real reason (harassing abortion clinics into closing).
So the question was whether the Court would let that go. The four liberal justices come up with reasons not to, without actually accusing the Louisiana legislature of bad faith. The four conservative justices come up with arguments that give the legislature cover — basically, that it's too soon to make this decision; the Court should wait until the clinics actually close, and then look at things. And John Roberts says that the Louisiana law is identical to a Texas law the Court threw out four years ago (but then it waited for clinics to close), so the law needs to be applied the same way.
I can't remember who was making this point, but I think it's a good one: Roberts' decision here resembles his decision against the citizenship question on the census: He's willing to bend the law in a conservative direction, but he hates to look blatantly political and corrupt. So he needs conservatives to show him the respect of sending him better cases.
The Court, in my opinion, is ready to reverse Roe v Wade, or at least to chip it away to nothing. But they need a better excuse than this.
---
I speculated last week that Roberts had scheduled the more liberal decisions to come out first, to give cover to something outrageous later on. The first political decision came this week: the House won't get access to documents from the Mueller grand jury.
We're still waiting for a ruling on Trump's tax returns.
and Biden's VP choices
People are making a case for Kamala Harris, Stacy Abrams, Elizabeth Warren, Tammy Duckworth, Val Demings, Susan Rice, Keisha Lance Bottoms, and Michelle Lujan Grisham.
I'm not going to either make a prediction or pick a favorite from that list. Mainly, I'm struck by what a strong list it is.
Biden has said he'll pick a woman, and there are many reasons for him to lean towards a woman of color. (The only white woman on the list, Elizabeth Warren, is there because she could raise enthusiasm among progressive Democrats who didn't support Biden in the primaries.) Ordinarily, people worry that such prior restrictions limit the talent pool. But I don't think that's a valid complaint here.
Biden has described himself as "a transition candidate", raising the possibility that he might only want a single term. In that scenario, his VP would be well positioned for a 2024 presidential run.
---
BTW, lately I've been responding to Facebook posts about Biden and the Democrats leading us into "socialism" by quoting Voodoo Pork:
You know how your parents used to call every console a "Nintendo"? That's how conservatives use the word "socialist" to describe everything to the left of hunting the homeless for sport.
and you also might be interested in …
Caroline Randall Williams writes a powerful statement on the monuments of the Old South: "My Body is a Confederate Monument".
It is an extraordinary truth of my life that I am biologically more than half white, and yet I have no white people in my genealogy in living memory. No. Voluntary. Whiteness. I am more than half white, and none of it was consensual. White Southern men — my ancestors — took what they wanted from women they did not love, over whom they had extraordinary power, and then failed to claim their children.
Among her white Confederate ancestors are Edmund Pettis, the general and KKK grand dragon whose name adorns the bridge where John Lewis and other civil rights demonstrators were beaten by police on Bloody Sunday in 1965.
You cannot dismiss me as someone who doesn't understand. You cannot say it wasn't my family members who fought and died. …

Among the apologists for the Southern cause and for its monuments, there are those who dismiss the hardships of the past. They imagine a world of benevolent masters, and speak with misty eyes of gentility and honor and the land. They deny plantation rape, or explain it away, or question the degree of frequency with which it occurred.

To those people it is my privilege to say, I am proof.
---
SharpieGate is far from the most serious scandal of the Trump administration, but the very triviality of it speaks volumes.
When Hurricane Dorian was approaching Florida last September, Trump erroneously tweeted that the storm would hit Alabama "harder than anticipated". In fact, it was not headed to Alabama at all, according to National Weather Service projections, which turned out to be right. The NWS, worried that Alabamans might panic unnecessarily, corrected Trump's tweet within minutes:
Alabama will NOT see any impacts from Dorian. We repeat, no impacts from Hurricane Dorian will be felt across Alabama.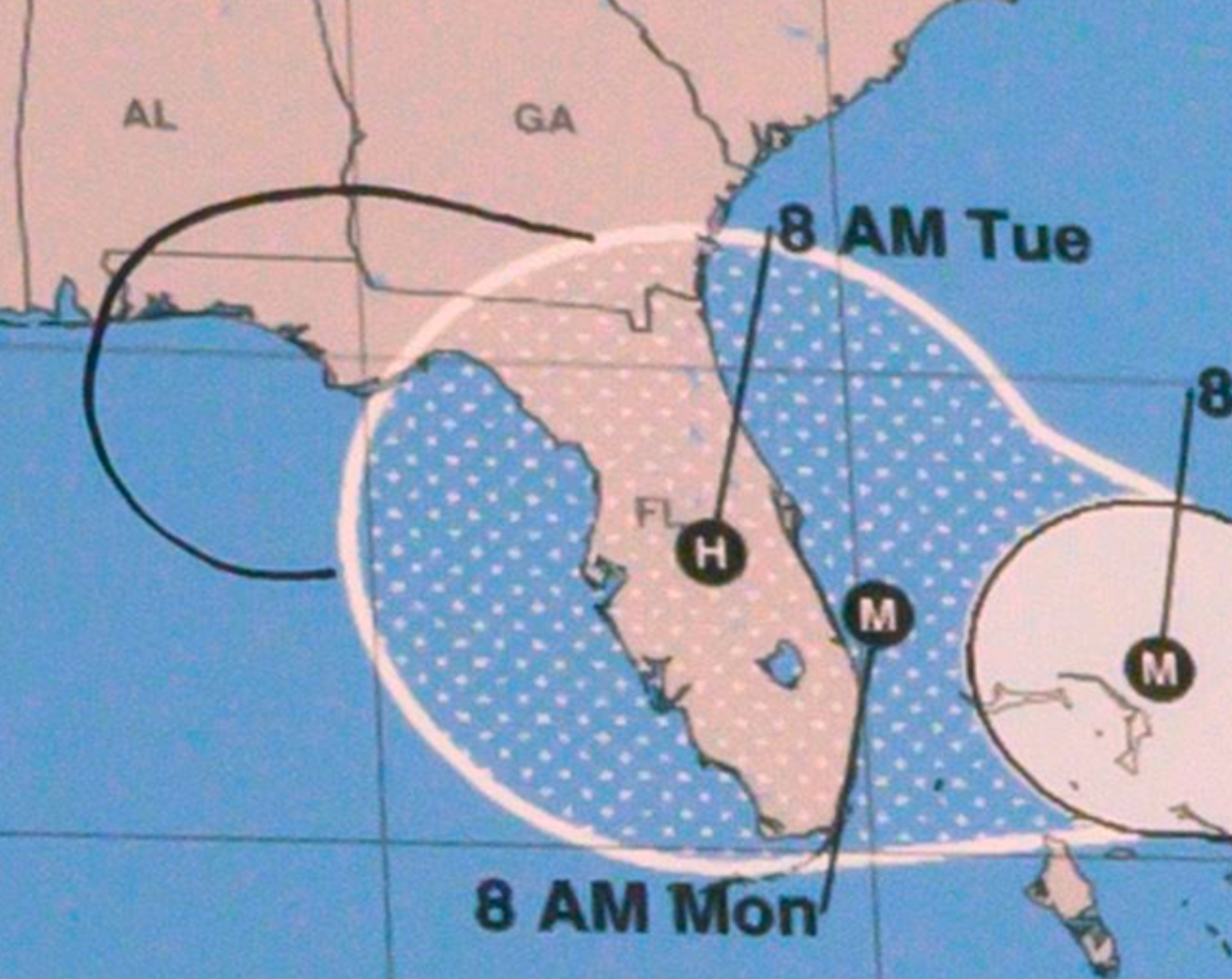 That's not a scandal; it's just a mistake. (And who hasn't gotten confused by a map or named the wrong state sometime?) But Trump lacks the strength of character to admit even trivial mistakes, and he could not let this subject drop. Ultimately he  "proved" he was right by showing reporters an NWS map that had been crudely doctored with a Sharpie.
That's petty to an almost clinical degree, but still not a scandal. The true low point of SharpieGate, though, came when NOAA issued a false statement undercutting its own people and supporting the president.
The Birmingham National Weather Service's Sunday morning tweet spoke in absolute terms that were inconsistent with probabilities from the best forecast products available at the time.
How did that happen? The White House put pressure on Commerce Secretary Wilbur Ross, who reportedly threatened to fire people at NOAA if they didn't support the president's false claim. (Ross has denied this.)
So why bring it up now? Well, the Commerce Department inspector general looked into this incident and has written a report. That report has been awaiting release since June 26, when the Commerce Department had 48 hours to mark it up.  But Wednesday, a memo to Secretary Ross from the IG complained that something else is happening:
The final publication of our evaluation has been delayed, thwarted, and effectively estopped by the Department's refusal to identify specific areas of privilege. Additionally, your staff has refused to engage in any meaningful discussion to identify proposed privilege redactions, indicating that such discussions would not be fruitful. To allow the Department's all-encompassing and opaque assertion of privilege to stand is to effectively grant the Department a pocket veto over the completion and issuance of final OIG work, which is clearly contrary to the IG Act, OIG independence, and good government.
All this, because Trump couldn't simply thank the alert people at the NWS for catching his mistake before any harm came of it, as any responsible adult would do.
---
China has imposed more draconian laws against protest in Hong Kong, and the protesters haven't figured out how to adjust yet.
---
A company hand-picked by Trump to build a $1.3 billion chunk of his border wall also built a 3-mile segment on private land as a demonstration project. That segment was built too close to the Rio Grande and only 2.5 feet deep. ProPublica and the Texas Tribune report:
But his showcase piece is showing signs of runoff erosion and, if it's not fixed, could be in danger of falling into the Rio Grande, according to engineers and hydrologists who reviewed photos of the wall for ProPublica and The Texas Tribune. It never should have been built so close to the river, they say.

Just months after going up, they said, photos reveal a series of gashes and gullies at various points along the structure where rainwater runoff has scoured the sandy loam beneath the foundation.

"When the river rises, it will likely attack those areas where the foundation is exposed, further weakening support of the fence and potentially causing portions … to fall into the Rio Grande," said Alex Mayer, a civil engineer professor at the University of Texas at El Paso who has done research in the Rio Grande basin.
It's like the old proverb: A thing that is not worth doing at all is not worth doing well.
---
I don't know if this is true, but I hope it is.
Texas Governor Greg Abbott is requiring everyone in Texas to wear a face covering. It's illegal to carry a gun while wearing a face covering. Texas just unintentionally banned concealed and open carry.
and let's close with a blast from the past
Recently lots of people have been making fun of Karen, and in particular her sense of entitlement and white privilege. But not many people remember that when she was a teen-ager she used to have her own TV show, and the Beach Boys sang her intro. Back then, she was an alarming, quite disarming, and a really somewhat charming modern girl. Maybe it was obvious then how she would grow up, but I didn't see it coming.