It's always interesting to me to see how much patience some people have with the pain and suffering of other people.
– Speaker Nancy Pelosi (5-15-2020)
It seems harsh to ask whether the nation might be better off letting a few hundred thousand people die.
– Jonathan Ashbach, "Is Social Distancing Saving LIves or Ruining Them?"
The Federalist (3-23-2020)
This week's featured post is "Trump Has No Endgame".
This week everybody was weighing economic risks against health risks
Current total: 91K dead. That's up about 10K from last week, representing a slow decline. The two weeks before both had 13K increases. We'll see what happens going forward as states relax their anti-virus restrictions in some well-considered and poorly-considered ways.
---
Probably the worst reopening situation is in Wisconsin, where the Supreme Court abruptly threw out the state's stay-at-home order. The leaders of the state's heavily gerrymandered legislature (Democrats get more votes from the people, but Republicans get more seats in the legislature) won even more than they asked for: They had asked for the ruling to be stayed for six days so that they could work out a plan with the governor. Instead, the Court just ended the order immediately.
Reading the judges' opinions is sobering. The majority opinion is an unlikely reading of the law, in which the stay-at-home order is technically a "rule" and not an order, so it should have gone through the emergency rule-making process. The dissenting opinion by Rebecca Frank Dallet shreds that opinion, pointing out that
The emergency rulemaking process set forth in Wis. Stat. §227.24 includes 11-13 steps which the briefing indicates takes a minimum of 18 and a maximum of 49 days.
when the law empowering the Department of Health Services to respond to epidemics uses the word "immediate". She goes through the history of such orders, going back to the 1918 flu, and finds nothing resembling the "rule-making" the majority sees here.
As opposed to legal analysis, the concurring judges wrote polemics about tyranny and freedom, and made comparisons to the Japanese internment of World War II.
The result is dangerous chaos:
For weeks, Republicans had argued that their lawsuit against the order was needed simply so the legislature could have some say in the reopening plan. … But now it appears their plan all along was to thwart any plan. Now that they've been granted a seat at the table, Republicans have set the table on fire and thrown it out the window. …

The ruling leaves Wisconsin without any statewide rule or guidance in place for businesses, citizens and local governments. After the decision, Republicans said they didn't see any need for any new rules, instead turning the state into a patchwork of local COVID-19 regulations, stretched throughout nearly 2,000 counties, cities, villages and towns.
Bars in various parts of the state opened immediately, producing scenes of no social distancing like the one below.
---
I was surprised to see this report from my home town, Quincy, Illinois: A bar — I've never been inside, but I've walked past it many times — defied the state's stay-at-home order and opened for a day, producing similar scenes of folks standing shoulder-to-shoulder at the bar. The owner is a woman with oxygen tubes in her nose.
---
The top British medical journal "The Lancet" posted a rare political editorial about the importance of a strong CDC that is able to lead global efforts to fight pandemics. Final paragraph:
The Trump administration's further erosion of the CDC will harm global cooperation in science and public health, as it is trying to do by defunding WHO. A strong CDC is needed to respond to public health threats, both domestic and international, and to help prevent the next inevitable pandemic. Americans must put a president in the White House come January, 2021, who will understand that public health should not be guided by partisan politics.
---
The economy-versus-public-health dichotomy we so often hear from the administration and see in the media is a frustrating misframing of the situation. Even though I am liberal — and so presumably pro-health and anti-economy — I would like nothing better than to hear some clever ideas to safely re-open the businesses that I frequented before the crisis. I want to go to restaurants, get my hair cut, attend baseball games, and hang around in coffee shops as much as any conservative. I just don't want to kill people to do it.
What I'd really like to see is a Mythbusters approach to coronavirus risk. The TV show Mythbusters, if you remember, used to regularly do extremely dangerous things: They blew up a cement mixer, dropped a car from a helicopter, and demonstrated how defective water heaters might blast up through a house's roof. But the ethos of the show wasn't to flaunt danger and cheat death, it was to understand risk, analyze it, and find ways to protect against it. One of the show's operating principles was: Anything can be made safe with enough precautions.
So Adam and Jamie never told each other that it wasn't risky to blow up a cement mixer; they just figured out a safe way to do it. And after they had a safety plan that worked, they had the courage to carry it out.
But on the right these days, we hear a lot of talk about "courage" and not "living in fear" of the virus — usually from people who reject even easy safety measures like wearing masks or maintaining social distance. But what they're promoting isn't courage at all, it's a combination of denial and self-centeredness. Most people don't die of the virus, so we should tell ourselves that we'll be in the lucky majority. Millions of other people might not be, but that's just their bad luck. It couldn't possibly happen to us, and that's all that matters.
For example, here's Senator Ron Johnson of Wisconsin:
I'm not denying what a nasty disease COVID-19 can be, and how it's obviously devastating to somewhere between 1 and 3.4 percent of the population. But that means 97 to 99 percent will get through this and develop immunities and will be able to move beyond this. But we don't shut down our economy because tens of thousands of people die on the highways. It's a risk we accept so we can move about. We don't shut down our economies because tens of thousands of people die from the common flu … getting coronavirus is not a death sentence except for maybe no more than 3.4 percent of our population (and) I think probably far less.
In other words, he's OK with the possibility that more than 11 million Americans (that's what 3.4% works out to; his lower estimate of 1% is about 3 1/3 million) might die horrible deaths, not to mention the millions of others who will survive but suffer long-term damage.
The Republican Party describes itself as "pro-life", but clearly it isn't. That claim should never again go unchallenged.
---
Speaking of clever ideas for safely reopening, here's how a German cafe enforces social distancing: Customers wear pool noodles on their heads.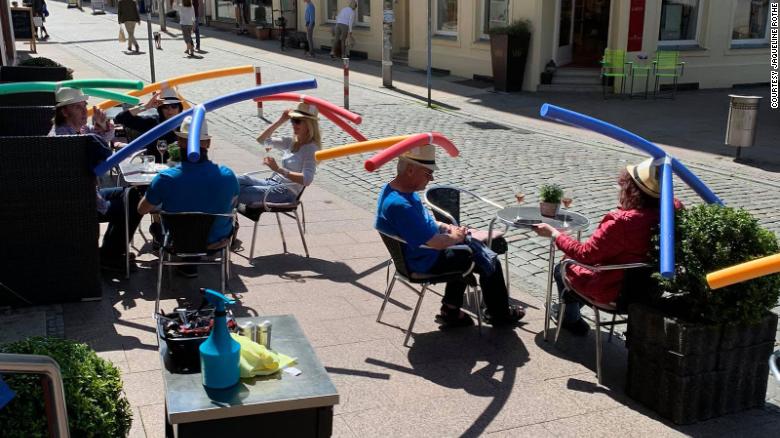 There's no reason (other than Trump's divisiveness) that safety measures ever had to become a political issue. Yes, pool noodles are goofy, but what's wrong with looking a little goofy to protect each other from a deadly disease? Looking silly together could be a bonding experience, like karaoke.
But Trump cultists don't see it that way. In Indiana, a 7-11 clerk was scalded with hot coffee and beaten for telling a customer to wear a mask. In California, two men broke the arm of a Target employee. In Texas, armed men defended a hair salon that had illegally re-opened. The NYT reports:
In at least a half dozen cases around [Texas] in recent days, frustrated small-business owners have turned to heavily armed, militia-style protesters like Mr. Archibald's group to serve as reopening security squads.
Michigan State professor Matt Grossman explains:
The public doesn't polarize on its own. It polarizes when political leaders and different parties send different messages. That is happening more in the U.S. than in other countries.
It didn't have to be this way.
---
Jess McIntosh, host of the "Signal Boost" show on Sirius XM's Progress channel, makes a good point. It's probably not completely true, but I'll bet it's mostly true.
It's not about "reopening the economy." People aren't protesting for the right to BE waitresses and hairdressers, they're fighting for the right to HAVE them. This is about white people demanding service.
---
Eric Trump accuses Democratic governors of banning large-crowd gatherings just to hurt Trump's re-election campaign.
After November 3, coronavirus will magically all of a sudden go away and disappear and everybody will be able to reopen. They're trying to deprive [President Trump] of his greatest asset, which is … that he can go out there and draw massive crowds.
You can see where this is going, right? Very soon now, Trumpist governors will have to sign off on stadium-sized gatherings, regardless of the very real health risk to their citizens. And Trump cultists will have to attend to prove how committed they are. Because the virus is all a Democratic hoax, and 90K Americans (and many more by November) aren't really dead.
and corruption
Last week I had a special post to catalog the Trump administration corruption that had come to light during that week. But corruption is just how this administration operates, so each week produces new corruption stories. This week Trump fired another inspector general — his fourth in the last few months. This one was the State Department IG, Steve Linick.
Representative Eliot L. Engel and Senator Bob Menendez, from the House and Senate committees that oversee the State Department, wrote to White House Chief of Staff Mark Meadows:
Reports indicate that Secretary Pompeo personally made the recommendation to fire Mr. Linick, and it is our understanding that he did so because the Inspector General had opened an investigation into wrongdoing by Secretary Pompeo himself. Such an action, transparently designed to protect Secretary Pompeo from personal accountability, would undermine the foundation of our democratic institutions and may be an illegal act of retaliation.
Their letter does not discuss the substance of the investigation, but the New York Times fills that in:
a Democratic aide said that Mr. Linick had been looking into whether Mr. Pompeo improperly used a political appointee at the State Department to perform personal tasks for him and his wife. … Since starting his current job in April 2018, Mr. Pompeo has come under growing public scrutiny for what critics say is his use of the State Department's resources for personal endeavors. Mr. Menendez has called for Mr. Pompeo to explain how he can justify frequent trips to Kansas, his adopted home state, using State Department funds and aircraft. He has brought his wife, Susan Pompeo, on many trips abroad, telling others she is a "force multiplier" for him. And CNN reported last year that congressional officials were looking at potential misuse of diplomatic security personnel for personal errands.
---
Former Moderna executive Moncef Slaoui is leading the Trump administration's Operation Warp Speed, which is supposed to deliver large quantities of a Covid-19 vaccine by the end of 2020. He also
still holds over 156,000 Moderna stock options, worth over $10 million at the company's current stock price, creating a potential conflict of interest if the company's vaccine is the first to be proven effective.
Moderna announced encouraging Phase 1 results on its vaccine candidate today. But there's still a long way to go.
---
The WaPo's Pulitzer-winning David Fahrenthold is back at it: The US government has paid for more than 1,600 nights at Trump-owned hotels and clubs since Trump took office. Federal records show at least $970,000 of government money has been paid to Trump's company.
Eric Trump has previously claimed that the Trump Organization gives the government a good rate "like fifty bucks". This seems not to be true.
But in the 1,600 room rentals examined by The Post, there were no examples of a rate that low. Instead, the lowest room rate was $141.66 per night, for each of the rooms in a four-room cottage in Bedminster. The highest rate was $650 per night for rooms at Mar-a-Lago.
This practice is not just shady, it might also be unconstitutional. Article II, Section 1 of the Constitution says:
The President shall, at stated Times, receive for his Services, a Compensation, which shall neither be increased nor diminished during the Period for which he shall have been elected, and he shall not receive within that Period any other Emolument from the United States, or any of them.
The foreign money going into Trump's businesses is also an issue, since the Constitution also forbids any federal official from receiving "any present, Emolument, Office, or Title, of any kind whatever, from any King, Prince, or foreign State" without the consent of Congress.
Lawsuits based on those constitutional principles have had trouble getting traction in the courts, but Thursday a federal appeals court ruled that a suit filed by Maryland and the District of Columbia could go forward.
and Ahmaud Arbery
I should have mentioned this case last week. By now you probably know about it. Two white men in trucks chased down a black jogger and killed him, claiming that he resembled a suspect in a string of local burglaries.
That happened back in February, and the local police interviewed the whites and pretty much accepted their story. A video of the moments leading up to the shooting was posted by a local radio station and went viral. Only then were the shooters arrested.
All the basic themes of the black-lives-matter movement are here: A black man was assumed to be dangerous and killed. Police didn't seem to care until a public outcry made them care.
That second part is the key point. Whites sometimes kill blacks and blacks sometimes kill whites; that's not the major issue. The point is that when whites kill blacks, often the police aren't interested.
and the Reade accusation
PBS Newshour tried to talk to 200 or so people who were on Joe Biden's Senate or White House staff at one time or another, and they managed to get in touch with 74 of them, including 64 women, to see what they thought about Tara Reade's accusation of sexual assault and digital penetration.
The staffers corroborate some of the superficial details of Reade's account: She did work in Biden's Senate office. She was let go. Where she says she was assaulted is a real place. The errand she says she was on (taking Biden's gym bag to him at the Capitol gym) is a credible thing someone in her position might have been asked to do. A supervisor (not Biden) did reprimand her for dressing inappropriately.
And no one, of course, claims to know for a fact that the assault didn't happen or couldn't have happened, (though many volunteered that they believe the claim is false).
But that's about where the corroboration stops.
None of the people interviewed said that they had experienced sexual harassment, assault or misconduct by Biden. All said they never heard any rumors or allegations of Biden engaging in sexual misconduct, until the recent assault allegation made by Tara Reade.

… Female staffers who spent countless hours with Biden, including in one-on-one settings, like his small private office in the U.S. Capitol, known as a "hideaway," said he never made passes at them or behaved in other ways that suggested sexual impropriety.

… "I traveled with him all over the world, all over the country. I was alone with him all the time," said Elizabeth Alexander, a former Senate and White House aide. "Never, ever, ever did I feel uncomfortable."

… "You got to know which senators you didn't want to be on an elevator alone with," said Liz Tankersley, who was Biden's legislative director from 1985 to 1993. "No one ever said Joe Biden was one of them."
A few of the details of Reade's account were challenged: As a Senate staffer, she would not have been asked to serve drinks at a fund-raiser.
"Never would have happened," said Melissa Lefko, who was a staff assistant in Biden's office during the time Reade was there. "We all knew there was a very hard line there."
The site of the alleged assault would have made it "a brazen attack in an area with a high risk of being seen" by lobbyists, staff, and even tourists.
In response to last week's summary post, pro-Bernie commenters put forward the theory that the media delayed covering Reade's sexual assault accusation until it was too late for the issue to help Sanders get the nomination. As best I can tell, though, the timing of the story was due to Reade, not the media. The Newshour story says explicitly: "Reade did not publicly accuse Biden of sexual assault until March of this year." (The South Carolina primary, which turned the race in Biden's favor, happened February 29.) Also, pro-Bernie media outlets existed and could have picked up the story, if it had been out there.
---
The Washington Post's never-Trump conservative columnist Jennifer Rubin debunks the "If you believed Christine Blasey Ford, you have to believe Tara Reade" fallacy.
and you also might be interested in …
The House passed an additional $3 trillion stimulus plan, the HEROES act. It includes direct payments to states, more money for individuals, and a variety of other provisions. Republicans are dead set against it, so it's unlikely to pass the Senate.
But it does put the ball in Mitch McConnell's court. Lots of states — and not just blue states — are facing big budget shortfalls. And the virus is still picking up momentum in places like Arizona.
---
Trump's latest conspiracy theory, "ObamaGate", is one he couldn't even explain himself when a reporter asked what crime it alleged. Vox' Sean Illing explains it as an example of "flooding the zone with shit".
The goal of zone-flooding is simple: introduce bullshit stories into the information bloodstream, sit back while the media feverishly covers them (from all sides), and then exploit the chaos that results from the subsequent fog of disinformation.

It's an approach that thrives on conventional journalistic norms around objectivity and fairness. The Washington Post's Greg Sargent, a sharp observer of this process, explained it well in a recent piece. His point, like mine, is that reporting on deliberately misleading stories in ostensibly objective ways serves only to reward the bad-faith actors spreading the nonsense in the first place.
---
Mikel Jowllett, who I am not cool enough to have heard of before, is the front man of Airborne Toxic Event and author of the just-released memoir Hollywood Park. He tweets:
The President is tested every day. Every single person he comes into contact with is also tested. If anyone tests positive, they are immediately quarantined and their contacts are tested. See? He DOES understand how to stop the virus. He just doesn't give a shit about YOU.
---
Try to imagine what it would be like to have been at sea by yourself for the past three months.
and let's close with something both old and new
Denis Shiryaev has come up with impressive techniques for bringing very old film back to life. Here, he produces remarkably crisp and colorized images of Paris in the 1890s.