Days are numbers, watch the stars.
We can only see so far.
Someday, you'll know where you are.

– The Alan Parsons Project, "The Traveller"
This week's featured post is "Economies Aren't Built to Stop and Restart".
This week everybody was talking about life at home
Like much of the country, lately I've been much more housebound than I'm used to. I'm not in any kind of strict quarantine, because everybody I live with seems healthy. (Thank you for asking.) But like the hunters of old, these days I mainly go out to acquire food. (Is it my imagination, or are there more men in the supermarkets than there used to be? Maybe the viral threat makes shopping feel manlier than it used to.)
I also walk the dog in the morning, though I'm starting to feel guilty about it. Allergies I've had for years leave me congested in the mornings, so I spend much of my morning walk coughing and clearing my throat. This didn't used to be a concern, but now I feel sorry for anyone within earshot. ("Authorized distributor of the Fear of God [TM]. Enjoy your free sample!")
Another thing I've noticed: Having all my regular activities canceled makes it hard to keep track of what day it is. For example, Wednesday was our 36th wedding anniversary, but neither my wife nor I figured that out until the afternoon. That experience reminded me of the Alan Parsons song that gives this post its title. When you're traveling, sometimes you get into a state where it's not Thursday, it's the tenth day of the trip, or the second day in Savannah, or the third day before you go home. Days become numbers; someone says "Tuesday" and you have to think for a few seconds about what that means.
Strangely, not being able to travel at all is making me feel the same way. So if some week the Sift doesn't appear on schedule, don't jump to the conclusion that something has happened to me. I may just have forgotten that it's Monday.
---
Sadly, though, not everyone is getting into the spirit of social distancing. Wednesday evening I went to our favorite local bar/restaurant to pick up take-out — anniversary celebration! — hoping that they'll get enough business to still be there when we start eating out again. A group of people in running gear were having a tailgate party in the parking lot. Basically, they were just moving the bar scene outdoors. They were in the prime of life and looked very healthy, so they probably believe their risk is low.
And maybe it is. (Maybe.) But the paradox of social distancing is that it's not about each of us as individuals, it's about trying to do right by the other people in our lives, and right by the human herd in general. We stay away from others because we care about them.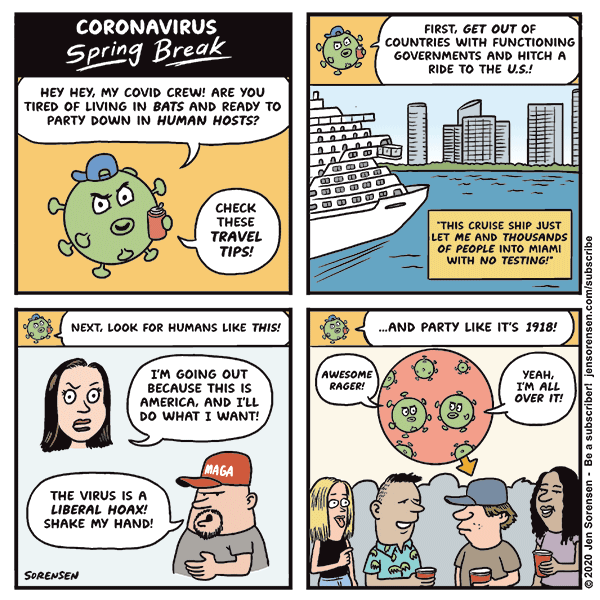 and the continued spread of the virus
As of this morning, there were 33,018 confirmed COVID-19 cases in the United States (compared to 3602 last Monday and 564 two weeks ago) and 428 deaths (compared to 66 and 22).
It's hard to know what to make of these numbers. Part of the rise undoubtedly reflects the spread of the disease, but part is due to the fact that we're finally testing people in large numbers; we're finding new cases, but we're also discovering cases that were hidden last week. And since we're still rolling out social distancing, it won't bend the curve for at least another week or two.
So perversely, things may actually be starting to get better at a time when our numbers are looking worse. I'll bet that social distancing actually works. It's not going to fix everything, but the real curve will start to bend away from exponential growth by next week or the week after. The apparent curve will probably still be exponential next week, because of the increase in testing.
---
Thursday, Italy passed China for having the most COVID-19 deaths. Currently, we're on the Italy track, about a week or two behind. We're also about four times the size of Italy. So if the curve doesn't bend soon, it's possible that eventually the country with the most deaths will be the United States.
---
Here's the coolest thing I heard this week:
Earlier this month, a group of more than 300 engineers, designers, doctors, nurses and others came together on Facebook to work on the Open Source Ventilator project.

In seven days they came up with a prototype for a ventilator that can be assembled from bio-plastics and manufactured with 3-D printers. The Irish engineer Colin Keogh says that Ireland's Health Services will review the prototype next week with the goal of making it available to coronavirus patients.
Or maybe it was this: Engineers at the University of Minnesota are going "full-on MacGyver" against the ventilator shortage. In a feasibility test, a prototype made from $150 of parts, a motor ripped out of something else, and a red toolbox base kept a pig alive for an hour.
---
Friday, the FDA approved a new test that can detect coronavirus in as little as 45 minutes. This opens the possibility of quickly sorting the COVID-19 sick from the ordinary sick, who could safely go home and recover in the usual way.
Speaking as someone cooped up with four other people, the terror is in not knowing. If one of us spikes a fever, we will suffer simultaneous urges to take care of each other and stay away from each other. What a relief it would be to determine quickly that this was just a cold or the ordinary flu.
We'll see how quickly this can be deployed.
---
Those of us going through our first plague might have some things to learn from the gay community.
This video was made by Kenneth, who I know through Unitarian Universalist circles. It appeared on his YouTube channel Common Hawthorn, which focuses on his interest in Tarot. But this particular piece is only tangentially about Tarot; it primarily discusses (in a very matter-of-fact way) the reality of death and the need for people to care for each other.
Before this pandemic is over, we're all going to know someone who died from it, and possibly far more than one. We may, at some point, fear for our own lives. Those are difficult ideas to wrap your mind around, but gay men who lived through the 1980s had to get used to them.
and the government's public-health response
This week the strain on the hospitals began to show, particularly in New York and Washington state. At the state and local level, we keep hearing about shortages of ventilators, hospital beds, and protective gear for healthcare workers. At the federal level, we hear a lot of happy talk about how well things are going.
and its economic response
I discuss this in the featured post. Minutes ago, Vox' Dylan Matthews outlined the five major disagreements that are holding up the stimulus/bailout bill.
and we need to think yet again about how to handle Trump
Rachel Maddow gave examples of happy announcements Trump has made at recent press conferences, which then turned out not to be true:
A malaria drug has been shown to be effective against COVID-19 and will be available "almost immediately".
The virus is "well contained" and "under control" and "is going to disappear".
1.4 million tests would be available this week.
Google is developing a web site to help people decide whether they needed testing and where to get it — it will be "quickly done".
The Navy is deploying two medical ships to virus-hit coasts in the next week or so.
The government has massive amounts of ventilators.
The government has ordered 500 million N95 masks.
All false, or so grossly misleading that they would be better ignored than believed. (The order for 500 million masks is real, but will take 18 months to fill, something Trump neglected to mention. Any health professionals who are counting on receiving those masks in time to make a difference have been misled.) She concluded:
There is a clear pattern here in this crisis, of the President promising stuff that he knows America would love to hear, but it's not true. … We should inoculate ourselves against the harmful impact of these ongoing false promises and false statements by the President by recognizing that when he is talking about the coronavirus epidemic, more often than not, he is lying. … I would stop putting those briefings on live TV. Not out of spite, but because it's misinformation. If the President does end up saying anything true, you can run it as tape. But if he keeps lying like he has been every day on stuff this important, we should (all of us) stop broadcasting it. Honestly, it's going to cost lives.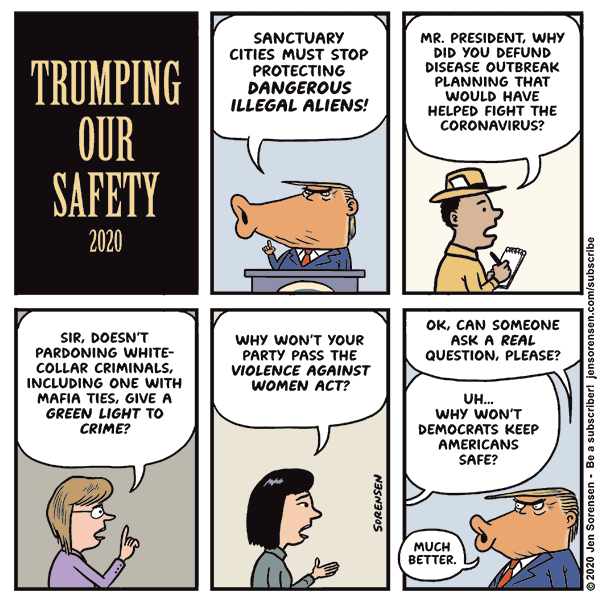 Washington Post columnists Margaret Sullivan and Michael Gerson agree. Sullivan reviews the same false claims as Maddow, then concludes:
The news media, at this dangerous and unprecedented moment in world history, must put the highest priority on getting truthful information to the public.

Taking Trump's press conferences as a live feed works against that core purpose.
Gerson is a never-Trump Republican, who waxes wistful about the missed chance to impeach Trump. That would have given us President Pence, who "is no Franklin D. Roosevelt, but … possesses the type of qualities one might find in an effective governor facing a hurricane."
The point here is not simply to condemn Trump, which has limited usefulness in the midst of a national crisis. At this point it is perhaps better to ignore him, which is precisely what governors and mayors across the country are doing to good effect.
---
Jay Rosen offers a sample emergency declaration for a news organization:
On everything that involves the coronavirus Donald Trump's public statements have been unreliable. And that is why today we announce that we are shifting our coverage of the President to an emergency setting. … Switching to emergency mode means our coverage will look different and work in a different way, as we try to prevent the President from misinforming you through us. …

Refusing to go with live coverage. Suspending normal relations with his White House. Always asking: is this something we should amplify? A focus on what he's doing, not on what he's saying. The truth sandwich when we feel we have to highlight his false claims. This is what you can expect now that our coverage has been switched to an emergency setting.
---
American Bridge 21st Century uses Trump's false claims in a damaging ad:
---
This brings up something I've been scratching my head over for a while: Some of Trump's thought processes make sense to me, but the aspect I can never grasp is his extreme short-sightedness.
If I were President of the United States right now, I hope I would worry primarily about saving lives, with my political future a distant second. But even when I thought about politics, what would grab my attention would not be the day-to-day gyrations of the stock market, or the unemployment numbers, or even the daily numbers of cases or deaths. What would scare me politically is the possibility of presiding over the country with the most total COVID-19 deaths. If that happens, it will happen well before November, and there will be no way to spin it.
So even when I was being totally self-centered and partisan, I'd keep asking one question: How many Americans will die by November? Purely for my own political survival, that's the number I would be trying to keep down.
But Trump seems not to be focused on that number, and I can't grasp why not.
and the Democratic primary race
Last week I started saying that it's over. After this week's primaries, it clearly is. Biden now leads Sanders in the delegate race 1201-896, with 1991 needed to have a majority at the Democratic Convention. The RealClearPolitics polling average now shows Biden ahead of Sanders nationally 55.5%-36.2%.
At this point, Sanders needs to start thinking about the role he will play in the general-election campaign, and what he can do to make sure Trump is not re-elected. He certainly has the right to stay in the race, get as many delegates as he can, and try to influence the platform Biden will run on, if that's what he thinks is best. But any negative campaigning against Biden needs to stop. He's going to be the nominee, and smearing him is Trump's job now.
---
Tulsi Gabbard dropped out of the race Thursday morning, leaving Biden and Sanders as the only active Democratic candidates. She said this about Joe Biden:
I know Vice President Biden and his wife and am grateful to have called his son Beau a friend who also served in the National Guard. Although I may not agree with the Vice President on every issue, I know that he has a good heart and is motivated by his love for our country and the American people. I'm confident that he will lead our country guided by the spirit of aloha — respect and compassion — and thus help heal the divisiveness that has been tearing our country apart.

So today, I'm suspending my presidential campaign, and offering my full support to Vice President Joe Biden in his quest to bring our country together.
All the speculation (including my own) that Gabbard was planning to run a third-party spoiler campaign in the fall was clearly off base. I still think Hillary Clinton was not wrong that the Russians were hoping she would, and I believe that Russia is probably still hoping to boost a candidate to split the anti-Trump vote. But whatever Putin might have in mind, Gabbard is clearly not in on it.
and you also might be interested in …
In normal times, I could imagine the Senate's insider-trading scandal being the week's top story. The center of the story is Senator Richard Burr of North Carolina, the chair of the Senate Intelligence Committee. On February 7, Burr was upbeat about the country's ability to deal with coronavirus:
No matter the outbreak or threat, Congress and the federal government have been vigilant in identifying gaps in its readiness efforts and improving its response capabilities.

The public health preparedness and response framework that Congress has put in place and that the Trump Administration is actively implementing today is helping to protect Americans. Over the years, this framework has been designed to be flexible and innovative so that we are not only ready to face the coronavirus today but new public health threats in the future.
But a few weeks later, on February 27, without warning the general public that he had been too optimistic, he painted a much more dire picture to his donors. He compared COVID-19 to the 1918 influenza, and predicted school closures and the need for military hospital ships and field hospitals to supplement the local health infrastructure.
And he was selling stock.
Soon after he offered public assurances that the government was ready to battle the coronavirus, the powerful chairman of the Senate Intelligence Committee, Richard Burr, sold off a significant percentage of his stocks, unloading between $628,000 and $1.72 million of his holdings on Feb. 13 in 33 separate transactions. … A week after Burr's sales, the stock market began a sharp decline and has lost about 30% since.

… His biggest sales included companies that are among the most vulnerable to an economic slowdown. He dumped up to $150,000 worth of shares of Wyndham Hotels and Resorts, a chain based in the United States that has lost two-thirds of its value. And he sold up to $100,000 of shares of Extended Stay America, an economy hospitality chain. Shares of that company are now worth less than half of what they did at the time Burr sold.
Four other senators have since come under similar scrutiny.
Burr should hardly be singled out. Sen. Kelly Loeffler of Georgia, Sen. James Inhofe of Oklahoma, Sen. Ron Johnson of Wisconsin, and Sen. Dianne Feinstein of California have also sold significant amounts of stocks in recent months.
However, some of those transactions are less troubling than others. Loeffler's case seems the most serious.
For Loeffler, the sell-off of between $1.3 million and $3.1 million worth of stock she owned with her husband came starting on January 24, the same day the Senate Health Committee hosted an all-members briefing on the coronavirus (Loeffler sits on the committee). Loeffler's husband, Jeffrey Sprecher, is the chair of the New York Stock Exchange.
She also bought shares in Citrix, a teleworking company likely to do well in the new environment.
Lachlan Markay, the Daily Beast reporter who broke the Loeffler story, is less disturbed by the other senators' transactions: Inhofe started selling before he got a private coronavirus briefing. Johnson "sold a $5M-25M stake in his brother's privately held company on March 2, well after the general public was aware of COVID-19." And Feinstein's sale "is clearly innocuous as well. In fact, her husband's $1M-5M sale of shares in biopharma company Allogene actually came at a low-point in its stock value, as noted by Barron's a few weeks ago."
---
Israeli Prime Minister Benjamin Netanyahu is using the public health emergency to stay in power, using maneuvers that some have called a "coup".
A new Parliament was sworn in last week, but among the key votes Mr. Edelstein [a Netanyahu ally] has prevented is one on replacing him as speaker. … Though his right-wing-religious alliance narrowly lost this month's election, the prime minister is reluctant to give up his bloc's control of Parliament.
But Israel's highest court has ordered the vote to proceed by Wednesday, a move which Netanyahu's supporters have called a coup by the court.
Meanwhile, the Justice Minister appointed by Netanyahu has postponed Netanyahu's trial on three corruption charges. The postponement is for two months, and is also an "emergency" measure that is supposed to prevent the spread of the virus.
and let's close with some history
Back in 2013, Pentatonix performed "The Evolution of Music".
More recently, the Y-Studs a cappella group did their own version of "The Evolution of Jewish Music".