Like a lot of liberals, I have spent more time than I care to admit thinking about Trump supporters. Who are they? What do they want? What are they thinking? And most of all: How can they possibly support this man?
One reason this task is so difficult is that the Trumpist message is not meant for me. St. Paul was an apostle to the gentiles, but there is no Trumpist apostle to the liberals. No one in the administration is out there translating for me, explaining what parts of the message to take seriously and what parts to ignore. No one is trying to resolve the apparent contradictions, or to make the case that my goals can be achieved by his methods. One symptom of this is White House press secretary Stephanie Grisham, who appears on Fox News, but doesn't hold briefings for the press in general. (Trump's previous press secretary, Sarah Huckabee Sanders, has joined Fox News outright.)
As a result, the most widely available version of Trump's message is the one intended for committed supporters, who already live inside the Fox News alternate reality, where climate change is not real and racism was solved in the 1960s. So if, like me, you live in a world where where Russia (and not Ukraine) meddled in our election, where health insurance companies would happily let people die if they could make bigger profits, and tax cuts don't pay for themselves — well, there is no message for you. Trump's world has an Us and a Them, and you're a Them. You're never going to be invited in.
The Inner Party. It's easy (and very human) to reflect this attitude back at them: People support Trump because they're uninformed and gullible. Or because he appeals to their deplorable passions: racism, sexism, homophobia, xenophobia, or Islamophobia, to use Hillary Clinton's list. Or because they're rich and selfish; they just want to pay less tax and stop worrying about how much their industries pollute. Or because they just want power.
And if you look, you can confirm that bias: There certainly are Trump supporters who fit all those descriptions. (I'm not denying that point, so don't argue it with me.) And I am capable of imagining a movement made up entirely of a cynical core surrounded by gullible and manipulated masses. But I have a test that I run when I'm considering such a theory: I picture it from the other side. If I were in that cynical core, how confident would I be that I could make this plan work?
And the answer in this case is: not very. A conspiracy of pure evil-doers is actually fairly hard to hold together, because the vast majority of people don't like to think of themselves that way. Once you have a core bigger than a cabal, you need some kind of self-justifying story — not just for the gullible masses, but for your own people. There needs to be an explanation of why you are the good guys and why the things you are doing are right, or at least necessary.
To use Orwellian terms, you need an Inner Party message in addition to your Outer Party message. There are, I assume, lots and lots of Trumpists who understand that the Outer Party message is bullshit. I'm sure that a lot of Evangelicals, for example, realize that Trump's knowledge of Christianity is superficial at best; that he has lived a life of licentiousness, infidelity, and fraud; and that his current administration is full of corruption. They may say "We are all sinners," as Jerry Falwell Jr. acknowledges, and explain that Christianity is a religion of forgiveness rather than perfection. But they also know that forgiveness requires repentance, a step Trump has never been willing to take.
Republican politicians, likewise, are not generally stupid or gullible people. Lindsey Graham used to see Trump fairly clearly (and used terms like "loser" and "nut job"). They can't all be intimidated by Trump's sway over his base voters, either. Ted Cruz surely remembers Trump's attacks on his father and wife, and having just won re-election in 2018 (along with ten other GOP senators), he doesn't have to face the voters again until 2024, by which time everyone may have conveniently forgotten that they ever supported Trump. (George W. Bush was once immensely popular among Republicans, but by the 2008 campaign he had become an unperson.)
A lot of people who support Trump are not ignorant, and they are not all motivated by greed or fear. If this is all hanging together, and it seems to be, there has to be an Inner Party message for such people. What could it be?
The Barr speeches. That's the context that I put around the recent spate of articles examining two Bill Barr speeches. Both of these speeches were given to what I think of as Inner Party audiences.
In October, he spoke to the de Nicola Center for Ethics and Culture at Notre Dame, an organization "committed to sharing the richness of the Catholic moral and intellectual tradition".
In November, he delivered a named annual lecture to the Federalist Society's 2019 National Lawyers Convention. The Federalist Society is a conservative legal organization that is responsible for vetting Trump's nominees for federal judgeships.
In short, these are both audiences friendly to the Trump administration, but are not the MAGA-hat-wearing yahoos that show up at Trump's public rallies. Both groups see themselves as having intellectual heft as well as moral purpose. Neither would be satisfied with a screed of obvious lies or slogans like "Lock her up!" or "Build the Wall!"
So this is what Barr offered them: To the Catholics, he spoke about the impossibility of maintaining  liberty without Christianity. To the Federalists, he advocated for the Presidency to shake itself free from the "usurpations" of Congress and the Judiciary.
The Notre Dame speech. Barr's Notre Dame speech lays out the problem like this:
Men are subject to powerful passions and appetites, and, if unrestrained, are capable of ruthlessly riding roughshod over their neighbors and the community at large. No society can exist without some means for restraining individual rapacity. But, if you rely on the coercive power of government to impose restraints, this will inevitably lead to a government that is too controlling, and you will end up with no liberty, just tyranny.

On the other hand, unless you have some effective restraint, you end up with something equally dangerous – licentiousness – the unbridled pursuit of personal appetites at the expense of the common good. This is just another form of tyranny – where the individual is enslaved by his appetites, and the possibility of any healthy community life crumbles. …

But what was the source of this internal controlling power? In a free republic, those restraints could not be handed down from above by philosopher kings. Instead, social order must flow up from the people themselves – freely obeying the dictates of inwardly-possessed and commonly-shared moral values. And to control willful human beings, with an infinite capacity to rationalize, those moral values must rest on authority independent of men's will – they must flow from a transcendent Supreme Being.
This cries out for annotation, which I'll try to keep short so that I can get on with Barr's argument: If you wanted a poster boy for "the unbridled pursuit of personal appetites at the expense of the public good", you could hardly do better than to choose Barr's boss, President Trump. If you allow corporate persons into the discussion, Exxon-Mobil (which knew the danger of climate change decades ago, but spent millions to keep the public confused about it) or one of the pharmaceutical companies that promoted the opioid crisis would be a good choice.
And unless the "transcendent Supreme Being" decides to express Their authority much more directly than They currently do, God's will is going to be presented to us through "willful human beings, with an infinite capacity to rationalize". For example: the Catholic hierarchy, which for decades — perhaps centuries — had no trouble enabling and covering up the sexual misconduct of its priests.
This far I agree with Barr: If a free society is going to work, the public good needs to be supported by moral values freely chosen, rather than rules enforced solely by government power. However, the countries that seem to be doing the best job of maintaining a free society in today's world are the least religious ones: the Northern European humanist crescent that flows from Finland to Iceland. In the real world, moral values and religion have (at best) a tenuous relationship.
However, Barr takes this relationship as given and proceeds from there: Traditional Christianity is losing its hold on America, and at the same time a number of social ills have gotten worse: births outside of marriage, divorce,
record levels of depression and mental illness, dispirited young people, soaring suicide rates, increasing numbers of angry and alienated young males, an increase in senseless violence, and a deadly drug epidemic.
The causality here is clear to him: All these negative consequences come from an increase in "secularism". Thomas Edsall offers a counterpoint here: If this were true, you'd expect the worst effects to show up in the most secular parts of society, but this seems not to be the case.
The white working class constituency that would seem to be most immune to the appeal of the cultural left — the very constituency that has moved more decisively than any other to the right — is now succumbing to the centrifugal, even anarchic, forces denounced by Barr and other social conservatives, while more liberal constituencies are moving in the opposite, more socially coherent, rule-following, direction.
Similarly, the highest rates of births outside of marriage are in the Bible Belt states.
Barr continues: Ordinarily, we'd expect the pendulum to swing back towards social conservatism. As people saw the calamitous results of social change, that change would be stopped, and then turned around. But this time is different, because America is not just dealing with the ordinary tides of culture. This time the story has an active villain: people like me, as best I can tell.
[T]he force, fervor, and comprehensiveness of the assault on religion we are experiencing today … is not decay; it is organized destruction. Secularists, and their allies among the "progressives," have marshaled all the force of mass communications, popular culture, the entertainment industry, and academia in an unremitting assault on religion and traditional values. These instruments are used not only to affirmatively promote secular orthodoxy, but also drown out and silence opposing voices, and to attack viciously and hold up to ridicule any dissenters.
Speaking of ridicule, here how cartoonist Jen Sorensen responded to Barr's speech: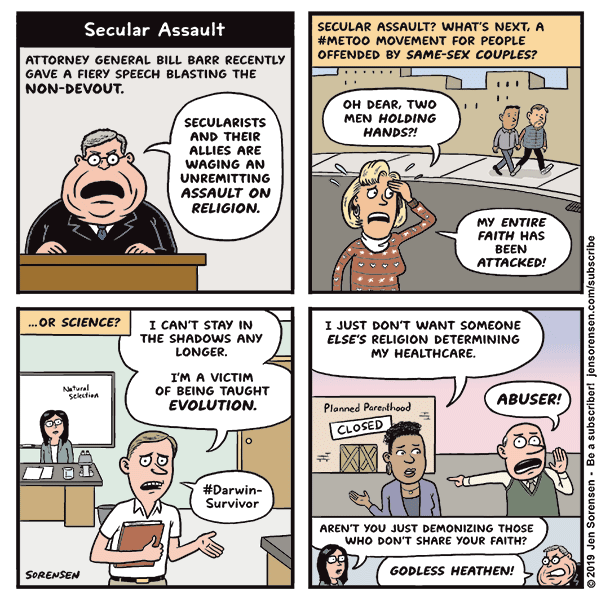 It is very popular in conservative circles to talk about being "silenced", despite the awesome wealth and power conservatives command. But the truth doesn't stretch quite that far: Conservatives, and especially religious conservatives, are used to being the only voices in the room. In the days of mandatory Christian prayer in public schools, there was no equal time for atheists or Buddhists. Gays could be characterized as "deviants", and women who made their own decisions about sex as "sluts". Conservative Christians could say these things in public, and no one would respond. No one would dare stand up and say, "Wait, I'm gay, and there's nothing deviant about it." or "What happens in my bedroom is none of your business." No one would strike back and say that the Christian was "judgmental" or "bigoted".
Now, someone will. Maybe lots of someones. That's what the Constitution calls "freedom of speech", but Christians are not used to hearing it. When their opinion is not the last word in a discussion, it seems like persecution to them, even though it's the normal situation for everyone else.
Barr uses another religious-right buzzphrase when he talks about "a comprehensive effort to drive [our traditional Judeo-Christian moral system] from the public square". As best I can tell, this refers to another revocation of a special privilege. Christians used to be able to use public resources to promote their point of view: prayers at public events, nativity scenes on the town green, and so on. In recent decades, Christians have often been treated like everyone else and limited to promoting their views with their own resources. (Barr may say "Judeo-Christian", but when have Jews ever tried to install a Moses-parting-the-Red-Sea model on the town green?) This is quite a come-down, but it is not persecution.
Secular moral values, Barr claims, are different from Christian ones, not just in content but in kind.
Christianity teaches a micro-morality. We transform the world by focusing on our own personal morality and transformation. The new secular religion teaches macro-morality. One's morality is not gauged by their private conduct, but rather on their commitment to political causes and collective action to address social problems. This system allows us to not worry so much about the strictures on our private lives, while we find salvation on the picket-line. We can signal our finely-tuned moral sensibilities by demonstrating for this cause or that.
This is absurd on both ends: One one side, the anti-abortion movement Barr champions elsewhere in the speech is not a micro-morality; it is an attempt to use the law to constrain the choices of other people. Conservative leaders (Trump, for example) often exhibit horrible personal morality, but they signal their virtue by opposing abortion or gay rights. On the other side of the question, Barr has completely written off a long Catholic social-justice tradition, from Dorothy Day to liberation theology. As Archbishop Hélder Pessoa Câmara once put it, "When I give food to the poor, they call me a saint. When I ask why the poor have no food, they call me a Communist."
To sum up: Christianity is at war against an active enemy. Secularists are not just trying to live their own lives as best they can, they are working to tear down the transcendent moral order. If they succeed, the result can only be anarchy or tyranny.
The Federalist Society speech. Barr's Federalist Society speech inadvertently illustrates a point from his Notre Dame speech: Willful human beings have an infinite capacity to rationalize.
The claimed topic of the speech is "originalism", the legal doctrine that tries to find the meaning of Constitution in the thinking of the Founders. Since the Founders faced a world far different from ours and could barely have imagined the issues of the 21st century, originalism provides boundless fields for rationalization. Like scripturalism in religion, the resulting propositions don't have to justified on their own merits, because we did not think of them ourselves, but only found them in the texts written by our prophets.
What Barr finds in the Founders' collective mind in this speech is a vision of executive power unbound by the other two branches of government.
In the orthodox reading of American history, the structure of American government got remade on two occasions: by Lincoln during the Civil War and by FDR during the Depression and World War II. In each case, executive power expanded, and has kept expanding in recent years, reaching the point where a President can unleash a global nuclear holocaust completely on his own authority. In my view, relating the apocalyptic power of today's Presidency to Hamilton's praise of "energy in the executive" is insane.
But that's not how Barr sees it:
In recent years, both the Legislative and Judicial branches have been responsible for encroaching on the Presidency's constitutional authority. [original emphasis]
Congress has encroached by refusing to rubber-stamp Trump's unqualified and often corrupt appointees, and also by attempting to exercise oversight of questionable (and again, often corrupt) administration actions.
I do not deny that Congress has some implied authority to conduct oversight as an incident to its Legislative Power. But the sheer volume of what we see today – the pursuit of scores of parallel "investigations" through an avalanche of subpoenas – is plainly designed to incapacitate the Executive Branch, and indeed is touted as such.
In Barr's view, this is pure harassment. There is nothing unusual in the Trump administration's actions that invites these investigations. The most he will grant is this:
While the President has certainly thrown out the traditional Beltway playbook, he was upfront about that beforehand, and the people voted for him.
Of course, the people did not vote for him; the Electoral College did. But leave that aside. Fundamentally, the conflicts with Congress arise because, as in the Notre Dame speech, liberals are villains.
In any age, the so-called progressives treat politics as their religion. Their holy mission is to use the coercive power of the State to remake man and society in their own image, according to an abstract ideal of perfection. Whatever means they use are therefore justified because, by definition, they are a virtuous people pursing a deific end. They are willing to use any means necessary to gain momentary advantage in achieving their end, regardless of collateral consequences and the systemic implications. They never ask whether the actions they take could be justified as a general rule of conduct, equally applicable to all sides.
It's weird to pull this back to the Notre Dame speech, where conservatives treat religion as their politics. What is an illegitimate "abstract ideal of perfection" for liberals becomes the "moral values" of a "transcendent Supreme Being" when conservatives do it. And what is the conservative project, if not to push women and gays back into an Eisenhower Era "abstract ideal of perfection"? What Barr says here in polemic terms about liberals is just the plain and simple truth when applied to the politics of the Notre Dame speech: Barr quite literally is on a "holy mission" to "remake man and society". He literally, not figuratively, sees himself "pursing a deific end".
And that conclusion about using "any means necessary to gain momentary advantage" without asking "whether the actions they take could be justified as a general rule of conduct" is a hair-pulling bit of projection. I mean, does Barr think withholding appropriated funds to coerce a foreign government into doing the President a political favor should be a "general rule of conduct"? Should the President routinely declare a state of emergency whenever Congress refuses to appropriate money for his pet projects? Should the Senate routinely refuse to hold hearings on Supreme Court nominees when the President is of a different party?
Conservatives, in Barr's view, have failed by being too nice.
conservatives tend to have more scruple over their political tactics and rarely feel that the ends justify the means. And this is as it should be, but there is no getting around the fact that this puts conservatives at a disadvantage when facing progressive holy [fire], especially when doing so under the weight of a hyper-partisan media.
His judicial encroachments on executive power are similar: In his view, the number of court orders stopping Trump from doing what he wants has nothing to do with Trump wanting to do illegal things (like discriminate against Muslims or ignore our asylum laws); it's just harassment.
Also, he sees no judicial power to arbitrate disputes between Congress and the President, like the current cases about the Wall "emergency" or whether Trump can stop his officials from testifying before impeachment hearings. What this means in practice is that the President has whatever powers he says he has. If, say, the President were simply to instruct the Treasury to start writing checks for all kinds of things Congress had never voted on, it would be a gross usurpation of Congress' power. But what could Congress do about it on its own? It could pass more laws that the President could ignore, and the usurpations would continue.
He concludes with this:
In this partisan age, we should take special care not to allow the passions of the moment to cause us to permanently disfigure the genius of our Constitutional structure. As we look back over the sweep of American history, it has been the American Presidency that has best fulfilled the vision of the Founders. It has brought to our Republic a dynamism and effectiveness that other democracies have lacked. … In so many areas, it is critical to our Nation's future that we restore and preserve in their full vigor our Founding principles. Not the least of these is the Framers' vision of a strong, independent Executive, chosen by the country as a whole.
The underlying issue. Ezra Klein brings in this bit of context.
Robert Jones, president of the Public Religion Research Institute, estimates that when Barack Obama took office, 54 percent of the country was white and Christian; by the time he left office, that had fallen to 43 percent. This is largely because young Americans are less white, and less Christian, than older Americans. Almost 70 percent of American seniors are white Christians, compared to only 29 percent of young adults.

In 2018, Americans who claim no religion passed Catholics and evangelicals as the most popular response on the General Social Survey. … [T]he age cohorts here are stark. "If you look at seniors, only about one in 10 seniors today claim no religious affiliation," Jones told me. "But if you look at Americans under the age of 30, it's 40 percent."
That's at the root of the sense of panic Barr is voicing. This time really is different, because the white Christian majority in America is being lost forever. But Barr portrays this not as a simple changing of the guard, but as the end of a civilization: White Christians must hang onto power, because the alternative is a society without the moral values necessary to maintain a free society.
This, I think, is the essence of the Inner Party message: Trump offers himself as the bulwark against this looming catastrophe. He is the alternative to the too-nice conservatives who have let immigrants keep coming, let liberals secularize the youth, and have been too slow and too tentative about rallying the white Christian vote, stacking the courts with conservative white Christians, and suppressing all other votes. If he cheats in elections, say by getting illegal help from foreign countries, that's a necessary evil. If he suppresses any attempt to check his power or investigate his corruption, that, too, is a necessary evil. Ultimately, if he loses at the ballot box and has to maintain office by violence, that may be necessary as well, because the alternative is the end of American civilization.
I'll give Thomas Edsall the last word:
The reality is that Barr is not only selling traditional values to conservative voters, some of whom are genuinely starved for them, he is also marketing apocalyptic hogwash because, for his boss to get re-elected, Trump's supporters must continue to believe that liberals and the Democratic Party are the embodiment of evil, determined to destroy the American way of life. Relentless pressure to maintain the urgency of that threat is crucial to Trump's political survival.
And that, I think, is what the Inner Party believes.