You can't promote principled anti-corruption action without pissing off corrupt people.
– Deputy Assistant Secretary of State George Kent (11-13-2019)
This week's featured post is "Why Can't I Watch This?", where I meditate on my inability to make myself watch more than short snatches of the impeachment hearings. (A humorous aside: Ever since I titled that article, I've been humming Weird Al's Hammer parody "I Can't Watch This".)
This week everybody was talking about the impeachment hearings
This week's hearing schedule:
Tuesday morning: Lt. Col. Alexander Vindman of the NSC and Jennifer Williams, an aide to VP Pence.
Tuesday afternoon: former Special Envoy to Ukraine Kurt Volker and Timothy Morrison of the NSC.
Wednesday morning: Ambassador to the EU Gordon Sondland
Wednesday afternoon: Deputy Assistant Secretary of Defense Laura Cooper and Undersecretary of State David Hale
Thursday: Fiona Hill of the NSC
---
This week we heard from three witnesses: Bill Taylor, George Kent, and Marie Yovanovitch. All of them had testified previously behind closed doors, and their opening statements became public then, so the main import of the public hearing was to see them in person, where we could judge their manner and see how they handled questioning.
In general, all three impressed me with the precision of their statements. Questioners from both sides often tried to lead them into stating an unsupported opinion, and they repeatedly refused to. Typical is the way Yovanovitch talked about Trump's Twitter attack on her during the hearing.
ADAM SCHIFF: Ambassador, you're shown the courage to come forward today and testify, notwithstanding the fact you urged by the White House or State Department not to, notwithstanding the fact that, as you testified earlier, the president implicitly threatened you in that call record. And now the president in real time is attacking you. What effect do you think that has on other witnesses' willingness to come forward and expose wrongdoing?

MARIE YOVANOVITCH: Well, it's very intimidating.

SCHIFF: It's a designed to intimidate, is it not?

YOVANOVITCH: I mean, I can't speak to what the president is trying to do. But I think the effect is to be intimidating.
There was also a closed-door session for State Department aide David Holmes. Holmes told an amazing story about being in a Kyiv restaurant with Gordon Sondland and two other people, when Sondland decides to call Trump. Trump talked at such volume that Sondland held the phone away from his ear, allowing Holmes (and maybe random other people) to hear both sides of the conversation. (As someone who once had a security clearance, I'm appalled by this whole situation.) Trump asked whether Zelensky was going to do the investigations, and Sondland assured him that Zelensky would do "anything you ask him to".
Afterwards, Sondland explained that Trump "doesn't give a shit about Ukraine", but only cares about "big stuff" like investigating Biden.
---
One common refrain among Republicans in the hearings is that nothing really happened: Zelensky didn't announce any investigations, and Ukraine got its military aid eventually anyway, so what's the big deal?
Eric Swalwell took this point apart. First he got Ambassador Yovanovitch's agreement that the Ukrainians only got the money after the whistleblower complaint became public, and then he summed up:
So you don't really get points when you get your hand caught in the cookie jar, and someone says, "Hey, he's got his hand in the cookie jar", and then you take your hand out — which is essentially what my Republican colleagues and the President are trying to take credit for.
Republicans repeatedly tried to derail the hearings onto a discussion of the whistleblower. The fake outrage at the anonymity of the whistleblower was answered conclusively by Kellyanne's husband over a month ago.
Someone calls 911 because they hear shots down the street at the bank. The cops show up at the bank, and, sure enough, it's been robbed, and there are numerous witnesses there who saw the crime. The suspects confess. Normally, at this point, no one cares about who called 911.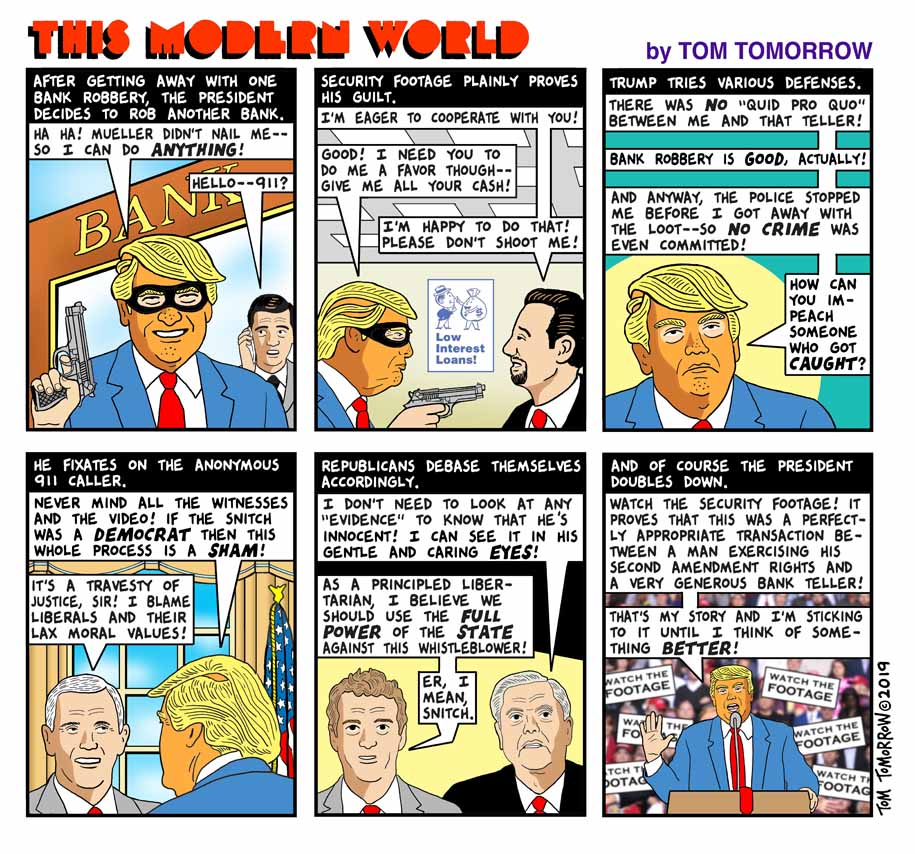 And then Friday there was fake outrage about Rep. Schiff going by the rules that everybody already knew.
Both Nunes and Stefanik knew what the impeachment resolution said about the rules of the hearing. The entire committee knows what they are. I heard them complain about this particular rule—that the ranking member would only be able to yield time to counsel during these 45-minute periods, ahead of the usual five-minute rounds for each member that would come immediately afterward—when the resolution was released, and I watched them debate it in the Rules Committee. Wednesday's hearing had already proceeded under precisely the same rules, with Nunes obediently sharing his time with his committee counsel, Steve Castor, and no one else. But, hey, they produced their content: Cult leader Adam Schiff shuts up a Republican woman. Coming soon to five hours of prime-time Fox News coverage.
---
Fareed Zakaria was the CNN interviewer to whom President Zelensky was supposed to announce the Biden investigation. Zakaria tells how this all looked from his side.
---
Bloomberg columnist Noah Feldman explains why he thinks the Supreme Court will rule that Trump's accountant has to turn over his tax returns. His argument relies on John Roberts staying true to the principle of judicial restraint. I think it's a stretch to see any principles in Roberts. (His handling of the Citizens United case was the exact opposite of restraint.) So we'll see.
and Roger Stone
Guilty on all seven counts: five counts of lying to Congress, one of witness tampering and one of obstructing a congressional committee proceeding. Stone joins Michael Flynn, Paul Manafort, Michael Cohen, Rick Gates, and George Papadopoulos as Trump associates convicted of crimes.
His sentencing hearing is set for February 6, so he may actually spend a few months in prison before Trump pardons him (and Manafort and maybe Flynn) the day after the 2020 election.
Trump is already setting up his justification: Everybody does it.
So they now convict Roger Stone of lying and want to jail him for many years to come. Well, what about Crooked Hillary, Comey, Strzok, Page, McCabe, Brennan, Clapper, Shifty Schiff, Ohr & Nellie, Steele & all of the others, including even Mueller himself? Didn't they lie?
Did they? I'm not in a position to vouch for the 100% honesty of all those people, but anybody who wants to claim their equivalency with Stone's lies ought to be a little more specific.
---
One thing that came out during Stone's trial was that Trump's written answers to Robert Mueller's questions were misleading. They only reason they weren't perjury was that Trump phrased them in terms of what he remembered rather than what happened. (The gist of Trump's testimony is that he remembers virtually nothing. If I were VP Pence and I believed these statements, I'd invoke the 25th Amendment, because the President clearly has dementia.)
I have no recollection of the specifics of any conversations I had with Mr. Stone between June 1.2016 and November 8, 2016. I do not recall discussing WikiLeaks with him, nor do I recall being aware of Mr. Stone having discussed WikiLeaks with individuals associated with my campaign
Trump's deputy campaign manager Rick Gates testified that he was in an SUV with Trump while Trump talked to Stone on the phone. After the conversation ended, Trump said that more information was coming from WikiLeaks.
but we should also pay attention to stuff happening overseas
The response to the protests in Hong Kong appears to be escalating. Police stormed a university campus this morning, and last week police shot an unarmed demonstrator. A good overall article on the protests (which have been going on for months now) is "The Hong Kong Protesters Aren't Driven By Hope" in the Atlantic.
---
Interesting Engineering claims that Chilean protesters brought down a police drone by focusing lasers on it. People are trading theories about how that might have happened.
---
Turkish President Recep Tayyip Erdoğan visited the White House Wednesday. He returned the letter Trump sent him in October, the barely literate one where Trump urged him "Don't be a tough guy. Don't be a fool." He showed an anti-Kurdish propaganda video to five Republican senators critical of his Syrian invasion. Turkish government media portrayed the event as Erdogan's triumph over Trump.
In additional to killing many of our former Kurdish allies, Turkey has recently bought an air defense system from Russia. The new system is not compatible with NATO's air defenses. How this got him the White House visit that Ukraine's president can't get is something of a mystery.
---
Remember Trump's boast that Saudi Arabia would "pay cash" for the new US troops posted there? Turns out that his "100%" claim is not strictly true, but you had already guessed that, right?
But letting the details slide a little, we can all see the Trumpian vision: The US military becomes a mercenary force. You want our protection, you pay us.
South Korea is the latest country to get the Trump shakedown. It currently pays about $1 billion annually to defray the cost of maintaining US troops there. Trump is proposing raising that to $5 billion.
Meanwhile, there has been exactly zero progress towards denuclearizing North Korea.
and Stephen Miller
The Southern Poverty Law Center's Hatewatch blog has published excerpts of emails that White House advisor Stephen Miller wrote to editors of the right-wing website Breitbart in 2015 and 2016, when he was working for then-Senator Jeff Sessions. In these emails, Miller was pushing Breitbart to pick up stories and talking points from openly white-supremacist sites like VDARE and American Renaissance.
Hatewatch reviewed more than 900 previously private emails Miller sent to Breitbart editors from March 4, 2015, to June 27, 2016. Miller does not converse along a wide range of topics in the emails. His focus is strikingly narrow – more than 80 percent of the emails Hatewatch reviewed relate to or appear on threads relating to the subjects of race or immigration.
There's a lot more at the link, but I'll just add my interpretation of what was going on: There's a pipeline that flows from neo-Nazi and KKKer sites to the far right end of the widely-read news sources (like Breitbart), then to Fox News, and finally to the mainstream news outlets. In this way, ideas that start in the white supremacist fever swamps (like the "Great Replacement" theory) make their way into mainstream conversation. Miller's job was to help that pipeline flow.
Now that he's in the White House, Miller can do two additional things: (1) influence Trump to transmit white supremacist ideas through his Twitter feed, which mainstream outlets believe they have to cover; and (2) implement white-supremacist policies directly, by simultaneously abusing immigrants who come here without documents and shutting down just about every avenue for legal non-white immigration. [This link to the USA Today seems to have vanished.]
His administration has granted fewer visas, approved fewer refugees, ordered the removal of hundreds of thousands of legal residents whose home countries have been hit by war and natural disasters and pushed Congress to pass laws to dramatically cut the entire legal immigration system.
Many Democrats have called for Miller to resign. But Cas Mudde argues that a Miller resignation won't really change anything, because Miller represents a white-supremacist majority within the Republican Party.
This is why calling for Stephen Miller's resignation wouldn't change much. Neither Miller nor Bannon "made" Trump the white-supremacist-in-chief. And Trump is not the only problem either, as Joe Biden seems to believe. He won the Republican primaries, and presidential elections, not despite white supremacy but because of it. In short, it is time for Democrats to face and name the ugly truth: the Grand Old Party is a party steeped in white supremacy.
The White House is attacking the messenger, calling SPLC "an utterly-discredited, long-debunked far-left smear organization" that is "beneath discussion". But the leaked emails are what they are, and Miller has not denied writing them.
and the Democrats
I keep hearing people make sweeping pronouncements about the Democrats in the presidential race: Biden is doomed; Warren is too liberal to beat Trump; we need new candidates. And so on. Well, I think a lot of things can happen that we haven't foreseen yet, so I'm keeping my powder dry prediction-wise. I continue to believe that at this stage in the campaign, the important thing is to pick somebody you like and think would be a good president. After we get down to three or four candidates who have real support from people who like them and think they would be good presidents, then we can worry about which one we want to see challenge Trump.
Support for my you-never-know position comes from the recent Buttigieg surge in Iowa. Did you see that coming? I didn't. I mean, I love listening to Mayor Pete and admire the crispness of a lot of his answers. But has anything about him really changed in the last two months? On September 15, the RCP polling average had him running fifth in Iowa at 7.5%. Now he's first with 21%, followed by Warren (19%), Biden (16.5%), and Sanders (16%).
Nationally, Biden (26%) is still the front-runner (after a brief blip in early October when Warren was ahead), followed by Warren (20.8%), Sanders (17.8%), and then Buttigieg (8%).
I've previously compared this race to the Republican 2012 contest, where a series of boomlets briefly pushed Romney out of the lead, only to see him go ahead again in a week or two. Again and again, Republicans would get excited about Candidate X, and then look at X more skeptically once X became the frontrunner. (Michele Bachmann? Herman Cain? Rick Perry? Newt Gingrich? Maybe Romney isn't so bad.)
I'm not predicting that Biden definitely weathers all the past and future storms until he gets the nomination, as Romney did. But it's foolish to discount that possibility, or to write other candidates off because they haven't caught fire yet. A lot can still happen, and it's easy to imagine that we know a lot more than we do.
---
One reason waves crest is that other candidates start attacking any new threat. Amy Klobuchar (who is probably competing for a lot of the same Iowa voters Buttigieg targets) pointed out the role sexism plays in the rise (or failure to rise) of inexperienced candidates:
Of the women on the stage — I'm focusing here on my fellow women senators, Sen. (Kamala) Harris, Sen. (Elizabeth) Warren and myself — do I think that we would be standing on that stage if we had the experience that he had? No, I don't. Maybe we're held to a different standard
That's probably true, though it deserves two caveats: First, it's not exactly an argument against Buttigieg; more precisely, it says that we might be overlooking good female candidates who have similar experience levels. Second, being gay has given Buttigieg his own hurdles to jump.
---
Atlantic has a good article about sexism in the coverage of Elizabeth Warren. Both rival candidates and the media are repeating a theme of Warren as an "angry" candidate. Anger is one of those emotions that men are allowed (see Brett Kavanaugh) but women are not.
---
New candidates: Mike Bloomberg is definitely in. And now former Massachusetts Governor Deval Patrick is too.
---
Next debate: day after tomorrow. Ten candidates will be on stage: Biden, Booker, Buttigieg, Gabbard, Harris, Klobuchar, Sanders, Steyer, Warren, and Yang.
and you also might be interested in …
Matt Bevin finally conceded the Kentucky governor's race, after spending a week talking about voting irregularities that he never provided any evidence for. It was the typical Trumpian thing: If I lost, somebody must have cheated.
I feel vindicated in my assessment last week, that the Kentucky legislature's Republican majority wasn't willing to steal the election for Bevin.
---
Saturday, Democrats also won another close governor's race in a red state: Louisiana re-elected John Bel Edwards. Edwards' message was a mixture of liberal and conservative issues: He favors expanding healthcare access and paying teachers more, but is against abortion and gun control.
---
Criminals have to stick together. Trump intervened in three war crimes cases Friday, pardoning one convicted war criminal, another accused and awaiting trial, and restoring the rank of a third.
Retired General Marty Dempsey tweeted in May (when the possible pardons were first floated)
Absent evidence of innocence or injustice the wholesale pardon of US servicemembers accused of war crimes signals our troops and allies that we don't take the Law of Armed Conflict seriously. Bad message. Bad precedent. Abdication of moral responsibility. Risk to us.
In October, Trump took a different view:
We train our boys to be killing machines, then prosecute them when they kill!
If I wore an American uniform, it would bother me that my commander-in-chief thought of me as a "killing machine".
---
Dahlia Lithwick interviews Senator Sheldon Whitehouse of Rhode Island about the partisan nature of John Roberts' Supreme Court.
Take a look at the situation right now. United States Supreme Court justices are selected based on a Federalist Society operative, on his recommendations, while the Federalist Society is taking large amounts of dark money from big donor interests. So there's dark money behind the selection of justices. Then when the selection is made, the confirmation battles for those nominees are fought with dark money. The Judicial Crisis Network took two $17 million–plus contributions, one to push Garland out and Gorsuch in, and one to push Kavanaugh through and onto the court.

There's every likelihood that the donor in those two $17 million contributions was the same donor, which, if that were true, means that somebody paid $35 million–plus to influence the composition of the United States Supreme Court. And we have no idea who that person is and what their interests are before the court.

… Most Americans have no idea that under Chief Justice Roberts, there are 73 of these 5–4 partisan decisions in which there was a big Republican donor interest implicated. And in 73 out of 73, the big Republican donor interest won.
And why can't we trace all that dark money? Well, because of Supreme Court decisions that equate money with speech.
---
Understanding that any legislature will have a few crazies, I try not to get excited about every ridiculous bill that gets introduced somewhere. (Most will vanish in committee and aren't worth your outrage.) But Ohio's "Student Religious Liberties Act" (full text) has passed the House and now moves to the Senate, so it's worth paying attention to.
The bill states that no school authority (there's a long list of them, starting with the local board of education)
shall prohibit a student from engaging in religious expression in the completion of homework, artwork, or other written or oral assignments. Assignment grades and scores shall be calculated using ordinary academic standards of substance and relevance, including any legitimate pedagogical concerns, and shall not penalize or reward a student based on the religious content of a student's work.
So six-day creation, Noah's flood, light speeding up so that distant stars can be visible despite the universe only being 10,000 years old — if that's what your religion says, you can express it on a test and still get an A. Heck, nothing in the bill restricts its scope to specific classes, so if your religion says 2 + 2 = 5, that's an OK answer too.
The bill passed 61-31, with Republicans voting for it 59-0 and Democrats against it 2-31. Maybe the two parties really aren't the same.
---
Planned Parenthood was awarded a $2.2 million settlement in their lawsuit against the Center for Medical Progress, which filmed PP workers secretly and produced a video claiming that PP was illegally selling fetal tissue from abortions.
---
Some parts of the economy are doing better than others. Farmers are suffering from Trump's trade war, and that problem has spread to farm-equipment makers like Deere and Caterpillar, which are cutting production and laying off workers.
---
Yesterday's NYT examined how the Trump tax cut played out for one big corporation: Federal Express. Its tax bill went from $1.5 billion in 2017 to zero in 2018. And did the company pay workers better, increase capital investment, or let that money trickle down in any other way? Not really.
As for capital investments, the company spent less in the 2018 fiscal year than it had projected in December 2017, before the tax law passed. It spent even less in 2019. … This year, the company cut back employee bonuses and has offered buyouts in an effort to reduce labor costs in the face of slowing global growth.
What did happen to the money? It went to stockholders.
FedEx spent more than $2 billion on stock buybacks and dividend increases in the 2019 fiscal year, up from $1.6 billion in 2018, and more than double the amount the company spent on buybacks and dividends in fiscal year 2017.
---
The closing is going to be a fun-fact chart from Our World in Data, but here's an important thing to know from the same source. A lot of times we hear about which countries have the highest carbon emissions. By that measure, China is the worst offender, followed by the US and India. A related question is which countries have the highest per capita carbon emissions, and that list is topped by oil-rich nations that need a lot of air conditioning, like Qatar and Kuwait.
But OWiD has thought this out a little deeper. If a car gets manufactured in, say, Mexico, but is sold to somebody in the US, who is really responsible for that carbon? America, not Mexico. If you track carbon emissions to the ultimate consumer, then the map looks like this:
Again, the hot oil-producers — Saudi Arabia and smaller surrounding countries — are most responsible, but they are closely followed by the US, Canada, and Australia. China is much less of a factor and India barely figures at all.
and let's close with something that's been getting better for a long time
We could all stand to contemplate some good news this week. The Our World in Data website tracks the price of artificial light in the UK since 1300, when you probably would have lighted your book or gameboard or after-sundown project with a candle made from animal fat. A few centuries ago, whether or not an activity was "worth the candle" was a real consideration.