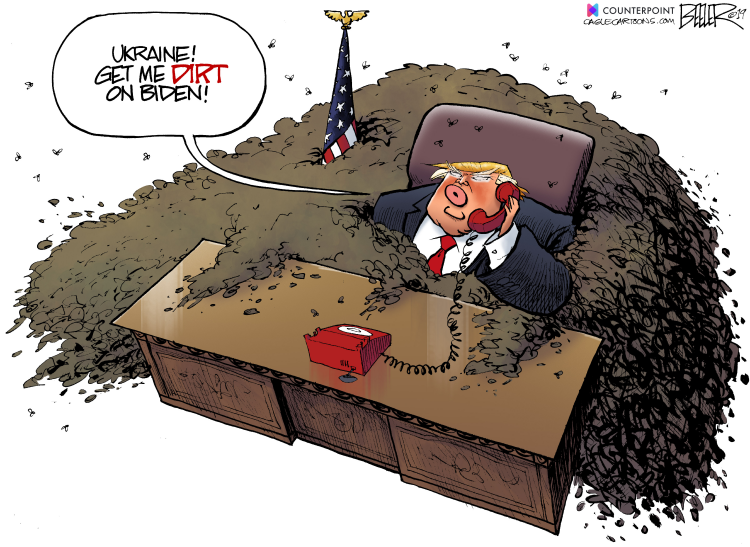 What at first looked like just a phone call has turned out to be a much larger and sleazier operation.
---
When it first broke, the Ukraine story seemed nice and simple: In a call to Ukrainian President Zelensky, Trump strongly implied that if he wanted American military aid, he should dig up (or invent) dirt on Joe Biden — and also investigate some other conspiracy theory involving the DNC server (and "proving" Putin's contention that the Russians didn't really hack it). Unlike the crimes that the Mueller investigation uncovered, it was an easy story to understand, and easy to see why what Trump did was wrong.
Conversely, that simplicity was why Trump supporters didn't think it was an impeachable offense: It was just a phone call. Trump got a couple of weird ideas into his head, and they happened to spill out while he was talking to somebody. The American aid got released eventually anyway, so let's just move on.
I have an analogy that I think sums up their thinking. (As far as I know, none of them actually used it, but it would make sense out of the kinds of things a lot of them said.): A married man gets drunk at a party and makes a move on some pretty girl, who manages to get away from him. Sure, his wife should be upset with him, but it's probably not worth getting a divorce over. Tucker Carlson put it like this:
Donald Trump should not have been on the phone with a foreign head of state encouraging another country to investigate his political opponent, Joe Biden. Some Republicans are trying, but there's no way to spin this as a good idea. Like a lot of things Trump does, it was pretty over-the-top. … The key question with Trump's Ukraine call, though, is whether the president's actions, advisable or not, rise to the level of an impeachable offense. It's hard to argue they do.
In the two weeks that followed the initial revelation, though, we've been finding out that the pressure-Ukraine-for-partisan-favors scheme was way more than just a phone call: In fact, it shaped the whole Ukraine policy of the United States over a period of (at least) months. Our ambassador to Ukraine got recalled because she kept getting in the way. Diplomats up and down the line were rattled about it. Multiple national-security people in the White House were raising their concerns with the White House Counsel's office about Trump's Ukraine call, some even before it happened. Career officials at OMB protested that it was illegal to hold up aid Congress had appropriated, and were overruled by a political appointee.
Rudy Giuliani, who has no government job at all and is just Trump's personal attorney (at least for now), was running a shadow foreign policy, and working with some shady characters to implement it. Two of them were arrested Thursday for funneling foreign money into American political campaigns, including giving $325K to America First Action, a pro-Trump PAC. Rudy himself is reported to be under investigation by the office he used to head: the US Attorney's office of the Southern District of New York. A goal of that scheme (which apparently pulled in Energy Secretary Rick Perry — wittingly or not — as well as various Republican donors) was to try to get their people installed in the management of Ukraine's state gas company, in order to "steer lucrative contracts to companies controlled by Trump allies".
At this point, it's hard to say just how far the wrongdoing goes. And it raises a question: If you drilled this deep anywhere in the Trump administration, would you strike a similar gusher of corruption?
The difficult task of the House Intelligence Committee, as it works towards preparing at least one article of impeachment for the Judiciary Committee, is to give the American people a sense of the depth of the cesspool it has found, while not losing the simplicity of the original story: We have the rough transcript (from the White House itself) of Trump pressuring a foreign leader to interfere in the 2020 elections.
That's not right, and something needs to be done about it. But it's also not all.