We already know how Trump is planning to beat us. Let's go into that battle with open eyes.
---
President 46%. In 2016, Donald Trump was elected president with 46% of the vote, beating a Democrat who got 48%. As he was being inaugurated, he briefly benefited from the wave of hope and goodwill that greets all presidents, and for about two weeks his approval/disproval rating was positive.
He quickly dissipated all that goodwill: He gave his scary "American carnage" inaugural address. We saw the flock of shady billionaires, fossil-fuel industry puppets, and alt-right provocateurs he had appointed to high office. Sean Spicer angrily told us that we didn't really see all that empty space on the National Mall during Trump's inauguration, and Kellyanne Conway coined the phrase "alternative facts". Then Mike Flynn resigned under a cloud that had something to do with lies about Russia, the Trump family kept openly profiting from his presidency, and by April his approval was below 40%. It has fluctuated in a 37%-43% range ever since.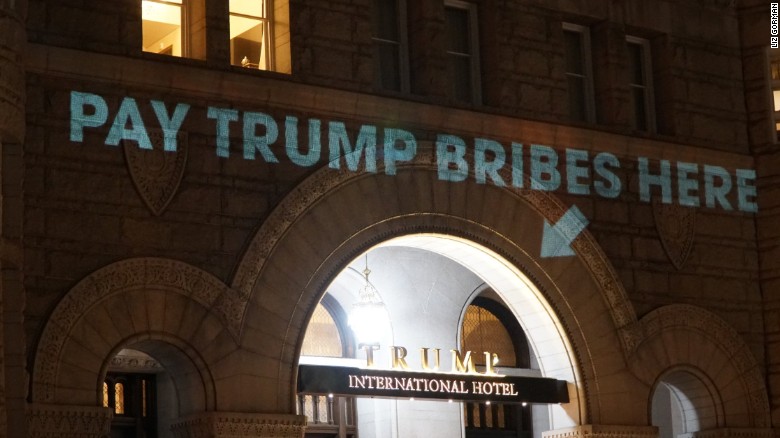 Whatever he says or does, or how well or badly things are going, that's how much support he has. The unemployment rate hits record lows and the stock market record highs, but he can't get over 43%. He all but kneels to Vladimir Putin, refers to Nazis as "very fine people", puts kids in cages, and is identified in as a conspirator in a crime Michael Cohen has already been sentenced to prison for, but he doesn't go under 37%.
There's a good reason for that narrow range: Unlike all previous presidents (at least since World War II; I'm kind of hazy on the presidents before FDR), Trump continues to serve up the rhetoric his base wants to hear, and doesn't even try to speak to the nation as a whole. Most of the things he says are easily recognized as false or nonsensical as soon as you leave the Fox News bubble. (The Washington Post fact-checker estimates that during 2018 Trump averaged 15 false or misleading statements per day.) But inside that bubble, he is a prophet; he says the (untrue) things that no other president has ever had the courage to say. Every bad claim people amke about him originates from a conspiracy between the Deep State and the Fake News Media, who are "enemies of the American people".
Unlike, say, Bill Clinton reforming welfare, George W. Bush working with Ted Kennedy on education policy, or Barack Obama offering a "grand bargain" on the federal deficit to John Boehner, Trump has never given Democratic leaders the slightest reason to hope that they might achieve their goals by working with him. Every gesture towards compromise — like the DACA-for-Wall deal Trump said he wanted or the job-creating infrastructure bill he promised — turns out to be a mirage that evaporates in the light of day. Fundamentally, Trump doesn't accept the premise of a win/win outcome; in order for him to believe he has won, his opponents have to lose.
Even worse, he seems to take joy in trolling groups that oppose him. He never misses an opportunity to smear Latino immigrants. He makes up derogatory nicknames (like "Pocahontas" or "Cryin' Chuck") for U.S. senators. Whenever he needs to rile up the racists in his base, he picks a fight with some black celebrity like LeBron James or Spike Lee. (Try to remember any previous president of either party trading insults with a celebrity outside of politics, no matter what opinions they expressed.) He refers to black-majority nations as "shithole countries", and contrasts them with countries he'd like more immigrants from, like Norway. He encourages police to be more violent with suspects.
So how does Trump plan to win? That kind of behavior raises an obvious question: How does Trump think he's going to get re-elected? Something like a third of the country may worship him. (Literally. It's not uncommon to run across people saying that Trump was chosen by God to be president.) They may indeed be so devoted that they don't care if he stands "in the middle of 5th Avenue and shoots someone", much less if he violates campaign finance laws or commits bank fraud or is a ventriloquist's dummy for Putin.
But how do you win an election if you don't do anything to grow a base that's barely more than a third of the country?
Answer — the same way he did in 2016. Eezy-peezy: Rile up your third of the country so that they're sure to vote (and depress the rest of it so that they're not), making them maybe 40% of the electorate. Get another 6% to hold their nose and vote for you because they're scared of your opponent. Encourage (maybe with some social-media help from Russia) 5% or so to vote for third-party candidates who have no chance to take any of your states. (Howard Schultz has already volunteered for that role.) Then count on the Electoral College to install you in office even though your opponent has more votes.
That would sound like one of the Brain's plans to take over the world, if we hadn't just seen it work.
Let's not get fooled again. If you know the trap your enemy is setting, the obvious counter-strategy is to refuse to walk into it. Since the trap is two-pronged (motivate his voters, depress and split ours) we should look for two things in a potential Democratic challenger:
Someone who raises progressive enthusiasm, so that marginal Democratic voters (especially non-whites and young people) are drawn to the polls.
Someone who doesn't scare Republican voters outside Trump's base (especially educated suburbanites and moderates) into supporting him.
The problem: While those two are not directly contradictory, they do generally point in opposite directions. A candidate with sweeping progressive proposals (like Bernie Sanders) tends to scare the Right, while a "safer" candidate (like Joe Biden) may leave low-motivation voters wondering why they should bother.
Moving either way increases the third-party threat. In 2016, Jill Stein got votes from people who would have voted Democratic if Bernie had been the nominee. But Schultz has openly said that his motivation to run as a "centrist" arises from fear of Democrats nominating a progressive like Sanders or Elizabeth Warren.
Trumpists are preparing for either possibility. You can bet that any moderate candidate will face the same kinds of attacks "Crooked Hillary" did: He or she is a tool of the powerful special interests that are threatened by Trump's attack on the Deep State. But CPAC (over the weekend) was a testing ground for attacks on progressives: They want to turn the US into Venezuela and even take away your hamburgers. The Green New Deal, Trump summed up, means "No planes. No energy. When the wind stops blowing, that's the end of your electric."
Any Trump challenger will face personal attacks that make him or her seem uniquely horrible. ("I mean, I don't like him either, but couldn't the Democrats have picked somebody else?") It doesn't really matter that the charges be true, only that they take time to refute. We've already seen this with Warren and the Native American issue. (Lots of people are convinced she made up her native ancestor in order to take advantage of affirmative action. There is zero evidence for this, but the issue never goes away.)
I think progressives underestimate the effectiveness of this kind of stuff, largely because Bernie never had to face it in 2016. (Republicans were counting on him to wound Hillary, so they mostly laid off of him, portraying him as a good guy with some wacky notions. Trump would occasionally cry some crocodile tears about the raw deal Bernie was getting.) It's a mistake to draw the conclusion that Bernie was shielded by his fine moral character. Anyone can be lied about, and it's usually not that hard to find some factual foundation to build a lie on. In a sufficiently large cloud of lies, the many absurd charges (think Pizzagate) can seem to support each other. ("I don't know. It just seems like there's something wrong there.")
Don't help him. The most important thing Democrats can do is to avoid slandering their front-runners. We need to make sure that candidates have answers for any serious questions that are bound to come up eventually, but attacks on a candidate's fundamental honesty and decency shouldn't be tossed around lightly.
So it's fine to ask why Amy Klobuchar doesn't support Medicare-for-All, but not to jump to the conclusion that she's a tool of the insurance companies (unless you really know something). It's fine to wonder how Bernie will pay for his proposals, but not to accuse him of trying to turn the US into Cuba.
And I don't want to hear about how Kamala Harris isn't black enough, or that Kirsten Gillibrand doesn't know how to eat chicken. We'll get enough of that kind of BS in the general-election campaign. We don't need to start it now.
Can anybody thread the needle? The most successful Democratic campaigns of the Trump era have somehow managed to split the difference. Doug Jones won an unlikely senate seat in Alabama by avoiding progressive positions like Medicare-for-All, but the very thought of a Democrat beating Roy Moore inspired high turnout in Alabama's black neighborhoods. Beto O'Rourke ran a surprisingly close race in Texas by creating an exciting progressive image without taking many progressive stands on the issues. That is also the path Obama took in his 2008 landslide. Obama himself was the excitement, not a revolutionary platform.
Texas and Alabama are both in the South, where a Democratic presidential nominee will only win as part of a national landslide. So I don't think those races should define the limits of acceptable positions. But I think each issue needs to be weighed on the inspiration/fright scale. Reparations for slavery, for example, is a trap issue for Democrats. No one really believes the next president can get a reparations bill passed — and I don't even know of a plausible reparations proposal — so I doubt the issue will inspire new support. But it will scare a lot of white people and lend itself to exaggerated charges.
At the moment, things look relatively good. The latest poll has Trump trailing a generic Democrat by 48%-41%. But of course, many polls showed even larger leads for Clinton at some point or another. That 7-point lead comes before the actual nominee either raises enthusiasm or gets torn down. It also comes before the Mueller report appears, and before investigations in the House nail down charges that Trump supporters have been able to wave away so far. There's a strong chance of a recession beginning before the election, and who can guess what foreign crises will erupt between then and now?
The idea that 41% of the public might be able to look at the last two years and say, "I want more of that" is both scary and mind-boggling. But that's the world we live in. Trump has about that much support and always has. He's going to try to win again without building that base, and we know exactly how he's going to try to do it. No matter what happens in the internal dynamics of our own process, we can't ever lose sight of that.