He's changed his demand from time to time and he's changed the amount of money he's asking for dramatically from 2 billion to 5 billion to 11 billion to 25 billion even to 70 billion dollars. And when we asked for specifics, how are you going to spend this money? What are you going to do with it? He basically says we'll shut down the government till you agree on it.
This week's featured post is "Are powerful women likable?"
This week everybody was talking about the new Congress
The Congress that we elected in November took office on Thursday. This Congress isn't just philosophically different from the previous one, it's visually different. Here, the gavel passes from a blue suit to a red dress.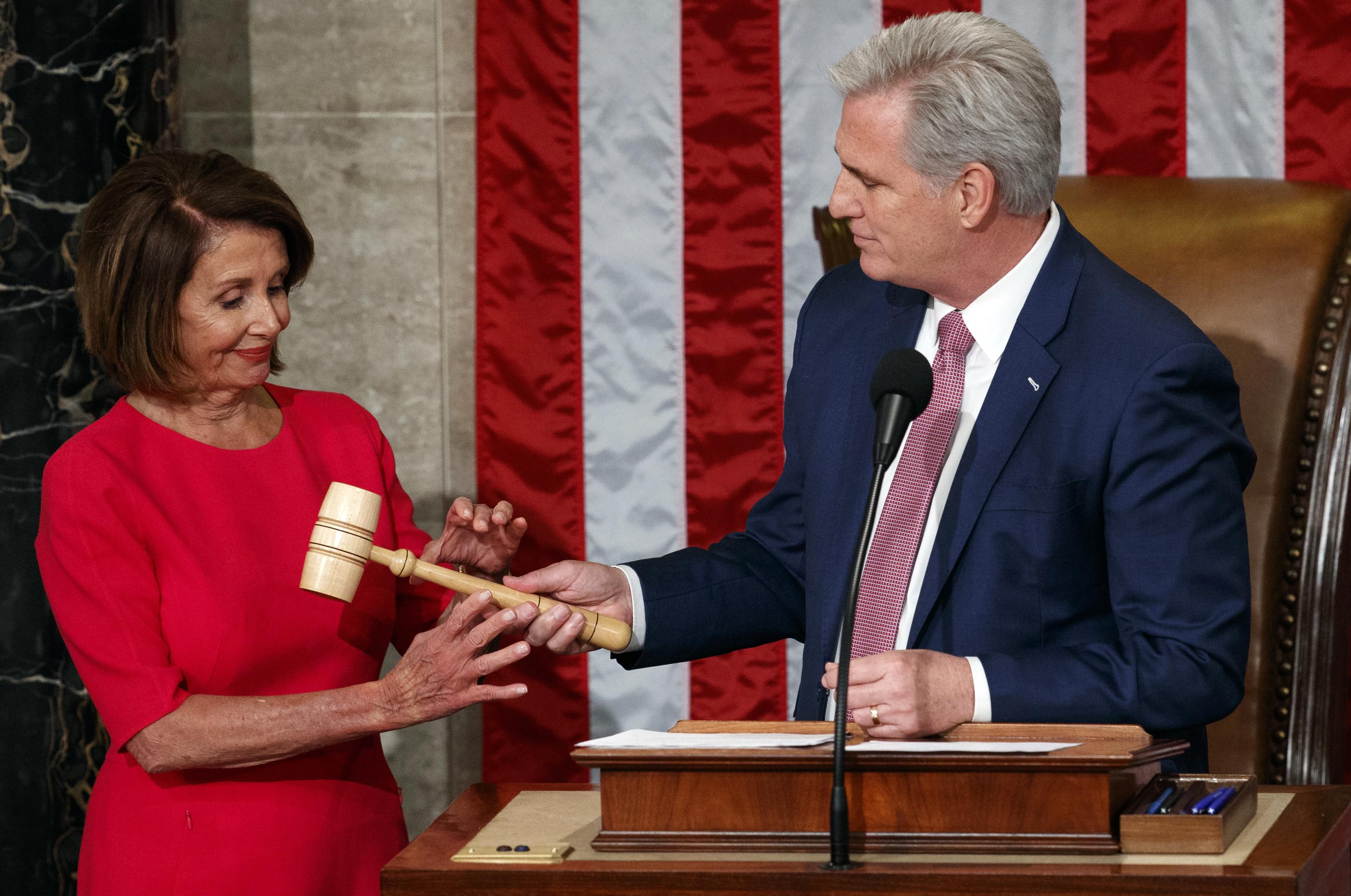 And Mike Pence swears in new Arizona Senator Kyrsten Sinema.
At her request, she is being sworn on a law book that contains the Constitution, rather than on a religious text. (President John Quincy Adams did the same thing in 1825.) She's the first openly bisexual member of the Senate, and she's exercising her right to bare arms. Meanwhile, Rashida Tlaib, who (along with Ilhan Omar) is the first Muslim women to enter Congress, was sworn in on Thomas Jefferson's Quran, provoking sputtering rage from Christian bigots.
Who can forget this photo of the Republican interns of the last Congress.
There is a woman of color back there somewhere, but finding her is a where's-Waldo exercise. Meanwhile, here's just a part of the class photo for the House's entering freshman members this year. Not interns, members.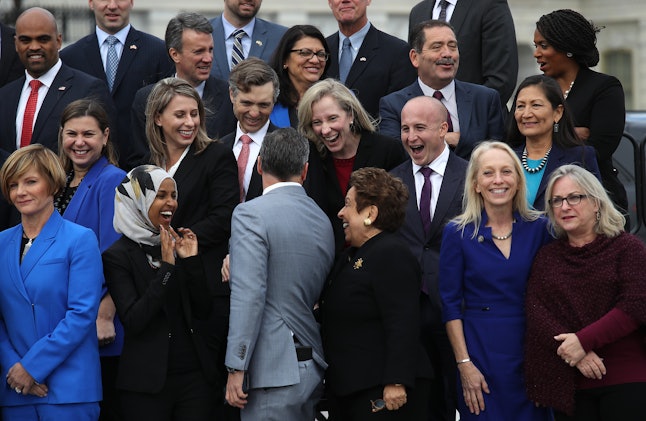 The new Congress makes the country's political situation clear at a glance: There is one party that wants to preserve the white Christian patriarchy, and another party for everybody else. The Everybody Else Party just came to power in the House.
---
In addition to voting to reopen the government, House Democrats introduced HR 1, an anti-corruption bill. Its three planks address campaign finance (including a 6-to-1 government matching for small donations to candidates who agree not to take large donations and a requirement that SuperPACS disclose their donors), government ethics (including requiring presidential candidates to disclose their last ten years of tax returns), and voting rights (opt-out voter registration, election day becomes a holiday, plus anti-gerrymandering, and anti-voter suppression measures).
For contrast, think about just how badly Trump has done with his promise to "drain the swamp": The Secretary of Defense is from Boeing. The Treasury Secretary is from Goldman Sachs. The Attorney General ran a dark-money operation. The Interior Secretary is an oil lobbyist. The Commerce Secretary "could rank among the biggest grifters in American history". The Labor Secretary arranged a sweetheart plea deal to keep a rich child predator out of jail. The HHS Secretary is from Eli Lilly. The HUD Secretary spent lavishly on his office furniture and hasn't done much else. The Education Secretary is a champion of for-profit colleges and has invested in student-debt collection companies. The EPA Director is a coal lobbyist.
---
BTW, Rashida Tlaib also made headlines by telling a group of Move On supporters that "Bullies don't win" because "we're going to impeach the motherfucker."
Conservatives were apoplectic about this violation of political decorum, to which I reply, "Oh, now you have standards."
But my my policy on this blog is that until Robert Mueller provides clear evidence that Trump had carnal relations with his mother, calling him a motherfucker is premature. I will restrain myself.
and the shutdown and the Wall
On its first day, the House passed bills to fund the government through the end of the fiscal year, except for the Department of Homeland Security, which got a continuing resolution through Feb. 8, with no funding for Trump's Wall. The funding is on the same terms that the Senate passed by acclamation before Christmas, but now Mitch McConnell is refusing to bring it up for a vote.
What this makes clear is that, under McConnell and Trump, the Senate is no longer an independent institution. The Republican majority is under Trump's thumb, so as long as he's not happy, the Senate won't pass anything. McConnell isn't even involved in trying to negotiate a solution.
For his part, Trump continues to lie about the Wall and why Democrats might oppose it. No, it's not because we want open borders and it's not because we want to deny him a "win". It's because the Wall is a stupid idea, as congressmen who have represented border areas know. Democrat Beto O'Rourke tweeted this video. Republican Rep. Will Hurd said, "Building a 30 foot high concrete structure from sea to shining sea is the most expensive and least effective way to do border security." He also described the $5 billion Trump wants for the Wall as "a random number".
A 2000-mile border wall didn't arise in border-security circles, it was just a line that made Trump's crowds cheer. It's still not much more than that, which is why Trump can change the height or material from one tweet to the next. Nobody would ever appropriate billions for "a dam" or "a highway" without any more detail than that, but taxpayers are supposed to pony up $5.6 billion as a downpayment on "a wall" whose future costs are unknowable.
In late December, Chief of Staff John Kelly said:
The president still says 'wall' — oftentimes, frankly, he'll say 'barrier' or 'fencing.' Now he's tended toward steel slats. But we left a solid concrete wall early on in the administration when we asked people what they needed and where they needed it.
In other words, they discovered that real border-security people had no use for the make-crowds-cheer idea. Lindsey Graham has described the Wall as "a metaphor for border security". Does that sound like a plan to you? Would you vote to spend billions on a bridge, knowing that it might just be "a metaphor for crossing water"?
---
BTW, with so few details about how the wall money would be spent, what assurance do we have that a chunk of it won't wind up in Trump's pocket?
---
Many pundits are predicting that a Wall-for-DACA deal is what will end the shutdown. But Trump turned such a deal last year and isn't offering it now.
Trump doesn't appear to be offering Democrats much of anything, preferring to pile on threats. (Mainly, he's offering to mitigate some of the suffering he has caused at the border, as if partially undoing a negative were a positive.) Recently he's been claiming he can declare a national emergency and build the wall without congressional appropriations. If he tries, that actually would be a national emergency: a tyrannical abuse of power.
Last June, I wrote down my thinking about impeachment, precisely to avoid the temptation to reshape my interpretation of "impeachable offense" to match whatever Trump did or Mueller found. My fourth justification for impeachment was "Congress has no other way to protect itself or the judiciary from presidential encroachment." That would be the case here: If Trump tries to build his wall without Congress, in my mind that would be an impeachable offense.
I still don't see how this shutdown ends, unless Republicans in the Senate start defecting. That could take months, during which people will get evicted from government-subsidized housing, unpaid TSA employees will stop showing up to work, and the IRS will stop issuing tax refunds.
and Mitt Romney
The commentariat got very excited by Mitt Romney's op-ed in Wednesday's Washington Post. Just before entering the Senate, Mitt actually criticized President Trump. He followed up with an interview with CNN's Jake Tapper.
To a great degree, a presidency shapes the public character of the nation. A president should unite us and inspire us to follow "our better angels." A president should demonstrate the essential qualities of honesty and integrity, and elevate the national discourse with comity and mutual respect. As a nation, we have been blessed with presidents who have called on the greatness of the American spirit. With the nation so divided, resentful and angry, presidential leadership in qualities of character is indispensable. And it is in this province where the incumbent's shortfall has been most glaring.
Well, good for him, but I'm not too excited yet. It's good to know that all Republican criticism of Trump in the Senate didn't end when Bob Corker and Jeff Flake left. But while they might occasionally speak out, Corker and Flake seldom did much to get in Trump's way. Will Romney? It's not clear.
If the Mueller Report ends up containing as much evidence of impeachable offenses as I suspect it will, most likely Trump will act out somehow and we'll find ourselves in a constitutional crisis. The question then will be whether Republicans in Congress stand up the way that Barry Goldwater stood up to President Nixon in 1974. Does Romney have that in him? History will want to know.
but you should pay attention to …
In The Atlantic, Elizabeth Goitein examines the various emergency powers Congress has granted the President over the years, and how a president with authoritarian tendencies might take advantage of them. It's a scary list of stuff, and the article ends with a fantasy of how Trump could use emergency powers to hang on to the presidency. Ultimately, the only defense against this kind of action is if key actors up and down the line refuse to cooperate.
and you also might be interested in …
Climate change can be mapped in a variety of ways. The tropical zone is advancing 30 miles a decade. The boundary between the humid Eastern U.S. and the dry Western U.S. has shifted 140 miles to the east since 1980. Plant hardiness zones in the U.S. are moving north at more than a mile a year.
---
The Guardian has a worthwhile article on exercise. The basic problem is that humans evolved to have active lives, but in modern society most of us have inactive lives. Sit-all-day-and-then-go-to-the-gym is better than just sitting all day, but it's not a perfect fix either.
In my conversation with [longevity researcher Gianni] Pes, he repeatedly stressed that while diet and environment are important components of longevity, being sedentary is the enemy, and sustained, low-level activity is the key that research by him and others has uncovered: not the intense kinds of activity we tend to associate with exercise, but energy expended throughout the day. The supercentenarians [110-year-olds] he has worked with all walked several miles each day throughout their working lives. They never spent much time, if any, seated at desks.
And it's not just the sitting:
He discovered one group of women who had spent their working lives seated, but nonetheless reached a great age. They had been working treadles (pedal-powered sewing machines), which meant they had regularly burned sufficient calories to derive the longevity benefits of remaining active.
What we really need is to make our daily lives active.
What is needed are the kinds of strategies that would make exercise unnecessary. Urban planning that better addresses the outdoor experience and encourages movement would be a key part of this change. But on an individual level, we can think about returning a little of the friction that technology has so subtly smoothed out for us, and make it easy to get things done. Exercise becomes physical activity when it is part of your daily life.
and let's close with something incongruous
Sadly, video of Claire Foy's performance of "Rapper's Delight" on Jimmy Fallon's show is no longer available. But Sandra Bullock's version from 2013 is still up.