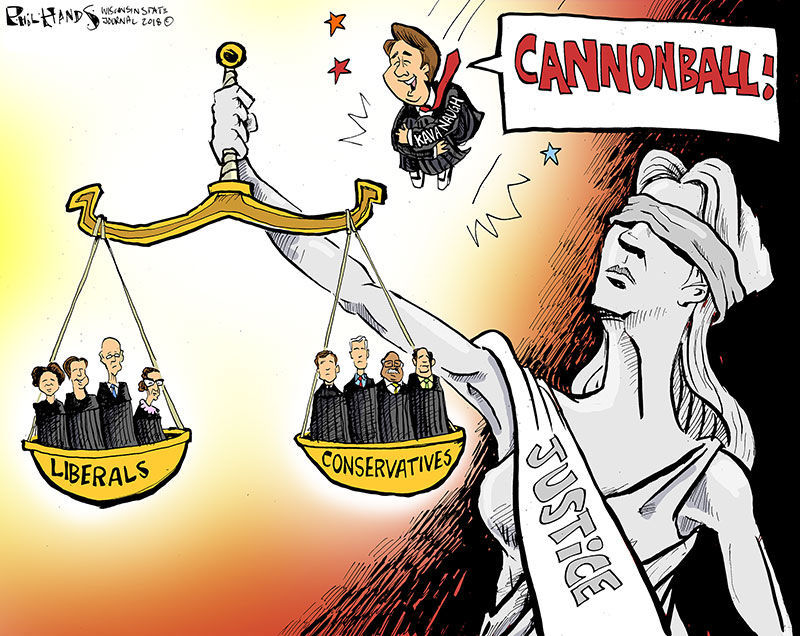 Monday night, Trump named his second Supreme Court nominee: Brett Kavanaugh.
Immediately, legal and political pundits began speculating on how Kavanaugh's appointment, if the Senate approves it, would affect abortion rights. Will Kavanaugh be the fifth vote to reverse Roe v Wade, allowing either states or the federal government to make abortion illegal? Or could he perhaps gut Roe while leaving it technically valid, perhaps by letting states regulate abortion in ways that make it practically unavailable, even if still theoretically legal? Or does he really believe in the principal of stare decisis, in which the Court leaves a precedent in place unless it proves unworkable?
Important as that issue is, it would be a shame if it sucked all the oxygen out of the room, leaving no space for discussion of the other implications of Kavanaugh joining the Court. Let's look at a few of those issues.
Partisanship. One of the worst developments for the Supreme Court as an institution over the last two decades is the loss of its non-partisan image. Beginning with Bush v Gore in 2000, and going on through Citizens United (which destroyed campaign finance controls) and Shelby County (which gutted the Voting Rights Act), the public has gotten used to the idea that judges represent the party that appointed them. What the laws or the Constitution says is less important than which party a decision would benefit.
Kavanaugh is not going to improve that image. He first came to public attention as a main author of the Starr Report. While ostensibly non-partisan, the investigation into President Clinton lead by Kenneth Starr was transparently political. (Anyone who thinks the Mueller investigation is a "partisan witch hunt" has amnesia. Unlike the Mueller probe, Starr's investigators regularly leaked damaging information to the press and timed their official announcements for maximum political effect. The Starr Report was written to be as sexually scurrilous as possible. Impeachment was a dim fantasy at that point, but at least the report could do political damage to the Clinton administration and embarrass Clinton personally.)
He subsequently was a lawyer for the Bush campaign during Bush v Gore, and then worked for Bush's White House Counsel Alberto Gonzalez. His wife has worked for the George W. Bush Library Foundation.
If you wanted to give him the benefit of the doubt, you could imagine that he was sprinkled with non-partisan fairy dust when he became a judge. However, you have to wonder about one of the first things out of his mouth after Trump appointed him.
No president has ever consulted more widely, or talked with more people from more backgrounds, to seek input about a Supreme Court nomination
This claim is transparently, outrageously false: Trump limited himself to a list of judges given to him by Federalist Society Executive-Vice-President-on-leave Leonard Leo. By some accounts, appointing Kavanaugh was part of the deal that got Justice Kennedy to retire. There's no reason to believe that anyone other than Leo, Kennedy, and Trump had anything to do with this decision. Quite likely, then, no president has ever consulted so narrowly or sought less input from fewer people about a Supreme Court nomination.
So Kavanaugh's very first claim after being nominated was a pants-on-fire lie to flatter the president who appointed him. Former Senator Al Franken was blunt:
It's just a totally made-up assertion that is exactly the opposite of the truth, flowing out of the mouth of a committed partisan who doesn't care that it's false…. [I]t's critical to recognize that the very first thing he did as a Supreme Court nominee was to parrot a false, partisan talking point. Of course that's what he did. Advancing the goals of the Republican Party and the conservative movement is what he's there to do.
Workers and corporations. In the Confined Space blog, Jordan Barab examines Kavanaugh's cavalier approach to worker safety, citing his dissent in a case in which OSHA fined Sea World for neglecting safety issues in a way that led to a trainer's dismemberment by a killer whale.
Kavanaugh's dissent drips with hostility toward OSHA and a basic misunderstanding of the act and the principles — and law — behind it. … Kavanaugh's idea of making America great again apparently hearkens back to a time before the Workers Compensation laws and the Occupational Safety and Health Act were passed. Back then employers who maimed or killed workers often escaped legal responsibility by arguing that the employee had "assumed" the risk when he or she took the job and the employer therefore had no responsibility to make the job safer.
The Atlantic's Ronald Brownstein focuses on Kavanaugh's pro-corporate views.
While Kavanaugh's record offers few clues about his view on the 1973 Roe v. Wade decision that legalized abortion nationwide, he has demonstrated an unequivocal skepticism about federal regulation of business. Jennifer Mascott, a former Kavanaugh law clerk and an assistant professor at George Mason University's law school, recently wrote that, "Even during this era of generous judicial deference to administrative agencies, Judge Kavanaugh has written 40 opinions finding agency action to be unlawful and joined majority opinions reversing agency action in at least 35 additional cases."
Brownstein pictures a return to the Lochner Era, when the Court routinely invalidated state and federal laws that tried to establish a minimum wage or a limited work-week or workplace-safety rules. (A sharper name might be the Triangle Shirtwaist Era.)
Executive power. From his attitude towards regulation, you might imagine that Kavanaugh has a libertarian streak and is likely to oppose government power across the board. But not so: He takes a very expansive view of presidential war powers. Remember, he was part of the Bush administration when it claimed the power to jail American citizens without charges and torture prisoners. (I don't know of any point where he publicly expressed an opinion about those issues, but he clearly had no problem continuing to serve.)
Steven Vladeck of the Just Security blog writes in The Washington Post about Kavanaugh's deference to presidential power:
Kavanaugh's many opinions concerning Guantanamo and related matters make it crystal clear that his confirmation would make the court far more deferential to the president's exercise of aggressive war powers, would diminish the long – standing role of international law as a means of shaping executive authority and understanding congressional authorizations , and would more generally weaken the role of the courts as a check on the political branches in this profoundly important area of law.
Like Bush, Kavanaugh believes in the unitary executive theory, that all executive functions of the government should be under direct presidential control. In particular, Congress should not be able to establish semi-independent entities like the Consumer Financial Protection Bureau, whose director can only be fired for cause. If Congress would attempt to insulate Special Counsel Robert Mueller from Trump's interference, Kavanaugh would probably find that unconstitutional.
Legal theory. The Mascott's blog post Brownstein quoted is worth reading in full, as it spells out what a Kavanaugh protege admires about him. She talks a great deal about Kavanaugh's "deeply rooted interpretive philosophy built on interpreting law in accordance with the statutory text and the meaning of the text of the Constitution", a position which she traces back to Justice Scalia.
I usually dismiss this kind of talk as meaningless rhetoric, because it's based on a straw man fallacy: Who exactly are these judges who advocate ignoring the text of the laws and the Constitution? I have never heard a judge at any level say "The law says X but I believe Y, so I'm going to rule Y." The dispute is never about whether to read the text of the law, but how.
(For contrast, look at Justice Souter's 2010 Harvard commencement speech. Mere textual interpretation is insufficient, Souter said, because the Constitution's "language grants and guarantees many good things, and good things that compete with each other and can never all be realized, all together, all at once." Cases where the text is clear and just needs to be applied "do not usually come to court, or at least the Supreme Court." Moreover, often concepts from other centuries can only be applied today by doing some kind of interpretation-after-the-fact: How, for example, should the word "arms" in the Second Amendment be applied to weapons radically different from anything that existed in the 18th century? James Madison surely was not picturing a shoulder-fired missile capable of taking down an airliner.)
But Mascott's account does underline one thing for me: Like the Court's other conservative justices, Kavanaugh will ignore precedent when it suits him, as, for example, Justice Scalia did when he invented an individual right to bear arms in his Heller decision. The process is simple, given Scalia's (and Kavanaugh's) text-interpretation method: You go back to the original text with a period-of-authorship dictionary, as if previous courts had never considered what the text-as-a-whole means. Decompose sentences into their constituent words, interpret them one-by-one, and then reassemble them into a meaning that no previous court has seen, and that the original authors quite possibly never imagined.
Unenumerated rights. Mascott quotes a Kavanaugh article (that none of her links go to and I haven't been able to google up) agreeing with Justice Scalia's interpretive theory:
In constitutional disputes, Justice Scalia recognized that the courts have an essential role in aggressively protecting the individual rights actually spelled out in the Constitution. … But on the flip side, courts have no legitimate role, Justice Scalia would say, in creating new rights not spelled out in the Constitution. On those issues, he believed in complete deference to the political branches and the states.
(Except for corporate rights, of course, which are not mentioned anywhere in the Constitution, but were consistently upheld by Scalia and presumably will be by Kavanaugh as well.)
In particular, Kavanaugh seems likely to demand a clear text stating any individual rights he doesn't approve of, like the right to privacy that Roe is based on. In a speech to the American Enterprise Institute last September, he praised Justice Rehnquist's dissent in Roe v Wade, and his attitude towards "unenumerated rights" in general:
Rehnquist's dissenting opinion did not suggest that the Constitution protected no rights other than those enumerated in the text of the Bill of Rights. But he stated that under the Court's precedents, any such unenumerated right had to be rooted in the traditions [and] conscience of our people. Given the prevalence of abortion regulations both historically and at the time, Rehnquist said he could not reach such a conclusion about abortion.
Given that view, it's hard to see how Kavanaugh could not reverse Roe, or the Obergfell decision finding a right for same-sex couples to marry. If people at the time were not applying their principles to such issues, how can we apply them now, even if they clearly do apply?
You have to wonder how far back Kavanaugh is willing to take that objection. I doubt, for example, that most of the congressmen and state legislators who voted for the 14th Amendment believed that "the equal protection of the laws" mandated racially integrated schools, as the Supreme Court unanimously ruled in Brown v Board of Education in 1954. Given the prevalence of segregated schools "both historically and at the time" of the 14th Amendment, Brown would be hard to justify.