Go home, 2018. You're drunk.
— Jake Tapper, responding to the revelation
that Michael Cohen's mysterious third client is Sean Hannity
This week's featured posts are "Comey's Book" (For a guy who has spent most of his life chasing criminals, James Comey is an excellent writer.) and "Flipping the Script on Fossil Fuels". (As sustainable-energy technologies improve, it's now the fossil-fuel defenders who stand against economic progress.)
This week everybody was talking about North Korea
In anticipation of the Trump/Kim summit that is supposed to happen sometime in May or June, the North Korean government made some encouraging announcements:
These included a declaration that North Korea was satisfied with its existing nuclear warhead designs, and that it had discontinued all nuclear and intercontinental-range ballistic missile (ICBM) tests and closed its nuclear test site at Punggye Ri. Kim also announced that North Korea would suspend nuclear testing, and reiterated his commitment not to use nuclear weapons "unless there is [a] nuclear threat," and to stop the proliferation of nuclear technology.
However, there's a little less here than meets the eye, as The Atlantic's Adam Mount and Ankit Panda go on to explain. Trump seems to think that "they have agreed to denuclearization", which they haven't.
While Kim did say that Pyongyang supported the vision of "global disarmament," this is a common trope in North Korean propaganda and suggests that North Korea will soon call for tit-for-tat arms control with the United States.
In other words, if Trump asks Kim to give up all his nuclear weapons, the answer may be: "I will if you will." From North Korea's point of view, the point of this summit meeting is to showcase Kim and Trump as equals. Kim isn't going to submit to an unequal deal.
There are a number of ways around the pledges Kim just made, some of which North Korea has used to dodge past agreements. So while the recent announcements should be seen as a good sign, they shouldn't be read as more than that.
the United States cannot accept these measures as a victory—they're a starting point for forging a verifiable cap on Pyongyang's arsenal. A hard cap can keep America and its allies safer while Trump negotiates a more comprehensive agreement—something that can only happen if the president does not give in to overconfidence and optimism.
and kids protesting against guns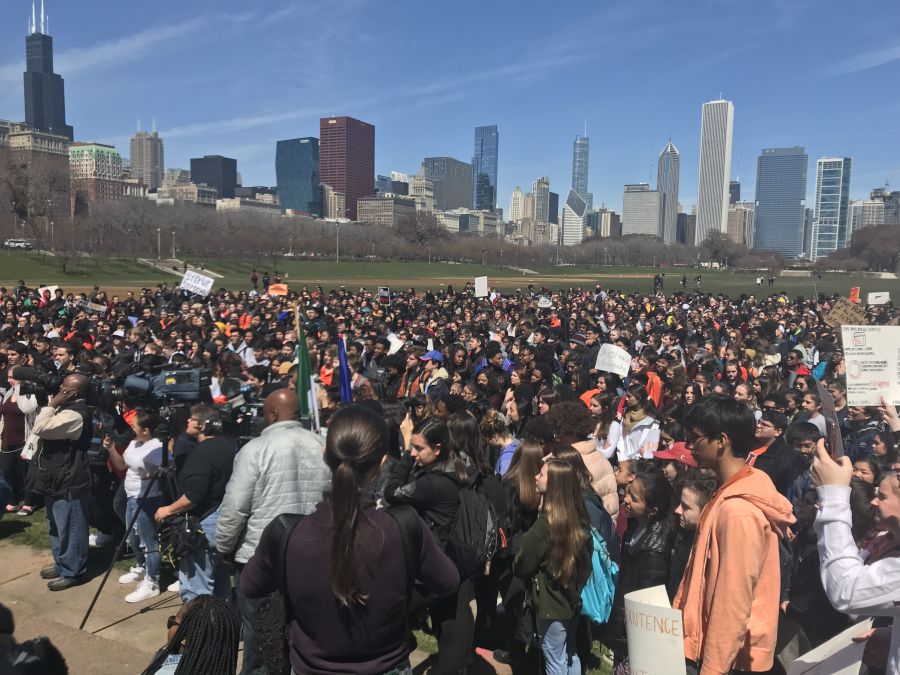 One of the hardest tasks in political organizing is to turn a protest into a protest movement. Something happens and people want to express themselves, so a bunch of them show up for a demonstration. But what happens then? How does that momentary outrage turn into the kind of persistent force that politicians have to recognize and respond to? (More on that next week.)
That's the challenge faced by the students who became gun-control activists after the Parkland school shooting on Valentine's Day. They promoted a national school walkout to mark the one-month anniversary on March 14, and then held the massive March for Our Lives rally in Washington, DC (with mirror rallies around the country) on March 24.
Friday was another school walkout, this time to mark the anniversary of the Columbine shooting. I haven't found any estimate of how the number of students participating compared to the March 14 walkout, but the amount of media attention definitely seemed down. This summer, I think, will be key. Will they keep their momentum, or will this all be a memory by the time schools starts again in the fall?
---
I remembered Jake Tapper's "Go home, 2018. You're drunk." when I saw the headline "Naked Gunman Kills 4 in Waffle House Shooting". But it wasn't a joke.
A man wearing only a green jacket shot three people dead at a Waffle House. One person later died at a hospital where two others are being treated for injuries. Police say the suspect fled on foot, and is still on the loose.
The reason more people aren't dead is that an unarmed bystander — a good guy without a gun — took action.
When the shooting momentarily stopped, a Waffle House customer took advantage of the moment. James Shaw Jr. told reporters, "At that time I made up my mind … that he was going to have to work to kill me. When the gun jammed or whatever happened, I hit him with the swivel door." Shaw then wrestled the gun away, and threw it behind the counter — prompting the gunman to leave.
---
There's a perverse effect through which every mass-shooting story causes more people to say, "I need a gun to protect myself." It's hard to figure out how to counter that, because (even though violent crime of all sorts has been falling for decades), you never read a story saying "Everybody in Our Town was Safe Today".
Except this one: The 75th precinct in East New York "regularly logged more than 100 murders a year" during the 1990s. Last year there were 11, and none so far in 2018.
Sometimes such turnarounds happen because the underlying population changes. The neighborhood suddenly becomes fashionable and a bunch of rich people move in, pushing the previous residents out. But that doesn't seem to be the case here.
those kinds of changes have been slow to reach more distant places like East New York, a predominantly black and Latino neighborhood that still struggles with severe poverty and leads the city in robberies this year.
and Barbara Bush
Barbara Bush died Tuesday at the age of 92. She was the matriarch of the Bush clan, wife of the first President Bush and mother of the second. She was First Lady from 1989 to 1993.
Most of the respect and attention her life received this week was due to its own merits. The Wife-and-Mother-of-Presidents Club, after all, includes only Barbara Bush and Abigail Adams. (If you happen across a little girl named, say, Cynthia Collins, you might want to keep an eye on her.) But I think it also reflects nostalgia for an era not so long ago, when public life had a dignity it now conspicuously lacks, and when we expected our leaders to exemplify values we aspire to.
Barbara and George were married for 73 years, and have now been parted in the way their vows anticipated, by death. To a large extent, it's impossible to see inside other people's marriages, even those of your close friends. Marriages of public figures may be very different than they appear from the outside. But everything we do know about the Bushes points to a relationship of deep mutual respect.
The Bush marriage was a traditional one. Barbara left Smith College when she became a wife, and never developed a resume of her own, or sought a career outside the home as George rose through a series of ever-more-impressive jobs. Not everyone wants such a life today, and one huge virtue of our era is that women who don't want to walk that path are not forced onto it. (My own marriage of 34 years is quite different, and I would not trade it.) But nonetheless I find it inspiring to see that the path can be walked. Every successfully concluded life should give us hope.
and James Comey
His book A Higher Loyalty appeared in bookstores Tuesday. One featured post is my response after reading it.
and Michael Cohen
I hesitate to say much about Cohen, because most of the talk about him this week was speculation about whether he'll be indicted and whether he'll cut a deal to testify against Trump. Those are both tantalizing questions, but the fact-to-guess ratio has been pretty low.
The really striking thing in all this speculating, though, is the number of Trump supporters who seem genuinely worried that Cohen will flip on Trump. The Atlantic's David Graham draws the obvious conclusion: Even Trump's friends believe he's guilty of something.
these people are at least aspirationally standing up for Trump, and yet their comments have a clear subtext of guilt. They all start with the premise that Trump has something to hide. You can't flip on someone unless you've got something to offer prosecutors. Usually, the defenders of suspects in prosecutors' cross-hairs loudly proclaim their innocence, and insist that the investigation will ultimately vindicate them. But Trump's chorus is singing from a different hymnal.
---
Attorney-client privilege is one issue that might keep federal investigators from examining some of the stuff seized in the raid on Michael Cohen's offices. But whether that applies at all depends in part on how much law Cohen actually practices. (The privilege only applies to conversations that are genuinely about legal work that the attorney is doing for the client. The mere fact that somebody is a lawyer doesn't mean that whatever you say to him or her is privileged.) The government has claimed Cohen doesn't really practice much law, and so the judge wanted to know who Cohen's clients are. There was Trump, and another rich Republican who tried to cover up an affair with a Playboy playmate, and somebody Cohen didn't want to name.
Last Monday, the unnamed client was revealed: Fox News host Sean Hannity, who had been constantly denouncing the raid on Cohen's office without revealing to his audience that he might have a personal interest in the story.
On a legitimate news network, Hannity would have been in big trouble, and probably would have been fired. (Journalists aren't supposed to report on stories they are involved in. At a bare minimum, Hannity should have disclosed his relationship to Cohen and let his viewers judge for themselves whether to trust his objectivity.) On Fox, not so much. The network announced he has its "full support".
Quartz chided journalists who claimed to be "stunned" by Fox' lack of ethical discipline.
Really? Stunned? Let's be clear: Fox News is not, and never has been, a news organization. And while Hannity is an influential person on television—and one many listen to—he is not a journalist. That some media observers saw Fox's non-response to the Hannity debacle as anything other than a sad inevitability shows that we still have a ways to go to normalize those two facts.
---
By far the best response to the Hannity revelation came from CNN's Jake Tapper: "Go home, 2018. You're drunk."
and whether Trump will fire either Mueller or Rosenstein
Rumors continue to swirl that Trump is about to fire either Special Counsel Robert Mueller or Deputy Attorney General Rod Rosenstein, who appointed Mueller and oversees his investigation. At the same time, it doesn't actually happen, so I wonder if we're getting de-sensitized to Trump's threats. (For comparison: I almost forgot that today is supposed to be the Rapture. People keep predicting it and it keeps not happening, so it's hard to raise any excitement about it. Even the embarrassment of people who take such prophecies seriously has become old news.)
Democrats in Congress have been worrying about this all along, and several have promoted legislation that would give Mueller some protection against arbitrary firing. But only a handful of Republicans have been willing to go along, until recently. This week the Senate Judiciary Committee is expected to vote on a bipartisan proposal put together by Republican Thom Tillis and Democrat Chris Coons. It might well pass, and then things get interesting.
Majority Leader Mitch McConnell has been adamant that he will not bring the bill to the floor of the Senate. Like Paul Ryan in the House, McConnell claims legislation isn't necessary, because Trump isn't going to fire Mueller anyway. (But that could also be an argument for passing the bill: It puts no real restriction on Trump, because he wasn't going to fire Mueller anyway.) But I'm not sure how anyone can read tweets like this one from Friday and have that kind of confidence.
Sometimes McConnell points out that the effort is doomed anyway, because Trump will veto the bill even if Congress passes it. That's probably true, but Congress' position would be on the record: Don't fire Mueller. Let the investigation take its course. The same logic explains why the Senate should pass it even if the House won't: at least the Senate's position will be on the record, and Trump will have been warned.
But even ignoring his bogus arguments, I think I understand McConnell's thinking: This is a no-win vote for Republicans facing re-election. If they vote against it, they're spineless partisan hacks bowing down to Trump. If they vote for it, they tick off base voters that they'll need in November. Much better to just say it isn't going to happen.
Unless it happens, of course. That would be a true disaster for Republicans facing the voters, and the no-win decision would come back to them in spades: Trump has put himself above the law. Are you going to do something about it or not?
---
Other people might respond also: The Washingon Post claims that Attorney General Sessions has told White House Counsel Don McGahn that he might resign if Rosenstein gets fired.
That threat lends some credence to a claim James Comey made in an interview with Rachel Maddow Tuesday: The only way Trump could shut down the Russia investigation is to fire the whole Justice Department and the whole FBI.
---
And that brings up an important question: What are you going to do if Trump fires Mueller or Rosenstein? Nobody Is Above the Law rallies are planned all over the country, to be triggered either by a firing or by Trump pardoning key people who could be witnesses against him. If the triggering event happens before 2 p.m. the rallies start at 5 p.m. local time. If after 2 p.m., the rallies start at noon the next day.
Check for a rally in your area here. I'm planning to go to Veteran's Park in Manchester. I'll be the guy in the blue hat that says "Are We Great Again Yet?"
and corruption
There's an everyday aspect to Trump's corruption of the presidency that it's easy to lose sight of. Here and here, for example, he turns the visit of Japanese Prime Minister Shinzo Abe into glittering advertisements for his Mar-a-Lago club, which you can join if you're willing to hand him $200,000. (Chris Hayes has dubbed Mar-a-Lago "the de facto bribery palace". For just a few hundred thousand "you can personally lobby the president on whatever you want".)
The videos end with the symbol of the White House, so I assume they were made with public funds. Each has had more than a million views. I have to wonder what advertisements of similar reach would have cost Trump, if they didn't come as a perk of his job.
Gail Collins quotes Trump speaking to the press with Abe, and then asks:
People, which part of this makes you most unnerved? The fact that the president doesn't make any sense when he talks or the fact that he devoted a large part of a press conference with the head of one of our most important allies to promoting his resort?
Neither the press-conference testimonial nor the promotional videos Trump made on the White House's dime tells us how much Prime Minister Abe's visit cost the two governments, or how much of that money wound up in Trump's pocket. This was Abe's second visit to Mar-a-Lago. (The picture above is from the first.) By contrast, President Obama last met Abe in a pair of joint appearances: at Hiroshima and Pearl Harbor. He did not personally profit from either one.
and you also might be interested in …
The Senate is considering a number of Trump nominees. Mike Pompeo is expected to lose a committee vote today, but be approved by the Senate anyway. Gina Haspel as head of the CIA and Ronny Jackson as VA chief will come up in early May.
---
Long article in Politico about Trump's relationship with Christian TV networks., which is even more incestuous than his relationship with Fox News. TBN and CBN don't even have to pretend to be objective.
---
Kansans talk about their state's tax-cuts-will-spark-growth experiment, and what it might mean for the country.
---
Jeff Sessions's attempt to keep federal funds away from so-called "sanctuary cities" is not legal. Three judges appointed by Republicans unanimously ruled against the Trump policy on Thursday.
"The Attorney General in this case used the sword of federal funding to conscript state and local authorities to aid in federal civil immigration enforcement. But the power of the purse rests with Congress, which authorized the federal funds at issue and did not impose any immigration enforcement conditions on the receipt of such funds," [Judge Ilana] Rovner wrote, in an opinion joined by Judge William Bauer. "It falls to us, the judiciary, as the remaining branch of the government, to act as a check on such usurpation of power."
The rule of law is tricky that way. If you want other people to obey the law, you have to obey it yourself.
---
While we're on that topic, Trump's tweets hit a new low on Wednesday:
There is a Revolution going on in California. Soooo many Sanctuary areas want OUT of this ridiculous, crime infested & breeding concept.
This kind of talk never ends well.
The idea that undocumented immigrants "infest" California and "breed" there is the kind of dehumanizing rhetoric that often precedes and justifies mass persecutions. Every genocide in modern times has begun with rhetoric that equated human beings with vermin. Hutu propaganda leading up to the Rwandan genocide referred to the Tutsis as "cockroaches". Nazis portrayed Jews as "parasites, leeches, devils, rats, bacilli, locusts, vermin, spiders, blood-suckers, lice, and poisonous worms".
In church yesterday, I found myself sitting one seat away from the woman my congregation is currently sheltering against deportation. I have not interacted with her much myself, but by all accounts she's a lovely woman who is the mother of American citizens. (One of the kids is old enough to look after the others while Mom is away, but it's far from an ideal situation.) She's been living in a small apartment in our church for four months now, as the appeal of her deportation order churns through the system. (That's the point of the sanctuary movement: to keep ICE from spiriting people away before their cases are heard. DACA recipient Juan Manuel Montes, for example, "had left his wallet in a friend's car, so he couldn't produce his ID or proof of his DACA status and was told by agents he couldn't retrieve them. Within three hours, he was back in Mexico, becoming the first undocumented immigrant with active DACA status deported by the Trump administration's stepped-up deportation policy.")
The whole point of Trump's rhetoric is that people like Maria or Juan aren't really human — they infest America and breed — so the rest of us shouldn't care what the government does to them any more than we care about termites.
---
One widely shared Barbara Bush quote said that she couldn't understand how women could vote for Trump. She was talking about the way he had insulted Megyn Kelly, but this week we saw a more policy-driven reason for skepticism. Under Trump, the US delegation to the UN Commission on the Status of Women has been turned over to the most zealous culture warriors ever. Official US positions, BuzzFeed reports, are more conservative than even Russia or the Arab countries.
"They were against the whole concept of sexuality education," the UN official said, adding that the US also opposed the phrase "harm reduction," which in the context of CSW means "accepting the fact that young people have sex and trying to teach them how to do it safely rather than just abstinence only," the official explained. The US wanted "no mention of sexuality at all," the official said.
US representative Valerie Huber would allow no mention of contraception, abortion, or sex education in the consensus statement. She pushed for abstinence education and teaching women "refusal skills".
"She spoke of 'trying to get women to make better choices in the future,' which is that terrifying and outmoded idea that women make bad sexual choices and that what happens to them is their fault," one of the delegates who attended the meeting told BuzzFeed News.
---
Ever notice how conservatives talk about "law and order" while liberals talk about "justice"? That's because laws protect the established order, which is often unjust.
---
Avoiding Brexit is still a long shot, but it's possible.
and let's close with something amazing
A fluid mechanics course at Lamar University came up with a fun way to demonstrate the properties of non-Newtonian fluids. It's a simple formula — two parts corn starch to one part water, with some food coloring mixed for the sake of appearance — but it behaves in a weird way. It resists sudden motions, behaving like a solid when you jump on it or beat it. But it's a liquid, so if you stay still you will sink into it.