Don't tax you. Don't tax me. Tax that fellow behind the tree.

– Senator Russell Long (1918-2003)
This week's featured post is "The Real Reason Republicans Can't Pass Major Legislation".
This morning, we found out it's Manafort
Friday night, several news organizations started reporting that the Mueller grand jury had sealed one or more indictments. The weekend was full of speculation, but the investigation's security held, and nobody knew who the targets were.
This morning we found out: Former Trump campaign chair Paul Manafort and his business partner Rick Gates. That just happened, so I don't know anything yet that isn't in the Washington Post article. I didn't remember Gates, but he was also part of the Trump campaign and stayed on after Manafort left. Since the election, Gates worked on fund-raising for Trump's inauguration, and other Trump-related fund-raising.
But before that, everybody was talking about opioids
Unlike voter fraud, kneeling football players, the Clinton uranium deal, and most of the other things Trump speaks out about, the opioid-addiction epidemic is a real problem that deserves a president's attention.
Nothing much has changed since I wrote about it in April, when Trump appointed the commission whose report is due Wednesday. Drug overdoses kill more people than car accidents. The annual total of American drug-overdose deaths is over 50K — roughly the same as the death total for the entire Vietnam War. (Since April, the 2016 totals have come out: 64K overdose deaths.) About a third of those deaths are from legal prescription drugs, and many of the people who die from illegal-drug overdoses first got addicted to legal drugs.
More than two months ago, Trump seemed to be declaring opioids a national emergency, which would unlock large quantities of federal money to spend on the problem.
The opioid crisis is an emergency, and I'm saying officially, right now, it is an emergency. It's a national emergency.
That would have been an unorthodox move — a typical national emergency is sudden disaster like a hurricane or a flood, not a problem that has been building for decades, and FEMA is an odd agency to task with confronting drugs — but it would definitely have shaken things up.
But it was a false alarm. Trump seems not to have understood that the phrase national emergency has a specific meaning under the law, and is more than just another way of saying crisis or really bad problem. (This is like the difference between "making a federal case" out of something and actually filing charges in federal court.) So in spite of what he said, no national-emergency proclamation was ever signed. No FEMA. No new federal money.
Thursday, he announced something that sounds similar, but is actually very different: He proclaimed a "public health emergency". That's not nothing, but it doesn't unlock any new funding. It allows some rules to be waived and some already-appropriated money to be moved around.
Most of the "actions" he mentioned in his speech were not new. For example,
We are requiring that a specific opioid, which is truly evil, be taken off the market immediately.
The opioid is Opana, and the FDA removed it from the market in June. It's not clear whether the new administration had anything to do with that, or if it was just the career FDA people doing what they do. He also mentioned several ongoing efforts as if they were new initiatives: looking for non-addictive painkillers, asking the Chinese to crack down on fentanyl production, and so on.
It's possible that something significant will be announced after the report comes out Wednesday, but Trump's speech was a lot more flash than substance. USA Today quotes Baltimore health commissioner Leana Wen:
The public health emergency raises awareness, which is important, but we had hoped for a national state-of-emergency declaration, because that would carry with it a commitment for funding. We don't need more rhetoric. We need resources.
---
Any major government effort against drugs will have to be leaderless for the near future: Tom Marino's nomination as drug czar had to be withdrawn after he became the primary villain of this 60 Minutes segment. He was the point man for the drug industry's successful effort to stop the DEA from prosecuting distributors who knowingly fill suspicious orders for large quantities of prescription drugs. (Marino shows up in the second half of the video. He is the lead sponsor of a bill written by the industry to handcuff the DEA, and then he starts an investigation that sidelines an aggressive DEA investigator until he quits.) The entire thing is a great lesson on how big business influences government at all levels, to the detriment of the American people. (The Marino bill's second sponsor, Rep. Marsha Blackburn, is currently running to replace Bob Corker in the Senate.)
In the absence of a drug czar, leadership might come from the department level. But HHS Secretary Tom Price had to resign after it came out that he wasted as much as a million dollars of the taxpayers' money on his personal travel. His replacement has still not been nominated, but the rumored front-runner is a drug-company executive.
---
Trump's speech used the opioid problem to score political points on other issues. For example:
An astonishing 90 percent of the heroin in America comes from south of the border, where we will be building a wall which will greatly help in this problem. (Applause.) It will have a great impact.
No, actually it won't. Sanjay Gupta has been reporting on this for CNN. The synthetic opioid causing the most deaths, fentanyl, comes in through legal entry points or through the U.S. mail. It isn't usually smuggled across the open border.
For bulkier drugs that come across the border somewhere other than the ports of entry, there are other post-wall smuggling options: Dig tunnels under it or fly over it with drones. A wall is a fixed obstacle that takes years to build. Smugglers will adapt to it much faster than Homeland Security can alter it.
---
Here in America, we are once again enforcing the law; breaking up gangs and distribution networks; and arresting criminals who peddle dangerous drugs to our youth.
Obama wasn't enforcing drug laws? Wasn't breaking up gangs? Oh wait, I get it: You're talking about deporting Mexicans (which Obama was also doing), because our drug problem is all their fault. It's the immigrant-crime-wave lie from Trump's convention speech.
---
This was an idea that I had, where if we can teach young people not to take drugs — just not to take them. … The fact is, if we can teach young people — and people, generally — not to start, it's really, really easy not to take them. And I think that's going to end up being our most important thing. Really tough, really big, really great advertising, so we get to people before they start, so they don't have to go through the problems of what people are going through.
Tell young people not to start using drugs? That's genius, Mr. President! Genius! When you say it so clearly, I have to wonder why no one ever thought of that before. I understand now why you so often need to remind us that you're "a very intelligent person".
Trump claims to know the importance of teaching the young to just say no, because his alcoholic brother Fred warned him never to drink or smoke or do drugs, so he never did. But Ana Marie Cox (self-describing as "a recovering addict and alcoholic") notes the ineffectiveness of campaigns against "pleasurable but illicit behavior" in general and drugs in particular:
The federal government spent $10 million a year on DARE until 2002, when a surgeon general's report stated that "numerous well-designed evaluations and meta-analyses that consistently show little or no deterrent effects on substance use."
She also wonders whether "someone, somewhere once warned Donald Trump not to cheat on his wife."
---
Here's another thing that has started to annoy me: In talking about how bad the opioid problem is in West Virginia, he called it "a truly great state, great people". He says stuff like that a lot, and it means something very specific: They voted for me. I haven't done a comprehensive search, but I can't recall Trump (as president) ever mentioning the "great people" of California or Illinois or Massachusetts.
Since Trump voters are overwhelmingly white, there's also a racial subtext: The addicts of rural West Virginia aren't like those low-life addicts in the black ghettos of Chicago or Baltimore. The West Virginia addicts are good Christian white people who deserve the compassion of other good Christian white people.
It's important to keep in mind that this is not normal American political rhetoric. Previous presidents of both parties have understood that, once elected, they had become president of all the people, and not just of the people who voted for them. Trump doesn't get this.
and tax reform
More about this in the featured post. The House passed the Senate's budget resolution, so they're set up to pass a tax reform bill that adds $1.5 trillion to the national debt without any Democratic votes. The basic problem: All but $1.5 trillion of the tax cuts Republicans want need to be cancelled out by eliminating "loopholes". Unfortunately, everybody thinks loopholes are the deductions other people take advantage of, not the deductions they claim themselves. Hence the Long quote at the top.
and Jeff Flake
The speech he gave Tuesday on the Senate floor is worth reading.
There are times when we must risk our careers in favor of our principles.
It's hard for someone as liberal as I am to know what to do with Flake and the handful of other Republicans like him, because the principles he wants to risk his career for are not my principles. To me, the moment for a principled exit came and went a long time ago. But Trump only falls if Republicans turn against him, so we need to make space for them to turn against him.
It's complicated. So I'm thinking about this, and should have more to say in a week or two.
and the Russia investigation
In addition to the just-announced indictments, we learned a little more about the meeting in Trump Tower between a Russian lawyer and top Trump campaign people (Paul Manafort, Donald Jr., and Jared Kushner). Some of the information they were offered had previously been given to a Republican Congressman by a high Russian government official. This undermines the lawyer's claim to be independent of Putin.
---
We also learned about the funding of the Steele dossier. It had been known since shortly after the dossier first became public that it had started as Republican-funded opposition research, but was dropped when Trump's nomination became inevitable, and then was picked up by Democrats. Now we know more specifics: The first funder was the conservative web site Washington Free Beacon, and it was later picked up by the Clinton campaign. All of the research was conducted by the same firm: Fusion GPS.
On the right, the involvement of the Clinton campaign is being treated as some kind of scandal, one that discredits the dossier itself and perhaps even the whole Russia investigation. But I'm not seeing it. Opposition research is a normal part of American politics. (Much of what Bill Clinton got investigated for began as opposition research paid for by conservative billionaire Richard Mellon Scaife. I don't recall Republicans having any problem with that.) Nothing in the Russia investigation is based on the authority of the dossier. We know that the FBI has been checking the claims in the dossier, but nothing is being accepted as true just because the dossier says so.
Let's simplify things: Suppose opposition research had uncovered evidence that Trump robbed a bank, and a Justice Department investigation independently proved that conclusion. Would the big story be the opposition research, or the fact that Trump robbed a bank?
The main questions in the investigation are:
What did the Russian government do to try to influence our election?
Did anyone inside the Trump campaign know they were getting help from Russia, and did anyone actively cooperate?
Has the Russian government gotten anything from the Trump administration in exchange for its help?
Since the investigation started, has Trump or anybody else committed perjury or tried to obstruct justice?
Anything else is secondary. For example, I don't particularly care about the sexual allegations in the dossier. I only care if Russian intelligence has something to hold over Trump's head and has used it to influence him.
---
An old Republican conspiracy theory — that when she was Secretary of State, Hillary Clinton OK'd a Russian company's deal to buy a North American uranium company in exchange for a big contributions to the Clinton Foundation — has surfaced again, and will be investigated by three different committees in the House. If Hillary didn't exist, I think Republicans would need to invent her. Even after she eventually dies, I suspect Republicans will continue investigate her whenever they need to divert their base voters' attention from their own scandals.
The WaPo's fact-checker, Glenn Kessler, covers all the important points. The gist is that while the one-line description sounds scandalous, no details have ever emerged to back up any part of it. Treasury was the lead department on the approval, and "there is no evidence Clinton even was informed about this deal." How the Russians are supposed to have bribed the other eight agencies involved the process is also unexplained.
and draining the swamp
Some recent stories demonstrate that the swamp has only gotten swampier since Trump took over.
A tool of the big drug companies got nominated to be drug czar. (Discussed above.) If not for 60 Minutes and The Washington Post, he'd probably have been confirmed. After the Tool (Rep. Tom Marino of Pennsylvania) withdrew his nomination, President Trump tweeted that he is "a fine man and a great congressman".
A tiny Montana company from the same town as Interior Secretary Ryan Zinke got a $300 million contract to rebuild Puerto Rico's power grid. The local power company says FEMA approved the deal; FEMA denies it. A number of the details of the contract sound suspicious. The contract was canceled Sunday.
If you have a dispute with your bank, quite likely you can't take it to court and can't join other individuals in a class-action lawsuit, because the fine print of your contract says you have to submit to binding arbitration as an individual. (You could switch to another bank, but its fine print would say the same thing.) The Consumer Financial Protection Board nixed that process in June with a new regulation that allowed class-action lawsuits against banks in more circumstances. The House immediately voted to repeal that regulation, and the Senate followed suit Tuesday, passing what critics call the Wells Fargo Immunity Act. It was a 51-50 vote along party lines, with only two Republican defections. VP Pence broke the tie.
and anniversaries
Depending on how you count, the 100th anniversary of the Russian Revolution was either October 25 (the date on Julian calendar in use in Russia at the time) or will be November 7 (the date on the Gregorian calendar that most to the rest of the world was using and Russia adopted in 1918). The 500th anniversary of the Reformation is tomorrow. (That's also by the Julian calendar; nobody seems to worry much about the 10 days that were added when the Gregorian calendar was adopted in 1582.)
but check out this article on the future of electricity
The old fantasy was to be off the grid. The new fantasy is to be on a grid designed for sustainability.
and you also might be interested in …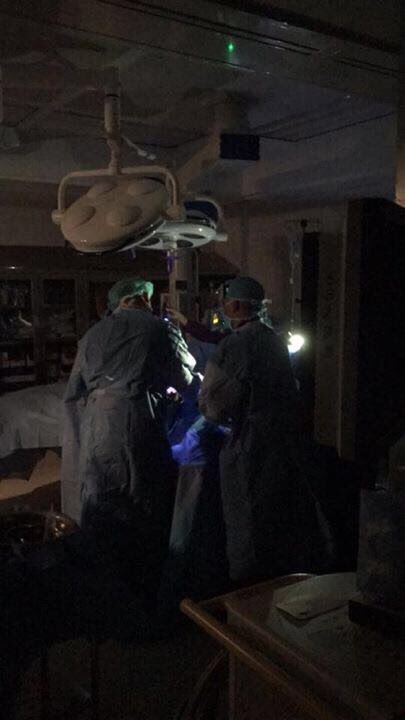 Most of Puerto Rico is still without electrical power. The governor tweeted this photo of surgery being performed using a phone as a flashlight. Nurses returning to the mainland from emergency work in Puerto Rico have been very critical of what's going on there.
The nurses described doctors performing surgery in hospitals with light from their cellphones, children screaming from hunger, elderly residents suffering from severe dehydration, and black mold spreading throughout entire communities.

"We cannot be silent while millions of people continue to endure these conditions," said Bonnie Castillo, associate executive director of National Nurses United.
---
Normally, the Virginia governor's race doesn't have much predictive value nationally. Democrat Terry McAuliffe won in 2013, for example, and Democrats went on to get pounded in the 2014 mid-terms.
This year's race might be different, though, because Republican Ed Gillespie is running in a very Trumpian style: His campaign has a not-very-veiled racial focus, with red-meat ads about rampaging Hispanic gangs and defending Confederate monuments. Polls show that this tactic has energized non-college white voters to support him. The question is whether it is turning off the educated white suburbanites a Republican also needs if he's going to win in Virginia. A recent poll says that it is, and that Northam is winning. We'll see if that prediction is verified on November 6.
If it isn't, if Gillespie pulls out a last-minute win due to a heavy white turnout, then I think his campaign becomes the model for an ugly 2014: Republicans will try to make the election a racial referendum.
---
Like Trump, Gillespie treats the national media as enemies. Here, Washington Post reporter Marc Fisher posts a sad but also amusing video of his attempts to find and speak to Gillespie.
---
Ezra Klein on the implications of the Mark Halperin and Leon Wieseltier sexual harassment scandals:
We routinely underestimate what it means that our political system has been constructed and interpreted by men, that our expectations for politicians have been set by generations of male politicians and shaped by generations of male pundits.  … The most influential institutions in America have long had serial sexual abusers and deep misogynists at their apex. Those abusers didn't just shape their workplaces or their industries; they shaped our politics, our culture, and our country.
During the campaign, for example, Halperin described women's accusations against Trump as "nothing even kind of, like, beyond boorish or politically incorrect".
One reason why this kind of thing has remained acceptable for so long is that so many of the people shaping public opinion were doing it themselves.
---
If the Harvey Weinstein case started you wondering about Trump again, let Sarah Huckabee Sanders set you straight: All of the 17 women who accused him of sexual harassment or assault were lying.
Vox' Anna North and Ezra Klein note the similarities between Weinstein and Trump, and then draw this conclusion:
This is, perhaps, the depressing lesson of the Weinstein and Trump stories. The allegations are similar. The evidence is similar. But power still protects, and while Weinstein had lost enough power to imperil his protection, Trump has only amassed more.
---
Innuendo Studios has a series of videos about the tactics of the alt-Right. Here's one related to the Trump groping issue:
---
Our new ambassador to Canada claims to believe "both sides of the science" about climate change, as if climate change were some sort of quantum wave/particle duality. The best response comes from the NASA-based Twitter account that claims to be the AI running the Mars rover.
On the one side you have evidence and data and research, and on the other side you have… oil money. Both equal.
and let's close with some bad suggestions
Haven't decided on your Halloween costume yet? Don't do any of these.