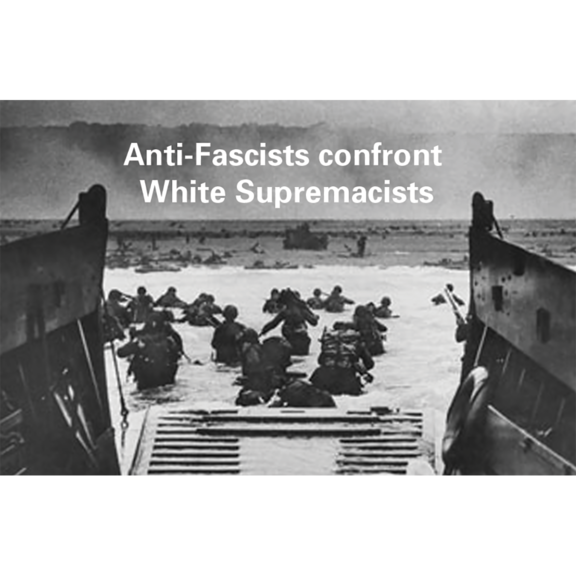 Until this week, I held the standard establishment view of the anti-fascist group Antifa and the "black blocs" they resemble: They're anarchist or leftist mirror-images of the right-wing thugs they fight. I have heard personal friends say things similar to what Hullabaloo's Tom Sullivan wrote Saturday:
The local Indivisible chapter organized a peace vigil downtown here last Sunday in solidarity with Charlottesville. It was one of many such vigils around the country. Not a Nazi symbol in sight. Yet the local antifa group that attended seemed bent on taking over what was intended to be a peaceful rally. There was a shouting match with police the organizers had requested. Later, the group split off and marched through downtown chanting slogans. To the usual "Whose streets? Our streets!" they added "Cops and the Klan go hand in hand." and "What do we want? DEAD NAZIS. When do we want 'em? NOW!"
The mirror-image-thug frame was present when CNN talked to a police spokesman from Portland, Oregon:
It is new, and this, like, this rumble mentality of, "I'm going to bring my friends, you're going bring your friends, and we're going to fight it out in the park" — it's not something we've seen here. It's not good for the city. People are just frustrated by it. It's affecting their livability. It's affecting their business. It's affecting their commute.
The same piece quotes Cal State academic Brian Levin making a common liberal criticism:
It's killing the cause — it's not hurting it, it's killing it, and it will kill it. We're ceding the moral high ground and ceding the spotlight to where it should be, which is shining the spotlight on the vile. … No, it's not OK to punch a Nazi. If white nationalists are sophisticated at anything, it's the ability to try to grasp some kind of moral high ground when they have no other opportunity, and that's provided when they appear to be violently victimized. That's the only moral thread that they can hang their hats on. And we're stupid if we give them that opportunity.
Trump took advantage of that opportunity in his controversial post-Charlottesville press conference on Tuesday:
What about the 'alt-left' that came charging at, as you say, the 'alt-right'? Let me ask you this: What about the fact they came charging — that they came charging with clubs in their hands, swinging clubs? Do they have any problem? I think they do.
It's Trump, of course, so you have to take "fact" with a grain of salt. But it sounds bad.
You get a different picture, though, from a number of eye-witness accounts of Charlottesville. Like this Democracy Now! interview:
CORNEL WEST: You had a number of the courageous students, of all colors, at the University of Virginia who were protesting against the neofascists themselves. The neofascists had their own ammunition. And this is very important to keep in mind, because the police, for the most part, pulled back. The next day, for example, those 20 of us who were standing, many of them clergy, we would have been crushed like cockroaches if it were not for the anarchists and the anti-fascists who approached, over 300, 350 anti-fascists. We just had 20. And we're singing "This Little light of Mine," you know what I mean? So that the—

AMY GOODMAN: "Antifa" meaning anti-fascist.

CORNEL WEST: The anti-fascists, and then, crucial, the anarchists, because they saved our lives, actually. We would have been completely crushed, and I'll never forget that.
In the heat of the moment I doubt West counted precisely, so I'll remain skeptical of his numbers. But Slate's Dahlia Lithwick collected several accounts of what I take to be the same event. Rebecca Menning told her:
No police officers in sight (that I could see from where I stood), and we were prepared to be beaten to a bloody pulp to show that while the state permitted white nationalists to rally in hate, in the many names of God, we did not. But we didn't have to because the anarchists and anti-fascists got to them before they could get to us. I've never felt more grateful and more ashamed at the same time. The antifa were like angels to me in that moment.
Brandy Daniels described Antifa as respectful and helpful:
Some of the anarchists and anti-fascist folks came up to us and asked why we let [the white supremacists] through and asked what they could do to help. Rev. Osagyefo Sekou talked with them for a bit, explaining what we were doing and our stance and asking them to not provoke the Nazis. They agreed quickly and stood right in front of us, offering their help and protection.
And Rev. Seth Wispelwey added:
I am a pastor in Charlottesville, and antifa saved my life twice on Saturday. Indeed, they saved many lives from psychological and physical violence—I believe the body count could have been much worse, as hard as that is to believe. Thankfully, we had robust community defense standing up to white supremacist violence this past weekend.
I wasn't there, and have never seen Antifa with my own eyes. But here's how it looks to me: Antifa is based on an anarchist worldview, in which state institutions like the police are not to be trusted. When that assumption is false — when, say, organizers and police have made a plan for an orderly, peaceful demonstration and that plan is flowing smoothly — then having Antifa show up can be a real nuisance.
But when that assumption is true, and the police are not going to protect you from right-wing violence, then it's good to have some "robust community defense" around.
So if you're disturbed by the rise of Antifa — whether you're a conservative worried about leftist violence, a local government trying to maintain order, or a liberal group hoping to protest peacefully — the long-term way to shrink their numbers is clear: Don't create the conditions that make them right.
When state institutions work well, and work for the benefit of the vast majority, then anarchists look like nut jobs. But when they don't work, when the people have to start organizing their own defenses outside the system, and when the only path of protest liberals offer is nonviolent martyrdom, then anarchists who come prepared to face violence start to make a lot of sense.