Inside our nation is a colony of poor, mostly non-white communities whose police are not under their democratic control. Jeff Sessions wants to keep it that way.

---
Recalling Ferguson. I remember exactly when I came to accept that Darren Wilson should not be prosecuted for killing Michael Brown: when I read the Justice Department's report on the shooting. Until then, no entity I trusted had been able to examine all the evidence and report its findings to the public.
From the beginning, the Ferguson police had shown no interest in uncovering the truth; Wilson was their man, and they wanted him to go free. The local prosecutor, likewise, did not want to get on the wrong side of the police, and even Missouri's Democratic governor saw the case as too hot a potato to pick up.
Only the Obama administration's Justice Department was far enough removed from the local power structure to be objective. So its report was what finally convinced me: Wilson's account of the incident was closer to the evidence than the hands-up-don't-shoot narrative that had been echoing through Ferguson's black community.
Even after that report, I still believed that Wilson's animalistic (and at times even demonic) description of Brown was racist. I will never be convinced that killing Brown was his only option, or that he wouldn't have found another way to resolve the situation if Brown had been white and middle-class. But even so, I knew that if the case went to trial and I were a juror, I could not vote to convict.
Simultaneously, though, Justice issued a parallel report about the general state of policing in Ferguson. The primary mission of Ferguson's police, the report found, was not public safety, but generating revenue for the city by citing poor blacks for violations that carried fines. Likewise, the municipal court's mission was to monetize those violations, and if possible to multiply them by making the court process as difficult as possible to navigate without incurring further fines.
The community's response to Brown's killing, the two reports implied, was based not so much on the facts of that particular case as on a hope: Maybe finally the police had done something so egregious that the outside world would have to notice the illegal and unconstitutional abuses Ferguson's black citizens had to endure every day.
The Justice Department had noticed. It worked out a consent decree with the city to change how its police and court systems operate. It is one of many consent decrees Justice has worked out with cities all over the country.
But it's not going to do that any more.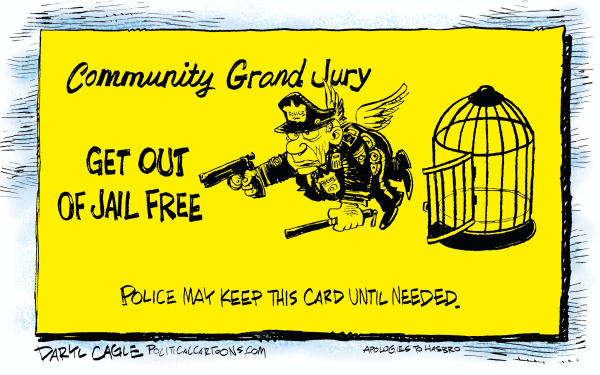 From oversee to overlook. This week, the Trump Justice Department, led by Attorney General Jeff Sessions, gave notice that it was getting out of the business of overseeing local police. In a memo to his department heads and to local U.S. attorneys, Sessions wrote:
Local control and local accountability are necessary for effective policing. It is not the responsibility of the federal government to manage non-federal law enforcement agencies. [1] … The Deputy Attorney General and Associate Attorney General are hereby directed to immediately review all Department activities — including … compliance reviews, existing or contemplated consent decrees — … in order to ensure that they fully and effectively promote the principles outlined above.
That memo had immediate effects, though perhaps not entirely the ones Sessions intended. His subordinates tried to torpedo the consent decree that Obama's Justice Department had worked out with Baltimore just before leaving office. But the presiding judge was having none of it, ruling that
The case is no longer in a phase where any party is unilaterally entitled to reconsider the terms of the settlement; the parties are bound to each other by their prior agreement. The time for negotiating the agreement is over. The only question now is whether the Court needs more time to consider the proposed decree. It does not.
Having received the judge's blessing, the Baltimore agreement is now in force. However, the outline of an agreement that had been worked out with Chicago is not yet official, and may well go back to the drawing board. Mother Jones paints the larger picture:
A report released in February by Samuel Walker, a police reform expert at the University of Nebraska in Omaha, determined that most consent decrees enforced by the Department of Justice since 1994—when Congress passed legislation granting the DOJ oversight authority over local police agencies—have been successful in achieving long-term reforms. Consent decrees are binding legal agreements, and once signed, they are overseen by a federal judge and an appointed monitor. The DOJ's ability to interfere with that process is limited, [former Obama Justice official Jonathan] Smith said.

But there are things the DOJ can do to undermine it. It could ignore violations of decrees and stop taking police departments to court because of them. It could also seek to renegotiate the terms of a decree or to have it dropped altogether—though that would be difficult even with the cooperation of a police department, Smith said. "After all, these injunctions are entered to protect the public interest," Smith said.
Why isn't local accountability enough? But even if we recognize the damage likely to result from Sessions' decision to stop overseeing and start overlooking police abuses, we have to admit that the first line I quoted from his memo is quite true:
Local control and local accountability are necessary for effective policing.
The obvious question to ask, then, is why such local accountability doesn't exist in so many places. The black citizens of Ferguson live in a democracy, after all, and local elections are held on a regular basis. Why did they — or the black citizens of Baltimore or Chicago or dozens of other cities — have to raise the attention of the national media and of Washington in order to get local reform?
The answer to that question is in Chris Hayes' fortuitously timed A Colony in a Nation, which came out last month.
This book makes a simple argument: that American criminal justice isn't one system with massive racial disparities but two distinct regimes. One (the Nation) is the kind of policing regime you expect in a democracy; the other (the Colony) is the kind you expect in an occupied land. … If you live in the Nation, the criminal justice system functions like your laptop's operating system, quietly humming in the background, doing what it needs to do to allow you to be your most efficient, functional self. In the Colony, the system functions like a computer virus: it intrudes constantly, it interrupts your life at the most inconvenient times, and it does this as a matter of course. The disruption itself is normal.
Ferguson and the Founders. Hayes begins, like I just did, in Ferguson, where the goal of policing is not public safety, but revenue enhancement. And he draws a parallel I would not have thought of: to the American colonies in the decade before the revolution.
In high school American History, we were all taught that the revolution was about "taxation without representation". But in fact, Hayes argues, the colonies had existed under onerous tax-and-tariff laws for a long time. From Britain's point of view, the purpose of the American colonies had always been to produce raw materials for British industry and markets for its finished goods. From the beginning, the colonies had been barred from trading with rival powers and taxed steeply when they traded with the homeland.
And from the beginning, the colonies had been rife with smugglers, some of whom (like John Hancock) achieved great prestige. Colonial life was largely one big smuggling conspiracy. Ordinary people did their best to interfere with customs agents, and juries often let guilty smugglers go.
What changed after the French and Indian War wasn't so much the British laws and taxes, but their policing regime: They began trying to collect the taxes the law said were owed.
The British crackdown essentially inaugurated America's first tough-on-crime era. It was a classic crackdown: more customs officials were granted more expansive powers, while courts were streamlined to produce swift punishment and avoid the maddening jury nullification … After 1763 customs officials no longer looked the other way in exchange for small bribe. Instead, they began operating in ways that looked a lot like what we now call "stop and frisk." … American colonists were subject to British invasions of their carriages, ships, and homes without the safeguards enjoyed by their English cousins.
It wasn't the financial burden of taxes that caused the revolution, it was the "insulting and humiliating" policing necessary to collect those taxes.
No wonder places like Ferguson sometimes seem so rebellious now.
Real community policing. Among law-enforcement theorists, community policing means that police maintain relationships with the local community. The image of community policing is the cop walking a beat, recognizing and being recognized by the people he passes.
But Hayes raises the stakes, pointing out what community policing might mean: Not individual cops maintaining relationships, but an entire system of policing — what laws get enforced and how — that is responsive to the community being policed.
That sounds incredibly utopian until Hayes points out that such systems already exist: on college campuses. First he describes the lax enforcement of drug laws he remembers from his student days at Brown. But then he reports the shock to his Ivy League sensibilities when he got a job in Madison, home of the University of Wisconsin.
Nothing I'd seen during my college years quite prepared me for the sheer insanity of a big football program home game. Tens upon tens of thousands of people, of all ages, were shit-faced drunk. Frat row was in a state of debaucherous pandemonium, with dozens of students passed out on lawns and outdoor couches, amid no small amount of vomit, urine, and broken bottles.
He wonders about the role of race.
[W]ould all this (mostly harmless) mayhem meet with such enthusiastic tolerance if it were a hundred thousand drunk-as-hell black folks streaming through downtown Madison? Something tells me, no chance.

The couple I was staying with had season tickets to the games, and while they rolled their eyes a touch at some of the excesses, they were part of a community, and they understood and embraced that this was a community ritual, a norm collectively arrived at.
Compare that mental image to the militarized police rolling down the streets of Ferguson during the Michael Brown demonstrations. Was that display of force also "a norm collectively arrived at"? Or was it control from the outside?
If you took a lot of [student] behavior out of the Nation and put it in the Colony — say, out of Harvard Yard and into a big city housing project — if would provide the material for dozens of articles on the pathologies of poverty that hold back poor people of color. People sleep all day; they engage in loud, frequent relationship dramas while having numerous different sexual partners, and they get into drunken arguments and brawls and consume ungodly amounts of controlled substances.
University police know that their job is to serve the interests of the students they police (and their parents, who pay the bills). No one wants to pay hundreds of thousands to send their children to college, only to have them sent from there to jail, or to come home with a criminal record. So universities are policed in a way that minimizes those outcomes.
No doubt citizens of the black and Hispanic neighborhoods of New York didn't want to be routinely stopped and frisked, or to see minor confrontations spiral out of control until their fellow citizens were imprisoned or dead. Black citizens of Ferguson didn't want police to see them as prey, as sheep to be sheared for the benefit of the municipal budget. But they lacked the power to get the policing they wanted through local democratic channels. And now, under the Trump administration, they will also lack the power to go over the heads of local political interests and get a sympathetic hearing from federal officials.
Larger factors. So far, my summary sells Hayes' book short: It paints a far larger picture, including discussions of white fear, the difference between law and order (and public safety, which is a separate consideration), and the financial value of order to owners of real estate.
But the book will have done an important job if it simply gets its central image into the public discussion: Some parts of the United States are nothing more than colonies run for the benefit of other parts.
To the Colony, Jeff Sessions is like the new governor sent over by George III to maintain control. And the next time there's a shooting like Michael Brown, we will never really know what happened, because no disinterested party will ever investigate.
---
[1] Actually, it is the responsibility of the Justice Department. In essence, Sessions is saying that he will not enforce the following paragraph of the Violent Crime Control and Law Enforcement Act of 1994.
§ 14141. Cause of action

(a) Unlawful conduct

It shall be unlawful for any governmental authority, or any agent thereof, or any person acting on behalf of a governmental authority, to engage in a pattern or practice of conduct by law enforcement officers or by officials or employees of any governmental agency with responsibility for the administration of juvenile justice or the incarceration of juveniles that deprives persons of rights, privileges, or immunities secured or protected by the Constitution or laws of the United States.