It's hard to believe how much drama has played out in the last ten days. Even the Advise and Consent style political novels I loved in high school didn't move this fast.
It all started a week ago Friday, when President Trump signed Executive Order 13769 (a.k.a "the Muslim ban" and "it's not a Muslim ban") which Wikipedia summarizes like this:
The order limited refugee arrivals to 50,000 and suspended the U.S. Refugee Admissions Program (USRAP) for 120 days, after which the program would be conditionally resumed for individual countries while prioritizing refugee claims from persecuted minority religions. The order also indefinitely suspended the entry of Syrian refugees. Further, the order suspended the entry of alien nationals from seven Muslim-majority countries — Iraq, Iran, Libya, Somalia, Sudan, Syria and Yemen — for 90 days, after which an updated list will be made. The order allows exceptions to these suspensions on a case-by-case basis. The Department of Homeland Security later exempted U.S. lawful permanent residents (green card holders).
The immediate result was
chaos. The order had been reviewed by the Justice Department's Office of Legal Counsel for "form and legality", but beyond that was pretty much unvetted, parts of it apparently leaping straight into the world from Steve Bannon's brain like a malformed Athena from a not-very-godlike Zeus-wannabee. Congressional leaders were not consulted. (Though Trump apparently was helped by Republican congressional staffers who were obliged by a non-disclosure agreement not to tell their bosses; so far history does not record what the out-in-the-cold Republican congressmen think of that.) The border-control officials who were supposed to implement the ban in America's airports were not briefed in advance. (NYT: "customs and border control officials got instructions at 3 a.m. Saturday and some arrived at their posts later that morning still not knowing how to carry out the president's orders.")
People already in the air, including permanent legal residents (i.e. green-card holders) who were returning to their jobs or students with valid visas coming back to their universities, were sent back or detained in airports. City University of New York claims it has 100 students from the affected countries. Two Iraqis who had helped the American military and feared for their lives if they had to return to Iraq were detained at JFK airport.
The public response was immediate. On Saturday, crowds of protesters spontaneously formed at JFK and other airports. By 9 p.m., a federal judge had issued an order preventing the administration from sending the detainees back where they came from. Sunday, the administration backed off of the restrictions on green-card holders.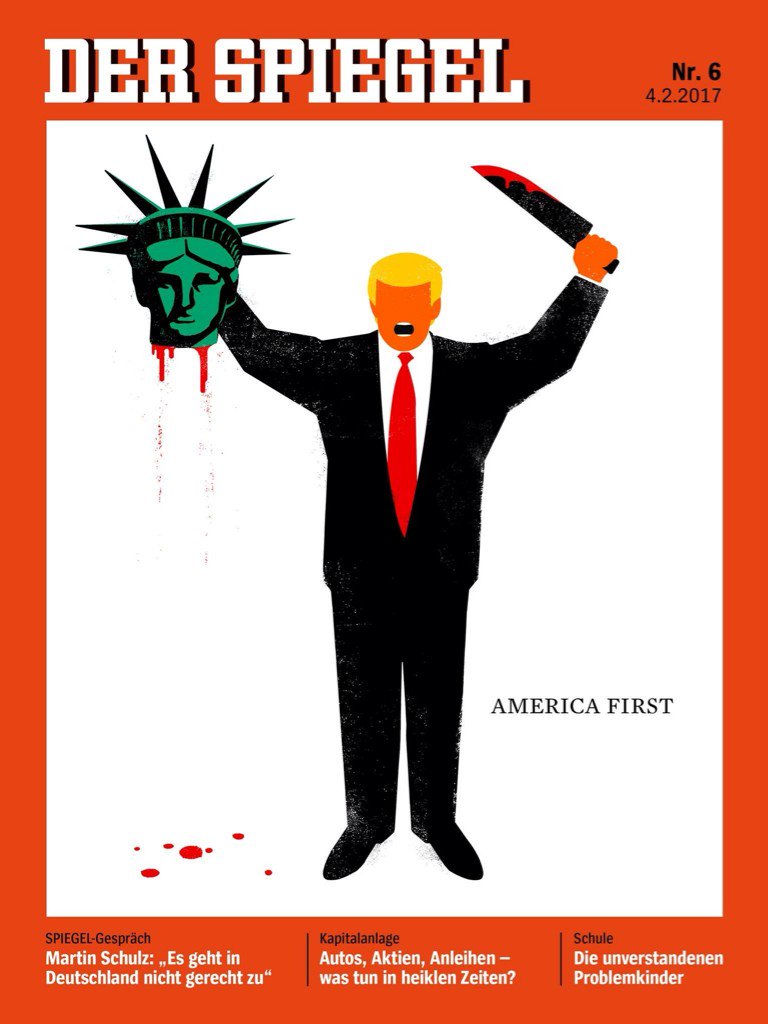 Internal dissent. On Monday, acting Attorney General Sally Yates (an Obama appointee held over until Trump can get his own AG approved) ordered the Justice Department not to defend Trump's order in court.
I am responsible for ensuring that the positions we take in court remain consistent with this institution's solemn obligation to always seek justice and stand for what is right. At present, I am not convinced that the defense of the Executive Order is consistent with these responsibilities nor am I convinced that the Executive Order is lawful.
Also on Monday, an internal State Department dissent-channel memo — reportedly with over 1000 signatures — leaked to the press. It called the Trump order "counter-productive" and said
Looking beyond its effectiveness, this ban stands in opposition to the core American and constitutional values that we, as federal employees, took an oath to uphold.
Rejecting the whole concept of internal dissent from experienced professionals, Press Secretary Sean Spicer called the signers "career bureaucrats" and responded that "they should either get with the program or they can go". Yates was fired Monday night in typical Trump fashion; the White House statement descended from policy disagreement into personal insult: Yates had "betrayed the Justice Department" and was "weak on borders and very weak on illegal immigration". (One of Trump's most disturbing traits is his apparent belief that it's not enough simply to overcome opposition; the people who oppose him must be shamed and punished. This authoritarian impulse alone should have disqualified him from the presidency.)
Also Monday night, Samantha Bee weighed in.
Defiance. Throughout the week, court orders piled up from judges around the country, and multiple reports indicated that the Trump administration was at best slow-rolling its compliance and at worst simply defying the orders. Friday Politico reported:
Hours after a federal judge ordered customs officers to provide lawyers to travelers detained at Dulles airport last Saturday, senior Trump administration officials instructed the guards to give the travelers phone numbers of legal services organizations, ignoring a mass of lawyers who had gathered at the airport. Most of the legal services offices were closed for the weekend, effectively preventing travelers with green cards from obtaining legal advice.

The move was part of what lawyers contend was a series of foot-dragging actions by the administration that appeared to violate court orders against the Trump's controversial travel ban. … The [Customs and Border Protection] officers at airports were not rogue individual actors, according to the documents obtained and people interviewed by POLITICO. Rather, the agents on the ground were following orders from high in their chain of command.
For example, a federal judge in Boston ordered the administration to admit travelers with valid visas. The travelers did not get into the country, though, because the administration claimed it had the power to revoke those visas. Slate's Jeremy Stahl interviewed an immigration lawyer, who concluded:
When you have an executive that is acting the way that Donald Trump is acting and not controlling what his officers are doing in noncomplying, that's a constitutional—that's leading to a constitutional crisis.
Yonatan Zunger put a dark spin on it:
[T]he administration is testing the extent to which the DHS (and other executive agencies) can act and ignore orders from the other branches of government. This is as serious as it can possibly get: all of the arguments about whether order X or Y is unconstitutional mean nothing if elements of the government are executing them and the courts are being ignored.

Yesterday was the trial balloon for a coup d'état against the United States. It gave them useful information.
Writing on the Lawfare blog, Ben Wittes put a dark spin on the whole enterprise: He thinks the ban's whole purpose is to appeal to the anti-Muslim bigots in Trump's base, and has nothing to do with keeping Americans safe.
Put simply, I don't believe that the stated purpose is the real purpose. This is the first policy the United States has adopted in the post-9/11 era about which I have ever said this. It's a grave charge, I know, and I'm not making it lightly. But in the rational pursuit of security objectives, you don't marginalize your expert security agencies and fail to vet your ideas through a normal interagency process. You don't target the wrong people in nutty ways when you're rationally pursuing real security objectives.

When do you do these things? You do these things when you're elevating the symbolic politics of bashing Islam over any actual security interest. You do them when you've made a deliberate decision to burden human lives to make a public point. In other words, this is not a document that will cause hardship and misery because of regrettable incidental impacts on people injured in the pursuit of a public good. It will cause hardship and misery for tens or hundreds of thousands of people because that is precisely what it is intended to do.
Where it stands. Friday, a federal court ruling came down from Judge James Robart in Seattle, applying nationally and stated in as sweeping terms as possible, clearly intending to allow no wiggle room. Saturday, the Trump administration said it would comply, pending appeal.
Meanwhile, a State Department spokesperson tells NPR that officials with the department are also adhering to the decision. The department has provisionally revoked somewhere between 60,000 and 100,000 individuals' visas, according to different accounts; under Saturday's announcement, the State Department says that move has been reversed — and that "individuals with visas that were not physically cancelled may now travel if the visa is otherwise valid."
Trump again personalized the conflict, tweeting:
The opinion of this so-called judge, which essentially takes law-enforcement away from our country, is ridiculous and will be overturned!
(Lots of people pointed out that Robart's claim to be a judge is at least as good, if not better, than Trump's claim to be a president.) Late Saturday night, the 9th Circuit Court of Appeals denied the Justice Department's motion to reverse the suspension of Trump's executive order. The order will remain suspended until the court can make a ruling on the merits of the case. That could happen as early as today, or not.
Over the weekend, congressional Republicans gave strong indications that they don't want this conflict to escalate to a constitutional crisis. Sunday, Mitch McConnell, who (like Paul Ryan) has been stepping very carefully to avoid the President's sensitive toes, told CNN's Jake Tapper:
The courts are going to decide whether the executive order the President issued is valid or not, and we all follow court orders.
The unstated implication is: "You'd better follow them too."
What will the courts decide? Deborah Pearlstein posted a good summary of the arguments both ways on Jack Balkin's legal blog Balkinization. And the answer is: It's a close call.
On the one hand, the Constitution gives the President a lot of power to manage our dealings with other countries, and Congress has supplemented that power in various ways over the years. So the administration has a lot of possible arguments it might make to defend its actions.
On the other hand, courts often look beyond simple questions of authority to rule on intent: If your clear intent is to achieve an unconstitutional result, then a court might block your actions even if they fall within the letter of your legal powers. A good example of this came last summer, when a federal appeals court struck down North Carolina's voter-suppression law. Everything in the law — changing the dates and hours of early voting, requiring IDs, etc. — was within the legislature's power. But the fact that legislators researched how and when black North Carolinians vote, and then systematically restricted their favorite options, pushed the law beyond the pale.
Here, there is a clear record of intent to create a religious test for entering the United States, which would be unconstitutional. Trump promised a Muslim ban during his campaign. Advisors like Rudy Giuliani have spoken in public about coaching Trump on how to "do it legally" by focusing on the threat of terrorism from particular countries rather than on religion. The order's provisions to prioritize religious minorities for exceptions to the ban seems intended to make sure Christians aren't caught in a ban intended for Muslims. (If the administration is serious about offering refuge to persecuted religious minorities, that provision should apply to a lot of Muslims as well: Shia in Sunni-majority countries, Sunni in Shia-majority countries, and Sufis and other smaller Muslim sects everywhere. Will it? Or is it just a Christian loophole?)
Will that be enough to convince an appeals court, and to split the 4-4 Supreme Court so that it doesn't overrule? Maybe. But even if it does, that ruling is likely to illuminate a path that would allow some future objectionable executive order to pass legal muster.
Then what? Pearlstein says it's not enough to count on the courts: Protesters need to focus their attention on Congress as well:
There is, however, one foolproof way to ensure the President's order in its current form does not stand. And it lies with the body that gave the President the authority to issue it in the first place. A growing, bipartisan group of congressional representatives have expressed concern about the order's scope and effect. And while Senator McConnell has proposed the matter be left to the courts to decide, it is not wise – and should not be easy – for Congress to avoid responsibility here. At a minimum, it would be a serious strategic mistake for the many groups sprung up post-election to push back against the new administration not to focus some of their energies on demanding Congress act.
So far, McConnell, Ryan, and other congressional Republicans have had it both ways: They can tut-tut about executive overreach and incompetent implementation, while remaining uncommitted about the order's overall intent. As much as possible, the public needs to pin them down. If a Muslim ban (or something like it) is a good thing, then Congress should authorize it. If not, it should establish specific boundaries on the President's power.