Leave well enough alone.

– re-election slogan of President McKinley (1900)
This week's featured post is "Why so frustrated, America?" And in view of recent claims about "rigged" elections, I want to flash back to my 2013 post "The Myth of the Zombie Voter".
This week everybody was talking about how wonderful it is that the debates are over
[Final debate: transcript, video] I think Ezra Klein really nails it in his analysis of Clinton's debate strategy: Ordinarily, a good debate performance means making your case effectively, connecting well with the voters personally, and maybe scoring a zinger or two on your opponent that will get replayed on the news shows (like Lloyd Bentsen's "You're no Jack Kennedy" to Dan Quayle). You can also hope your opponent screws up, but that's mostly out of your hands.
This time, though, Clinton recognized that Trump could be baited into screwing up, and into driving a negative news cycle against himself (like he did when he couldn't let go of his conflicts with Judge Curiel or the Khan family). By the end of the third debate, Trump was sputtering like a kid losing a playground argument: "You're the puppet. … I did not say that. … No, you're the one that's unfit. … Such a nasty woman."
Tweeted by Daniel Dale of The Toronto Star: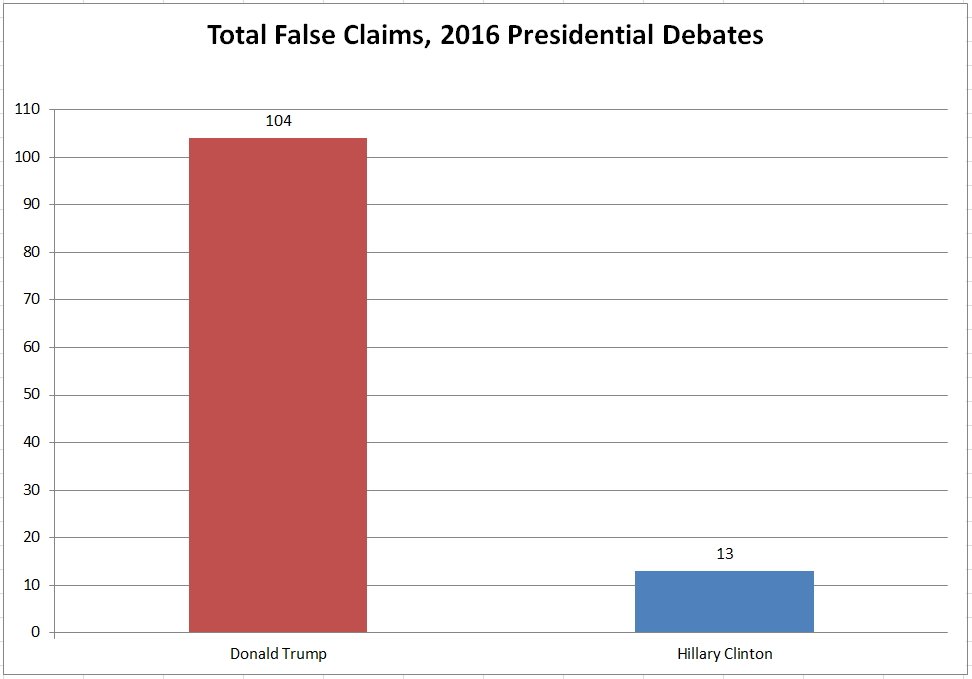 In spite of Trump's claims that everything is rigged against him, I found Chris Wallace's questions to have a conservative bias. Media Matters lists a few, but somehow missed the first question (addressed to both candidates), which was about the Supreme Court:
What's your view on how the constitution should be interpreted? Do the founders' words mean what they say or is it a living document to be applied flexibly, according to changing circumstances?
Literally no one denies that the Constitution's words "mean what they say". That jaundiced framing of the liberal position is conservative propaganda, pure and simple. The "living document" issue concerns whether you limit the Constitution's meaning to the specific situations people had in mind at the time, or interpret them as abstract principles that might apply to new situations in unexpected ways. For example, today the 14th Amendment's "equal protection of the laws" includes how marriage laws apply to same-sex couples. Granted, I doubt anyone was thinking about that application when the amendment was written, but the broader interpretation is not based on claiming that the words don't mean what they say. Quite the opposite: Same-sex couples deserve the equal protection of the laws.
I'll add a very simple example, which I bet I'll bet the loonier parts of the far right will start trumpeting after Inauguration Day: When Article II of the Constitution lists the qualifications for the presidency, it doesn't specify that the president be male. But later, when it lists the powers of the president, it uses a masculine pronoun: "he shall have power to grant reprieves and pardons for offenses against the United States" and so on. So do we need a constitutional amendment to extend those powers to a woman president, or can we assume that the Founders were describing the presidency in an abstract manner that does not change when a woman takes office?
If the latter just seems like common sense to you, then you believe the Constitution is a living document.
---
Trump described the Second Amendment as "under absolute siege". The Trace summarizes the gun-related issues likely to make it to the Court in the near future. I think Trump has exaggerated bigly.
---
Three presidential debates and one VP debate: no questions about climate change. Well done, moderators.
and rigging the election
The morning-after headline from the third debate was Trump's refusal to pledge to accept the result of the election, which he expects to be rigged. If you look at the transcript of that part of the debate, it's even worse than the headline makes it sound. You could imagine a candidate delaying his concession, like Al Gore in 2000, or Minnesota Senator Norm Coleman when Al Franken beat him in 2008. There is a process for disputing an election result. You can ask for recounts, contest in court the validity of various ballots, and so on. Gore's case went to the Supreme Court and Franken didn't get to take his seat in the Senate until July.
In a really close election with legitimate issues about the count, there's nothing undemocratic about pursuing that process as far as it goes. So it would have been legit for Trump to answer moderator Chris Wallace's question with something like: "I'll have to see what the issues are on election day. If my poll watchers report irregularities, if there are precincts where the totals look absurd, then I might have to go to court. It's too soon to rule that out."
But that's not the set of concerns he raised. (Later, he tried to backtrack and pretend he did. "I will accept a clear election result. But I would also reserve my right to contest or file a legal challenge in the case of a questionable result." It's typical of Trump to put forward multiple positions like this and keep everyone guessing.) He did mention "millions of people that are registered to vote that shouldn't be registered to vote"  though he did not give any reason for believing someone will vote those registrations. But the bulk of his answer didn't have anything to do with making sure the winner really won.
First of all, the media is so dishonest and so corrupt. And the pile-on is so amazing. The New York Times actually wrote an article about it, that they don't even care. It's so dishonest. And they have poisoned the minds of the voters. … So let me just give you one other thing as I talk about the corrupt media. I talk about the millions of people. I tell you one other thing. She shouldn't be allowed to run. She's guilty of a very, very serious crime. She should not be allowed to run. And just in that respect, I say it's rigged. Because she should never — Chris, she should never have been allowed to run for the presidency based on what she did with emails and so many other things.
So he's saying that he may not accept the election result even if it's clear the voters voted against him. Because they shouldn't have been allowed to vote for her at all and the media talked them into it and Mom always liked her best. There is no process that can resolve such claims, which would be based entirely on Trump's feeling that he wasn't treated fairly — like his claim that he was "screwed out an Emmy" when The Apprentice lost out to The Amazing Race.
Gore and Coleman did everything the system allows to make sure the votes were counted right. And even if they didn't get all the court rulings they wanted, each eventually admitted that the process was over and he had lost.
Trump does not envision doing that. That would be new in American history, and it's scary.
---
Republicans across the country disputed the idea that the election would be rigged. Ars Technica founder Jon Stokes warns Democrats to be less adamant about claiming that American elections are unriggable.
But what if our election system is vulnerable, and the Russians were to hack the vote and hand what polls indicated to be a clear Hillary win over to Trump? At that point, all of the folks who've been going on about the unassailability of our voting system would have a very hard time making the case to the public that the election was, in fact, rigged. They would have walked right into a trap, and when they attempt to climb out of it, Trump supporters and Putin's online troll army would keep them down by bludgeoning them silly with their own quotes.
In some ways, the Russians would have an easier time hacking our election than either party. Republicans and Democrats would be trying make the results look as realistic as possible so as not to get caught. But Russian propaganda wins just by showing that American elections are suspect. So if Tim Kaine's home precinct goes for Trump 3,000 to nothing, that might be fine with them.
and hacking the internet
Friday morning, some of the internet's most popular websites were inaccessible for several hours. This appears to be something more sinister than just a glitch: Somebody launched a distributed denial-of-service (DDoS) attack on Dyn, a company you've probably never heard of that maintains an important piece of the infrastructure of the internet. (Briefly, a DDoS is when an attacker floods a server with so many fake requests for service that it can't find the real requests. Imagine walking into an empty bar when suddenly dozens of ghost customers appear in front of you and start yelling for the bartender's attention.)
It would be bad enough if somebody just had a grudge against Dyn, but it appears to be worse than that. Computer security expert Bruce Schneier (my wife is in the field and reports that he's one of the top people) says this looks like one of a series of probing attacks on internet infrastructure.
Over the past year or two, someone has been probing the defenses of the companies that run critical pieces of the Internet. These probes take the form of precisely calibrated attacks designed to determine exactly how well these companies can defend themselves, and what would be required to take them down. We don't know who is doing this, but it feels like a large a large nation state. China and Russia would be my first guesses.
So the Dark Army on Mr. Robot may be more than just Sam Esmail's invention.
---
An interesting aspect of this attack is that it might have corrupted and weaponized devices that we don't ordinarily think of as computers, the so-called "Internet of Things", which includes "CCTV video cameras and digital video recorders". Think about it: If your refrigerator is accessing the internet (say, to text you that it's out of milk), how do you know it hasn't also been corrupted into sending spam emails to thousands of complete strangers? Vendors of such online devices tend not to make security a priority, and it doesn't occur to most of us to virus-check our smart thermostats or internet-accessible baby monitors.
Computer-security people sometimes refer to "the Internet of Compromised Things". One of the end-of-the-world scenarios in Charles Stross' techno-supernatural "Laundry Files" novels is Case Nightmare Yellow, when all of our smart devices become haunted and turn against us. (Laundry-agent slang calls this threat "the Internet of Things that Go Bump in the Night".)
---
While we're talking about hacking, there's the series of hacks directed at Democrats and the Clinton campaign, the ones that have resulted in all those emails being released through WikiLeaks. The ones that came out in the last couple of weeks have been from a hack of Clinton campaign manager John Podesta.
On Thursday, private security researchers said they had concluded that Mr. Podesta was hacked by Russia's foreign intelligence service, the GRU, after it tricked him into clicking on a fake Google login page last March, inadvertently handing over his digital credentials.
The U.S. government had already attributed the hack against the Democratic National Committee to the Russian government. But government intelligence agencies usually don't tell us any more than they have to, so the conclusions have had a take-it-or-leave-it quality. We get a lot more details from this non-government report.
To date, no government officials have offered evidence that the same Russian hackers behind the D.N.C. cyberattacks were also behind the hack of Mr. Podesta's emails, but an investigation by the private security researchers determined that they were the same.

Threat researchers at Dell SecureWorks, an Atlanta-based security firm, had been tracking the Russian intelligence group for more than a year. In June, they reported that they had uncovered a critical tool in the Russian spy campaign. SecureWorks researchers found that the Russian hackers were using a popular link shortening service, called Bitly, to shorten malicious links they used to send targets fake Google login pages to bait them into submitting their email credentials.

The hackers made a critical error by leaving some of their Bitly accounts public, making it possible for SecureWorks to trace 9,000 of their links to nearly 4,000 Gmail accounts targeted between October 2015 and May 2016 with fake Google login pages and security alerts designed to trick users into turning over their passwords.
and the Al Smith dinner
Ever since Kennedy and Nixon in 1960, the two major-party candidates have shown up for a white-tie fund-raising dinner for Catholic charities devoted to needy children (of all religions) in New York. Traditionally, it's been a way to lighten up the campaign and establish that the candidates have a sense of humor. In each cycle, the Al Smith dinner reminds us that after the election we're all supposed to be friends again.
The main thing it showed me this year is that I'm going to miss Barack Obama. Obama is a natural comedian who has made this stuff look easy: Just get your staff to write some jokes and go deliver them to people who want to laugh. In contrast, Hillary Clinton works hard not to step on her best lines, and mostly succeeds, but you can see the effort. And Trump only half gets this strange human notion of comedy; sometimes he just insults Clinton and looks pleased with himself. (His statement that Clinton was "pretending not to hate Catholics" drew boos.)
To remind yourself of what we'll be missing when Obama goes back to private life, take a look at this video encouraging early voting:
and the Mosul offensive
Together with Turkish and Kurdish forces, the Iraqi government is trying to retake it's second-largest city (Mosul) from the Islamic State. Success seems likely (eventually), but the questions are (1) how costly it will be in both military and civilian terms, and (2) whether this strange alliance can agree on what to do with the city afterward. But ISIS' dream of a territory-holding caliphate seems to be crumbling.
and you might also be interested in
If men are constantly telling you to smile more, here's a product that can help.
---
Maricopa County may be about to run Sheriff Arpaio out of town.
---
BridgeGate. It's looking bad for Chris Christie. He still hasn't been charged with anything, but his political career is probably over.
---
Larry Lessig was insulted in one of the Clinton campaign emails WikiLeaks released. In response he defended the privacy rights of his insulter:
I can't for the life of me see the public good in a leak like this — at least one that reveals no crime or violation of any important public policy.

We all deserve privacy. The burdens of public service are insane enough without the perpetual threat that every thought shared with a friend becomes Twitter fodder. Neera has only ever served in the public (and public interest) sector. Her work has always and only been devoted to advancing her vision of the public good. It is not right that she should bear the burden of this sort of breach.
---
Daily Kos founder Markos Moulitsas has an optimistic reading of the long-term tea leaves: Post-Trump, the GOP fractures and the Democratic Party's demographic advantage (and it's youthful liberal wing) keeps growing. I don't have a specific argument to make against his scenario (yet), but I find it hard to believe that the big-money types don't find some way to compete.
but believe it or not, watching Clinton/Trump debates can be fun
I found it hard to make myself watch the debates. But maybe the least annoying way was to see the final debate songified by Weird Al.
Or you could watch Bad Lip Reading turn the first debate into a game show.
and let's close with something enviable
The 20 most beautiful bookstores in the world, as of 2012. Unfortunately, I don't live near any of them. (Two are in California and the rest in other countries.) They include this one, El Ateneo Grand Splendid in Buenos Aires. Built in 1919 as a tango hall, converted to a cinema in 1929, it's now filled with books.