Republican leaders are disturbed by Trump's racist comments. But two-thirds of Republican voters don't think they're racist at all.
---
In a week that saw Hillary Clinton became the first woman ever to clinch a major-party nomination, probably more news-network air time got devoted to the effort of Republican leaders to distance themselves from Donald Trump. In the wake of his long series of attacks against the "Mexican" judge overseeing one of the Trump University fraud lawsuits, the word racist came up a lot, and few elected Republicans seemed willing to defend Trump from the charge that it applied to him.
Speaker Paul Ryan described a Trump statement as "the textbook definition of a racist comment." Republican Senator Mark Kirk withdrew his endorsement of Trump, saying that in view of his recent statements "I cannot and will not support my party's nominee for president". Maine's Senator Susan Collins refused to rule out voting for Clinton. Former senatorial candidate (and major Republican donor) Meg Whitman compared Trump to Hitler and Mussolini. And on and on. The most blistering attack of all came from the previous Republican nominee, Mitt Romney:
I don't want to see trickle-down racism. I don't want to see a president of the United States saying things which change the character of the generations of Americans that are following. Presidents have an impact on the nature of our nation, and trickle-down racism, trickle-down bigotry, trickle-down misogyny, all these things are extraordinarily dangerous to the heart and character of America. [1]
But if the primaries proved anything, it's that the GOP's leadership is out of tune with its voters, especially compared to Trump. So when YouGov asked whether Trump's comments were racist, only 22% of Republicans were reading from Paul Ryan's textbook, while almost 2/3rds said the comments weren't racist. By a narrower 43%-39% margin, Republicans said that Trump was right to make those comments. [2]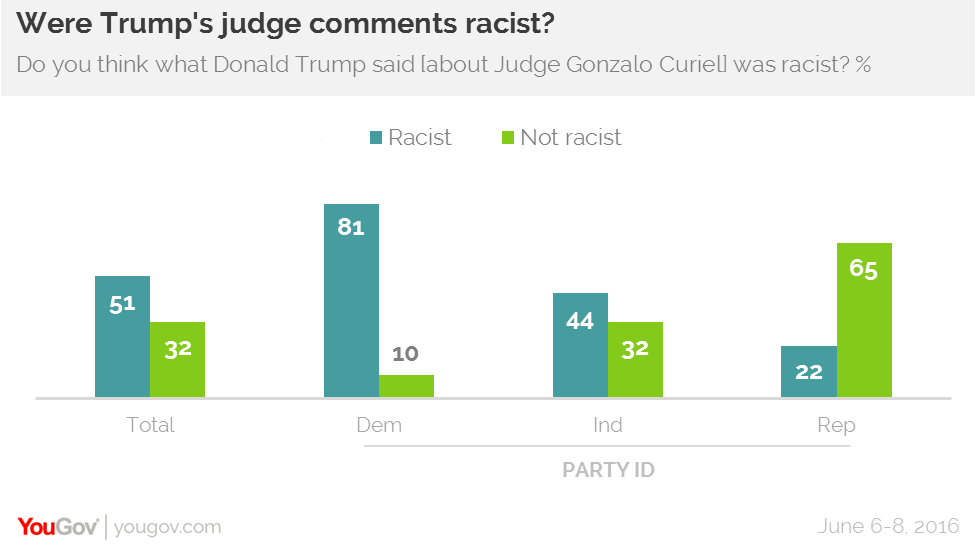 What could they possibly be thinking?
Trump's own explanation was far from convincing. In a prepared statement, he argued that his comments had been "misconstrued as a categorical attack against people of Mexican heritage" when actually they were just targeted at Judge Curiel, who apparently had it coming because he didn't dismiss the Trump U lawsuit.
To me, that's like yelling "Nigger!" at a black driver who cuts you off in traffic, and then feeling misunderstood when the blacks in your carpool take offense. You didn't launch a categorical attack on all blacks, you just used a racial insult against one guy who had it coming because he was in your way. Why can't they see the difference?
I got a better clue from listening to Bill O'Reilly. Wednesday night, Bill challenged Congressman Bill Flores about the Texas Republican's use of racist.
Do you believe that Donald Trump gets up in the morning and says, "You know what? I don't like Mexicans, I'm going to go out and try to make them look bad."? Do you believe that? … Don't you think it was more about Trump being angry with the judge's decision in a civil litigation rather than the judge's ethnicity? … OK, I get your point, but I think you understand mine as well. That you don't use the R-word unless you are [talking about] David Duke, unless you have got a history of trying to denigrate minorities or other people.
Trump isn't ex-KKK Grand Wizard David Duke, so he's not a racist. Even labeling specific quotes as racist (which is all Paul Ryan did; he didn't call Trump a racist) is apparent going too far. The most O'Reilly would say was that they were "unwise".
And now we're back on a topic I covered two years ago in "What Should Racism Mean?". At that time I reviewed a long list of pseudo-scandals that President Obama had started … by doing things that previous presidents had done without upsetting anybody: put his feet on a White House desk, let a Marine hold his umbrella, send secular Christmas cards, and so on. Similarly, the luxurious White House lifestyle — unchanged from previous administrations — suddenly began inspiring outrage when a black family moved in.
So I raised the question: Is that racist? And I allowed for the possibility that some might not want to call it that.
I sympathize with people who want to reserve racism for Adolf Hitler ordering the Final Solution to the Jewish problem or George Wallace standing in the door to block black students from enrolling at the University of Alabama. The men who lynched Emmett Till or the grand jury that refused to indict them — those people were racists. I get that it doesn't seem right to put them in the same category with the people who only just realized in 2009 that life in the White House is pretty sweet.
But a problem comes up: If you want to construe racist and racism very narrowly, then what words do you use for people who (for some reason other than conscious willful hatred) just can't look at a black president or his family the same way they have always looked at white presidents and their families? It's a thing; it really happens, and it has important political consequences. What do you call it?
The Trump/Curiel situation is similar. Trump is doing something morally objectionable here. He is taking advantage of his fans' willingness to believe bad things about Mexican-Americans on flimsy or no evidence (just as, when he was pushing Birtherism, he was taking advantage of their willingness to believe bad things about a black president on flimsy or no evidence), in order to either put pressure on a federal judge or explain away why so many people are suing him for fraud.
In other words, once again he is looking at the public's racial prejudices and saying, "I can make this work for me." That doesn't make him Hitler or David Duke, but it's a despicable act that needs a name. What is it? O'Reilly's suggestion of unwise doesn't fill the bill, because there's no moral component to unwise. Spending $35,000 on a Trump University course is unwise; Trump's repeated and calculated abuse of Judge Curiel is something altogether different.
And if you are inside the conservative bubble, that "something" has no name. The word that the rest of the country uses — racism — has been declared off-limits and not replaced. And now that there is no way to talk about Trump's offense, it doesn't exist. Whatever is wrong with Trump's statements can no longer be put into words, so they aren't wrong — at least not to a plurality of Republicans.
George Orwell had this all figured out in the mid-20th century. As he wrote in "The Principles of Newspeak":
The purpose of Newspeak was not only to provide a medium of expression for the world-view and mental habits proper to the devotees of IngSoc, but to make all other modes of thought impossible. It was intended that when Newspeak had been adopted once and for all and Oldspeak forgotten, a heretical thought — that is, a thought diverging from the principles of IngSoc — should be literally unthinkable, at least so far as thought is dependent on words. Its vocabulary was so constructed as to give exact and often very subtle expression to every meaning that a Party member could properly wish to express, while excluding all other meaning and also the possibility of arriving at them by indirect methods. This was done partly by the invention of new words, but chiefly by eliminating undesirable words and stripping such words as remained of unorthodox meanings, and so far as possible of all secondary meaning whatever. [my italics]
In today's Newspeak, as spoken by devotees of AmCon, racism has been stripped of all meanings beyond getting up in the morning and saying "I don't like Mexicans, I'm going to go out and try to make them look bad." It applies to active white supremacists like David Duke, and no one else.
But if treating a black First Family differently from all white First Families isn't racism, what is it? If citing a judge's ethnicity as evidence of his unfitness isn't racism, what is it?
Unless they're trying to restrict the language to make these issues "literally unthinkable", American conservatives owe us some new terminology.
---
[1] To flesh out what Romney might mean by "trickle-down racism", look at this report from the Southern Poverty Law Center about how the bigotry in our presidential campaign is showing up in our schools and on our playgrounds.
[2] Among all voters, a 57%-20% majority said Trump was wrong, and a 51%-32% majority said the comments were racist. For some reason YouGov's headline characterizes that majority as "thin", but it really isn't.