I'm doing fine, but my cousin is dead.
---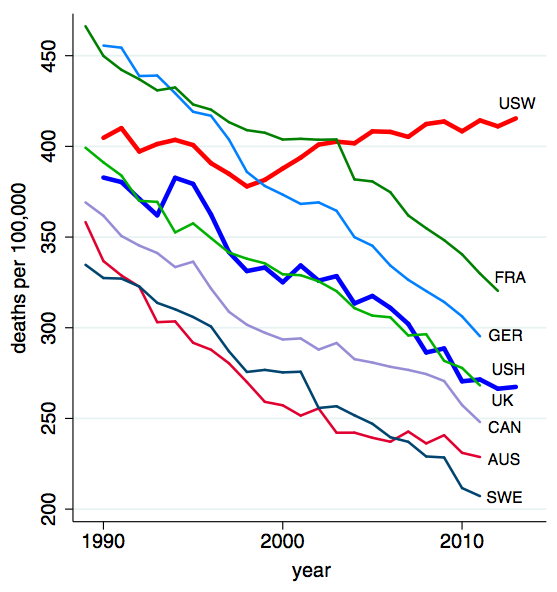 Look at this graph:
In 1990, the death rate for American whites aged 45-54 (USW) was within the normal range of similarly aged people in comparable countries, and similar to the death rate for middle-aged American Hispanics (USH). In all the other countries, death rates continued their centuries-long trend of dropping, with USH tracking the United Kingdom rate almost perfectly. But starting in 1998, USW turns up.
A good summary of this new study is in The Atlantic. The upshot is that about half a million American whites are dead who would be alive if USW death rates had followed the downward track of other first-world countries. The effect seems concentrated in the less-educated classes, and the cause is a sudden jump in the rate of what are called "poisonings" — mainly deaths related to alcohol and drugs — as well as an increase in suicides and other causes related to not taking care of yourself. Atlantic concludes that middle-aged whites "are dying of despair".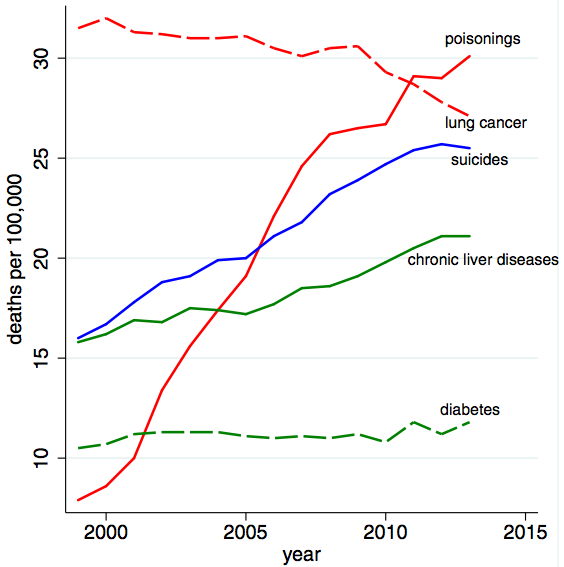 This feels personal to me. My father was a high-school-educated white who was an adolescent during the Depression. For most of my childhood, he had a good-paying factory job that allowed him to buy a small farm that he worked on the side. Needless to say, he was a hard-working guy. But he also saw himself as extremely successful: He owned a house nicer than the one he grew up in, sent his kids to college, and after he retired had a winter home in Florida. He lived to be 90.
I took advantage of the opportunities my parents gave me and got a PhD. I also feel successful, and am in excellent health at 59. But what if, rather than reaching for a better life than my father's, I had tried to duplicate his success? It wouldn't have worked. The good-paying no-college-needed jobs went away during my lifetime. I probably would have bounced from one low-status job to another, always wondering why I couldn't live at the level I had thought was normal for people like me. Compared to my father, I would be a failure.
That pretty well describes one of my cousins, who had alcohol problems for most of his adult life and died a little younger than I am now.
What we're seeing here, I believe, is the end result of privileged distress. It's still not objectively harder to be white in American than non-white, but the traditional privileges of whiteness have shrunk, particularly for the working class, while visions of how life is supposed to be (for white people) are pegged to the achievements of our parents. Consequently, it gets harder and harder for working-class whites to live up to the expectations they were raised to have. By middle age many feel like failures, and live with a corresponding lack of self-regard.
Is it any wonder they look for scapegoats, like the Hispanic immigrants, and are attracted to anger-channeling politicians like Donald Trump? They cheer when Trump says America is going to start winning again, and they love to identify with him when he calls his opponents "losers" — because looking down on somebody else is very satisfying when you feel like a loser yourself.