They say a little knowledge is a dangerous thing, but it's not one half so bad as a lot of ignorance.
This week's featured post is "The Other Half of American History", in which I review Edward Baptist's amazing recent book The Half Has Never Been Told: Slavery and the Making of American Capitalism.
This week everybody was talking about a letter to Iran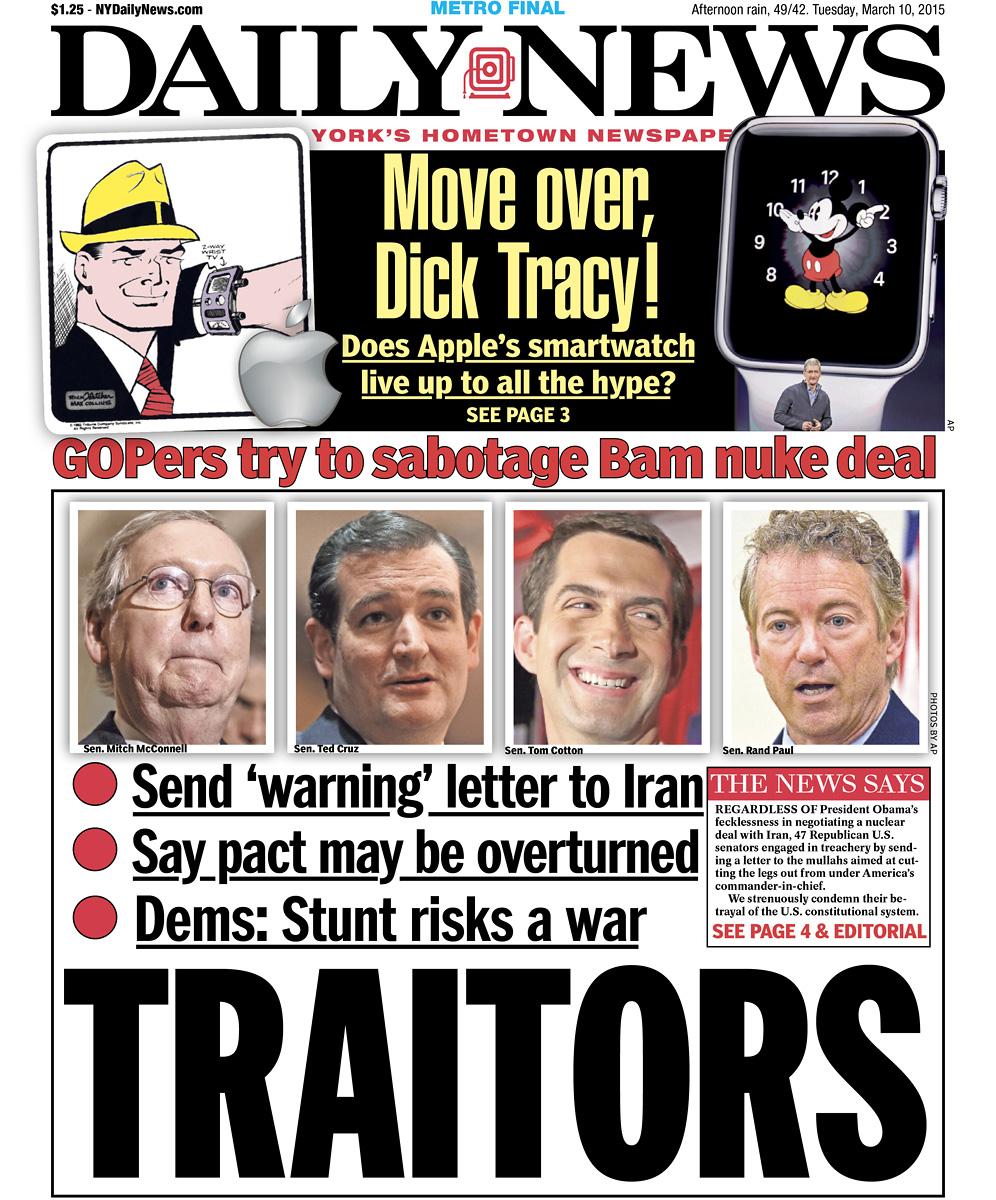 Forty-seven Republican senators signed an open letter to the leaders of Iran, advising them on American governance, so that they won't be fooled into making a peace agreement with our wily President Obama. Exactly why they felt it necessary to advise Iran is not clear. Maybe they're angling for contracts with the Iranians after they retire from the Senate and achieve their dream of becoming high-rolling lobbyists.
OK, that was snarky of me. It was obvious why they wrote: They want the Iranians to walk away from the proposed deal — the end of negotiations would be "a feature, not a bug" according to the letter's author — so that we can have another Middle Eastern war, this time with a country three times the size of Iraq and much more spirited. It'll be great: The Iranian people will greet us as liberators, just like the Iraqis did.
Still too snarky. Conservative WaPo columnist Michael Gerson, while recognizing that the letter had "all the gravity and deliberation of a blog posting" and "raises questions about the Republican majority's capacity to govern", tried to put the best face on the 47's motives and goals: Yes, they want the current negotiations to fail. But
The alternative to a bad nuclear deal is not war; it is strong sanctions and covert actions to limit Iranian capacities until the regime falls (as it came close to doing in 2009) or demonstrates behavior change in a variety of areas.
A more realistic assessment — illustrated by the history of our failure to keep North Korea from getting the bomb — comes from Foreign Policy's Jeffrey Lewis: The "better deal" in which all of Iran's centrifuge's go silent
is a fantasy, a unicorn, the futile pursuit of which ends with a half-assed airstrike against Iran, a region in flames, and eventually an Iranian nuclear weapon. … A Republican administration, if given a chance, would negotiate exactly the same agreement that this administration is negotiating, with all its flaws and shortcomings.  … The outlines of any deal with Iran are largely determined by the relative power of the parties — how advanced Iran's nuclear programs are, what U.S. military options look like, the vitality of the sanctions regime, etc. — not the personal qualities of the presidents we elect. You can believe that George W. Bush's flinty gaze would have stared down Hassan Rouhani or that Ali Khamenei will understand that Barack Obama is a transformational figure of historic importance. You can believe those things, but you'd be an idiot.
The idea that the Iranian government might fall soon, or that it came close to falling in 2009, is highly speculative — especially when you put it together with American or Israeli attacks, covert or otherwise. Given the Iranian history of British colonialism and American interference, any direct foreign intervention will cause the Iranian people to rally around their government, the same way Americans rallied around President George W. I-Lost-the-Popular-Vote Bush after 9-11.
---
The Nation's William Greider asks the obvious question you seldom hear: What about Israel's nukes? Israel has never admitted having the bomb, but it is widely believed to have hundreds of nuclear warheads. Nobody knows for sure, because Israel submits to no international inspections.
I asked another friend (a well-informed journalist sympathetic to the Palestinian cause) why reporters don't talk about the Israeli bomb. "Groupthink," he said. "It's almost as though Israel gets a bye from the media."

The Iranians, he added, have raised the issue of the Israeli bomb many times in the past, but their complaints were generally ignored in the Western press.
The Iranian people may not like the sanctions Iran's nuclear program has led to, but the premise of the sanctions — that Iran achieving parity with Israel is unthinkable — has to rub them the wrong way. If the Iranian government is seen standing up for the principle that Iran is a nation equal to any other nation, that's got to raise its popularity, not invite a revolution.
---
There's been much online discussion about whether the senators' letter violates the Logan Act of 1799, which bans Americans from undermining government policy through "correspondence or intercourse with any foreign government or any officer or agent thereof".
As satisfying as it may be to yell "Treason!" or imagine Mitch McConnell doing a perp walk, HuffPost's Monica Bauer describes Logan Act talk as "click bait for liberals" rather than a serious matter, and MSNBC's Lawrence O'Donnell rejects the Act as "unenforceable because it is obviously unconstitutional and absurd on its face".
I have to agree. The Adams administration had a penchant for restrictions on its citizens' freedom of speech. The Logan Act is of a piece with the infamous Alien and Sedition Acts. Obama is right not to try to enforce it.
---
But even if it's not treason or otherwise illegal, the letter is unpatriotic. The signers hate Obama more than they love America.
There is an underlying separation-of-powers issue about whether this agreement ought to be a treaty and require ratification by the Senate, rather than an executive agreement that does not. But it isn't the constitutional crisis Republicans like to claim. Presidents of both parties sign executive agreements. They aren't enforceable by the courts, as a treaty would be under Article VI of the Constitution. But presidents are highly motivated to keep their predecessors' agreements to maintain the credibility of their own agreements.
By impugning executive agreements in general, Republicans continue down the path towards making the United States ungovernable that I talked about two weeks ago.
The Yalta agreement on the re-organization of Europe after World War II is an example of a far-reaching commitment that was made without Senate ratification. Watching FDR balance the constitutional issues in his post-Yalta message to Congress is instructive: He affirms that the U.N. charter, whose general outlines the Yalta agreement affects, will have to be ratified by the Senate. But other aspects of Yalta are not submitted for ratification.
and reactions in Ferguson
It's been fascinating to watch Ferguson react to the Justice Department's scathing assessment of its police and courts (which I described last week). Both the city manager and the police chief have resigned, but the mayor is determined to hang on. He isn't even convinced the city has a serious problem:
The report stated there was probable cause to believe the police and court routinely violate people's civil rights. But, Knowles said, "that's not proof." He added that "there is probably another side to all of these stories."
But we don't know that side yet because it's so hard for white mayors and policemen to get their stories out in our black-dominated culture, I suppose.
---
Similarly, National Review assures us that the problem in Ferguson is "predatory government", not racism. It's just kind of a coincidence that predatory government happens to show up and be tolerated in a majority-black community with a white power structure.
---
They charged a guy with shooting two policemen during a protest in Ferguson Thursday. He has a great defense: He claims he was shooting at somebody else.
Notice one key difference between shootings like this and the shootings police do: No major figure is stepping up to say that the victims had it coming.
and a racist frat incident in Oklahoma
University of Oklahoma's Sigma Alpha Epsilon frat got in deep trouble after a video surfaced of the brothers singing on a bus:
There will never be a nigger SAE.
There will never be a nigger SAE.
You can hang them from a tree,
but they'll never sign with me.
There will never be a nigger SAE.
The guys on the bus seem to know the words, so you've got to figure this wasn't the song's world premiere. After the video went viral, University President David Boren closed the house and expelled the two students identified as leading the singing.
National SAE back-pedaled as fast as it could, saying it has "zero-tolerance for any kind of discrimination" and claiming that 20% of its national membership is non-Caucasian. It's also been editing its history page to play down its origin as a Confederate frat. According to an earlier version of the page:
The fraternity had fewer than 400 members when the Civil War began. Of those, 369 went to war for the Confederate States and seven for the Union Army. Seventy-four members of the fraternity lost their lives in the war.
Think Progress lists previous race-related incidents involving SAE, including
In 2009, Valdosta State University in Georgia hosted a community forum on "Heritage, Hate or Fear?" that was inspired by the university's SAE chapter's practice of flying a Confederate Flag on its front lawn.
The Oklahoma State University SAE chapter is taking flack for a Confederate flag posted on a member's wall in such a way as to be visible from the street.
So it sounds to me like this isn't just two guys. SAE's Confederate heritage is more than a historical footnote. It's part of the frat's "charm" and attracts a certain element.
---
There's a side issue here about the media, which gives me an opening to discuss my policy on The Weekly Sift. This CBS/AP article refers to SAE members "engaging in a racist chant" but doesn't say what the chant was, a practice I've noticed on several news outlets. Others refuse to print or say nigger, replacing it with references to "the N-word" or "n****r".
I first had to decide whether to use nigger in my writing in 2007, when I was still posting as Pericles on Daily Kos. My policy — which applies not just to nigger, but to bitch, faggot, or any other epithet — is to ask myself this question: If I replace the word with a euphemism, who am I protecting?
My 2007 post described the racial atmosphere of my 1960s working-class childhood. Saying something like "We used the N-word" would have protected myself more than the fragile sensibilities of my readers. I mean, Jackie Chan used the N-word in Rush Hour; it was hilarious. But my truth was much starker: We told nigger jokes. Saying anything less would just give my readers room to imagine that what I did really wasn't that bad.
Same thing here. Describing the video in some oblique way just protects the frat boys. A "racist chant" could be eeny-meeny or some other childish thing where the racism isn't the point. Describing the incident that way opens the possibility that "racist" might be nothing more than some journalist's debatable interpretation. So I think you have to print it the way they sang it.
and you also might be interested in …
Rest in peace, Terry Pratchett. Most obituaries highlight his Discworld series, which is tremendously amusing. But my personal favorite Pratchett novel isn't set on Discworld, it's Good Omens, his collaboration with Neil Gaiman about the coming of the Antichrist. (Well, there is one Discworld connection: Discworld's Death character shows up as one of the Four Bikers of the Apocalypse.) Imagine if Left Behind was short, clever, and had a sense of humor.
---
Israel holds elections tomorrow, and it's anybody's guess who will win. It's a parliamentary system, so we might not know right away. Even if Netanyahu's party isn't the top vote-getter, he still might wind up as the leader of a majority coalition.
Paul Krugman points out that internal economics may play a bigger role than the Palestinian or Iranian issues Americans are focused on. He references an amazing statistic:
According to the Bank of Israel, roughly 20 families control companies that account for half the total value of Israel's stock market.
and let's close with a moment I'm sorry I missed
As spring approaches, let's remember that winter hasn't been all bad. Like this massive snowball fight in downtown Portsmouth, New Hampshire.