These past few years have given me a new appreciation for the fragility of our freedoms.
Of course I am quoting the statement above ironically. What DeSantis has been doing in Florida these past few years is what's been giving me a new appreciation for the fragility of our freedoms.
This week's featured post is "Neglected policy issues I: Life expectancy".
This week everybody was talking about the debt ceiling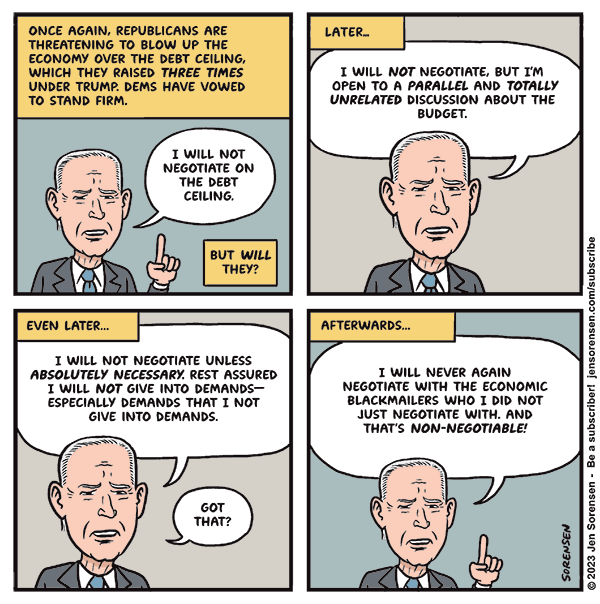 Saturday, President Biden and Speaker McCarthy announced an agreement to raise the debt ceiling, which Treasury Secretary Janet Yellen expects to be breached next Monday.
I haven't read the bill's 99-page text, so I'm relying on summaries of what the deal entails. In general, I agree with Josh Marshall:
Something like this set of concessions was more or less baked in the moment Republicans won control of the House.
In other words, Biden seems to have negotiated the kind of deal you would ordinarily expect between a president and speaker from different parties. It doesn't look like McCarthy exacted any special ransom for threatening global economic catastrophe.
Assuming this agreement can be turned into law without further concessions, this has to be counted as a win for Biden.
BTW, this should be a moment of cognitive dissonance for Fox News watchers who hoped for more out of this deal. "You mean the guy with dementia bamboozled our guy?"
and the prospect of another Trump indictment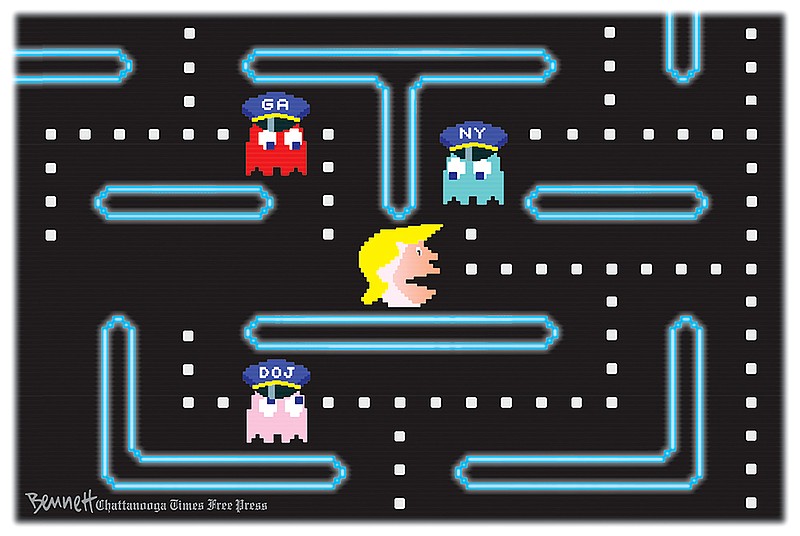 Numerous sources say that Special Counsel Jack Smith has wrapped up his investigation of the Mar-a-Lago classified documents case, and that an indictment is coming soon, i.e. sometime in June. A major reason to think so is that the grand jury hasn't met since May 5, suggesting that Smith has all the testimony he needs and is writing an indictment.
If that's true, it suggests that the Mar-a-Lago indictment will be separate from the January 6 indictment, if such an indictment is coming at all.
A major scoop from the WaPo indicates that the case for obstruction is very strong. Their report has Trump's people moving boxes of documents the day before his lawyers (falsely) told a DoJ prosecutor and the FBI that the 35 documents they were turning over (in response to a subpoena) constituted the entire stash. It looks like Trump kept secrets from his lawyers so that they could make false statements to the government without intentionally lying.
Additionally, WaPo says Trump kept classified documents in his office and sometimes showed them to visitors.
The most explosive and most speculative line of investigation concerns Trump's business relationships with foreign countries, including a lucrative contract from the new Saudi golf tour (LIV) to play tournaments at Trump's courses (including one this weekend). Did the Saudis pay him to get, say, information on Iran's missile programs? That would be espionage.
But as I keep saying, it's a mistake to invest too much energy in speculation. If an indictment really is coming soon, we'll be able to read it and see what's in it for ourselves.
---
The conventional wisdom says that an indictment won't matter politically, because nothing matters to Trump's supporters. Reporters are constantly talking to various Trump voters, who keep telling them that another indictment or two won't change their mind about him.
But I wonder if that's true. Right now, a Mar-a-Lago or Georgia or January 6 indictment is just an idea. But when those indictments drop, they will tell stories. And stories are more powerful than mere ideas. Right now, his cultists can say, "I don't care if Trump had some classified documents. Biden and Pence had them too. So what?" But it would be much more difficult to say, "I don't care if Trump showed classified documents to the Saudis in exchange for golf money" (if that's what the indictment says).
If the cult does start to turn, it won't happen via former supporters speaking out against him. Instead, they will just go silent. People you would expect to defend him will instead change the subject.
---
Another indication an indictment might be coming is that Trump's lawyers sent a letter to Attorney General Garland requesting a meeting. I don't put much stock in this sign, because the letter clearly wasn't serious. It was written for public distribution and not to persuade Garland to do anything.
No president of the United States has ever, in the history of our country, been baselessly investigated in such outrageous and unlawful fashion.
That's political rhetoric more likely to anger Garland than to make him sympathize. What's the point of meeting with Trump's lawyers to hear more nonsense like that?
---
The Oath Keepers convicted in November of seditious conspiracy related to January 6 were sentenced this week. Leader Stewart Rhodes got 18 years. Other conspirators got lesser sentences that were still substantial.
Again, the significance of the three seditious conspiracy trials (all resulting in convictions) is that juries have been convinced that January 6 was not just a mob that got out of control. Somebody intended the mob to do what it did. One of those somebodies was Stewart Rhodes, but it's very unlikely he was at the top of the chain.
and Ron DeSantis' glitchy campaign launch
After a technical delay of around 20 minutes, Ron DeSantis officially announced his candidacy during a live Twitter interview with Elon Musk. DeSantis supporters made a big deal about the 300K viewers, which nearly crashed Twitter's diminished infrastructure. But 3 million watched Trump's CNN town hall a few weeks ago, and 400K watched AOC play a video game over Twitch in 2020.
---
DeSantis said a lot of false and/or misleading stuff. For example, when challenged on Florida schools removing books from their classrooms and libraries because of his Don't Say Gay and STOP Woke Acts, he deflected onto the left, saying that liberals were banning To Kill a Mockingbird. Here, DeSantis is doing a much worse version of what he accuses the media of doing: calling something a ban that is really a much less serious restriction.
I can't say whether this is a complete view of the topic, but if you google "ban on To Kill a Mockingbird" and look for liberal examples, what comes up is a Washington school district deciding to stop requiring the book for ninth graders, which makes perfect sense. If you assume a required-reading list has a limited number of spaces for novels about the Jim Crow era, it makes sense to shift to one by a Black author with a Black central character. But TKaMB remains available in school libraries and can be assigned by teachers who make that choice.
---
Just a coincidence, I'm sure:
Florida Gov. Ron DeSantis (R-FL) signed a bill regarding spaceflight on Thursday just one day after he announced his presidential run in a glitch-filled interview with Elon Musk on Twitter Spaces. … Florida is a known launching point for [Musk-owned] SpaceX aircrafts, and the new law could potentially shield Musk and other space flight companies from being sued for accidents that injure or kill crew members. …

Last month, SpaceX's privately owned spaceport in South Texas launched the most powerful rocket ever built before the spacecraft exploded over the Gulf of Mexico. The explosion reportedly hurled chunks of concrete and metal thousands of feet away into sensitive habitat, and sparked a 3.5-acre fire on state park lands near the launch site.
Or maybe, coupled with his war against Disney, it tells us about DeSantis' theory of government: Use government power to reward your friends and punish your enemies. If Musk turns against DeSantis, this favor from the State of Florida could be revoked, the way DeSantis has tried to revoke Disney's special taxing district.
Along the same lines: NBC reports that Florida state employees are soliciting DeSantis campaign contributions from lobbyists.
NBC News spoke with 10 Republican lobbyists in Florida, all of whom said they couldn't remember being solicited for donations so overtly by administration officials — especially at a time when the governor still has to act on the state budget.

That process that involves DeSantis using his line-item veto pen to slash funding for projects that the same lobbyists whom they are asking for political cash have a professional stake in. Most of the lobbyists said they felt pressure to give to the governor's campaign.

"What the f— am I supposed to do?" one lobbyist said. "I have a lot of business in front of the DeSantis administration."
and Ken Paxton's impeachment
Apparently there are limits, even for MAGA politicians. Saturday the Texas House impeached Attorney General Ken Paxton "on articles including bribery and abuse of public trust". Trump and Ted Cruz support him, but the vote was 121-23.
Paxton will be suspended from office while the Texas Senate hears his case.
and you also might be interested in …
Turkish President Recep Tayyip Erdogan won a run-off election yesterday, netting himself a third term in office. In the run-up to the election, there was some hope that an Erdogan defeat might mark a global turning away from autocratic rulers. But it was not to be.
---
President Biden announced a national strategy for combating antisemitism. Rep. Lauren Boebert complained that Biden will "go after conservatives".
Conservatives get closer and closer to just admitting that they're bad guys. A few weeks ago, Senator Tommy Tuberville took offense at Biden wanting to get White nationalists out of the military. "They call them [White nationalists]. I call them Americans." In a later interview he dug in deeper. "I look at a white nationalist as a Trump Republican. That's what we're called all the time. A MAGA Person."
If he thinks that characterization is unjust, i.e., if sees any difference between a Trump Republican and an actual White nationalist, Tuberville didn't explain what it was.
---
Of course, sometimes liberals also own the negative labels people throw at them. The Satanic Temple is running the Samuel Alito's Mom's Satanic Abortion Clinic out of New Mexico, providing telehealth abortion services nationwide, particularly to states where abortion is illegal. As the Temple says:
The Satanic Temple, on behalf of its members, objects to government interference with abortion access and contests that laws that impede our faith in bodily autonomy and our ability to perform our Religious Abortion Ritual violate the First Amendment and the Religious Freedom Restoration Act.

TST Health's first telehealth clinic will provide medication for safe abortions through the mail for members and for those who wish to perform TST's Abortion Ritual. The goal of this first clinic is to allow our members to have access to safe and legal abortions, no matter where they live or what their financial situation may be.
One of the manifest hypocrisies of conservative legal activism is pushing a notion of "religious freedom" that really only applies to Christians, and in practice grants them special rights. TST is the most out-there group pushing for equality of religious freedom: If Christians have all these rights, explain to us why Satanists don't.
---
Target has removed some Pride-month merchandise from its stores and moved other items to less prominent locations in response to objections and threats from conservatives
As Target explained in a statement, some customers had knocked down Pride displays at stores while others outraged by Pride-themed merchandise angrily approached workers as well as posted threatening videos on social media. Target has been celebrating Pride month for a decade, but as the company noted, "Since introducing this year's collection, we've experienced threats impacting our team members' sense of safety and wellbeing while at work."
Targets in several states subsequently received bomb threats appearing to come from Pride supporters angry about the pullback, but these appear to be hoaxes that originated overseas.
What's not a hoax is the violence-themed rhetoric right-wing pundits have been directing at Target. 2024 presidential candidate Vivek Ramaswamy said that Target had "put a target on its back". Charlie Kirk said "the only thing they understand is force. Pain is a teacher". No doubt if they were challenged, each would deny promoting literal violence, but they have to know that some portion of their audience will take it that way.
---
If you're wondering what's supposed to be so terrible about Target's pride display, the Heritage Foundation produced this video tour of Target's Pride section to outrage you. Strangely, though, I'm not outraged — at least not at Target.
Heritage's claim is that Target is pushing LGBTQ messages at young consumers, who presumably go in as blank slates without any opinions or intentions or identities of their own. It's a weird point of view for a group that ordinarily is so pro-capitalist. Obviously, Target puts stuff out there because the corporation expects to sell it, and not because Target has some sinister agenda about "grooming" children to be gay or trans.
If you think the products have some negative effect on society — I don't in this case — well, that's capitalism, isn't it? Exxon sells fossil fuels and Colt sells AR-15s. Those products have negative effects on society, but I suspect the corporations sell them to make money rather than because of some pact with Satan.
Case in point: a teen-sized sweatshirt that says "Not a Phase". The narrator interprets this as Target "grooming" kids into believing they won't grow out of their "gender confusion". This woman clearly has no memory of being a teen-ager and (whatever you happened to be into) being fed up with condescending adults. The shirt expresses a timeless teen attitude, and I see why Target expects to sell a lot of them.
---
Back when Parkland-massacre-survivor David Hogg was starting his gun-control activism, Fox News host Laura Ingraham mocked him for being rejected by four colleges, because she's classy that way. This week he graduated from Harvard.
Hey @IngrahamAngle you can send my graduation present to: http://Marchforourlives.com/donate
---
The Supreme Court took power away from the EPA this week by reading the Clean Water Act narrowly. The immediate result is that some wetlands will lose protection, but the precedent may have larger implications. The case deserves more attention than I've been able to give it.
---
Tina Turner died Wednesday at the age of 83.
and let's close with something natural
The Nature Conservancy has an annual photo contest. This is one of the winners in the "Plants and Fungi" category. These are Dragon Blood Trees. The story behind the tree's name isn't all I was hoping for: apparently it has red sap.